Longwood Gardens Tour
This post contains links to affiliate websites, such as Amazon, and we receive an affiliate commission for any purchases made by you using these links. We appreciate your support!
*Update: This post was featured at Best of the Weekend Link Party at Sweet Pea!!
Introduction
I have the privilege of living within driving distance to some very beautiful gardens. Longwood Gardens is in Kennett Square, Pennsylvania– about halfway between Lancaster and Philadelphia. There are over 400* acres of all sorts of plants, flowers, and trees. They also have a 4 acre indoor Conservatory that includes a children's garden. (What began as 400 acres is now over 1,000 acres!)
This summer I was able to visit there again. It is one of my favorite places to get inspired about gardening. It takes all day to walk around, and you still can't be sure that you saw everything. Here are just a few of my photos, and just a glimpse into the many wonderful things that you can see at Longwood Gardens.
Outdoor Gardens
This first picture is of the rose trellises. These roses have only five petals each.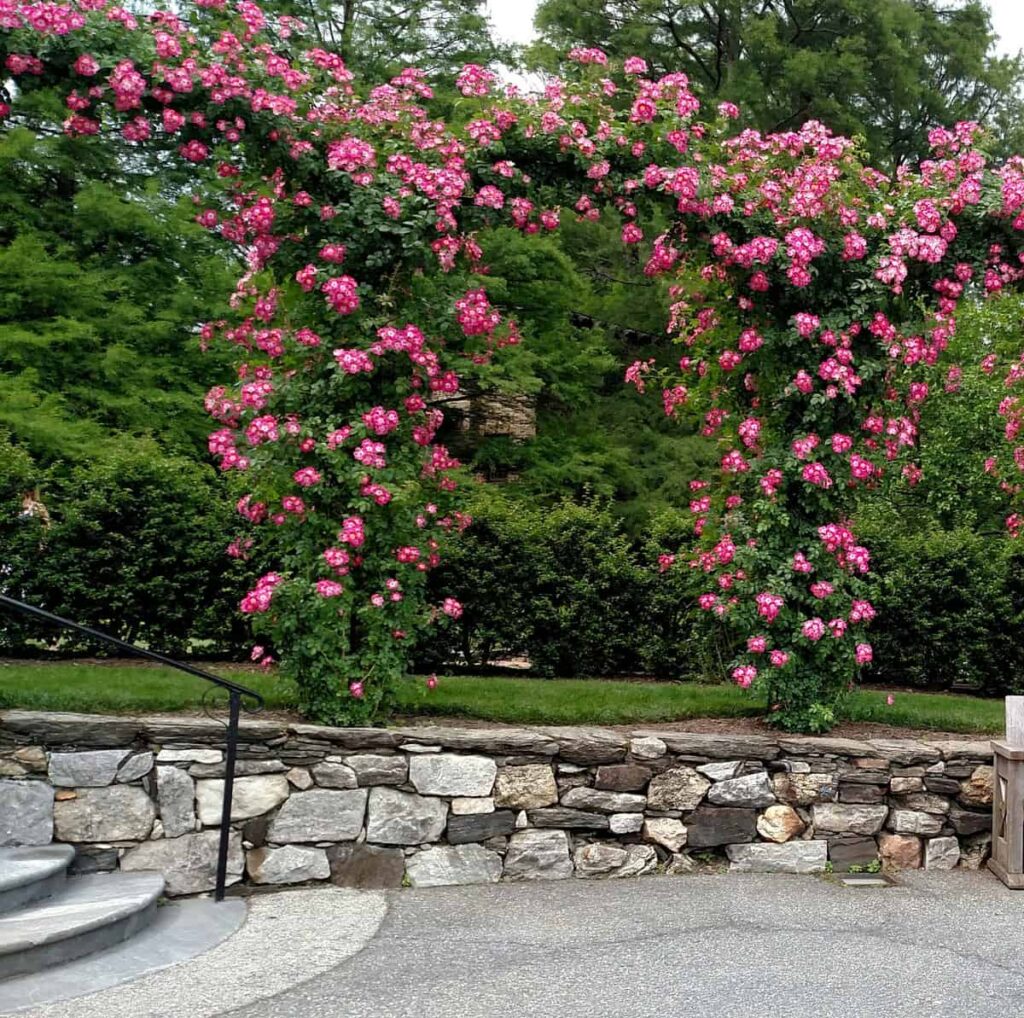 (*This post may contain affiliate links. By purchasing anything from these links, I may receive a small commission at no cost to you. More information is available on my Disclosure page.)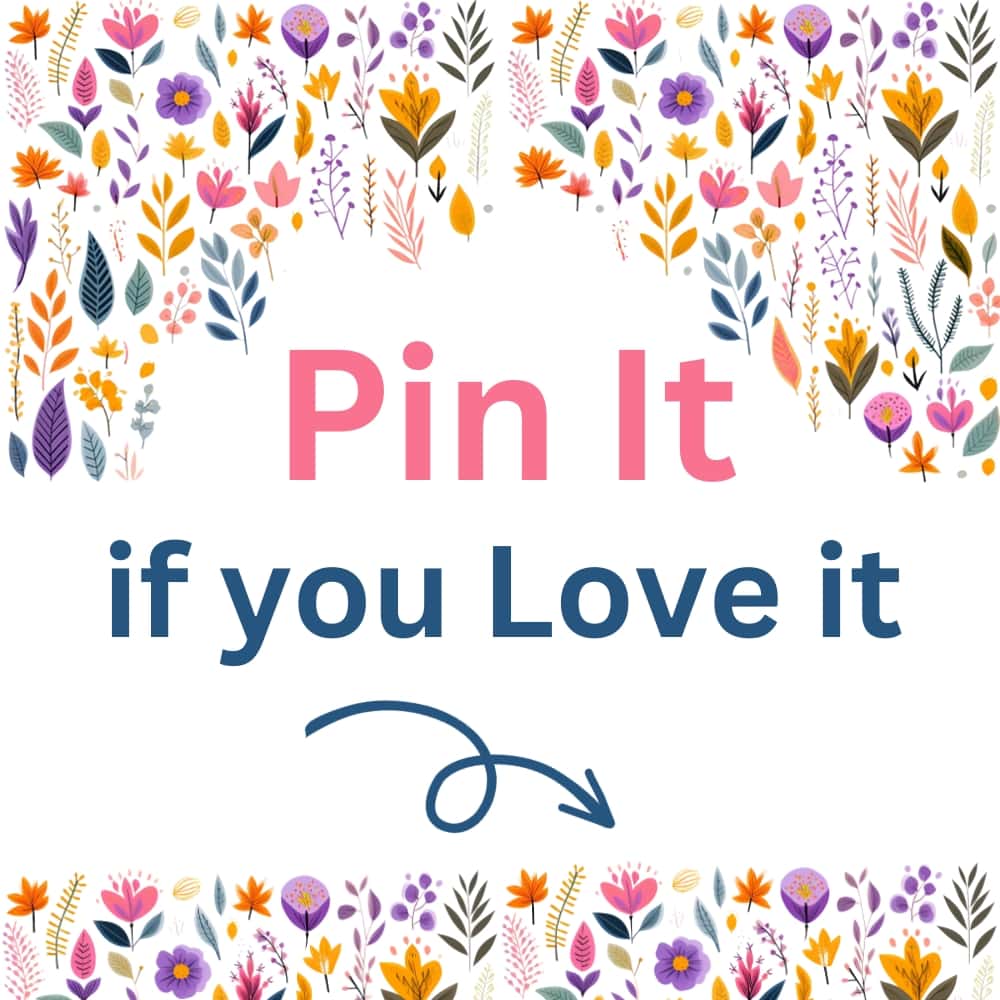 In front of the roses were giant pots with these canna lilies in them. You can see a close up of the roses also, just behind the pot.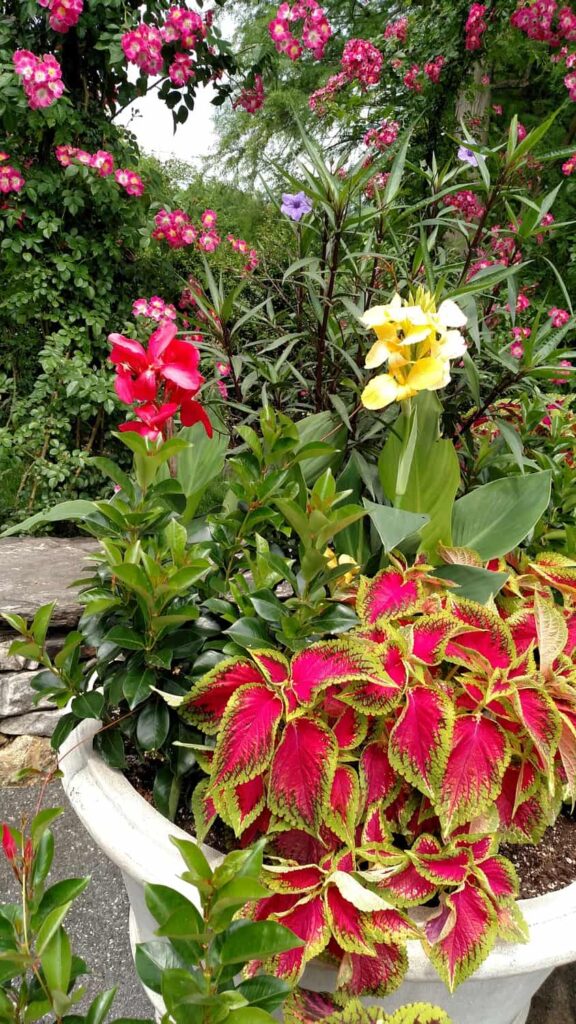 It is neat to be able to view the different gardens from different levels. Here is this fountain garden from above.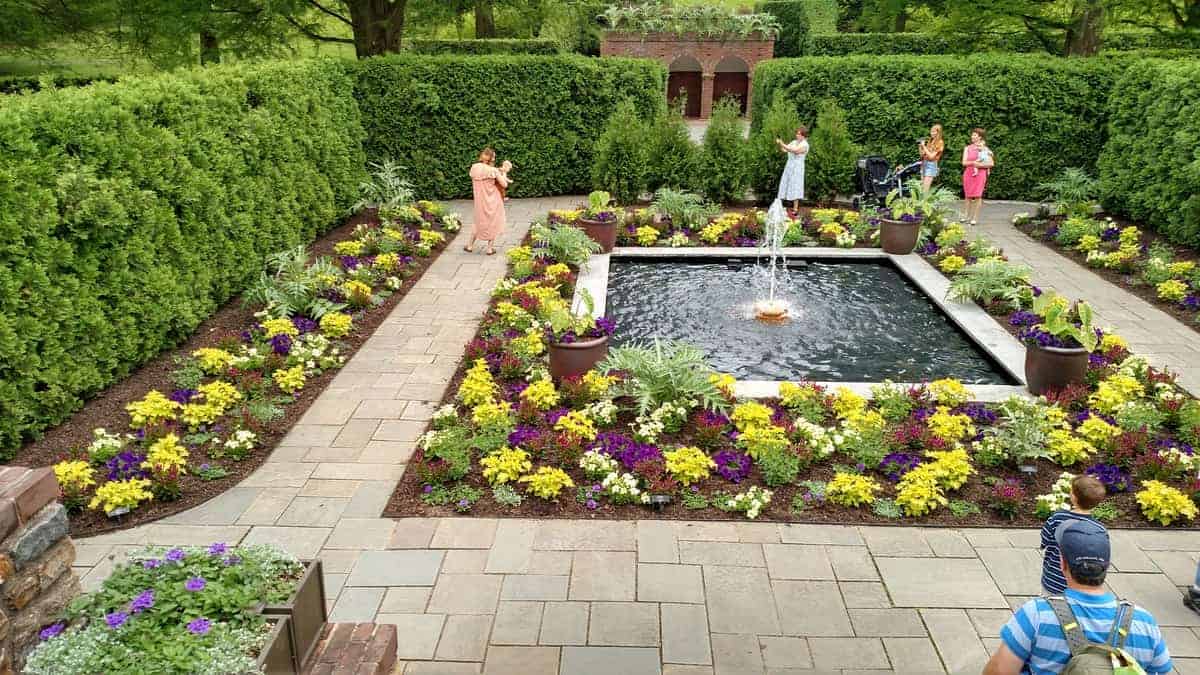 And here is the same garden close up. I love the repeating color combinations.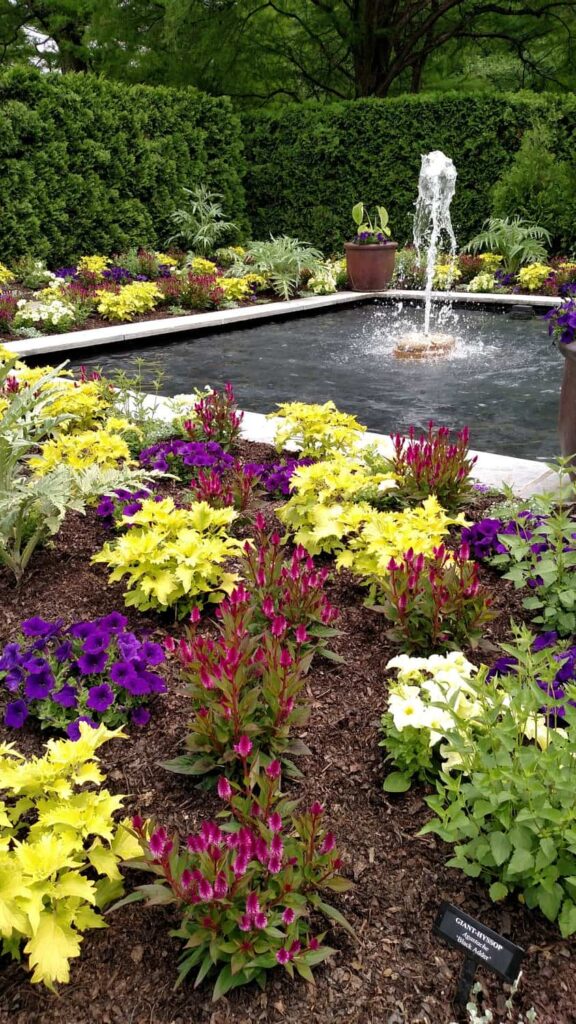 I didn't know that petunias could grow three feet tall!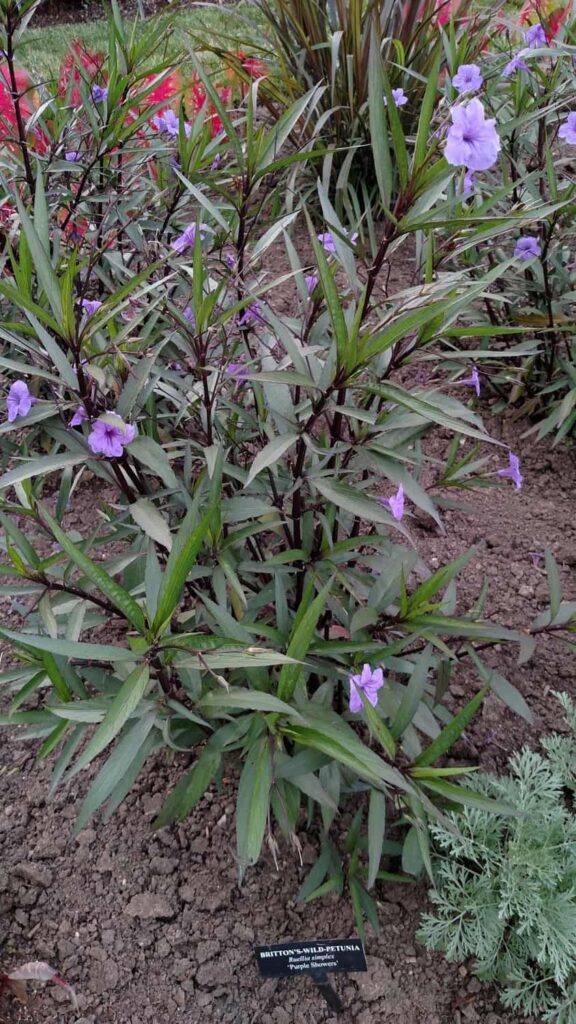 Here is some wispy grass that looks like a head of hair– with my foot for size comparison.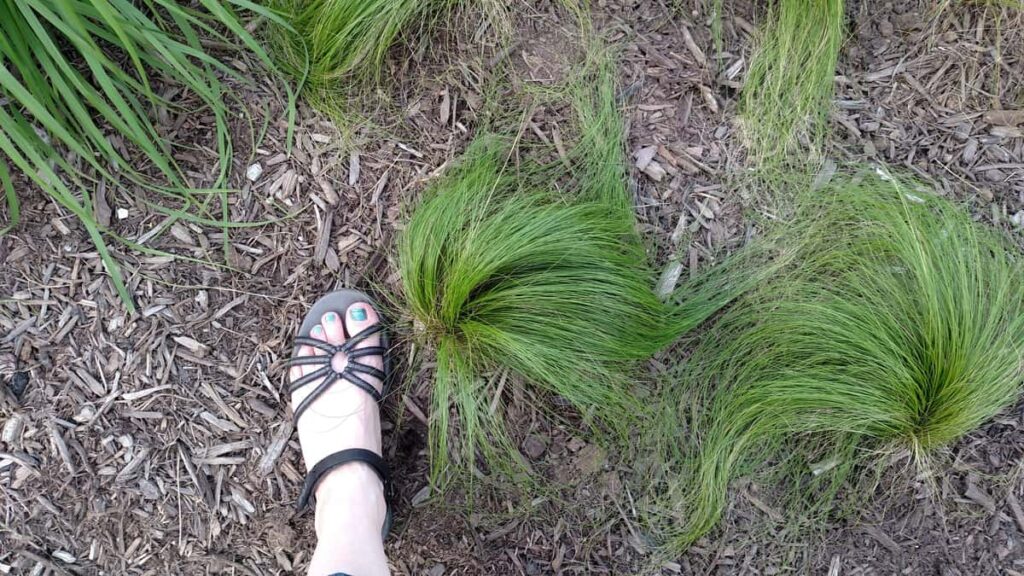 It is fun to see new plants, but it is also fun to see familiar ones, too. Longwood had yellow and pink varieties of torenia, pictured below. It's nicknames are clown face and wishbone. I have been growing these at home for several years. They come in the bright pink pictured below, yellow, light pink, and dark purple. It is an annual, but I let my plants die in the pots, then next spring I crumple the plants so the tiny seeds fall in the dirt, and put it out in the sun and water it. It is so fun to see the tiny plants sprouting by the hundreds. Then I have plenty to share with my friends.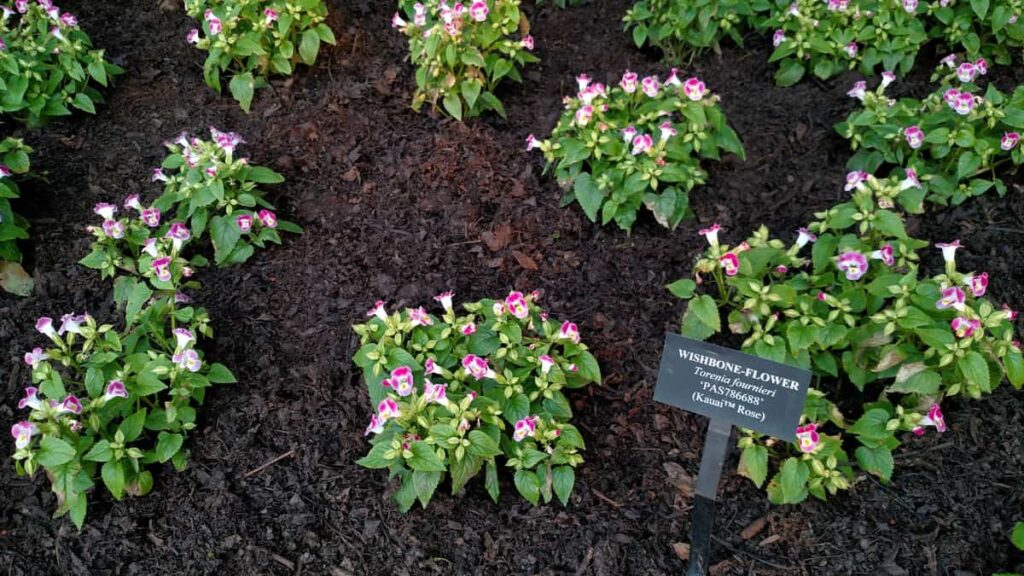 There is a vegetable section, also. I thought this system of stringing up beans and other climbing vines was interesting.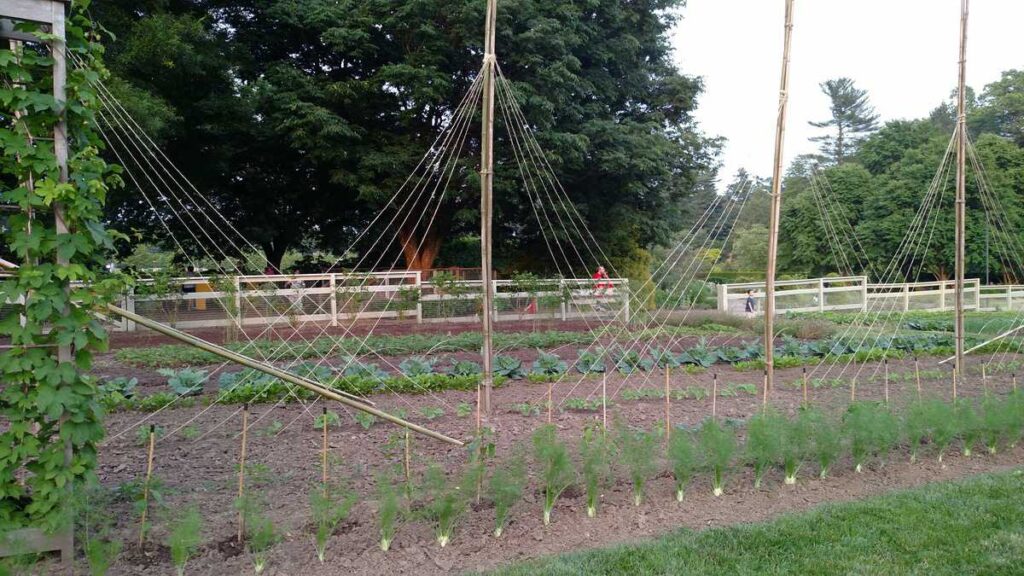 This was another plant that I recognized, Pineapple Sage. When you rub the leaves and smell your hands, they smell like— pineapple! This spring I had purchased my first pineapple sage in a different variety, with darker leaves. Longwood had this Golden variety for sale in their gift shop for $3, so I bought one. There were two plants so I split them and they are growing happily now in my flower beds.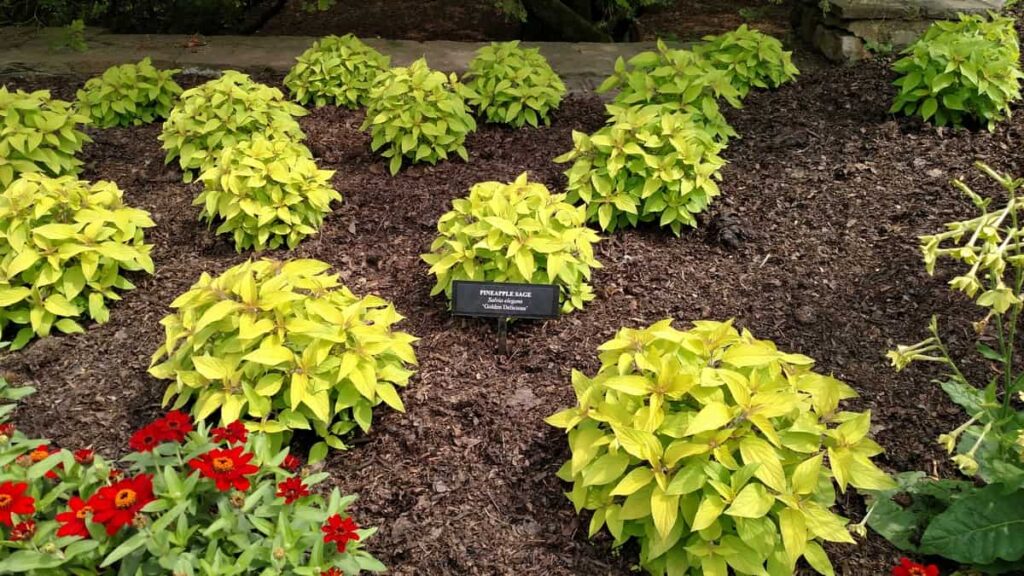 Indoor Gardens
The indoor gardens in the conservatories are just as beautiful as the outdoor gardens. There is a desert section (not pictured) and there are rainforest sections.
Here are two orchid varieties, a yellow one and a purple one.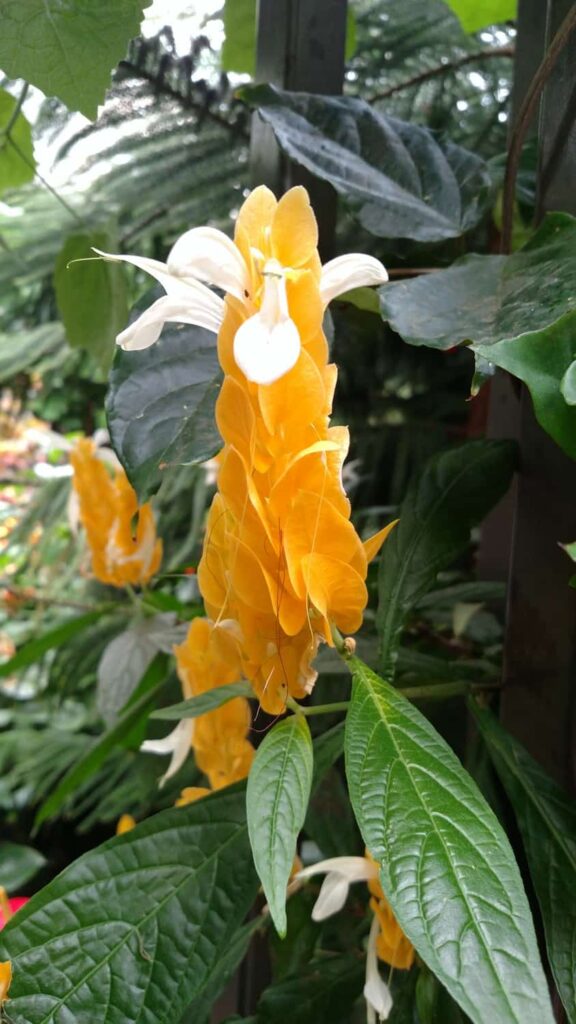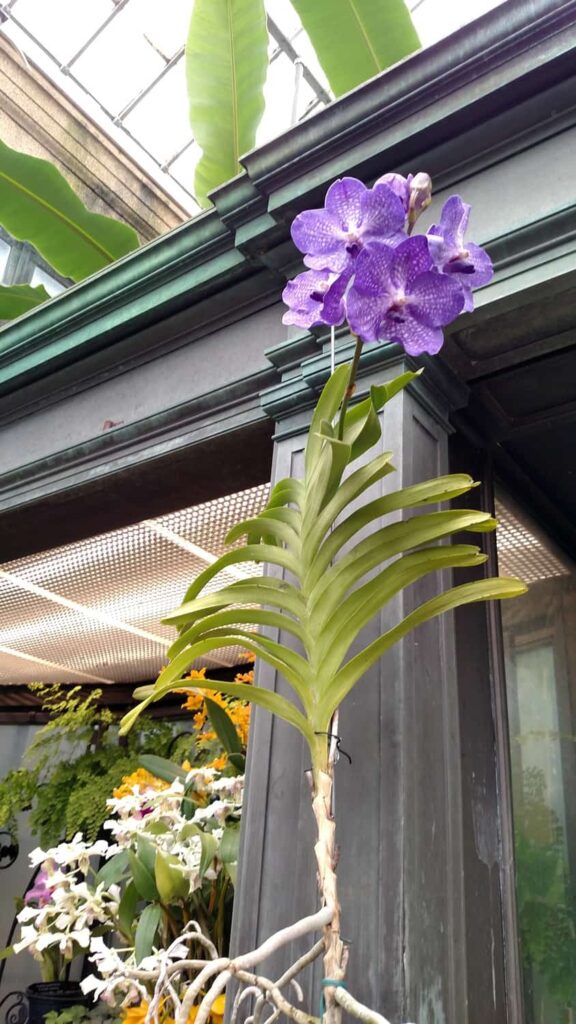 I love hibiscus. This one was almost as large as my hand. Other times I have seen some as large as my face.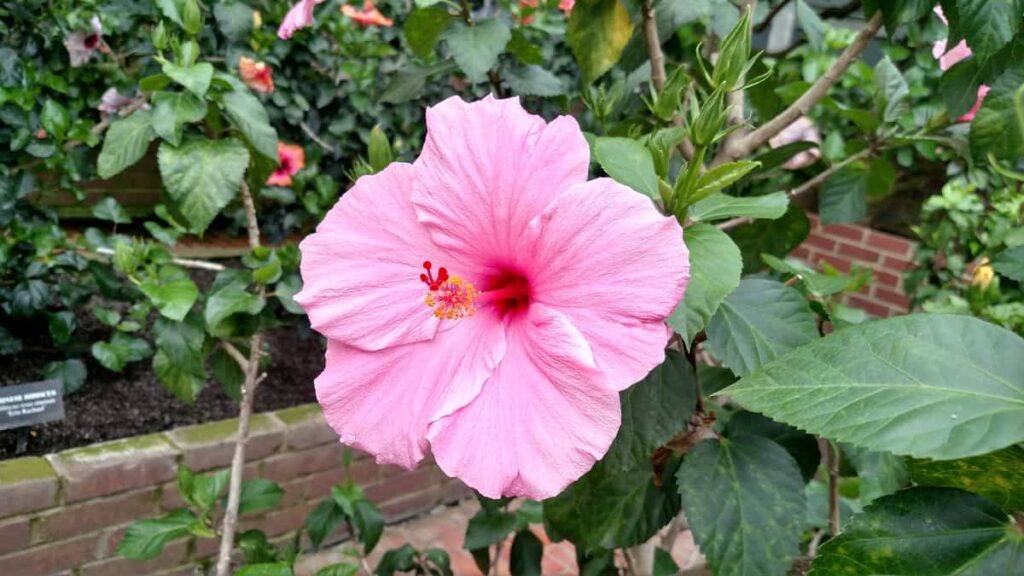 These yellow hibiscus were a short variety that I don't remember seeing before.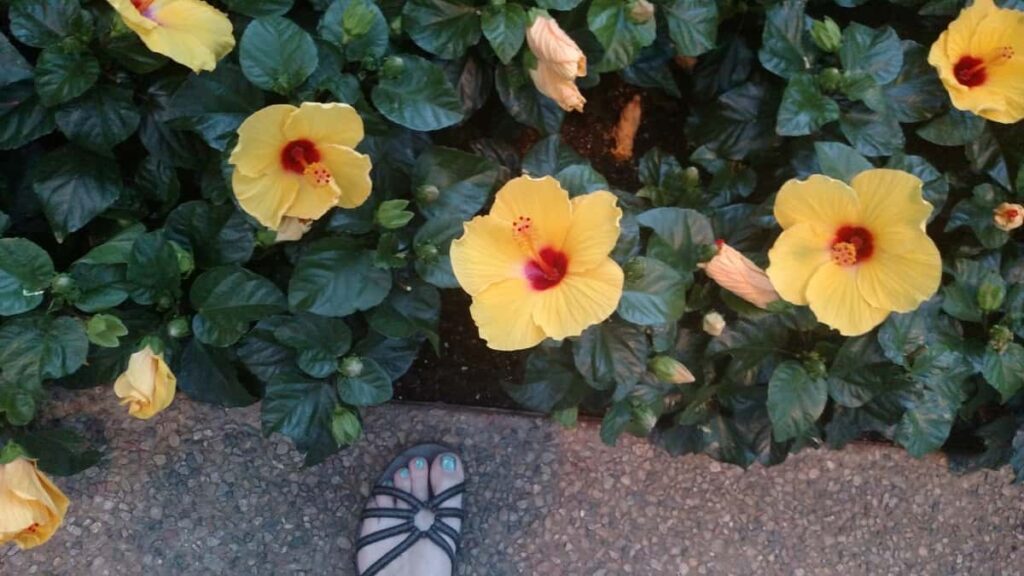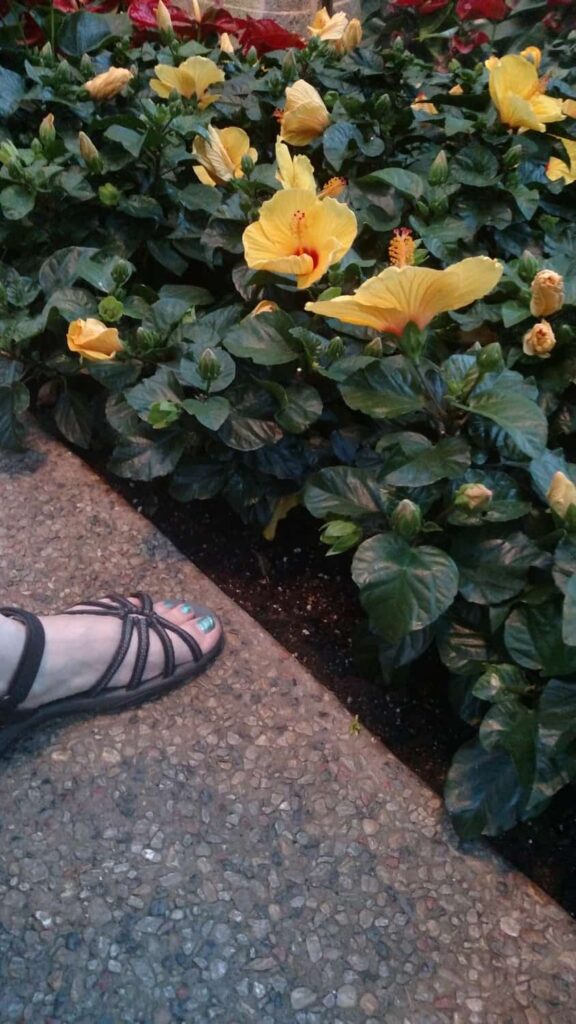 Here's another view to show you how short they are.
These hydrangeas were perfect! They were short varieties, also; and I just loved the colors. They had potted ones for sale in the gift shop for $50 apiece.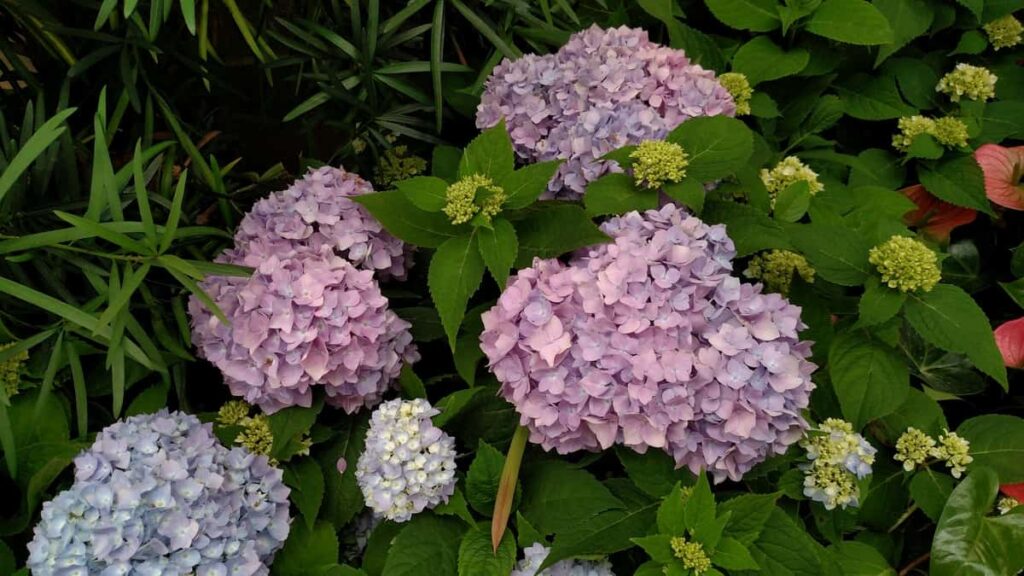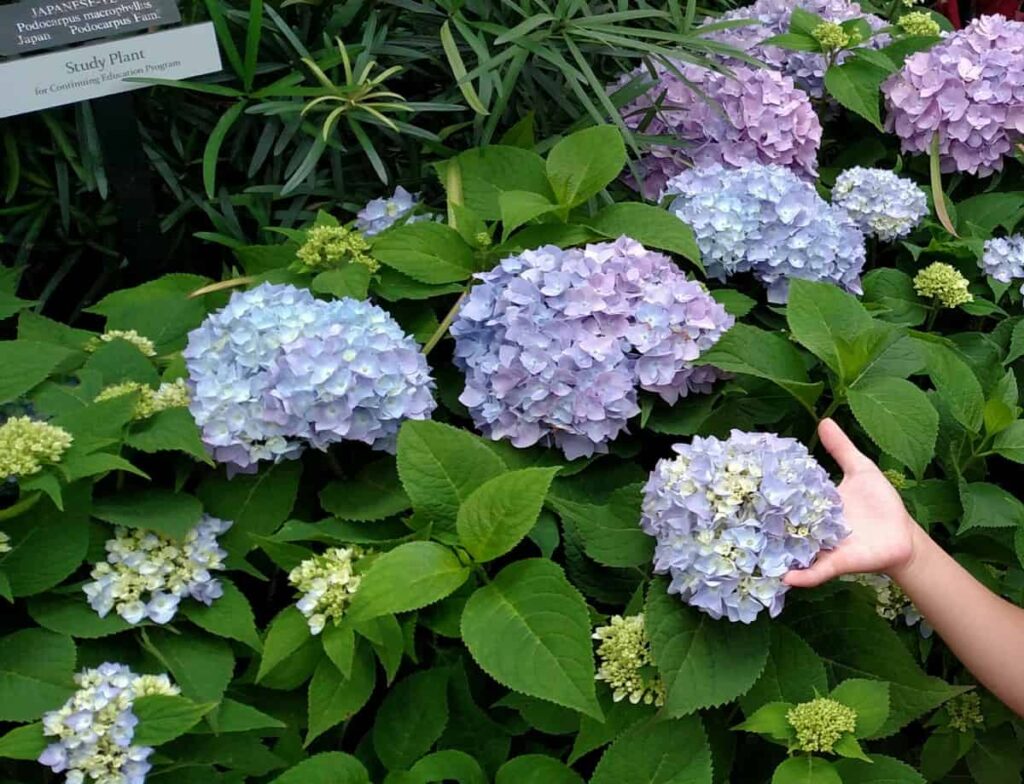 Bonsai
Longwood Gardens has a wonderful collection of Bonsai trees. They have some that are over one hundred years old. It was so nice to see them in bloom this time!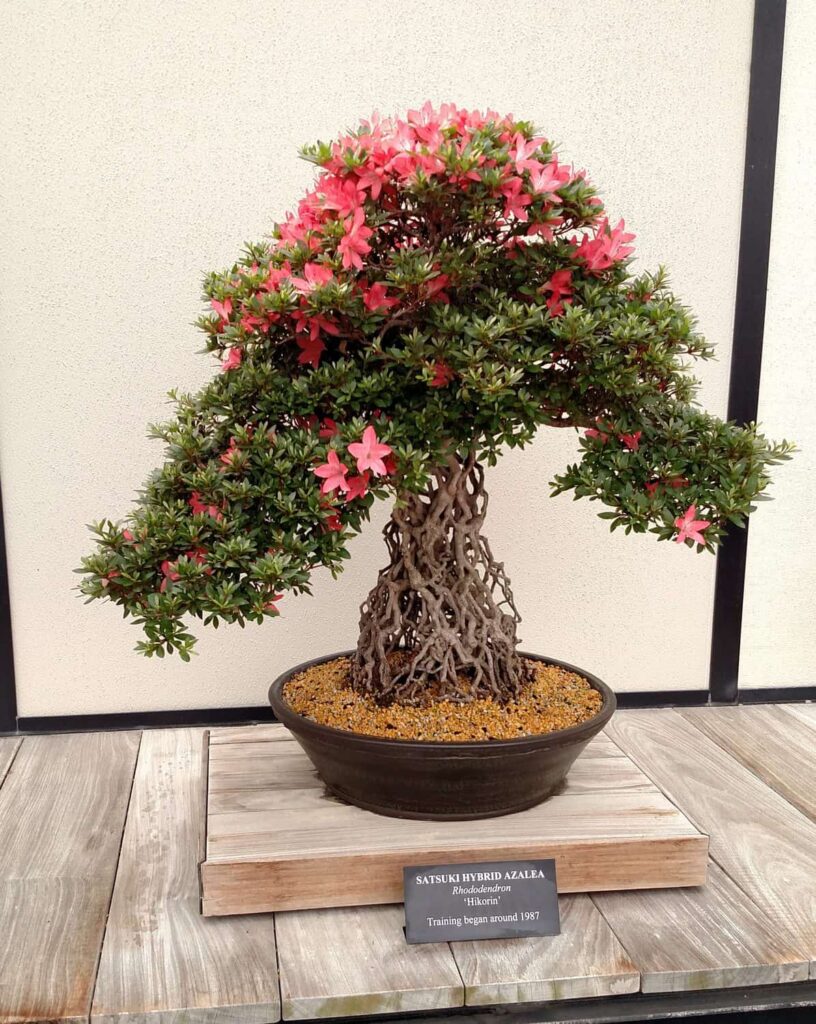 My favorite was this blooming pink Azalea.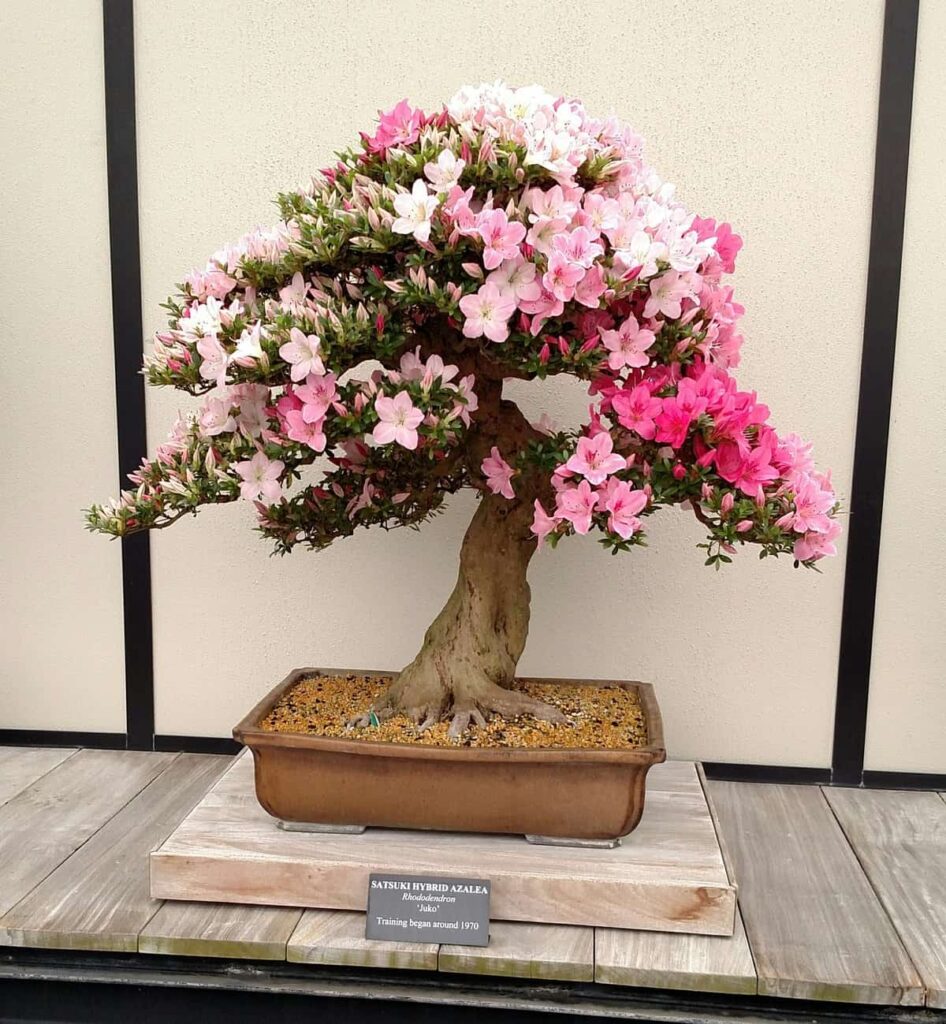 Here is the pink ceiling and chandelier inside the concert hall adjoining the conservatories. Aren't they gorgeous?!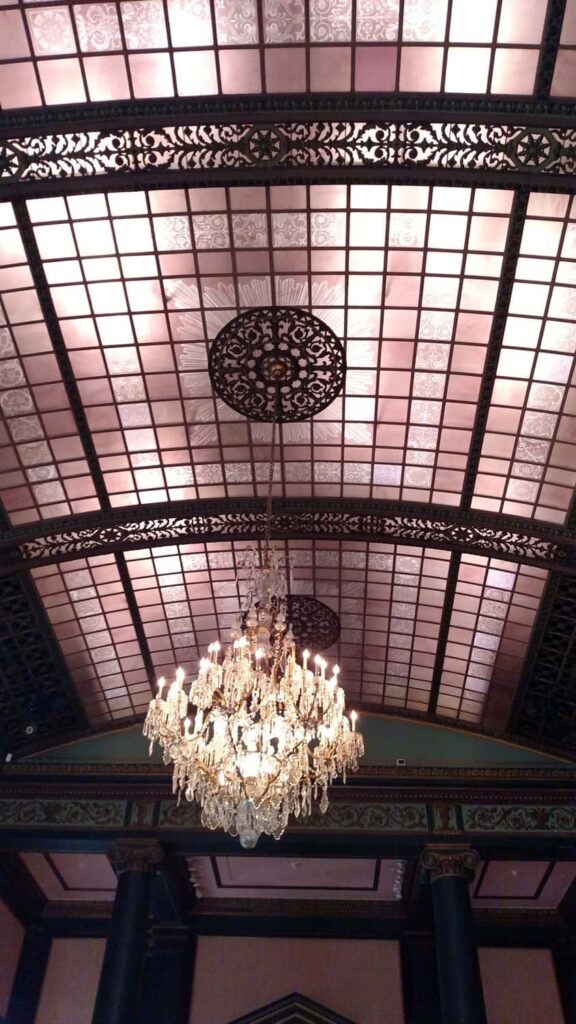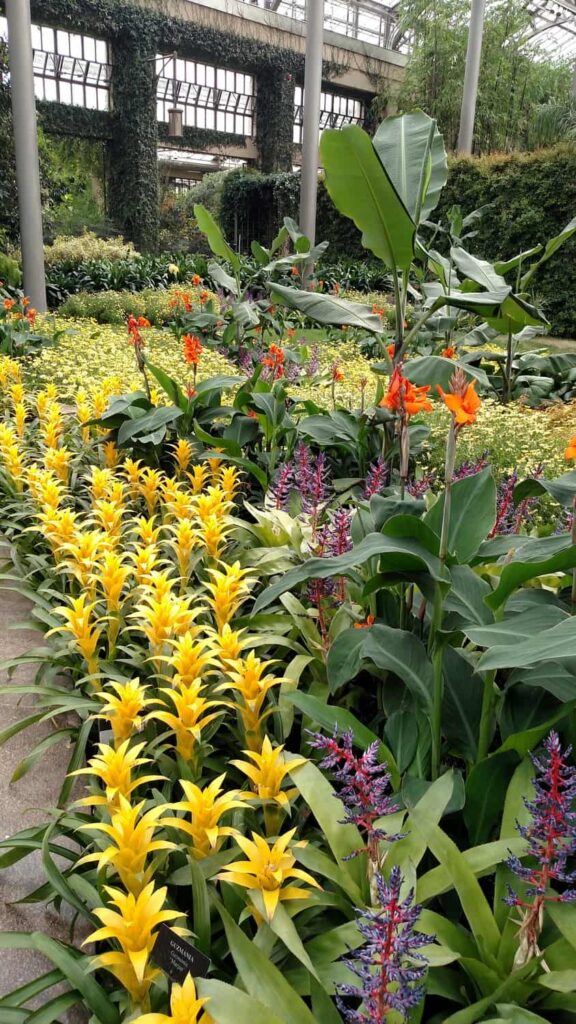 I thought this pink and purple combination on one plant was unique.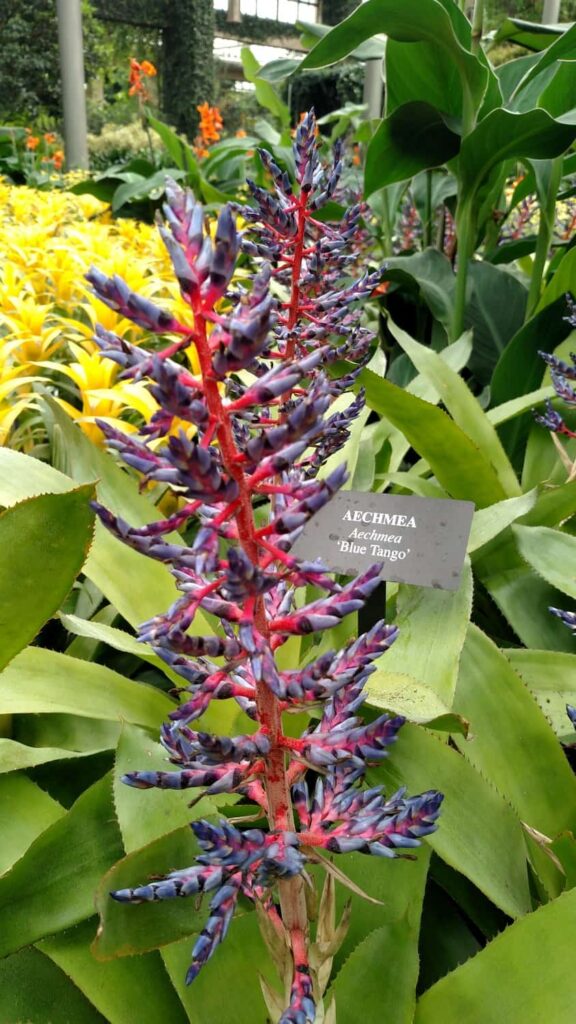 Here is another pink and purple plant that I did not get the name of.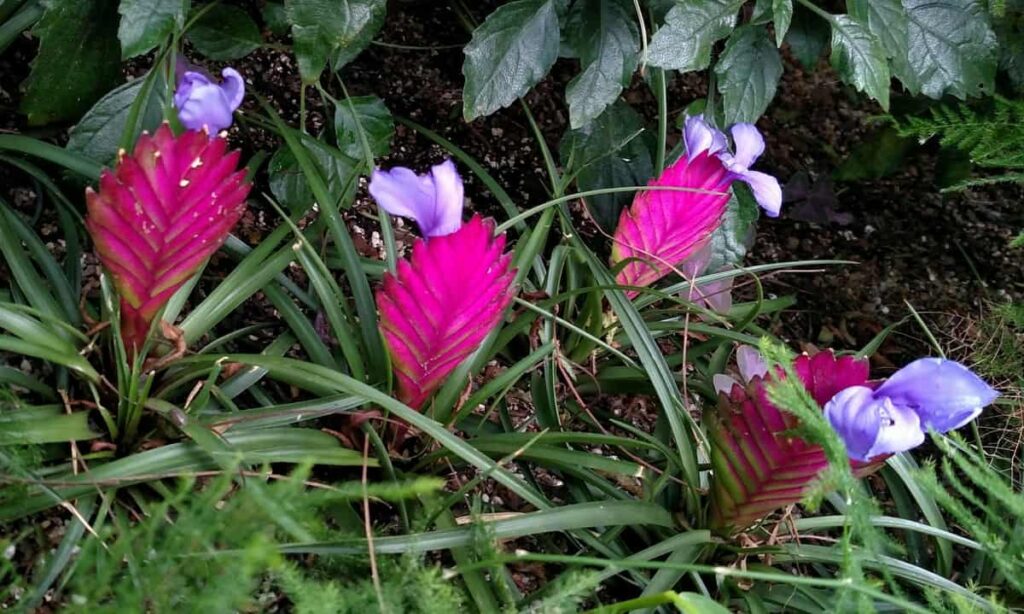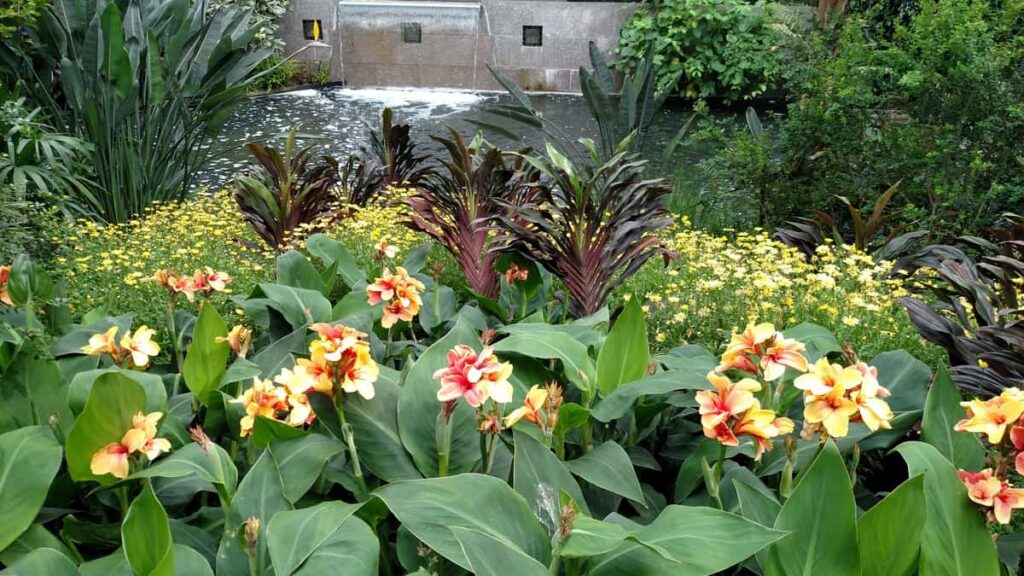 Inside one of the conservatories is a large children's garden, complete with a variety of fountains. You know that children love water, so this is perfect. See how the animal's mouths spurt a fountain of water into the bowl below?!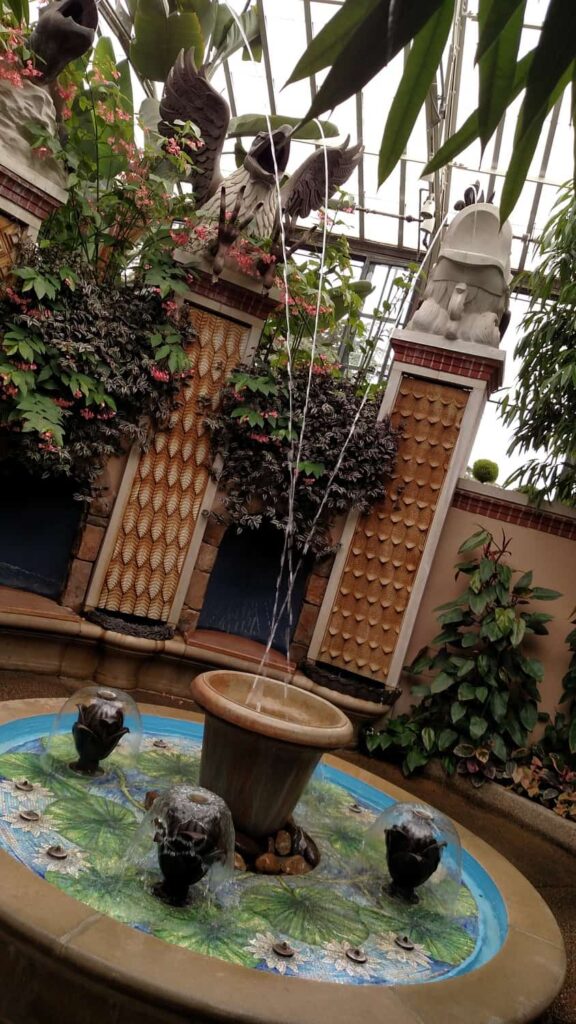 Here's another view of the intricate tile work in this fountain.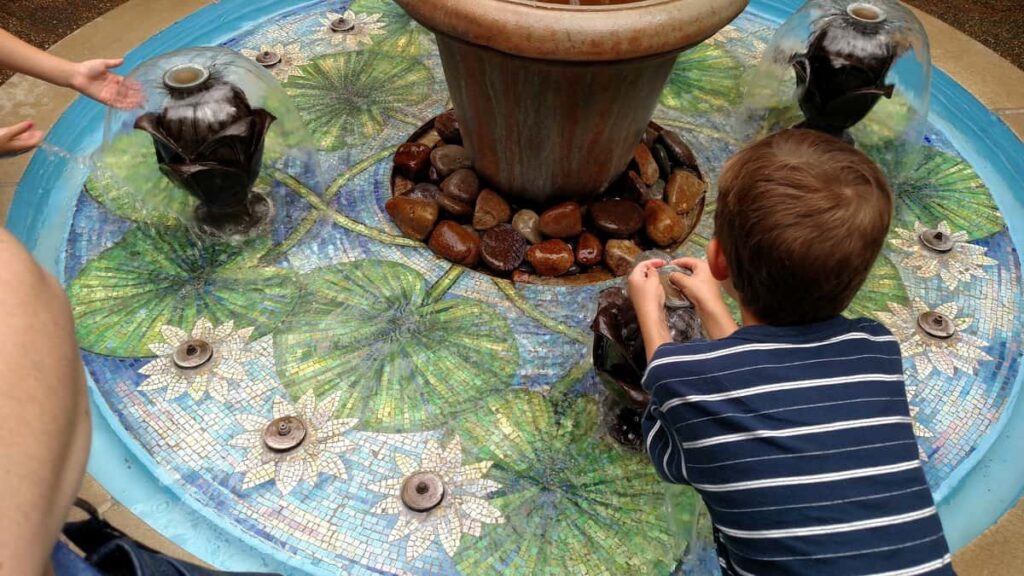 Daytime Fountains at Longwood Gardens
In addition to the children's garden fountains, Longwood has a stunning outdoor water fountain display. This first picture is up on a bridge near the main fountains.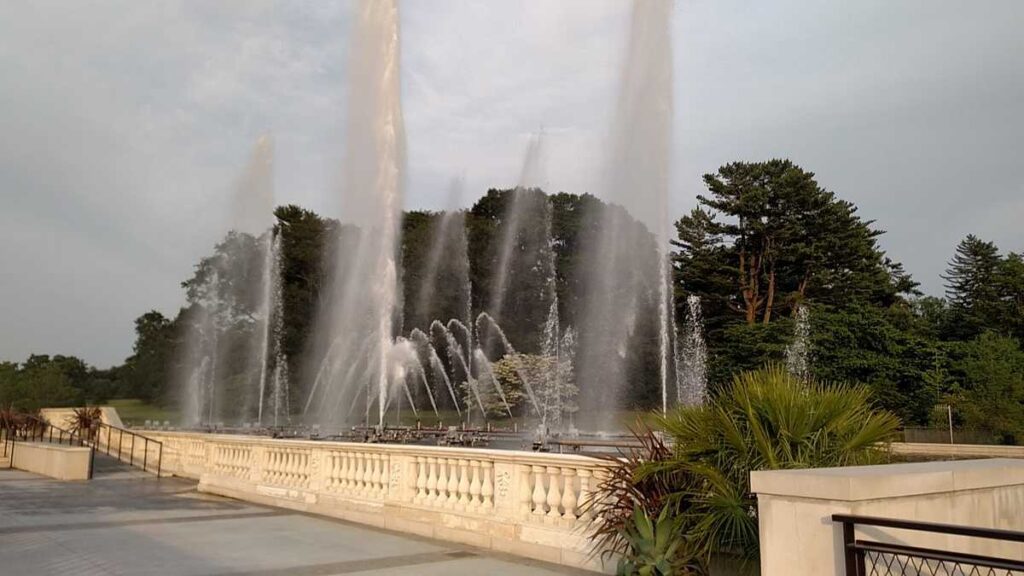 This picture is still from the bridge, but turning and looking the other way toward the conservatories, with the main fountains behind and to the right. It shows the center fountains to the left of the picture (so only half of what is actually there.)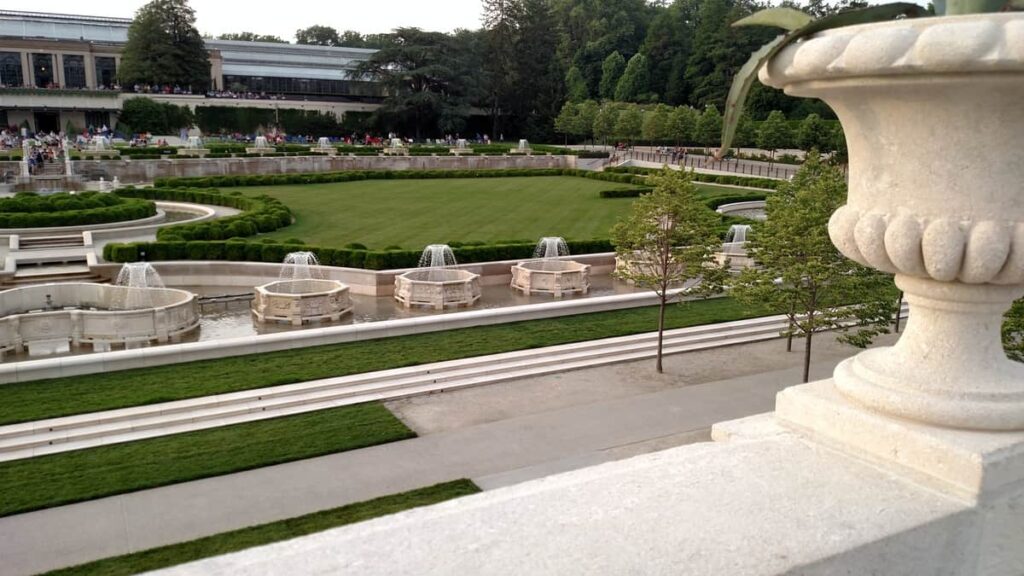 In 2014 Longwood replaced their entire system of water pumps for the main fountains. So they turned their old pump system into a neat display room underneath the main fountains. I hadn't seen this before, and thought it was very thoughtful of them to do, and amazing to see.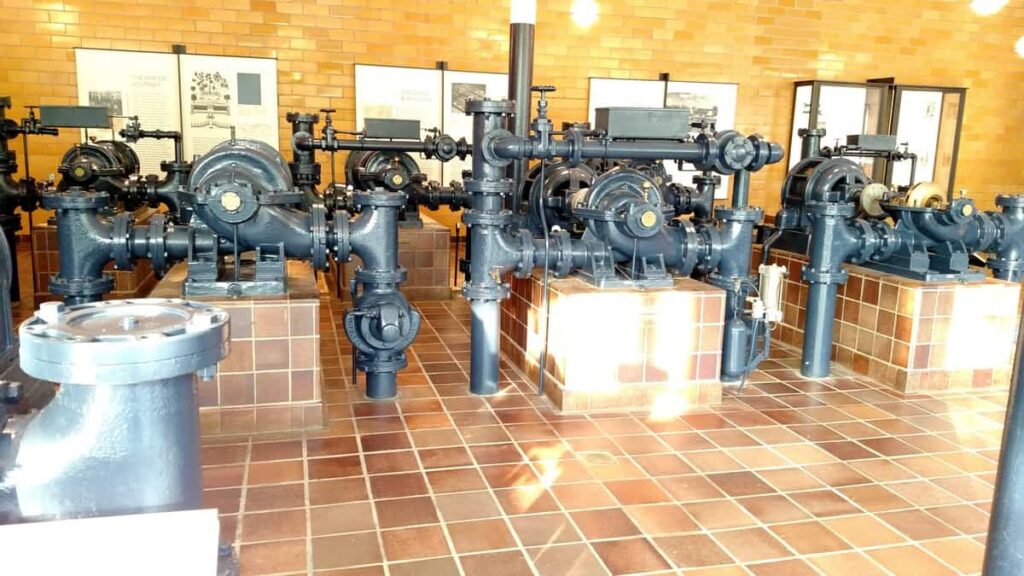 Here is a cut out section of a pump a level beneath the one we were standing on.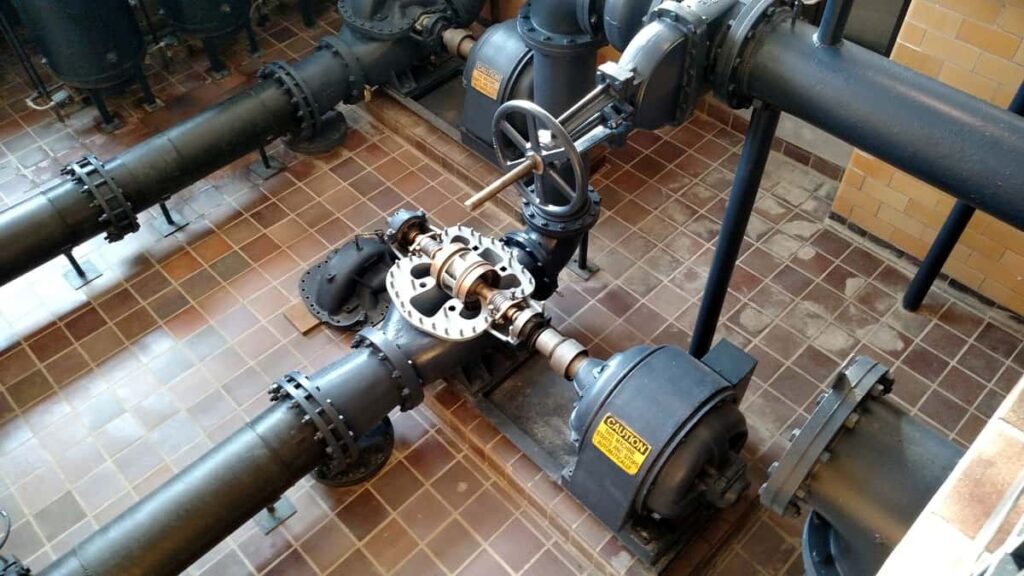 Nighttime Fountains
As daylight began to fade, they turned white lights on the fountains. This picture is from the conservatory level, looking out to the main fountains and the bridge from which the daytime pictures were taken, above. I would be sitting in the first row of camp chairs in the center to watch the nighttime fountain light display.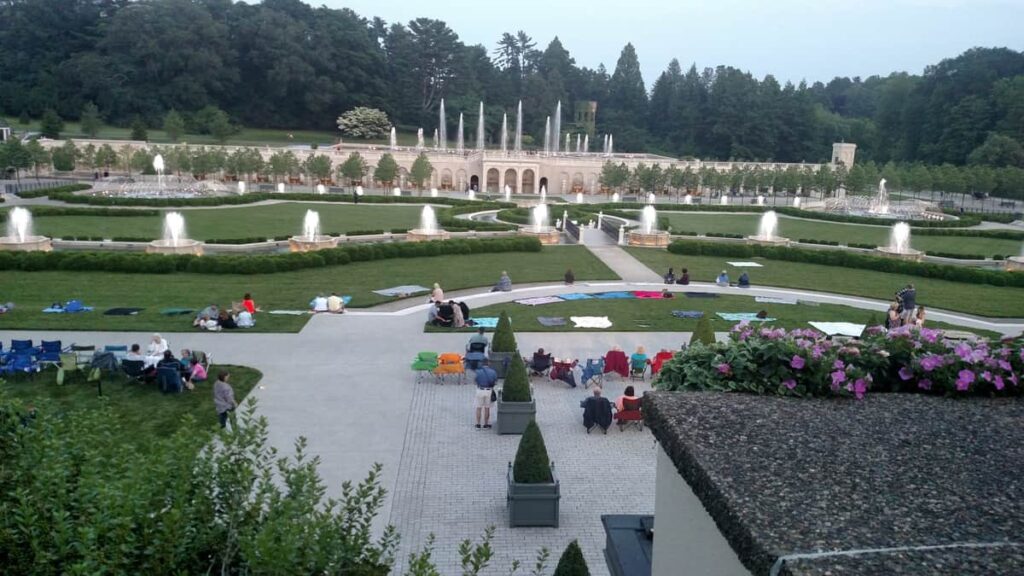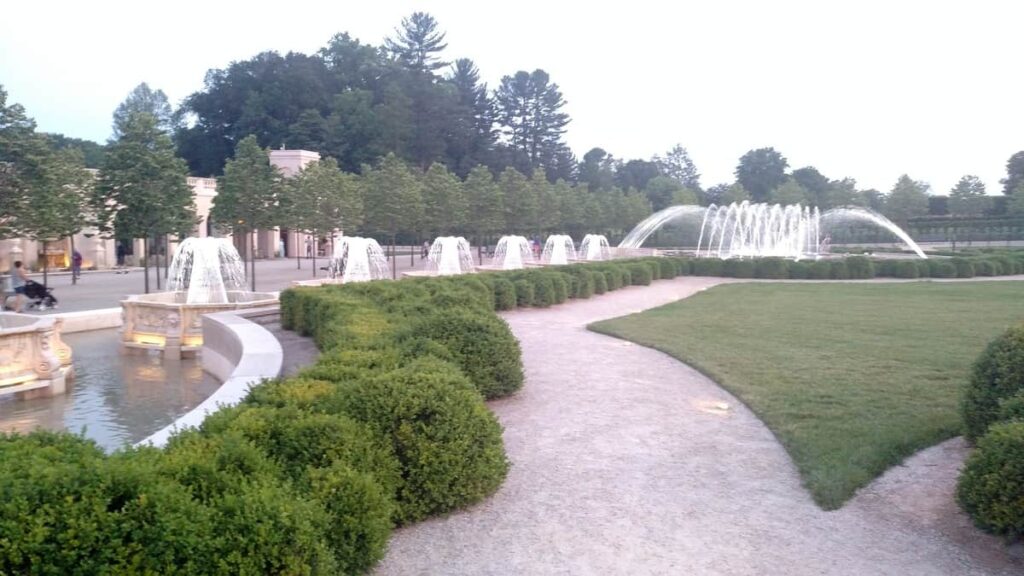 Here is a closeup of one of the smaller fountains with the white light on. It is neat that the light looks like it is actually in the water, not just shining on the water.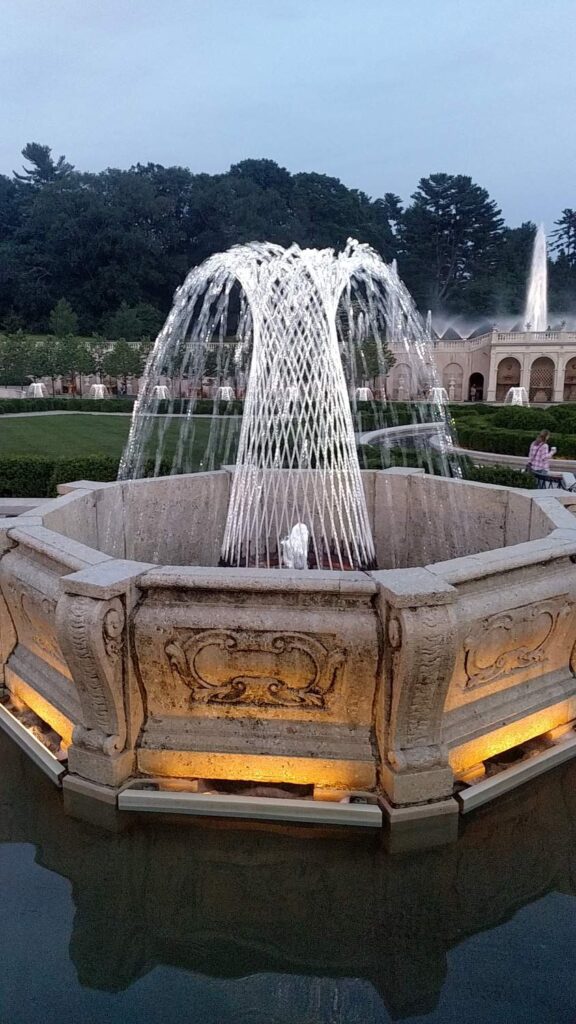 Here are several shots of the nighttime fountain display. They played Gershwin music as the fountains moved and swayed, and changed colors in time to the music. I had never seen such a spectacular display. It was somewhat similar to watching fireworks– with water running. Longwood has a fountain show that includes fireworks–what a show that must be!

Sometimes, the shorter fountains would throw a ball of fire up in the center– can you see them in the picture below?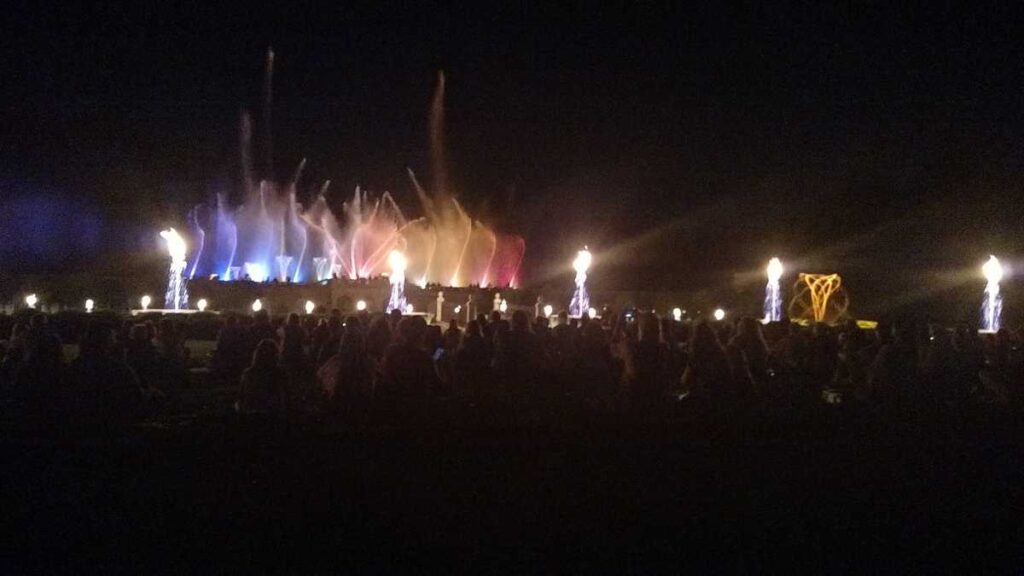 All of the colors, with the music, and the water, was a delight to experience. To see a video sample of the illuminated fountains, click here.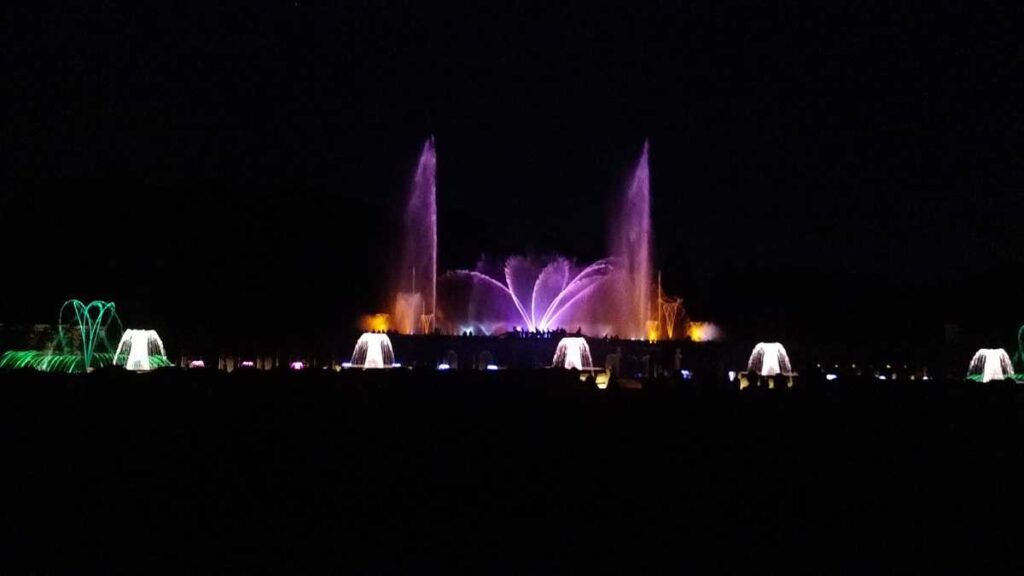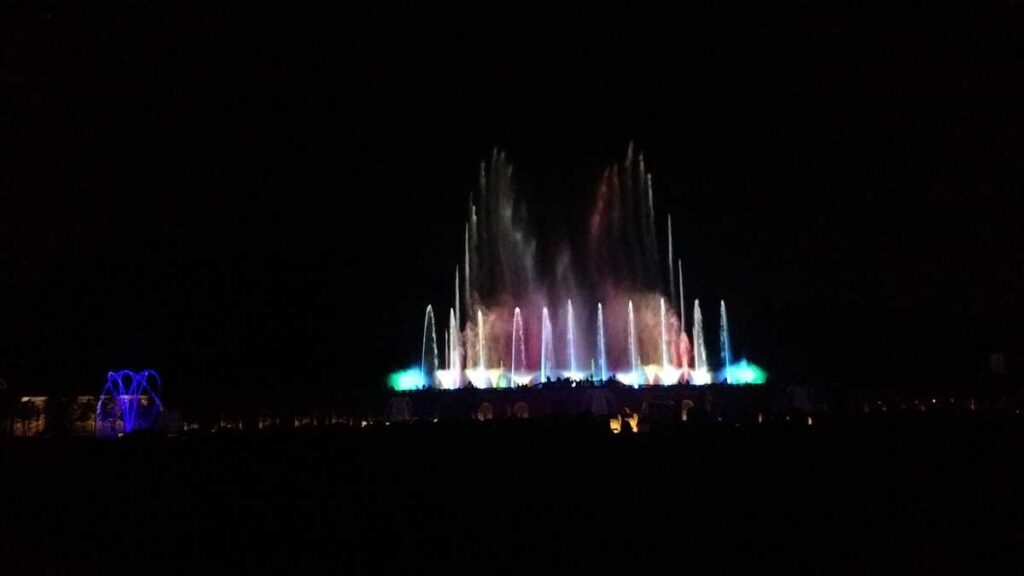 Gift Shop
Longwood Gardens has a gift shop with a large variety of things. I chose some of their Pennsylvania made chocolate bars infused with herbs from Longwood– one with mint and one with basil. The basil one reminded me of spaghetti flavored chocolate! Oh my!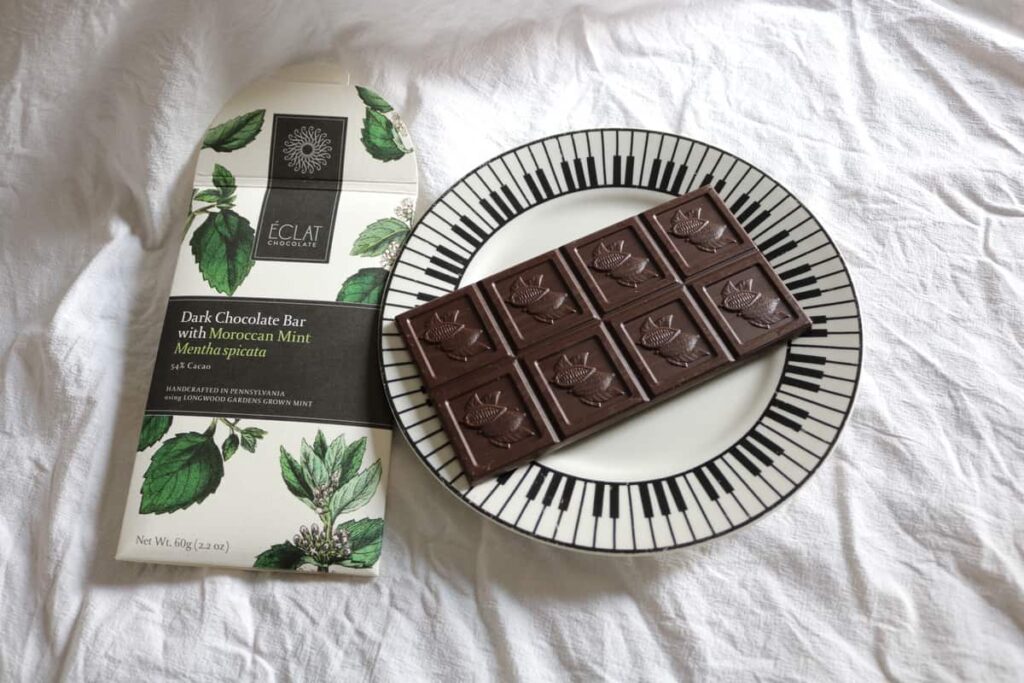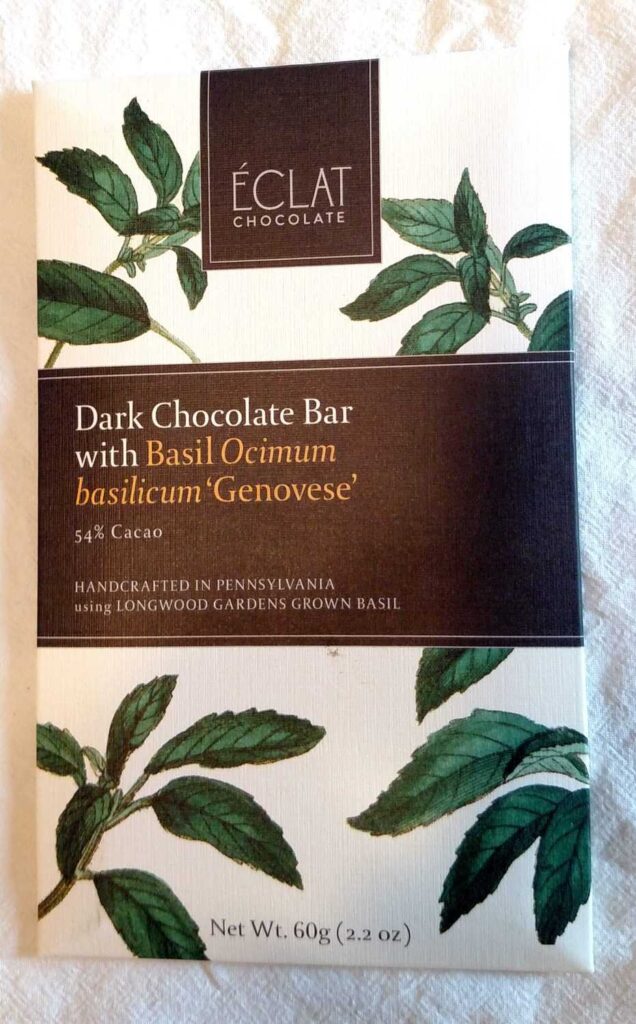 I also bought three different colored kalanchoes to go in these three matching pots that I had just found at a yard sale.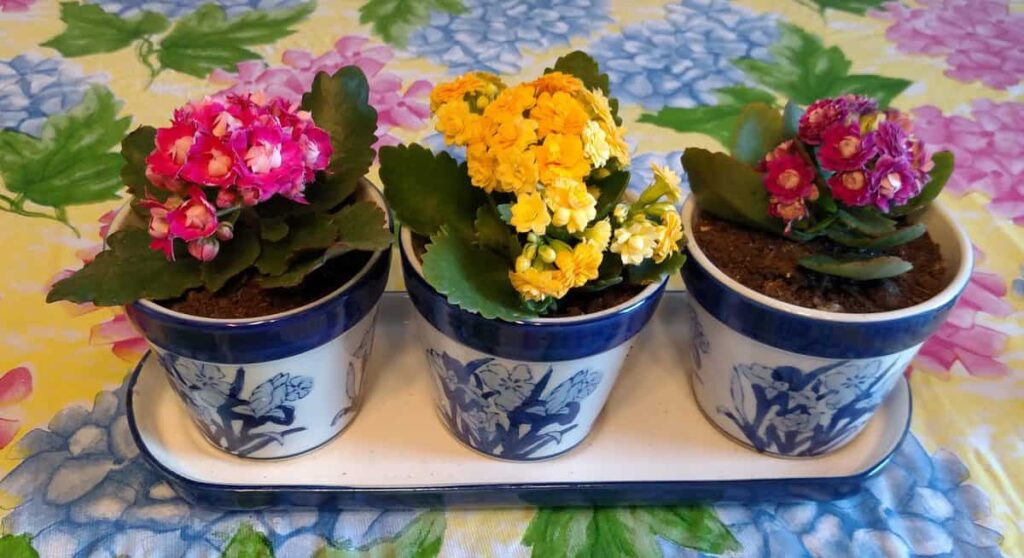 Here they are on my window sill.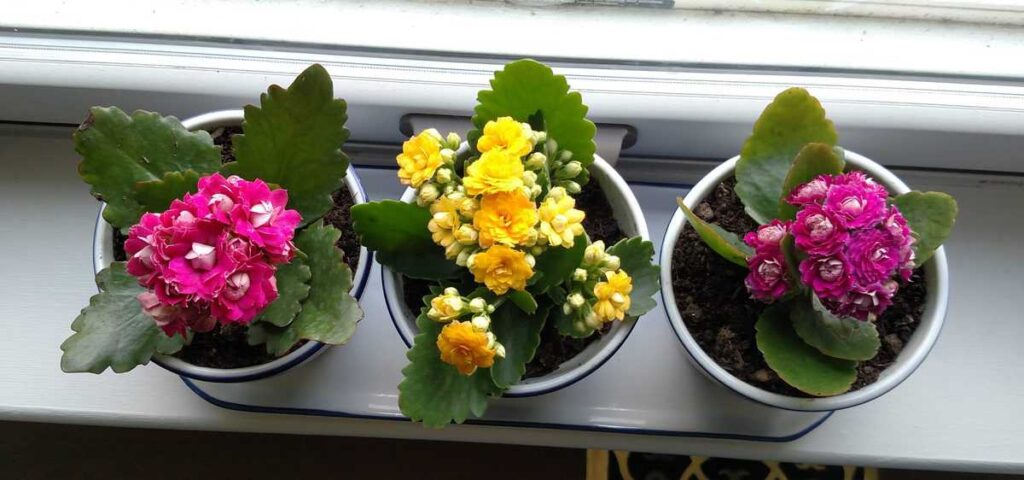 I already told you that I purchased some of the Golden Pineapple Sage. It is pictured on the left, next to the darker Pineapple Sage that I already had. I divided it and planted part of it in the empty spot just behind and to the left. It has grown well. (Both plants are very large now.)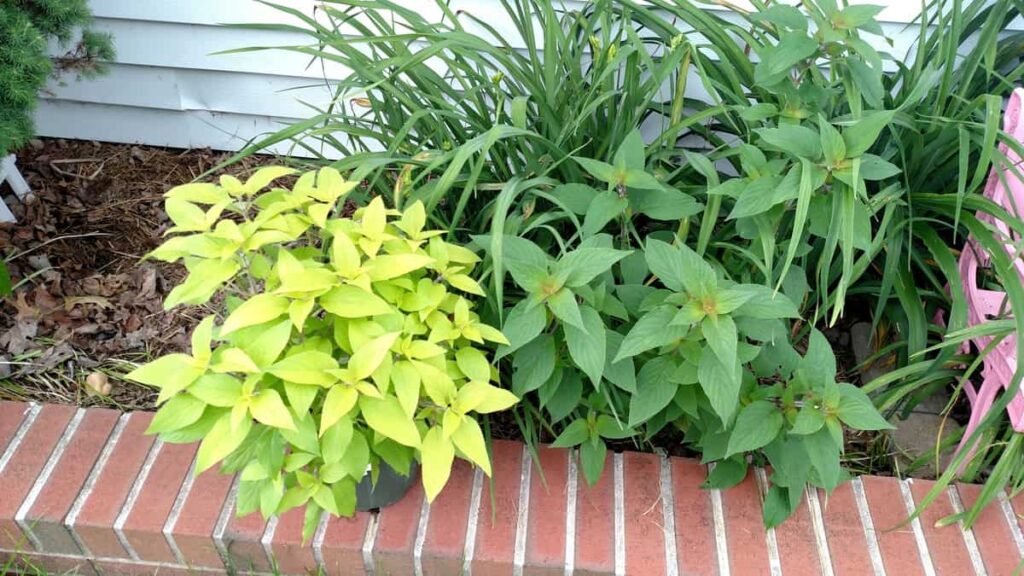 I hope that you have enjoyed this virtual tour of Longwood Gardens. If you ever have a chance to visit there in person, I highly recommend it!!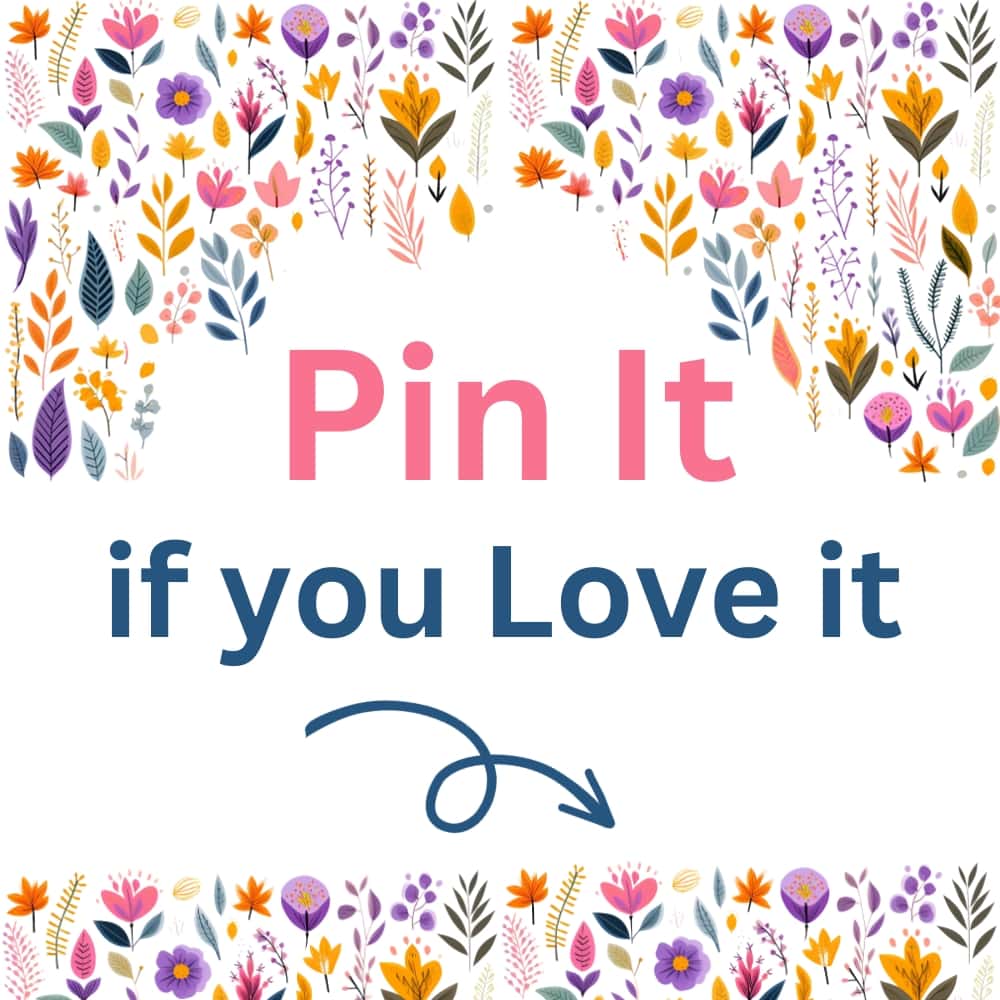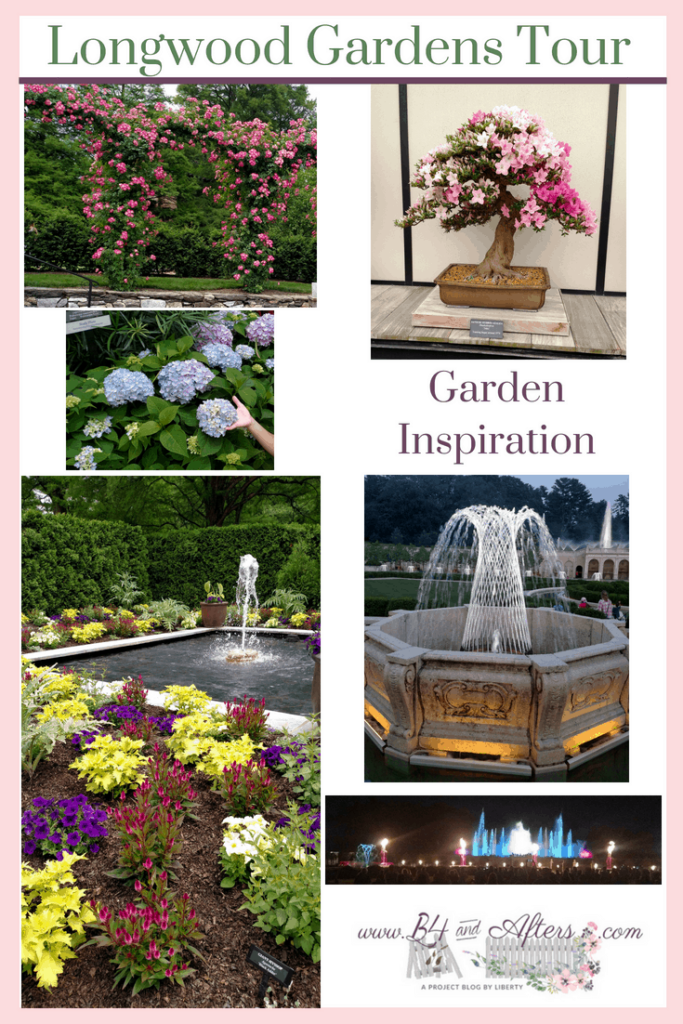 –By the way– Martha Stewart visited Longwood and shared her pictures, too!
*Joining the Amaze Me Monday Link Party and Sizzle into Summer.
SaveSave
SaveSave
SaveSave
SaveSave