Adding Kitchen Cabinet Open Shelving
This Post on Open Shelving in the Kitchen is the third in a series on our Kitchen Cabinets. You can find the first post Here.
BEFORE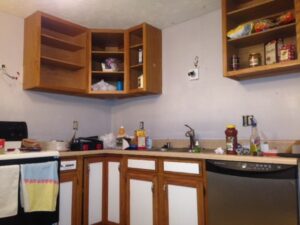 (*This post may contain affiliate links. By purchasing anything from these links, I may receive a small commission at no cost to you. More information is available on my Disclosure page.)
Reasons
Previously, we had moved the upper cabinets all the way up to the ceiling so that I could utilize more vertical counter space. In the space over the sink, I decided that I wanted open shelving. I had a lot of open shelving for a long time when I lived in my apartment before I got married. I liked the convenience of just reaching for a plate, cup, or bowl without having to waste time and energy opening and closing a cupboard door. I also liked having a place to display pretty dishes, since I don't have room for a china cabinet. In addition, I thought it would give me more space than the typical small over the sink cabinet. Here's another Before picture, showing that small cabinet: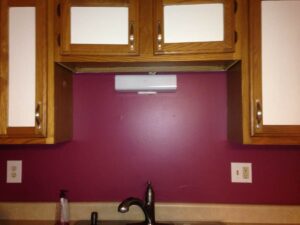 Here is the same space with the cabinets moved to the ceiling, and the wall painted.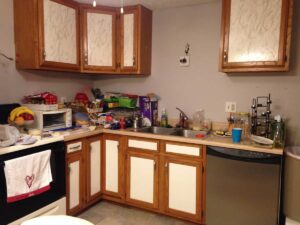 So these shelves were installed just how I wanted them. They are supported mainly not by the wooden brackets, but by screwing into the cabinets on each side.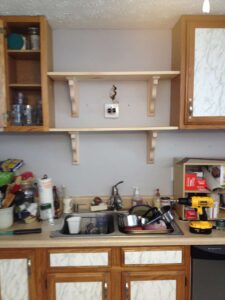 Results
After the light was moved and the wall repaired; I painted the wall, the sides of the cabinets, and the wooden brackets* all white with hi-gloss trim finish.
AFTER!!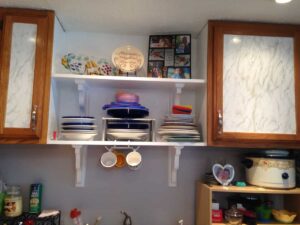 I have two pantries, and one of them stayed for awhile in the corner where the fridge used to be there on the right. I have two different patterns of Contact Paper going on…. do you see them? Do they clash?…. Don't worry– there is still a lot more transformation to come!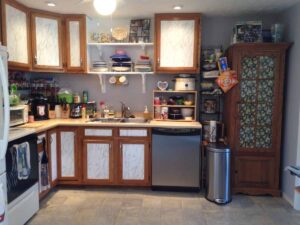 After about 3 and a half years of having my plates and bowls right at my fingertips, I recently moved them into nearby cupboards and put out more pretty dishes that I have collected.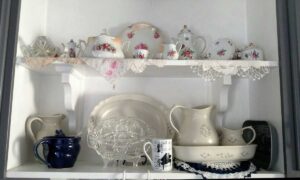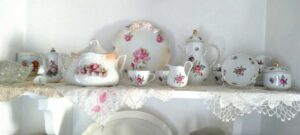 SaveSave
SaveSave
SaveSave
SaveSave
SaveSave
SaveSave
SaveSave
SaveSave