Contact Papering the Kitchen Cabinet Doors
Temporary Fix
This post is part of the Kitchen Cabinet series. This is a very early in-between stage of the Cabinets as they evolved. I left them like this for a couple of years before making bigger improvements.
When we bought our house, the kitchen cabinet doors had been painted with latex paint in their centers.
BEFORE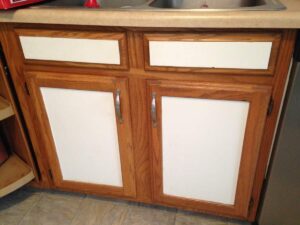 (*This post may contain affiliate links. By purchasing anything from these links, I may receive a small commission at no cost to you. More information is available on my Disclosure page.)
You could see the brush marks, and I just didn't care for the look of it. Later on I realized that the cabinets had probably been painted to hide how badly the bare wood looked. I don't remember if I bought this Contact Paper for this project, or if I just had it on hand already because I liked it. It is likely that I had it on hand already.
Not All Contact Paper is the Same
Just like not all wallpaper is the same, so not all contact paper is the same. Some of the marble contact paper in stores similar to this one is blurry. Some contact paper is thinner than others. It is usually cheaper than the thicker, better quality contact paper. Depending on what you are using it for, the thinner paper might not make a difference.
I had enough to do all of the doors, but I took this picture of just the upper cabinet doors papered to show the difference. Doesn't the marbly gray start to pull my gray color scheme together, in place of the stark white? At least the contact paper hid those brush marks. With very little time and effort, I had changed the look of my kitchen cabinets enough to satisfy me until I would eventually paint them. I was very happy with my temporary fix. I have also been known to suggest this same fix to other people….
AFTER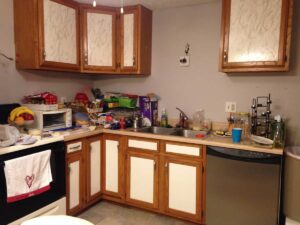 You can find the first Kitchen Cabinet post Here. You can also see both upper and lower cabinets contact papered in the next post in this series.
SaveSave
SaveSave
SaveSave
SaveSave
SaveSave
SaveSave
SaveSave