Bacon Cream Cheese Corn
This post contains links to affiliate websites, such as Amazon, and we receive an affiliate commission for any purchases made by you using these links. We appreciate your support!
I have a neat food serving trick/ tip to show you that goes along with my recipe. Read on….
This cream cheese corn with bacon "sprinkles" on top is a rich side dish. I enjoy making it for company, or to take to a potluck meal.
Bacon Cream Cheese Corn Ingredients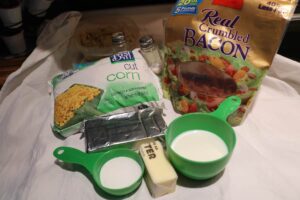 [sc name="This Post May Contain Affiliate Links"]
This recipe (a printable version can be found at the bottom of this post) can be adjusted to suit your tastes. It calls for frozen corn– this is so that you can control the amount of salt and sugar that you add to it. If necessary, you could substitute canned, unsalted corn. I substitute things all the time…. I used my medium size crock pot (3 quart). In the past I have used my large crock pot and doubled the recipe. I used some home-frozen corn and some store-frozen corn–that is why you see different colors of corn.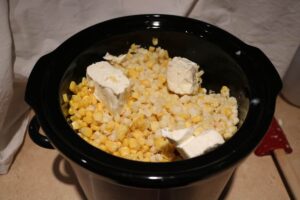 I frequently just add more milk instead of using the heavy whipping cream– but the heavy cream does make it even more delectable. You can also add a bit more cream cheese if you like. Basically, if you eat this corn you might as well have a slice of cheesecake if you are counting your calorie intake!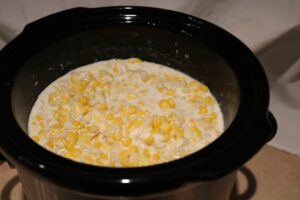 After 2-3 hours, sprinkle bacon on just before serving. I have always preferred bagged refrigerated bacon bits because of the convenience. But feel free to cook bacon strips and crumble them over top, or use leftover bacon if you have any.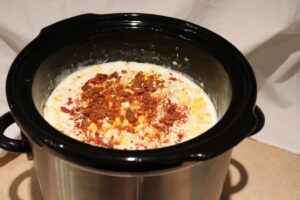 Dispensing Tip
I keep my bacon bits in the fridge in a former Parmesan Cheese container. I use a wide mouth funnel (like the ones used for canning) to put the bacon bits into the clear container. Then whenever I want to use them for a salad, or with scrambled eggs– it is sooo easy to open the "spoon" side (not the "sprinkle" side)– and just shake out as many as I like. So easy and fun! Does anyone else do this?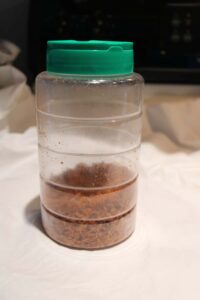 So I just set out the bacon "sprinkles" for my guests to add their own bacon on top of their corn in their desired amount.
I also keep shredded cheese in another former Parmesan Cheese container (cheese not needed for this recipe–just showing you). I keep my homemade Ranch dressing mix in another one of these containers in the fridge.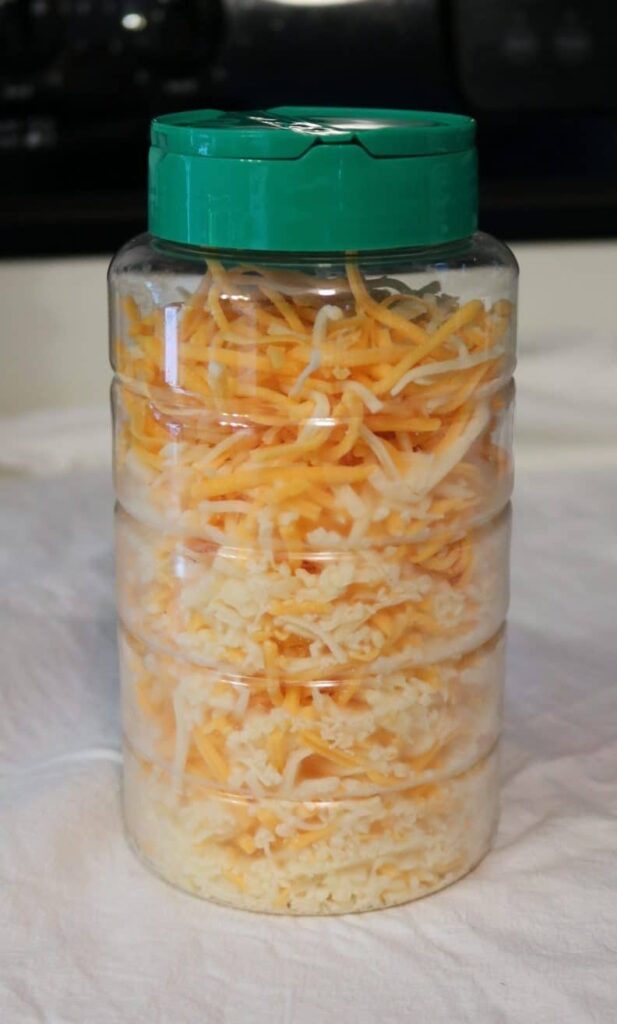 Once you try this cream cheese corn with bacon on it, three things will probably happen. First, you will want a second serving. Secondly, you will not want to eat plain corn any more! And Thirdly, you will probably want to share it with someone– which is what I have enjoyed doing just now! : ) Enjoy!
Bacon Cream Cheese Corn After!!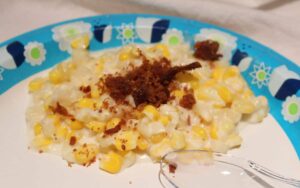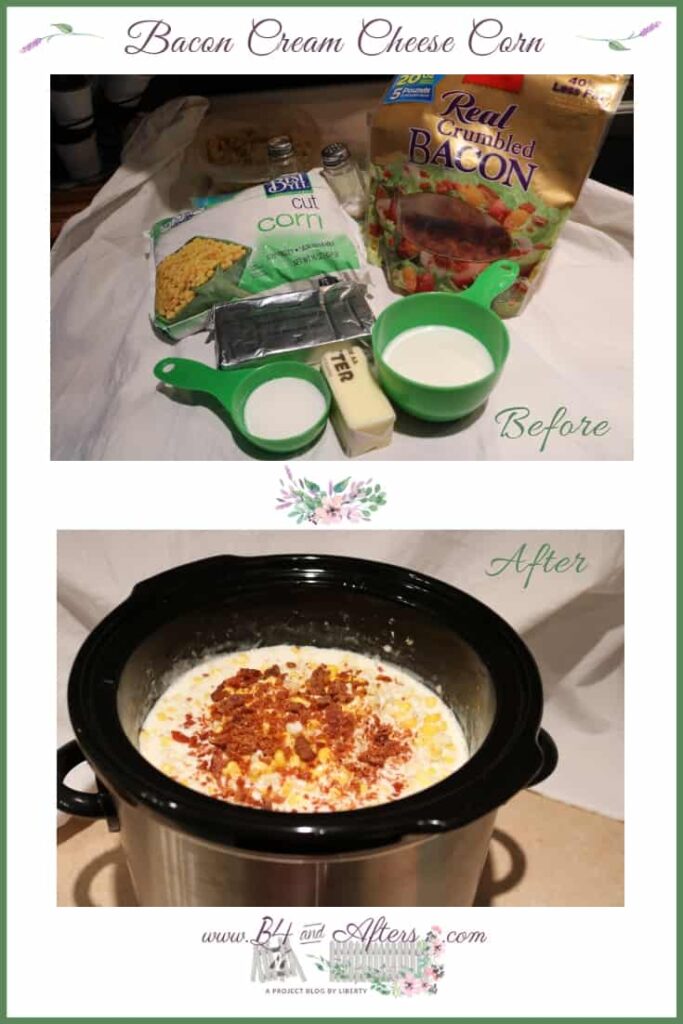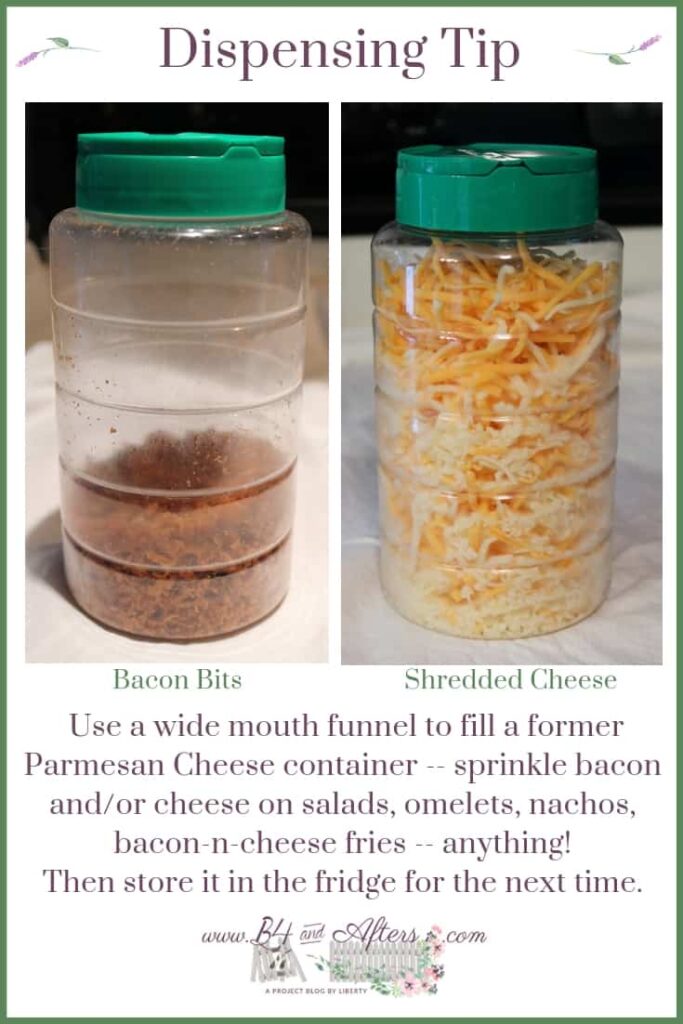 Bacon Cream Cheese Corn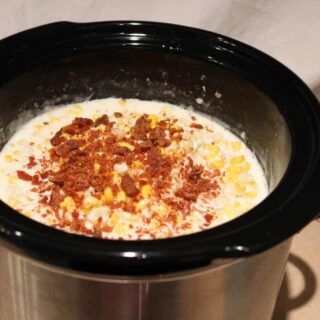 This bacon cream cheese corn is a crowd pleaser, and could not be easier to make in the crock pot.
Ingredients
5

cups

frozen corn

thawed

One 8 oz. package cream cheese

¼

cup

1/2 stick butter

¼

cup

milk

¼

cup

heavy whipping cream

can omit or use milk instead

⅛

cup

sugar

1

tsp.

salt

½

cup

bacon bits/ sprinkles

plus more as desired
Instructions
Put all ingredients EXCEPT bacon in a crockpot. Cook on low 2-3 hours. If you are in a hurry, cook it on high for the first hour.

Sprinkle bacon on just before serving. Sprinkle on individual servings as desired.