Video: How to Remove the Lint Trap Housing from your Dryer
Have you ever needed to repair something, and coudn't find a YouTube video to show you how to do it? That happened to me when I needed to remove the Lint Trap Housing from my dryer. So I decided to make this video for you and everyone else who might need it!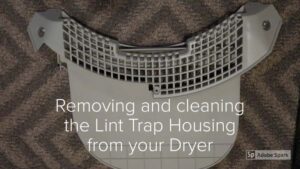 (*This post may contain affiliate links. By purchasing anything from these links, I may receive a small commission at no extra cost to you. More information is available on my Disclosure page.)
This came about as the result of my curtains getting Very twisted in my dryer because they were caught on my Lint Trap. That is when I realized that my Lint Trap was not going in all the way because of a build up of lint that had gotten past the trap.
So rest your mouse scrolling hand, sit back, and watch this short video.
If you liked this video, please let me know in the comments! I'd also love for you to follow me over on YouTube!