I found this wooden Anchor Basket at a yard sale. I know someone who likes anchors, so I decided to remake it as a Christmas gift.
Anchor Basket, Before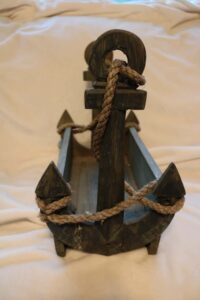 Here is a side view.
Anchor Basket, Before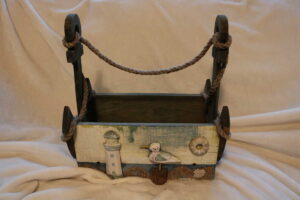 Here is a closeup of the end. I knew that I would be replacing the rope– and I needed to remember how to loop it back together!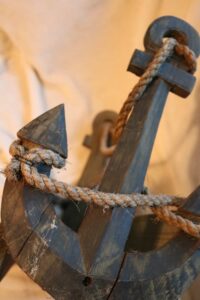 The first thing I needed to do was reinforce it a little bit. I suspect that because of it being picked up by the rope, the anchors on the ends had loosened a bit– one in particular. So I used a jumbo craft stick to reinforce it.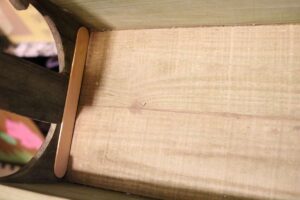 I used Gorilla Glue to attach the craft stick, and then I used furniture movers as spacers for the paint stick that I used to "clamp" it from the inside (I was pushing out with the paint stick/ spacers.)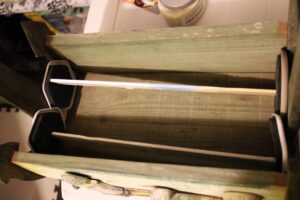 After the glue had dried it was as sturdy as could be once again. Then I began painting the wooden basket with some cream colored paint that I already had on hand.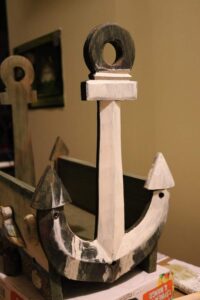 It took a bit of time painting everything inside and out. But I did not paint the decorative sides with the lighthouse and seagull.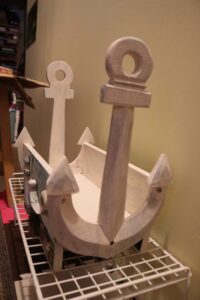 Doesn't it look so much better?!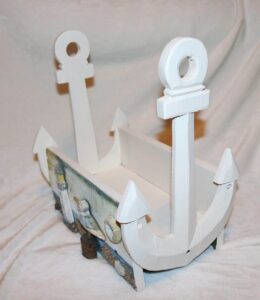 Here is the new rope (left) next to the old rope (right). You can see how much difference there is!!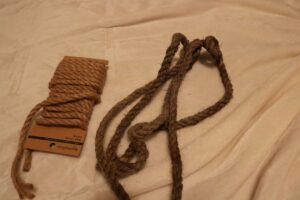 I also had some cream and gold rope. It was hard to decide which rope to use; but after a poll, I decided on the natural rope.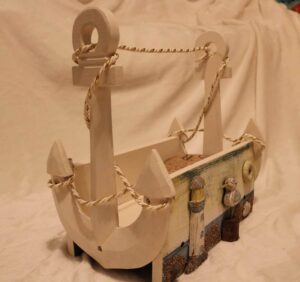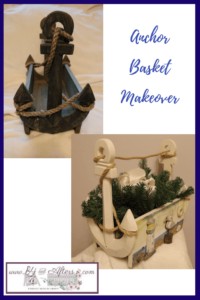 To see how I made this Anchor Wreath with a matching Swag, Click Here.