Anchor Burlap Wreath and Swag with Navy Accents
Introduction
This anchor wreath project began as a challenge to myself to see if I could copy another one that I saw, and also to see if I could make it for less than the one that I saw, was being sold.
I started out by purchasing rope, polka dotted navy ribbon, and anchor themed ribbon.
Before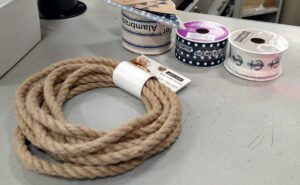 (*This post may contain affiliate links. By purchasing anything from these links, I may receive a small commission at no cost to you. More information is available on my Disclosure page.)
Things that I had already purchased previously included:
burlap mesh
gold chevron ribbon
cream ribbon
burlap ribbon
brown and white pipe cleaners
wire wreath frame
craft wire
The ribbon and the mesh I had purchased at Christmas clearance prices.
I started the wreath by attached the burlap mesh with the pipe cleaners. Then I added the burlap ribbon by winding it around the mesh. I cut the chevron ribbon and the cream ribbon into equal lengths, and cut the ends into an inverted V.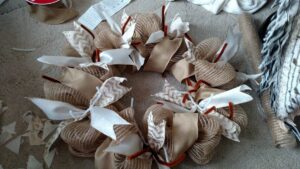 I decided to make a matching swag because I had enough leftover material. It was the first swag that I've ever tried to make. Again, it was a challenge to myself to see if I could make one that looked nice.
For the swag, I started with a length of craft wire. I attached the burlap mesh, burlap ribbon, and chevron ribbon to the wire with pipe cleaners. I made sure to cut them long enough to allow for curling the ends on each side. Then I attached the cream ribbon lengths (with inverted Vs cut into the ends).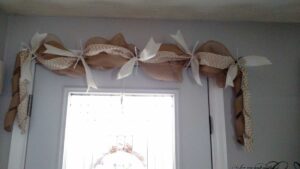 I bought some ceramic starfish like this one. The trick was– how to attach the starfish to the wreath and swag? After some searching, I hot-glued craft wire to the back of the starfish. Then it was very easy to attach the starfish using the wire ends.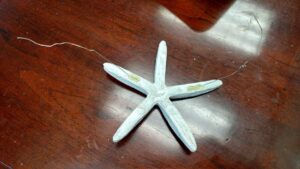 I wrapped the rope around the anchor like I had seen in the wreath that I was copying. Then I attached the anchor to the middle of the wreath. I wrapped the anchor ribbon around the wreath.
I attached the navy polka dotted ribbon to the wreath and the swag. I made bows out of the burlap ribbon and attached them to the swag in three places.
Here they are! The anchor wreath and matching swag. Do you like them?
AFTER!!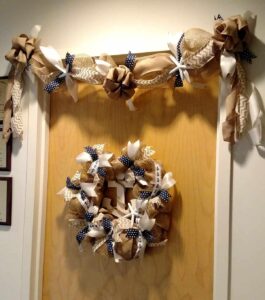 I was happy with how they turned out. And yes, I was able to create them for a little less than the wreath I had seen.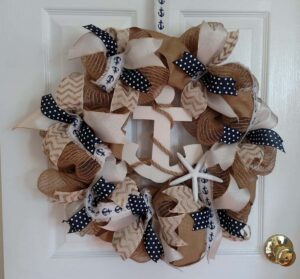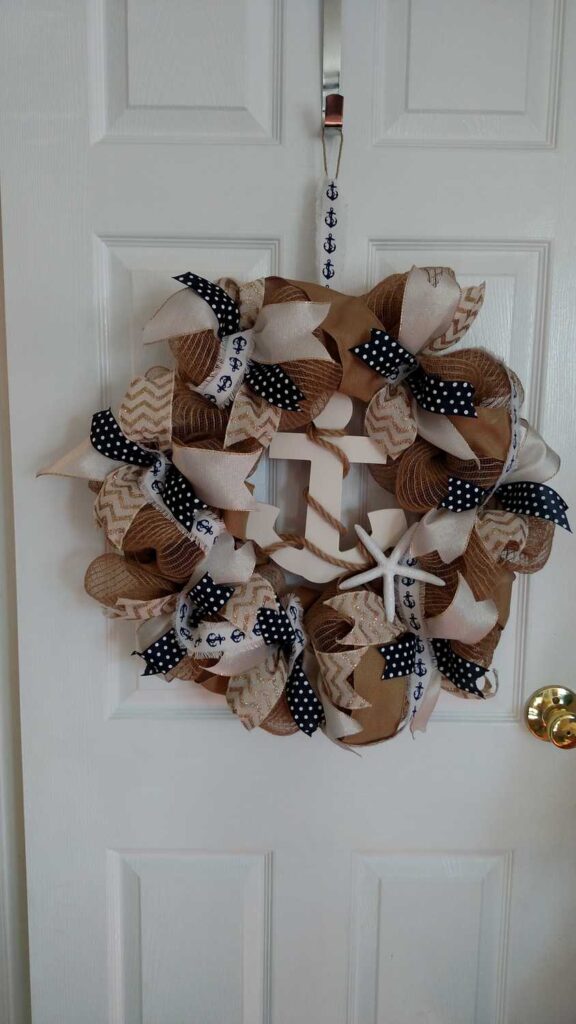 To see how I remade a wooden Anchor Basket, Click Here.