Cinderella Castle Birthday Cake
I like making a special birthday cake for my children's birthdays. For my daughter's sixth birthday, I wanted to make her a castle birthday cake. I pinned all sorts of ideas from Pinterest, so that I could create my own version like I usually do.
Before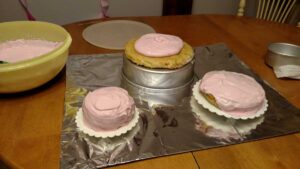 (*This post may contain affiliate links. By purchasing anything from these links, I may receive a small commission at no cost to you. More information is available on my Disclosure page.)
I happened to be shopping at a thrift store where I found a vintage Cinderella Castle for $4. Yes, FOUR dollars. I decided to use it for my cake topper, instead of creating an edible castle cake. I've used toys for my toppers other times, too.
I made three different size cakes. I put the two smallest on lids, and used the brightly colored bowls for the top to store them in the fridge– it is a trick that I saw on Pinterest a long time ago.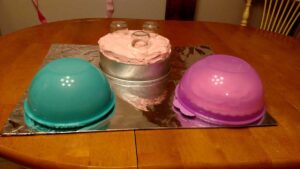 I used pink colored homemade whip cream for the frosting. To hold the castle up off of the cake, I turned three clean baby food jars upside down.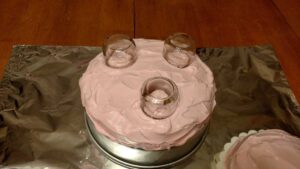 I bought Wilton edible icing decorations in castle and flower shapes. I also bought giant edible pink chocolate pearls to put around the base.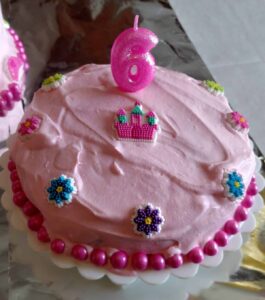 I put all three cakes on a foil covered cardboard.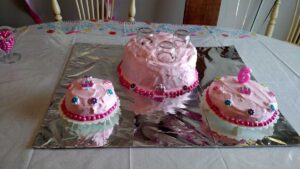 Here is the castle! I cut a cardboard the shape of the bottom of the castle, and covered it with foil. I put the foil covered cardboard under the castle. This kept the plastic castle from sliding around on the glass jars.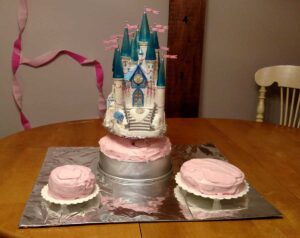 This Cinderella castle topper was better than any cake that I could have come up with.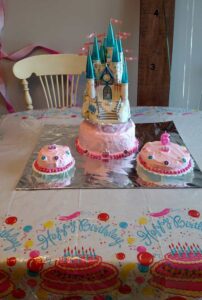 The Castle had lights and music! See the clock and towers all lit up?! It also opened up in the back. Later, my daughter found little tiny people in a hidden compartment. You can see a video (and hear the music) of an identical one by clicking here.
AFTER!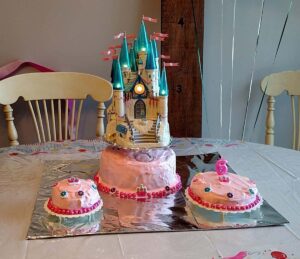 My daughter loved her cake and the castle. My goal was accomplished! To see other birthday cakes that I have made for my daughter, click here.