Sonic Mario Birthday Cake
Introduction
I like making neat birthday cakes for my children's birthdays. It is a special, unique gift from me to them. About three years ago I started including a toy as part of the cake. Sometimes that makes the decorating easier– I don't need to make elaborate shapes out of fondant. But other times, the cake ends up being a big project even with buying the topper or toppers.
It was a good thing that I had not planned very far ahead for this birthday cake. I had thought that I would be doing a Paw Patrol theme. But at the last minute, my son discovered Sonic the Hedgehog through his video games. He described his birthday cake to me–he wanted it to be big, blue, and to have a Sonic toy* on top. He had a lot of faith in me that I would deliver the cake that he was wishing for.
Before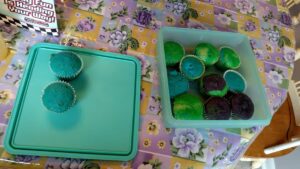 (*This post may contain affiliate links. By purchasing anything from these links, I may receive a small commission at no cost to you. More information is available on my Disclosure page.)
My son likes chocolate cake. He also likes lots of color. I decided to bake different colors of vanilla cake, and then put it inside the chocolate cake.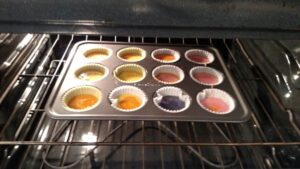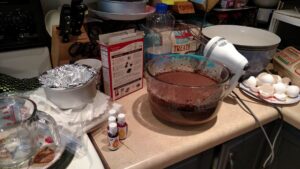 Here are the colored chunks waiting for the chocolate batter to be poured over them. I looked forward to surprising my son when he saw the inside of his birthday cake.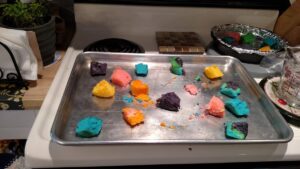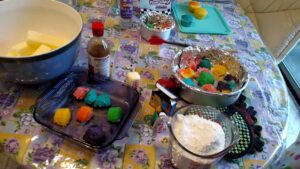 Here are the baked cakes. You can see the color poking through. I also put sprinkles on top before I baked them.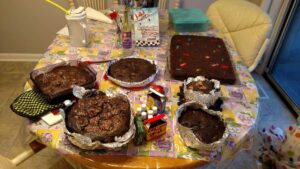 The 10×15 jelly roll pan cake became the base. I drew a five with frosting on it, to map out where I wanted to put more cake.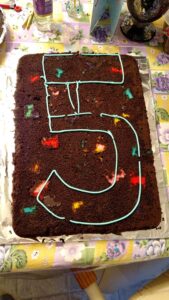 Then I cut pieces of cake in the right shapes to put a five on top.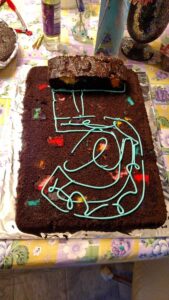 I had baked a round cake for the round part of the bottom of the five.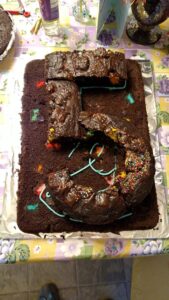 Here is the cake from the side.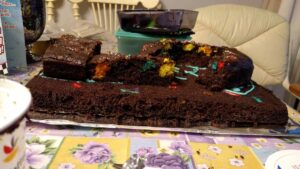 I decided to use a star tip to apply the frosting. This way I did not need to apply a base coat, or worry about frosting crumbs getting all mixed into the frosting. I also decided that I would use Super Mario toys in addition to Sonic the Hedgehog. It would be a video game themed cake, not just Sonic. I used Super Mario figures from a chess game my son already owned. The Sonic toy, however, was brand new.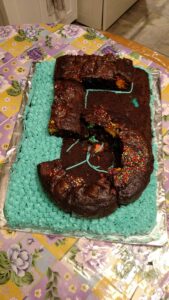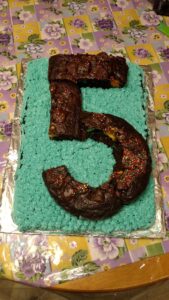 I used blue for the five so that it would stand out. Turning five is so monumental for a kid; at least it was for me! This was the first time that I tried the Americolor gel food coloring kit. I wanted really bright colors without watering down my frosting, and it worked just fine.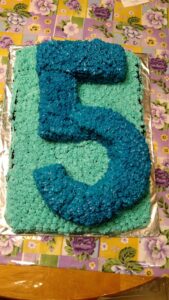 Then I used bright green around the base.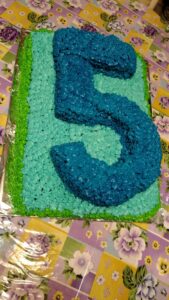 I also made a small round cake in the same colors.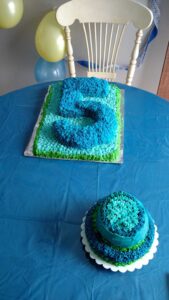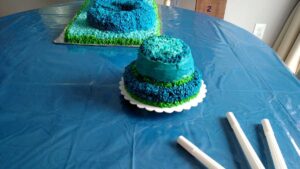 Using my Wilton cake tower set that my neighbor gave me, I set the small cake over the Five.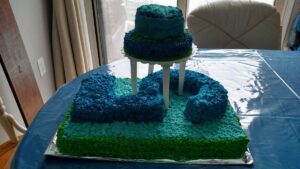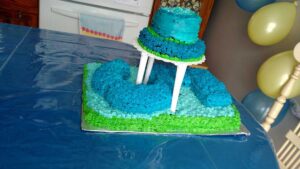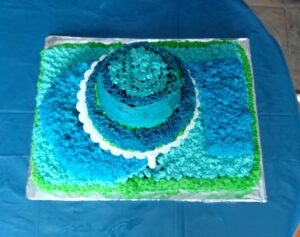 My plan was to set the Sonic toy on top of the small cake. I covered its feet in plastic wrap– especially because its feet light up so washing frosting off of them would not be good. This toy was top heavy– its head was very heavy– so it is a good thing that I had planned to use the fireworks style giant toothpicks for decoration, also. I used them to prop the toy up, and they kept it from falling over.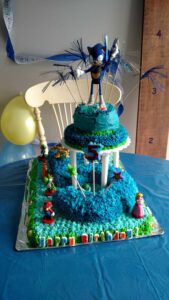 I added a five candle with stars and Happy Birthday candied lettering.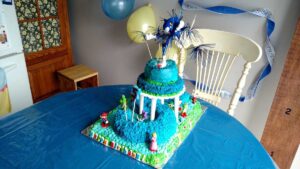 Here it is from the back.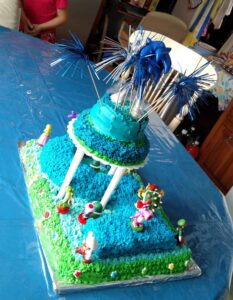 AFTER!!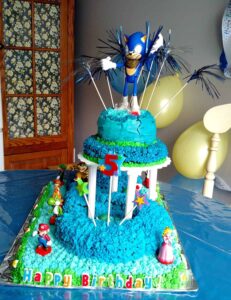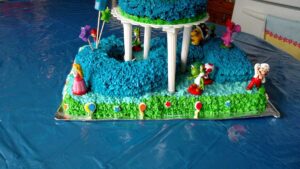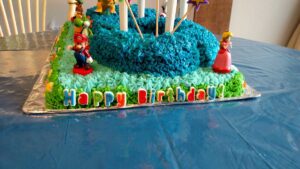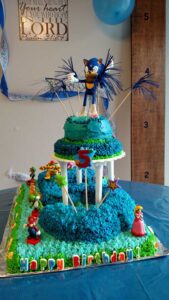 Sometimes I have two parties– one for friends that includes games, and then another party on a different day for relatives. So I need to have two cakes– or alter my original cake. This time at the first party we ate the cake around the base of the five. Then I cut off the excess and refrosted around the base of just the five. See it below: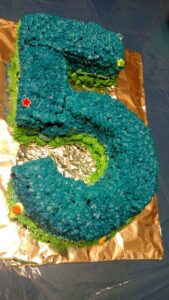 This is how it looked with the toys set around it this time, instead of on the cake.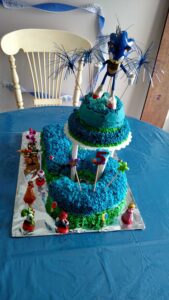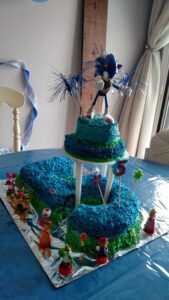 AFTER, Version 2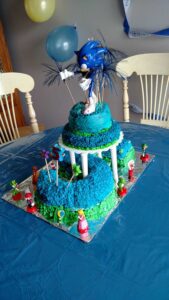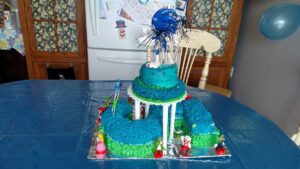 Which version of the cake do you like best? Have you ever made a "convertible cake"?! To see what else I created for a fun activity at this Sonic and Mario themed birthday party, click here.