I found a new-to-me fudge recipe a few months ago. I had never liked making fudge because it always seemed so difficult and didn't turn out right. But this fudge!! It does turn out right! It doesn't take very long, which is a huge plus in my book. And there are a bunch of different flavor combinations that you can make with the same recipe. Win! Win! Win!
This is my most recent batch made for the Fourth of July with crunchy peanut butter, white Twix bars, Red M&Ms, Blue colored sugar, and white snowflakes for stars. I already have plans for how to improve my next Flag Fudge design.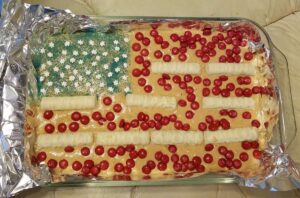 (*This post may contain affiliate links. By purchasing anything from these links, I may receive a small commission at no cost to you. More information is available on my Disclosure page.)
I will show and tell you some of the different flavors I have made.
So the Basic Recipe is 16 oz. of Almond Bark and 2 cups of peanut butter, almond butter, or Nutella. Almond Bark comes in a 24 oz. package so if you want to use the whole thing then you need 3 cups of peanut butter, almond butter, or Nutella (chocolate hazelnut spread).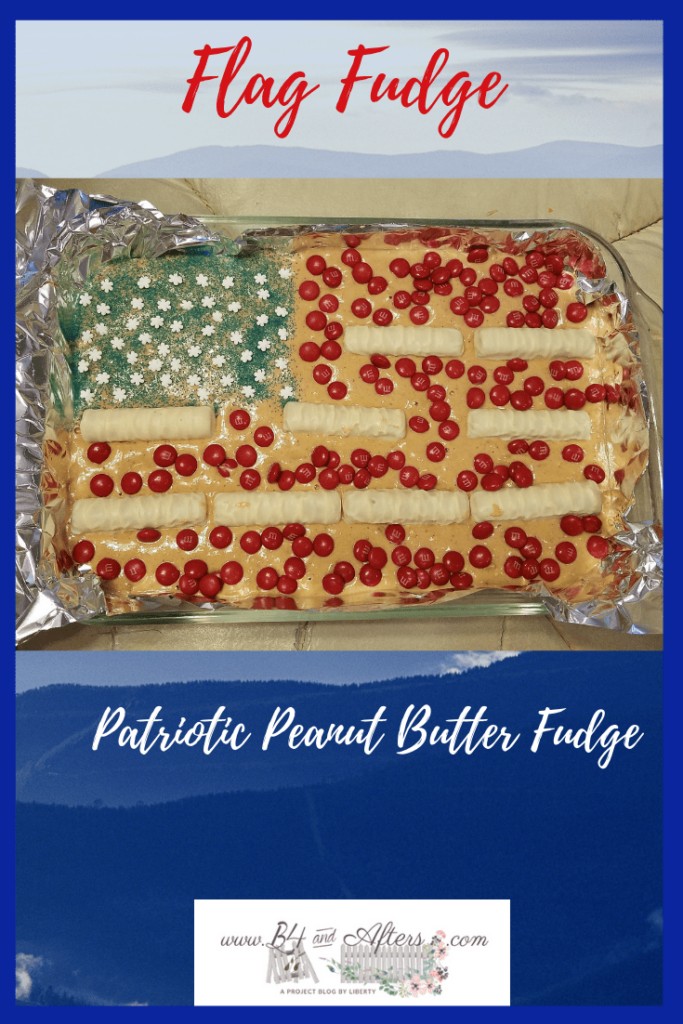 Here are the variations that I have made:
Before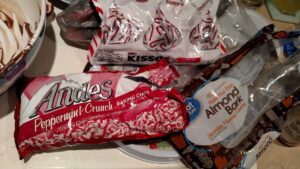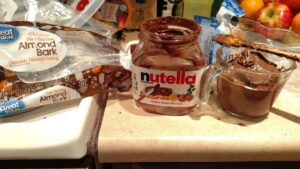 For this version I used Chocolate flavored Almond Bark and Nutella. They are the same color, so you can hardly tell the two apart in the bowl. First, I melted the Almond Bark with my microwave's "melt chocolate" setting. Then I added the Nutella and stirred until combined.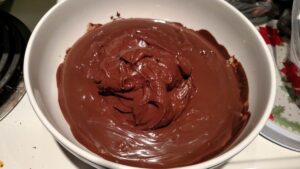 I usually put the fudge in a 9 x 13 baking dish, but this time I put it in cupcake liners so that it would be easy to give as Christmas gifts. I put two Peppermint Hershey kisses in each cupcake liner.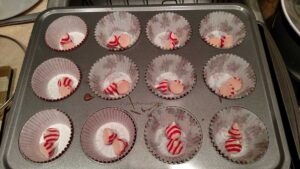 I used my trigger ice cream scoop to fill the liners without much of a mess.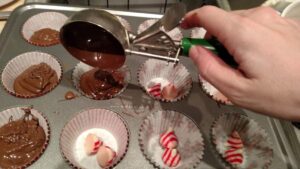 Then I sprinkled Andes Peppermint Baking chips on top.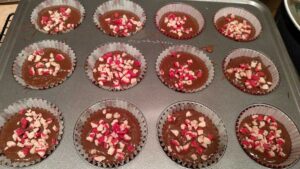 They hardened pretty quickly in the fridge. They stayed pretty firm at room temperature afterwards. The peanut butter version tends to get a little soft at room temperature– but that was in the summer when the room temperature was considerably warmer!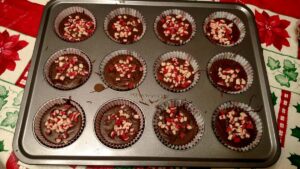 AFTER!!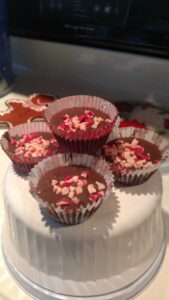 And here is the Peppermint Hazelnut Chocolate Fudge cut open (with a piece missing for taste testing!) . A cupcake size cuts easily into four bite-size pieces.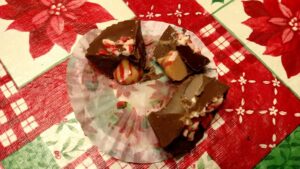 I like buying chocolates on sale for half price after holidays to use in my baking. This time I had mini Resee peanut butter cups from after Halloween. They are really tiny! I put four in each cupcake liner, and one on top. I used mostly almond butter, and a little peanut butter, with chocolate almond bark. You can use vanilla almond bark with peanut butter if you want only peanut butter fudge. I like using the chocolate and peanut butter combination. I also prefer using Smucker's All Natural Peanut Butter, although I'm sure any brand will taste just as good.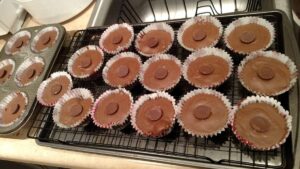 My husband took these to his coworkers, and they loved them!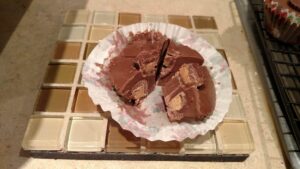 My inspiration for these recipes came from this website. This fudge would be a great treat for a Valentine or any time!
Easy Fudge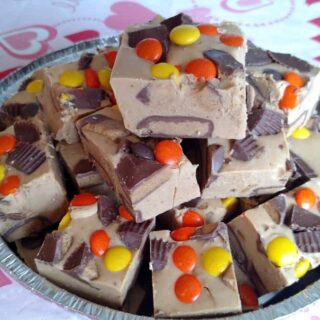 This easy fudge recipe can be used for peanut butter fudge, peppermint chocolate fudge, or other varieties.
Equipment
Smucker's Creamy Natural Peanut Butter, 26 oz, 2 pk

Homgeek Kitchen Chef's Knife Set 8inch, 2 Piece Ultra Sharp Cutting Knife 8 inch Chef Knife & 7 inch Santoku Knife, German High Carbon Stainless Steel Knives with Ergonomic Handle for Home Restaurant
Ingredients
16

oz.

almond bark- vanilla or chocolate

baking chips work also

2

cups

of either peanut butter

almond butter, or Nutella (chocolate hazelnut spread)
Instructions
Line a baking dish with foil, or use cupcake liners.

Use a 9×13 if you want thinner fudge, or an 8×8 if you want thick fudge.

Melt almond bark in a separate microwavable bowl using your microwave's "melt chocolate" setting.

Stir in either the peanut or almond butter, or Nutella.

Put in foil-lined baking dish or into cupcake liners using a trigger ice cream scoop.

Harden in fridge for 30-60 minutes.

Move foil lined fudge from dish to cutting board.

Slice into pieces with a large chef's or Santoku knife, removing foil after you slice. Eat and Share!!
Notes
Almond bark usually comes in 24 oz. packages. To use the entire package, use 3 cups of peanut butter.
I love and use Smucker's Peanut Butter.
Here are pictures of my Peanut Butter version. I used Vanilla/ white almond bark, peanut butter, Resee cups, and sometimes Resee's Pieces.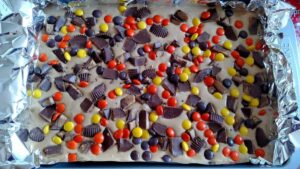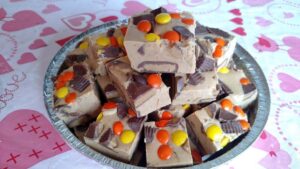 Mini paper liners are also fun to use and make great gifts. You can put several of them in individual treat bags. I did this to give to my coworkers.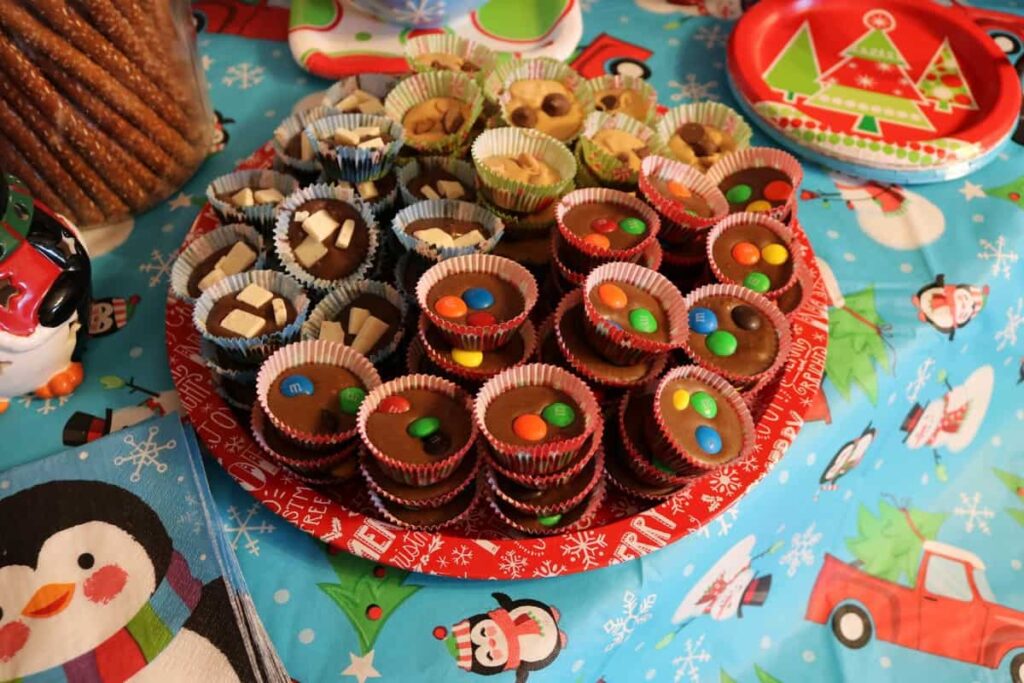 Here is another version of Hazelnut Fudge with Peppermint M+Ms. Then I drizzled melted milk chocolate over the top. This color combo can work for the Fourth of July, Christmas, or Valentine's Day.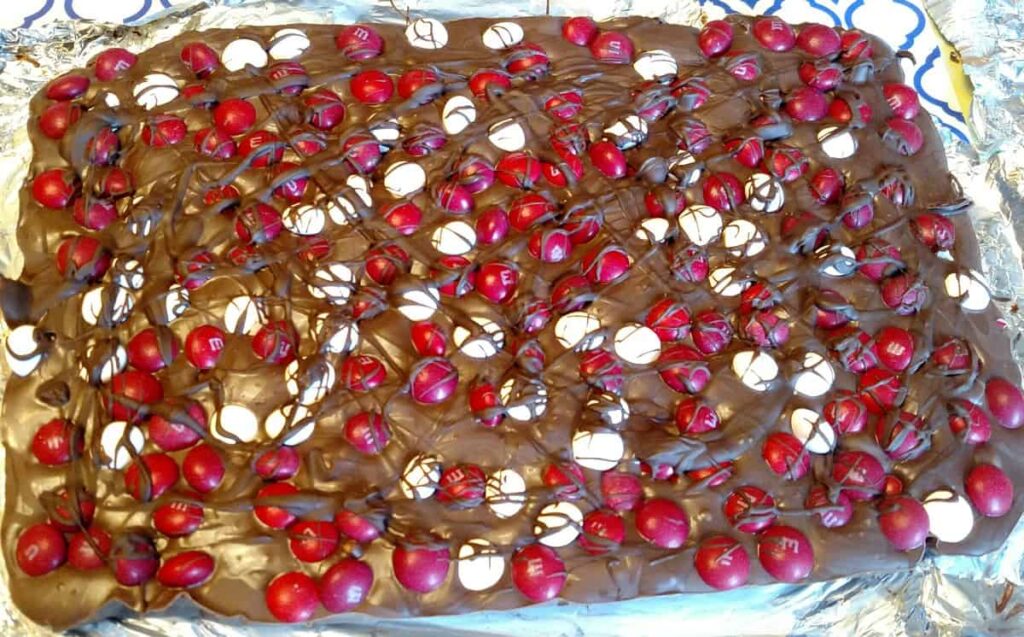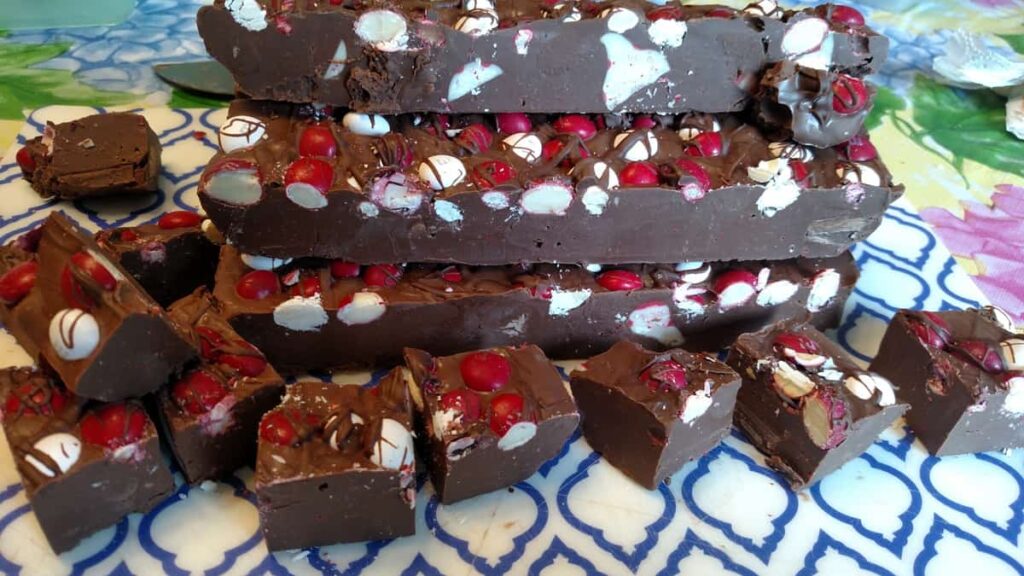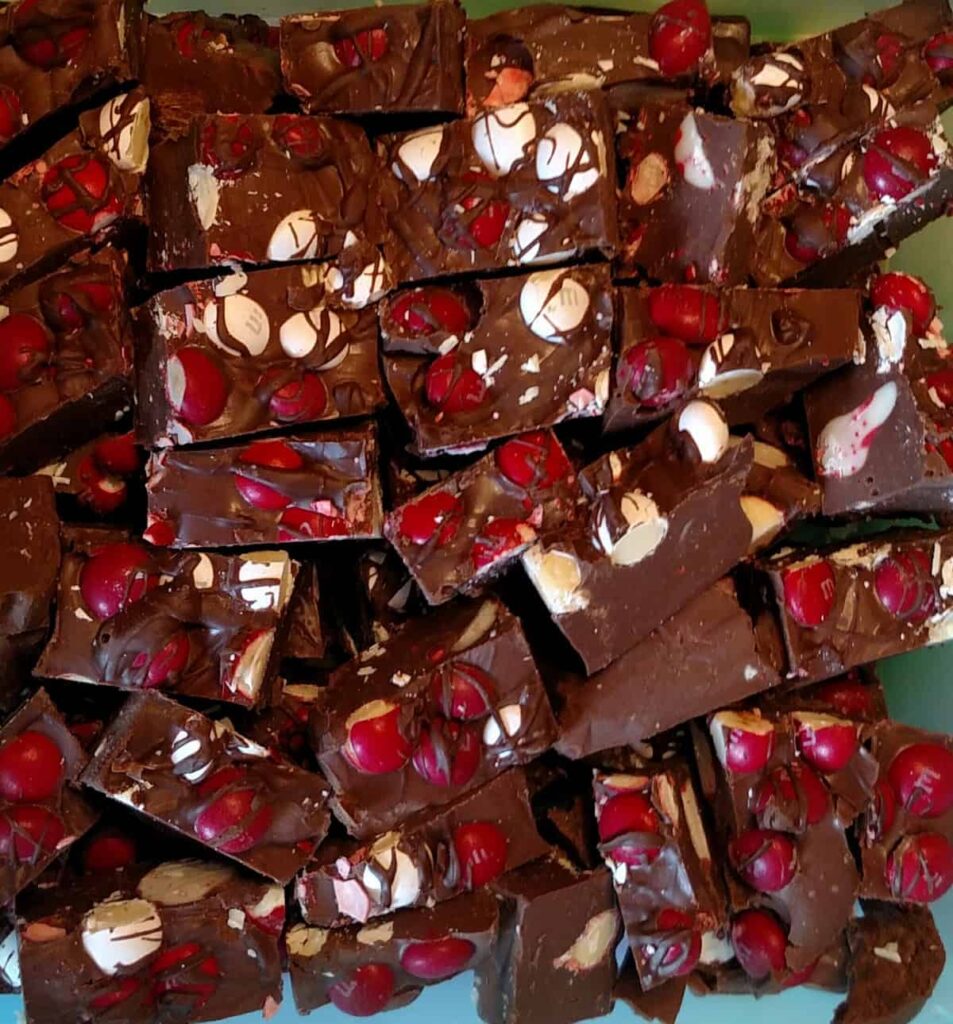 SaveSave
SaveSave
SaveSave
SaveSave
SaveSave
SaveSave
SaveSave
SaveSave
SaveSave