Before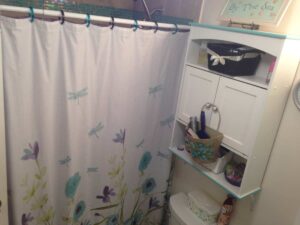 (*This post may contain affiliate links. By purchasing anything from these links, I may receive a small commission at no cost to you. More information is available on my Disclosure page.)
Okay, I admit it. I don't usually decorate my bathroom for Christmas. But last year I saw this cute snowman shower curtain and I wanted it. I ordered it. And it never arrived. So I got a refund. This year I ordered a different one from a different website and it came! (But I'm sorry to say that it is now sold out.)
It was fun to hang up my new snowman curtain and wait until a family member noticed it. They all like it. I liked my holiday curtain so much that I ordered some seasonal ones for Christmas gifts this year! The green matches my other bathroom decor so well.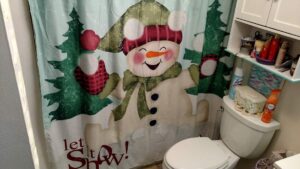 I like that my curtain will last all winter if I want it to; it's not just for Christmas. I might also look at those after Christmas sales, and see if I find any more cute ones for next year! I do have another bathroom– I guess I could decorate both of them!
Sooo.. do you decorate your bathroom at Christmas time? Do you have seasonal shower curtains that you use?
AFTER!!