Wallpapering the Toilet Lid
Before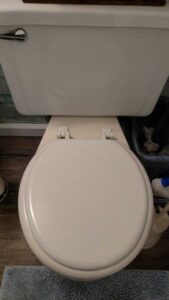 (*This post may contain affiliate links. By purchasing anything from these links, I may receive a small commission at no cost to you. More information is available on my Disclosure page.)
So in our new downstairs bathroom we reused our old toilet from when we renovated our upstairs bathroom. The bowl color didn't match the tank color, and the lid didn't look that great, so I decided it was the perfect candidate for a makeover. I decided to cover it with leftover coordinating wallpaper. I cut it out the best I could without taking the lid off of the bowl, leaving a little extra for the curve of the lid around the outer edges.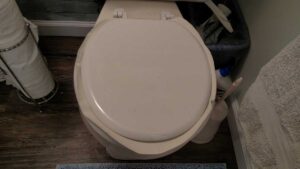 Then I primed the lid with Zinsser Wallpaper Primer,* starting at the back and putting newspaper underneath so that it wouldn't get onto the seat.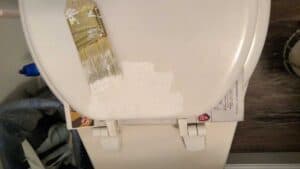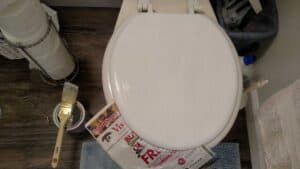 After it dried overnight (the can says 2 hours), I attached the wallpaper. Now I've used contact paper before for a similar idea. This was my first time trying wallpaper. It didn't adhere very well to those curved edges. So after the wallpaper dried, I Mod Podged it and put packing tape to hold that while it dried….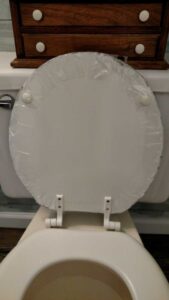 Then after that was mostly dry, I sealed the edges with Silicone caulk. We'll see how long it lasts. I would have preferred to use contact paper, but of course I didn't have any that matched my wallpaper. For now, I plan to enjoy it as long as it lasts!! I think it does disguise the fact that the bowl and tank colors don't match… I think it looks great; do you?!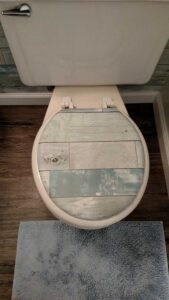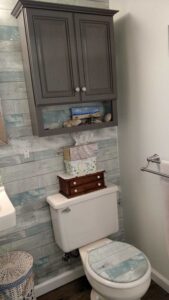 AFTER!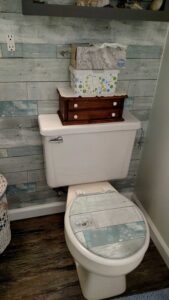 SaveSave
SaveSave
SaveSave