Fence Picket Framed Mirror
This post is the sixth in a series on our Downstairs Bathroom. You can see the rest of the posts here:
I'm not sure exactly why I wanted to do this mirror project. It probably has something to do with the fact that I like to reuse our old fence posts and pickets in any way that I can think of. (After all, I did go to the trouble of tearing down the whole 300 feet all by myself….) It probably also had something to do with the fact that I needed a mirror for the bathroom, and I hadn't found one to buy that I liked well enough.
And so it came to pass that I decided to frame our bathroom mirror with our old fence pickets. They are vintage pickets. The fence was original to our house, so the pickets had about a 30 year patina on them.
I made the rough cuts, but I needed help getting the corners cut at perfect angles to make tight joints. I haven't perfected my carpentry skills yet.
BEFORE

(*This post may contain affiliate links. By purchasing anything from these links, I may receive a small commission at no cost to you. More information is available on my Disclosure page.)
I found a $10 mirror on Craigslist that was just the right size. Because of the way it was made with the bevel of the mirror, I used paint sticks to prop up my fence pickets around the edges. You can see a used paint stick demonstrating this in the picture below. But I ended up using new larger ones- the kind for stirring five gallon buckets of paint.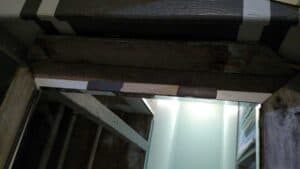 I needed such long lengths that I had to use most of the picket's length– and so you can see the staple holes where the picket was attached to the post. At first I didn't like it, but it grew on me –and now it seems to add authenticity to my vintage framed mirror.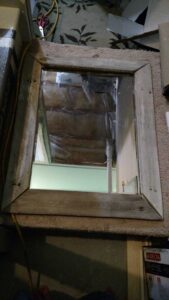 Here it is all glued and nailed together, waiting to be hung onto the wall.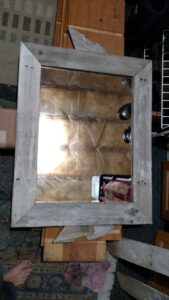 It was one of the last finishing touches– and looks so nice with my wallpaper choice!
AFTER!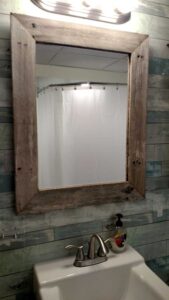 Here is a picture of the wall before the mirror: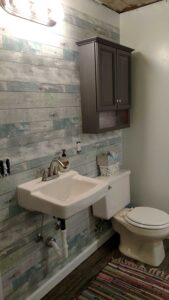 And here is the wall now. It looks like the mirror belongs there, doesn't it? Like it was made just for that spot… and it was. : )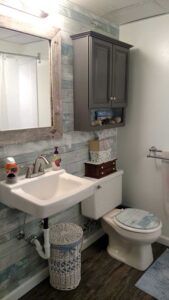 SaveSave
SaveSave
SaveSave
SaveSave
SaveSave
SaveSave
SaveSave
SaveSave