Three Layer Peanut Butter Cheesecake Brownies
*This post may contain affiliate links to websites such as Amazon. By purchasing anything from these links, I may receive a small commission at no extra cost to you. More information is available on my Disclosure page. I appreciate your support!
When I was deciding what to make for my husband's birthday, I knew that it would be something with peanut butter and chocolate. Through Pinterest, I came across these peanut butter and chocolate cheesecakes, and decided to alter the recipe to include a brownie bottom, instead of the chocolate cheesecake and crumb crust bottom in the ones I had found. These Three Layer Peanut Butter Cheesecake Brownies are the delicious result of my alteration.
Peanut Butter Cheesecake Brownies, BEFORE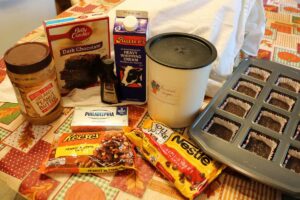 [sc name="This Post May Contain Affiliate Links"]
First, I mixed the brownies according to the package directions. I filled the cupcakes liners about one third full and baked them.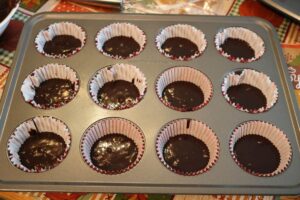 I made round ones and square ones. I like using a trigger scoop to fill the paper liners. Round cupcake liners work just fine in square pans– they still turn out square.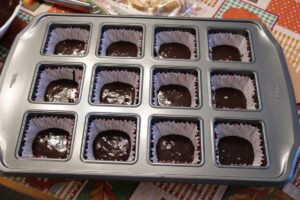 For the second layer, I mixed cream cheese and powdered sugar.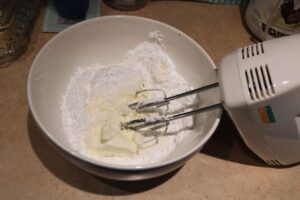 Mix it until it is nice and creamy. There are no eggs, and no further baking is necessary.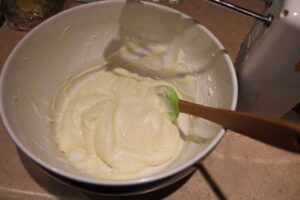 Blend in the peanut butter and heavy whipping cream.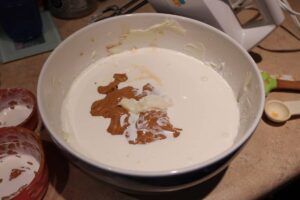 The mixture will be thick, like peanut butter pie.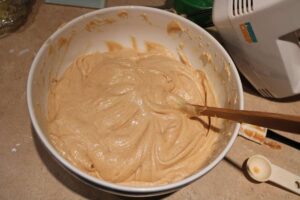 I chopped up some white Resee's Easter Eggs and put them on top of some of the brownies before I put the peanut butter cheesecake mixture on top.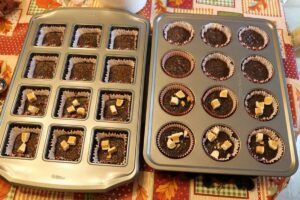 Again, I used a trigger scoop to put the peanut butter cheesecake mixture on top. Trigger scoops really keep everything a lot neater.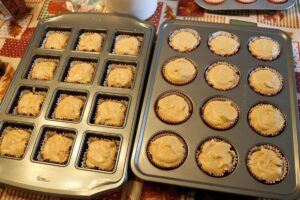 I put chopped up Resee eggs on top of some of the cheesecake layer. Some of them I left whole, as you will see in the pictures below. I was experimenting with which layering combination would work best. In the end I don't think it mattered– they all tasted very good!!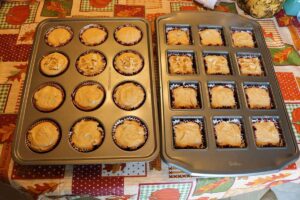 Next, I melted the semi-sweet chocolate chips for the chocolate ganache layer.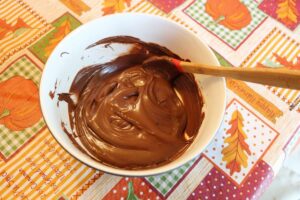 Add heaving whipping cream and stir it in.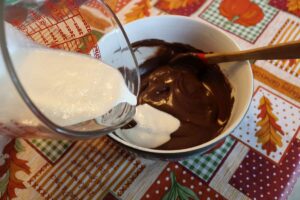 I had miniature M+Ms and peanut butter chips for toppings.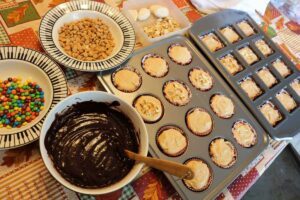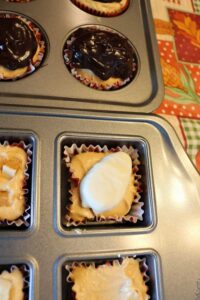 Even though there are three layers plus toppings, it did not seem very labor intensive. It was very satisfying to see it all come together, just like I hoped it would.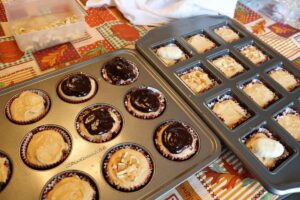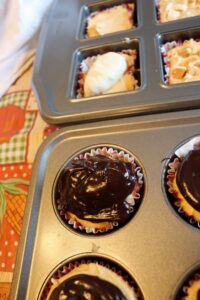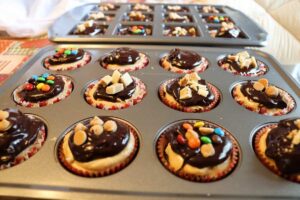 I really liked how the square ones fit into my container so well.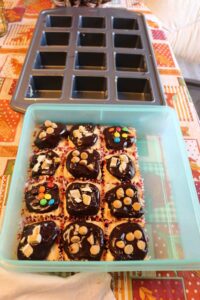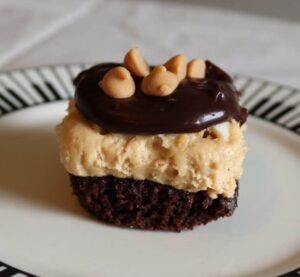 Here is one cut open. I hope that you can tell how delicious these are!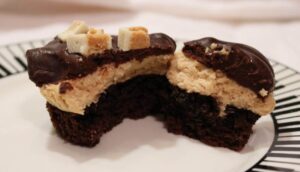 My husband was nearing the end of his diet where he lost 40 pounds when I made these for his birthday. Several months afterward I asked him to describe these and he said the word that comes to mind is "heavenly" but he wasn't sure if that was appropriate. : ) So just know that they are very good and will not disappoint your expectations!!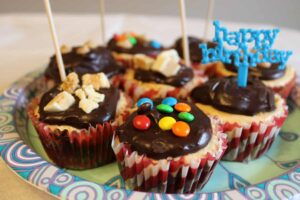 Three Layer Peanut Butter Cheesecake Brownies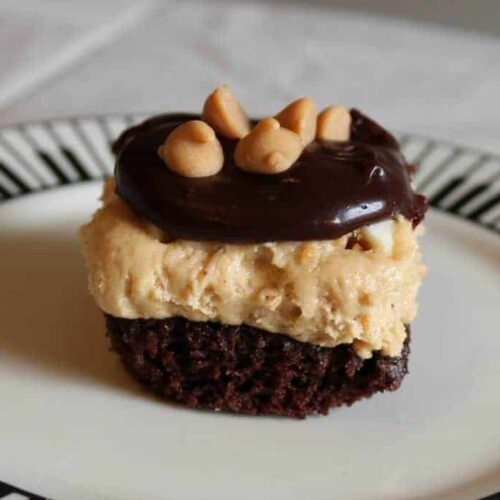 These 3 Layer Peanut Butter Cheesecake Brownies are absolutely amazing! The combination of chocolate and peanut butter is just irresistible!! Vary how much peanut butter or chocolate is in each layer according to your own taste.
Ingredients
1

Box Brownie Mix

plus ingredients needed to make it– usually eggs, oil, and water

8

oz.

cream cheese

1

cup

powdered sugar

1 1/3

cup

peanut butter

1

tsp

vanilla

1 1/3

cup

heavy whipping cream

12

oz.

semisweet chocolate chips

2/3

cup

plus 1 TBSP room temperature heavy whipping cream

1/2

tsp.

oil
Instructions
Mix Brownie Mix according to package directions. Fill 24 cupcake liners 1/3 full. Bake until done and let cool.

For Second Layer, mix softened cream cheese and powdered sugar with a mixer.

Add peanut butter, vanilla, and whipping cream and blend with the mixer.

Add to brownie cupcakes with a trigger scoop.

For Third Layer, melt chocolate chips in the microwave using the "melt chocolate" setting.

Stir in oil and whipping cream.

Spoon Chocolate Ganache on top of peanut butter layer.

Add peanut butter chips or chopped peanut butter cups on top.

Refrigerate and eat!
Notes
If desired, add additional chopped peanut butter cups in between any of the 3 layers! See pictures above.