Christmas at Longwood Gardens
This post contains links to affiliate websites, such as Amazon, and we receive an affiliate commission for any purchases made by you using these links. We appreciate your support!
Do you have a favorite place you like to visit? A place that makes you "smile from head to toe?" Longwood Gardens in Kennett Square, PA, is one of those places for me, and this past January I had the opportunity to go there for Christmas!
I've been to Longwood Gardens several times over the years– and it always happened that we went in the summertime. I think my first time there was in the summer for my 30th birthday (no need to tell you how long ago that was…..).
So I've been wanting to go there at a different season, because I know they show different flowers and decorate seasonally– and can you tell in this picture how thrilled I am to be there for Christmas?!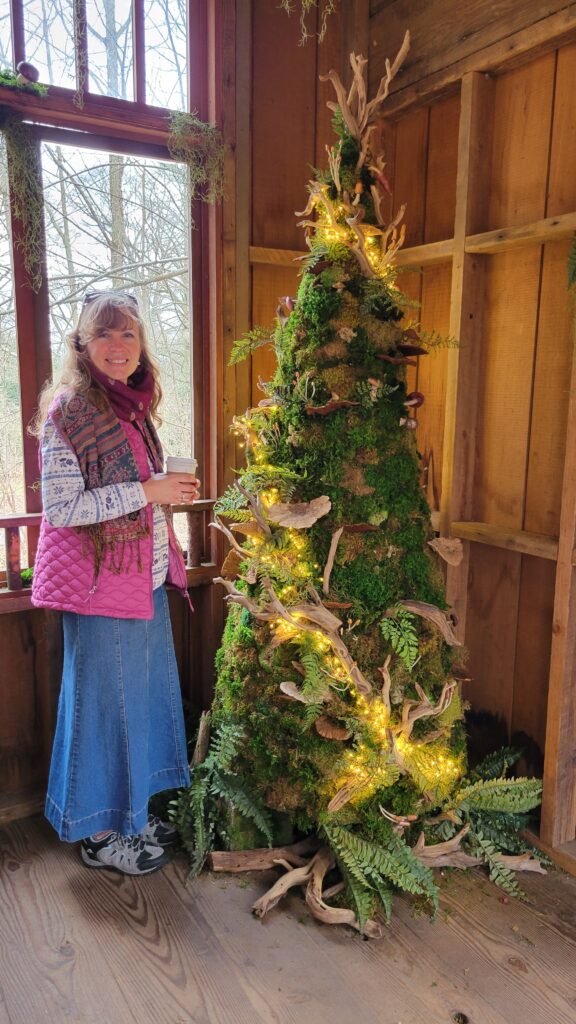 You'll never guess where this cute mossy tree was….
It was up in a treehouse!!
Oh how I wish you could see all that I saw! I couldn't take pictures and videos of everything– but I did take just a few to show you….
There are a few indoor places (and they are large) and LOTS of outdoor places to see at Longwood. This moss covered chair amazed me! It was behind ropes so no one could touch it. The pillow was made with real roses, I'm pretty sure!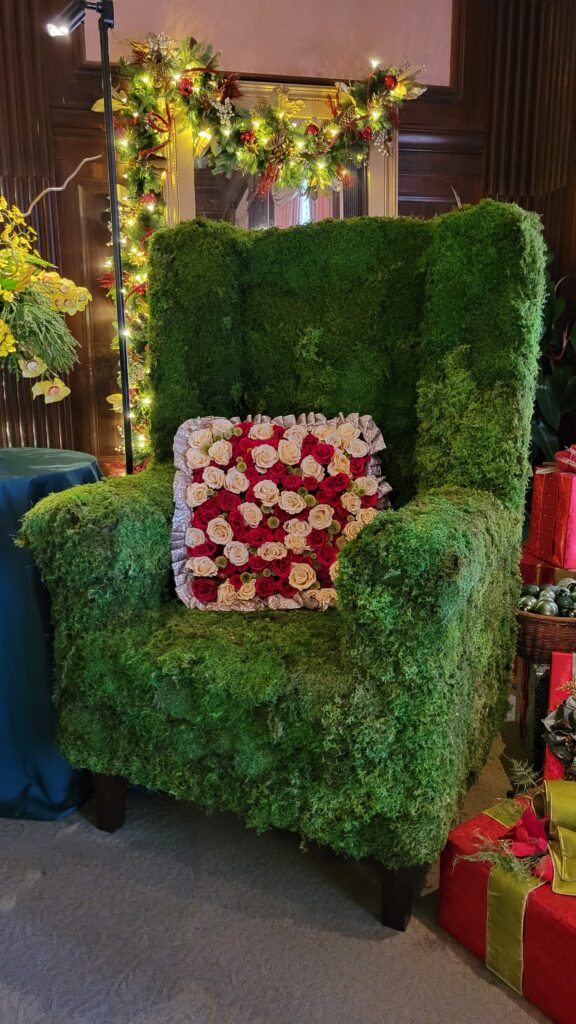 I took a video of the room this chair was in– I hope you enjoy it!
Longwood has a huge volunteer staff that puts together these wonderfully creative displays. They inspire me so much, and give me ideas to implement at home– if only I had unlimited time and resources (say we all, right?!)!
The Gift Shop
This was an approximately 6 foot tall moss and wood display in the gift shop.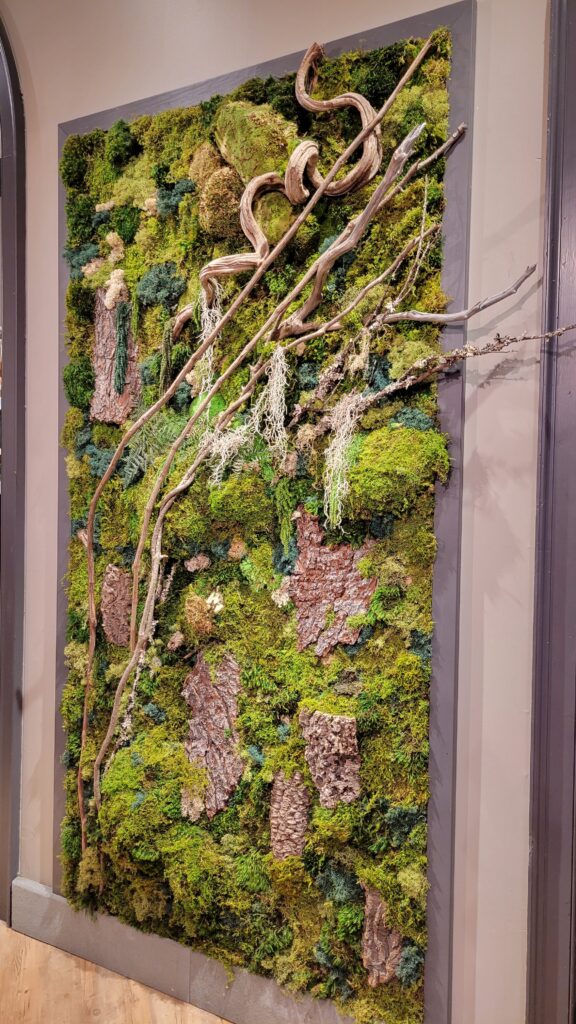 And this— this is the hanging garland tree branch thing they created at the entrance to the gift shop. I could've examined it for a long time– but there is so much more to see!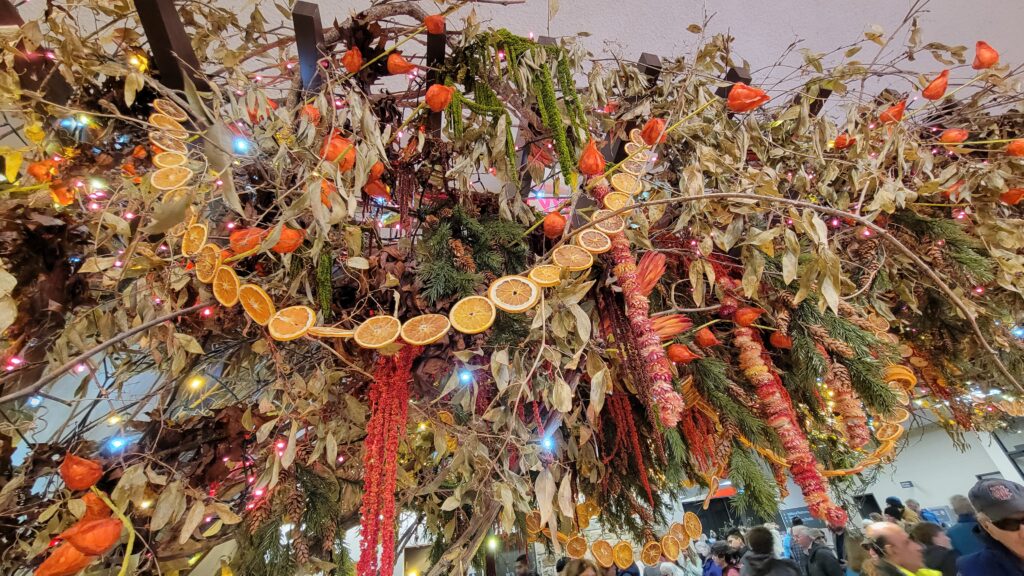 I'm not sure why I'm showing you the gift shop first. It is first and last both, I guess, when you visit.
This grapevine wreath– it's like a wreath that has been hung upside down to be a chandelier instead, don't you think?!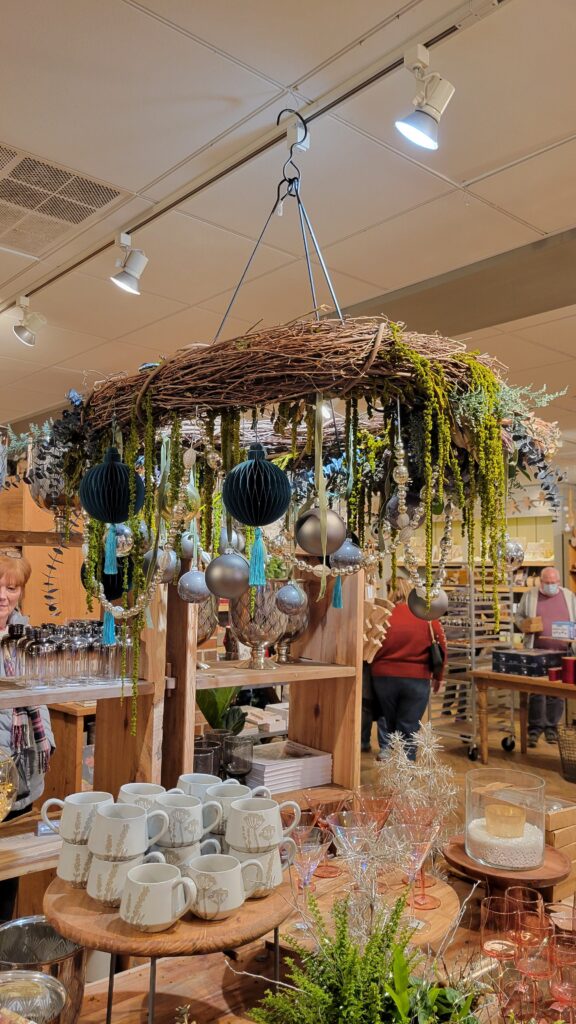 Longwood Gardens Outdoors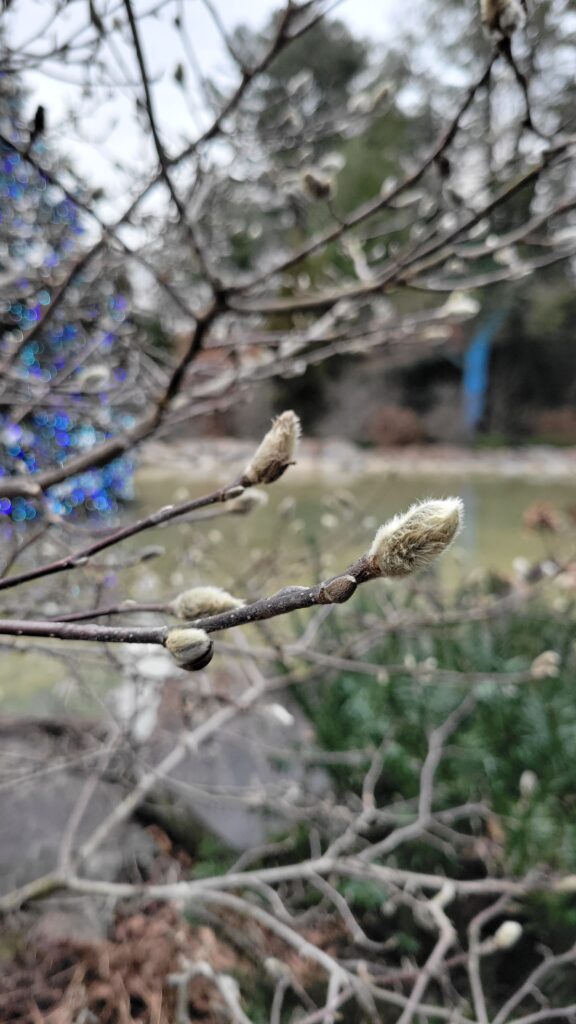 Okay, now let's step outside for awhile. Since it is January and not much is blooming that time of year, they had to get creative to decorate their trees for Christmas. They used such a neat variety of dried flowers, grasses, and seed pods. I believe they collect most if not all of these things from their own property throughout the year.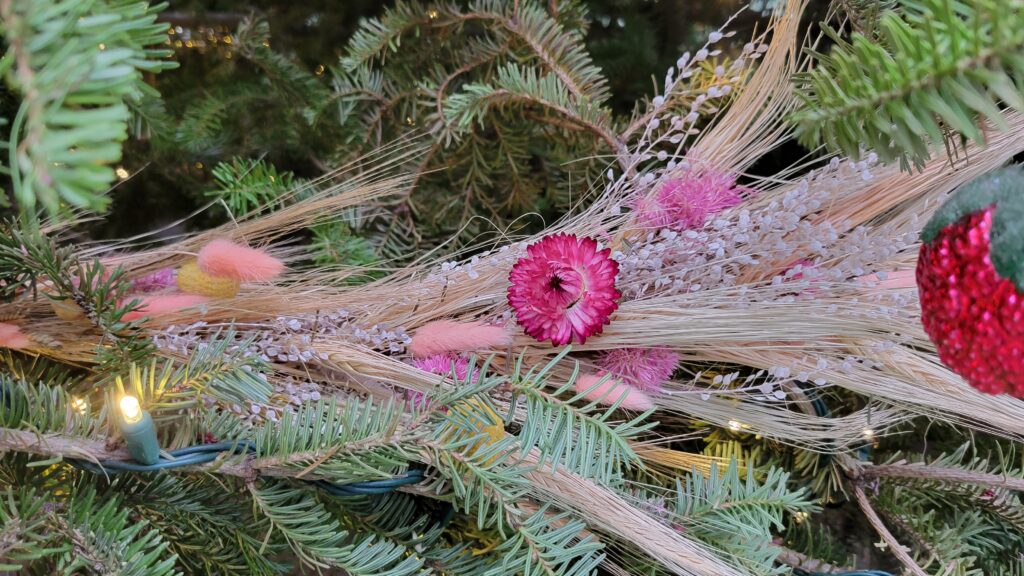 On an outside tree was this huge leaf that had been sealed in resin, and decorated with gold flakes in the resin. I think it might be a bigleaf magnolia– I saw these trees in Stone Mountain Park in GA, and saved a few leaves in my atlas… yes, the leaves are as big as a road atlas page!!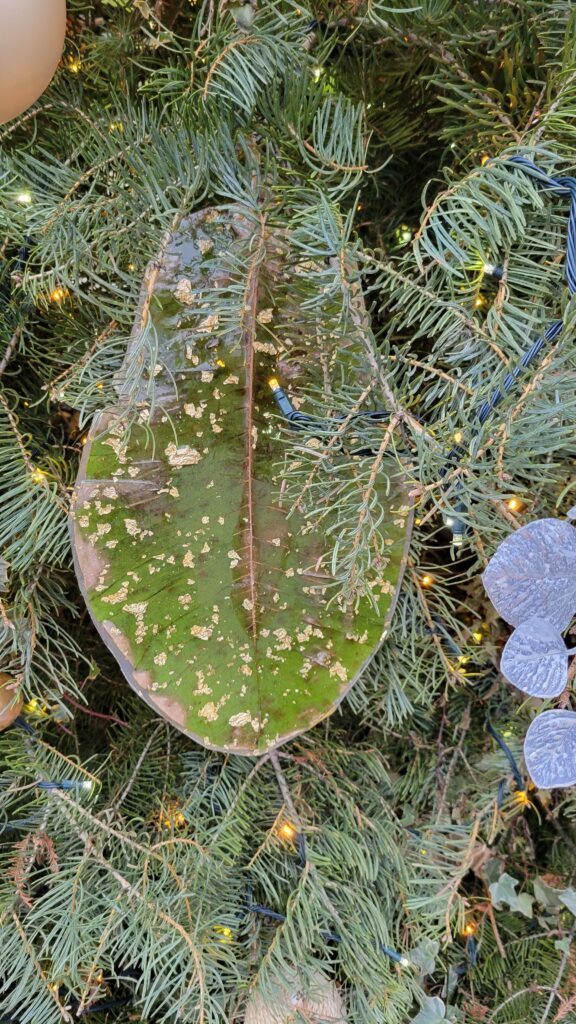 It was maybe a quarter inch thick?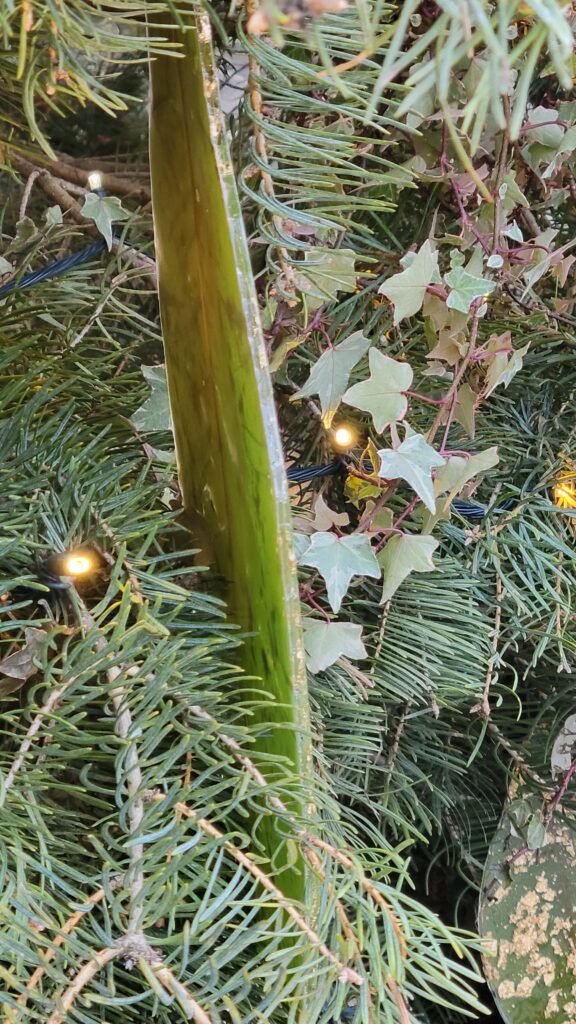 This is not the treehouse where I'm standing by the mossy tree. This is a different one- the largest one. I think it was built by Treehouse Masters.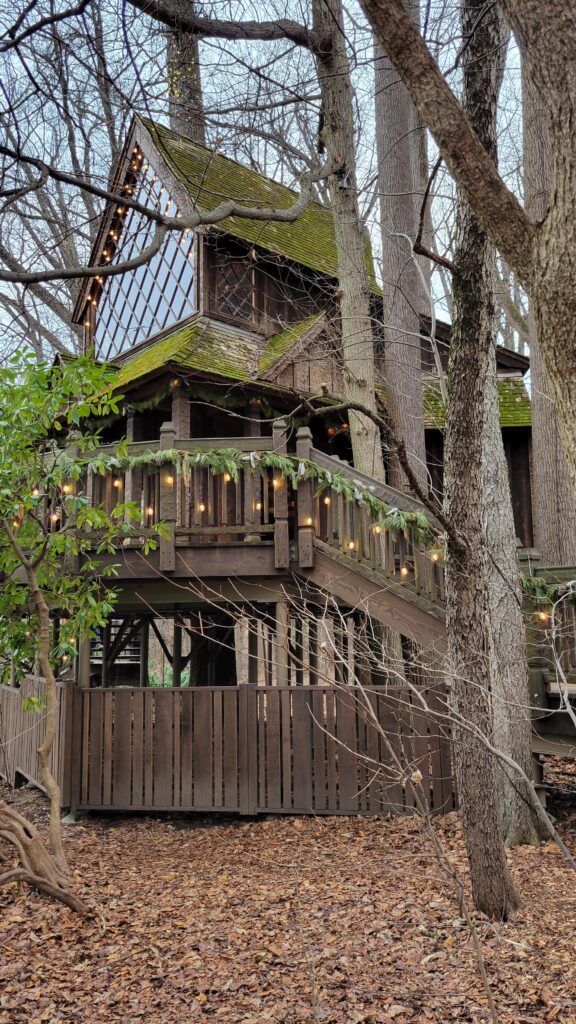 Longwood Gardens Indoors
Ok, now lets move inside for a bit… This is a faux fire that was made by weaving dried grass stems together–side by side at the bottom for width, then twisted and tied together at the top.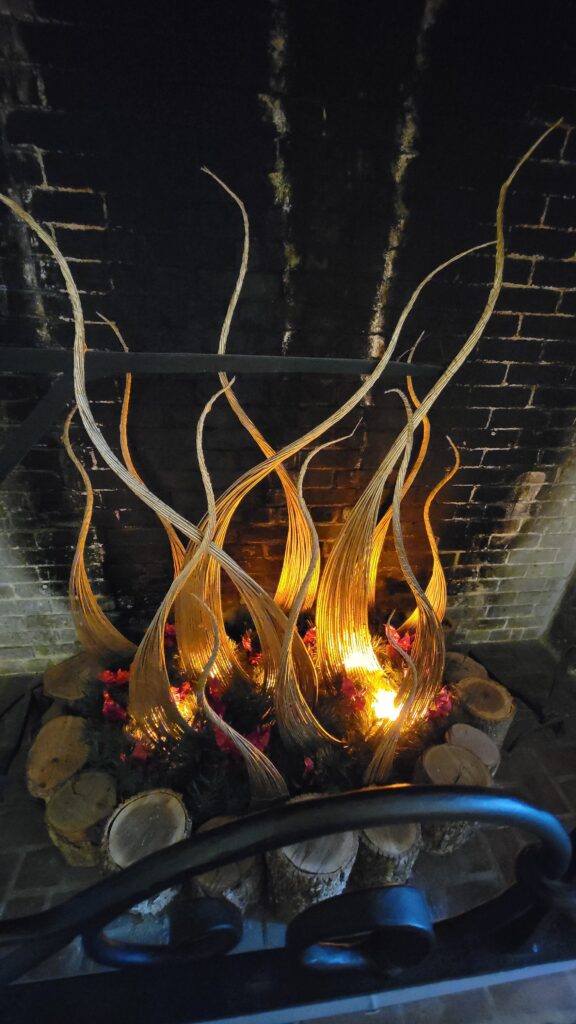 This tree and organ are inside the Music Conservatory where they have an amazing organ and viewing area so that you can see how it works. Even though I'm a piano player and piano teacher, what I enjoy about this room— is the beautiful ceiling!!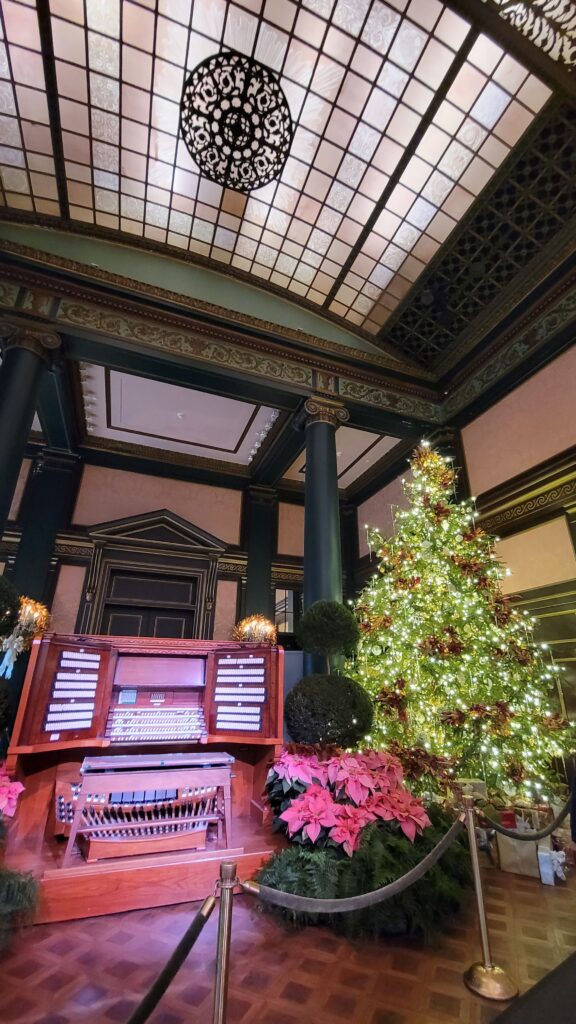 I think moss is a popular thing to use at Longwood– it's green so it works well with Christmas trees– and it is very versatile. This moss tree was maybe 3 feet tall? And it was displayed at eye level.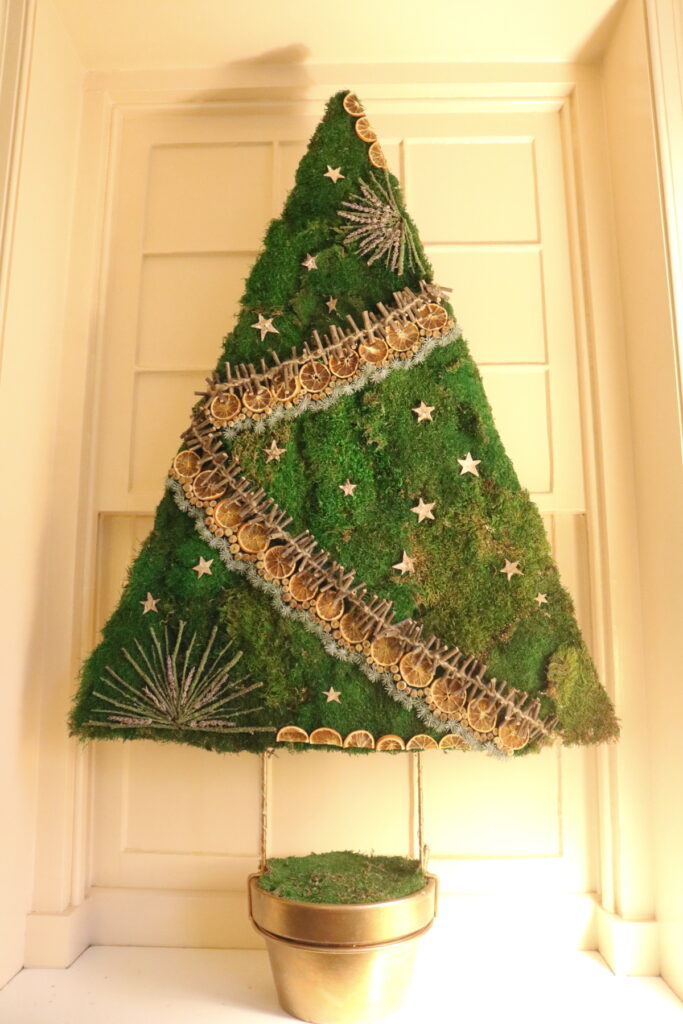 It's so simple and gorgeous too. Usually all I use from nature to decorate with are pine cones. I adore the creativity and the design of it.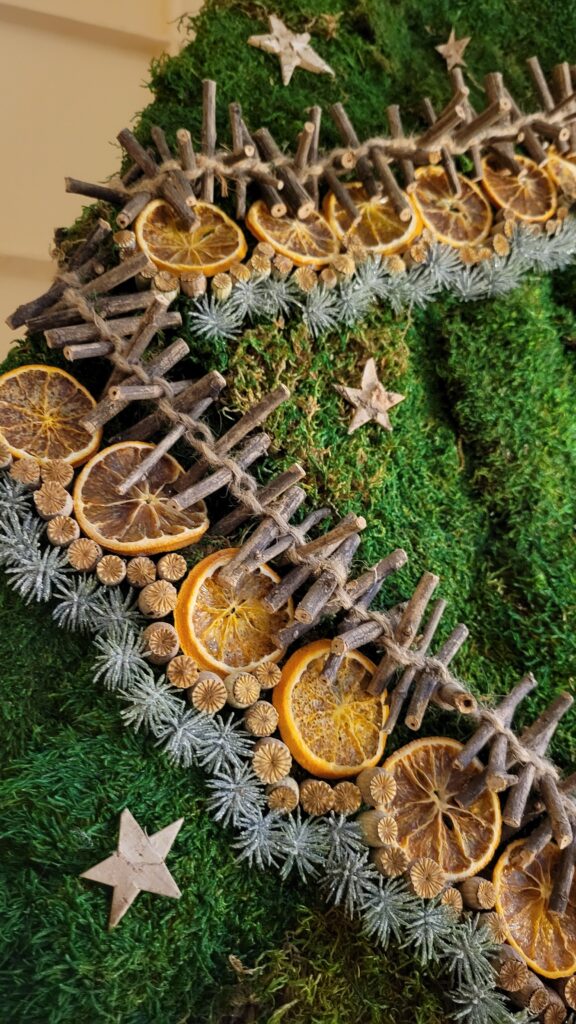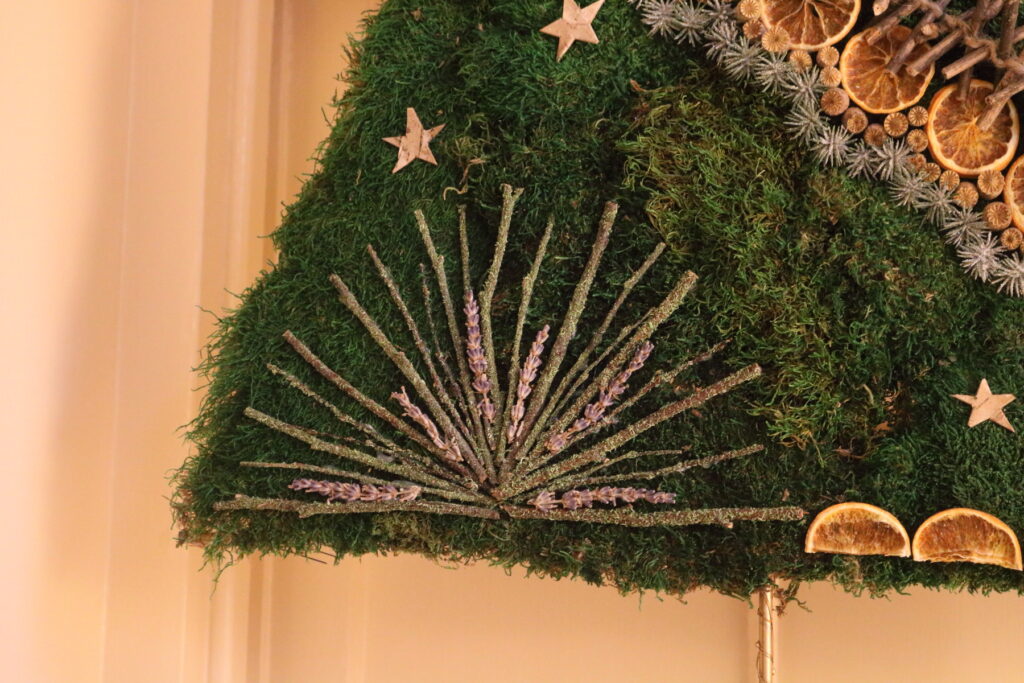 Did you ever think to design a Christmas tree around orchids?? So very beautiful!! And some live blooming flowers finally!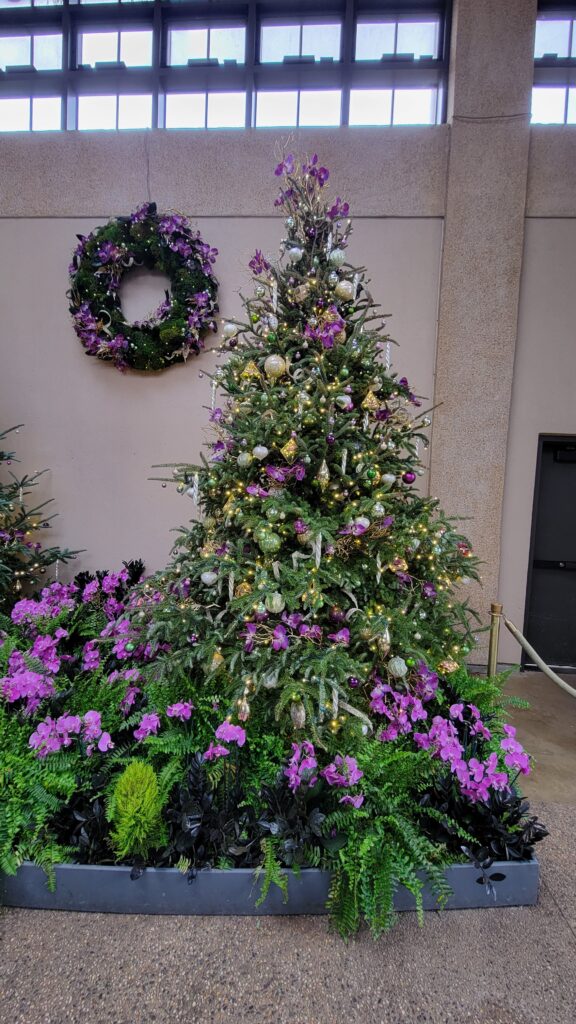 This tree is decorated with white poinsettias– and something else– that looks like gray dandelion balls?……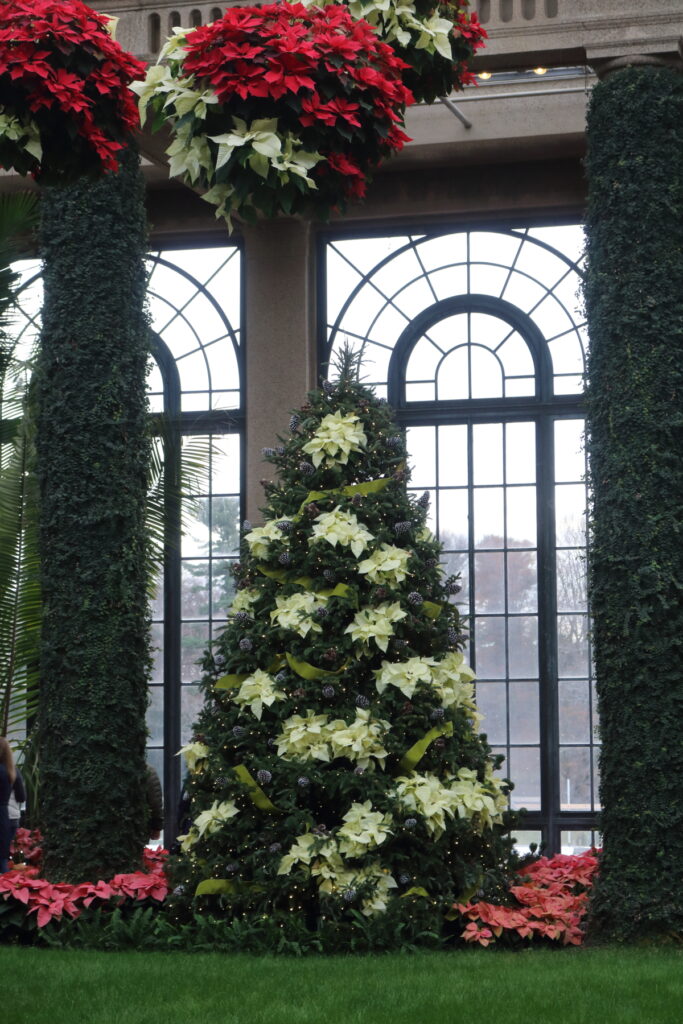 Moving on, we come to this amazing display of poinsettias around Christmas trees. How did they do that?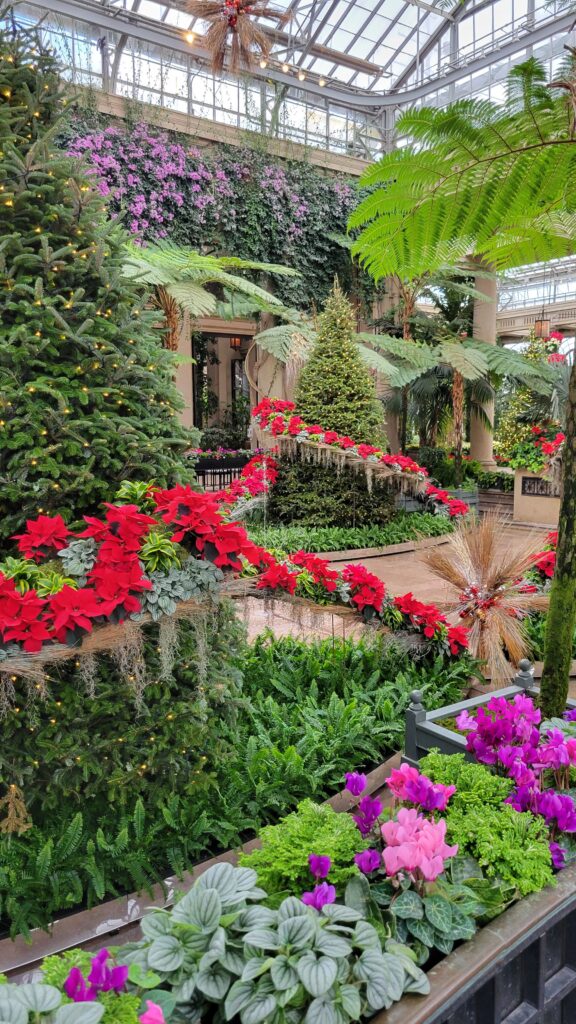 I'll show you! I took a picture of the info when I saw it. Someone taught me how to do this a long time ago, to give you information to go along with your pictures. Or maybe you're moving quickly and don't have time to read it, but want to read it later.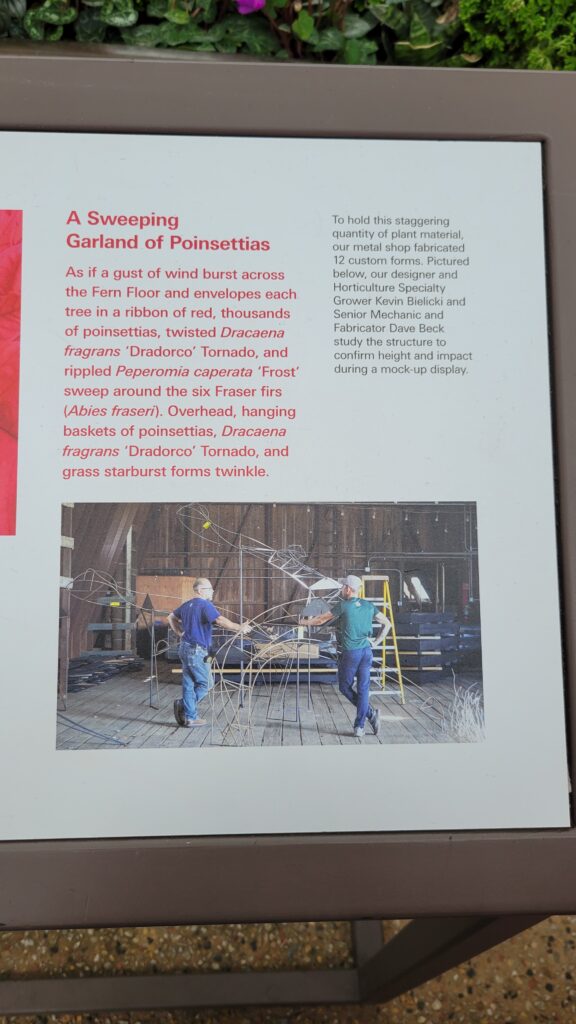 They used dried grass to go around the pots and disguise the frame.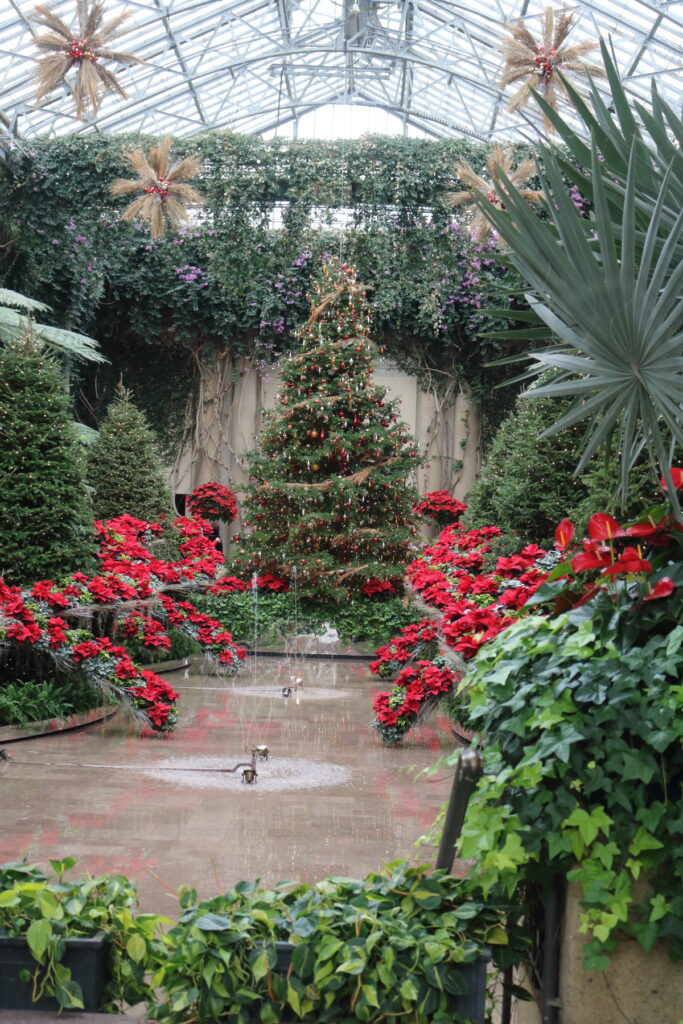 The floor is covered in water– so you don't walk, you only look. And admire the beauty. And be thankful that Pierre du Pont created these beautiful gardens so long ago, and that he had the foresight to establish the financial structure to keep it going for people to continue to enjoy.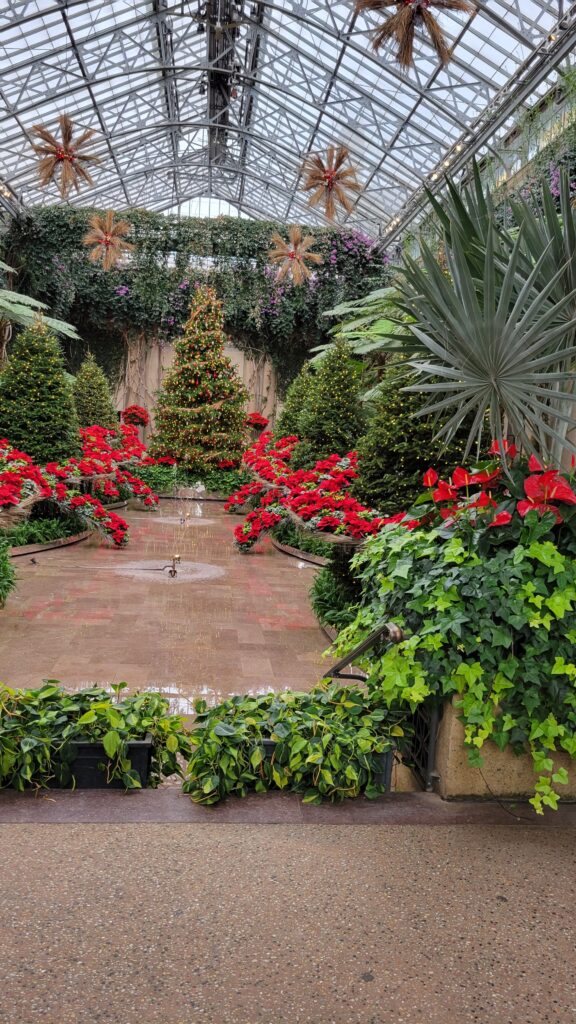 While I usually try to get pictures without other people in them, this person lets you realize how big that tree is!!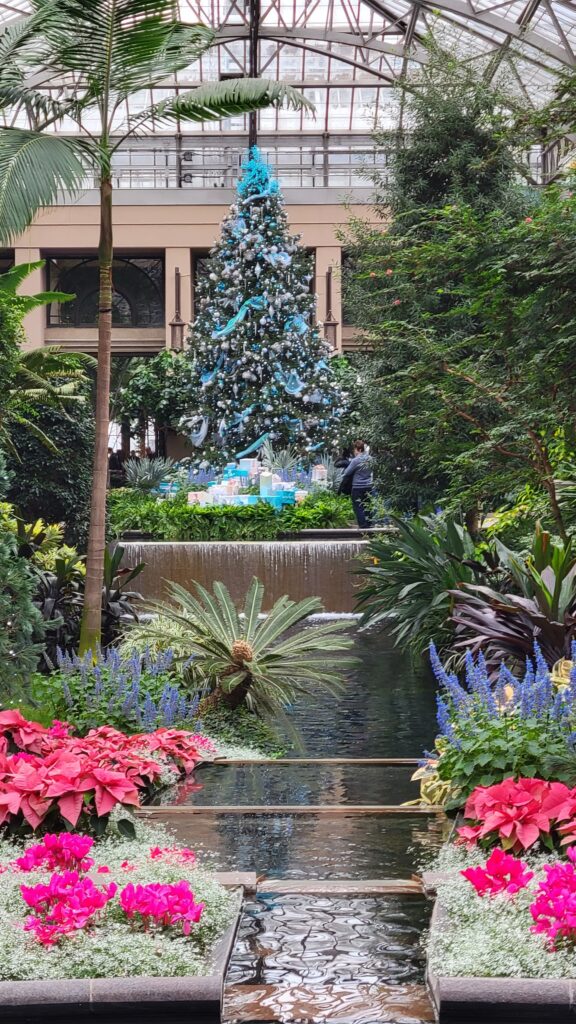 Back outside again, there is a train garden with a miniature model of the Italian Gardens. In the freezing weather, of course they can't run the water pumps or fountains. So we have to settle with seeing the model instead. There are many more fountains in the actual Italian Gardens.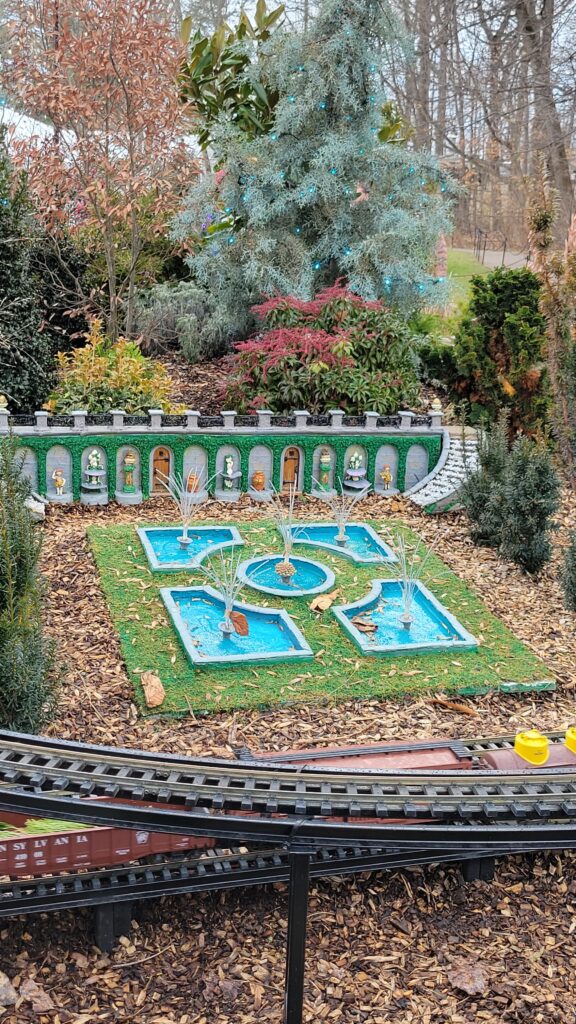 It began to get dark. This tree was so beautiful but it was hard to capture on camera. There's a waterfall and a bell tower– and this tree just sitting out in the middle of the shallow water.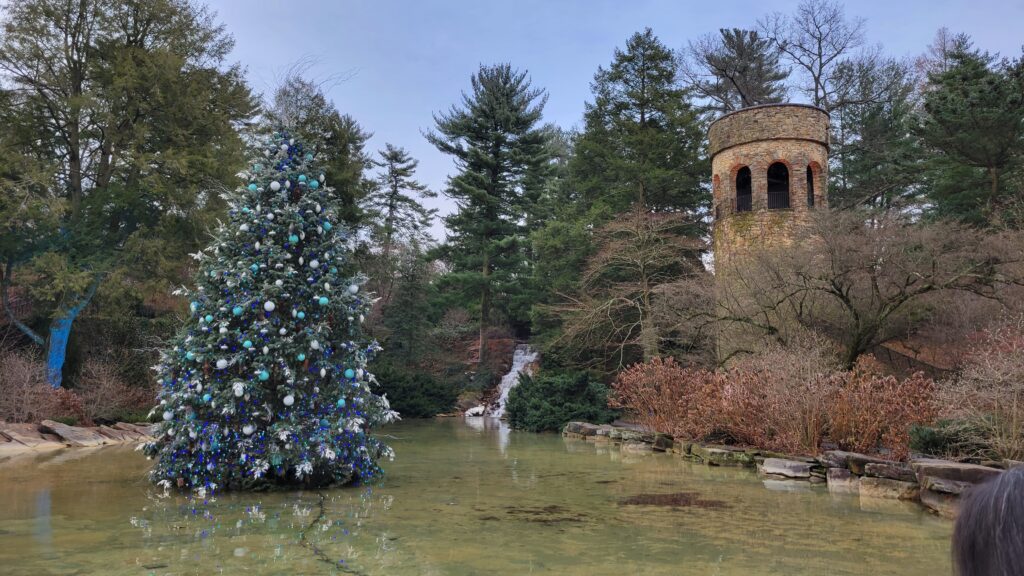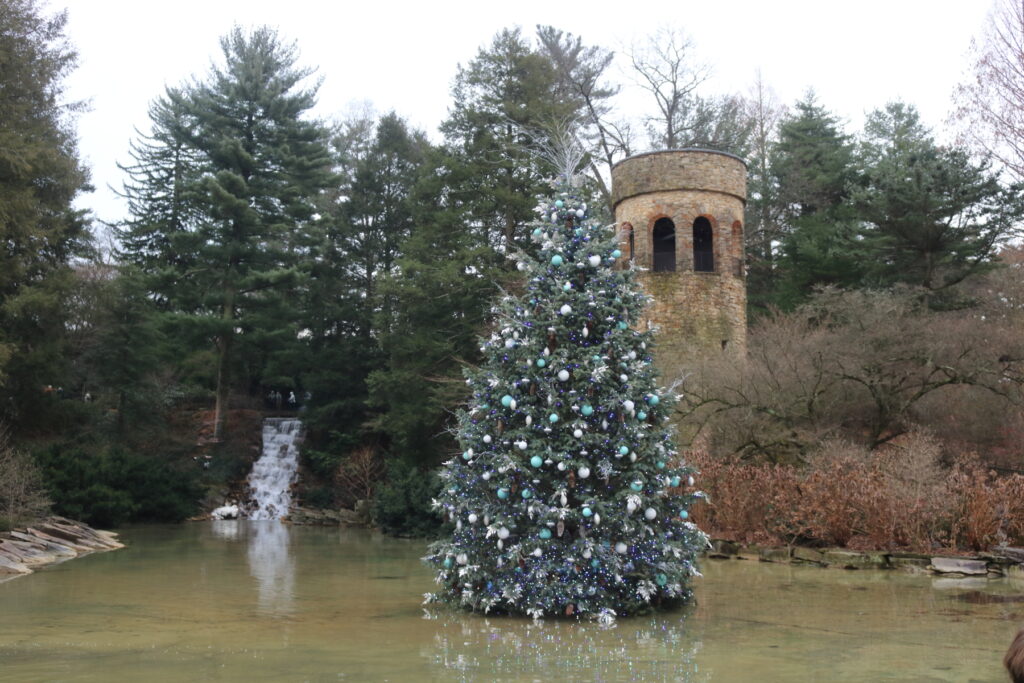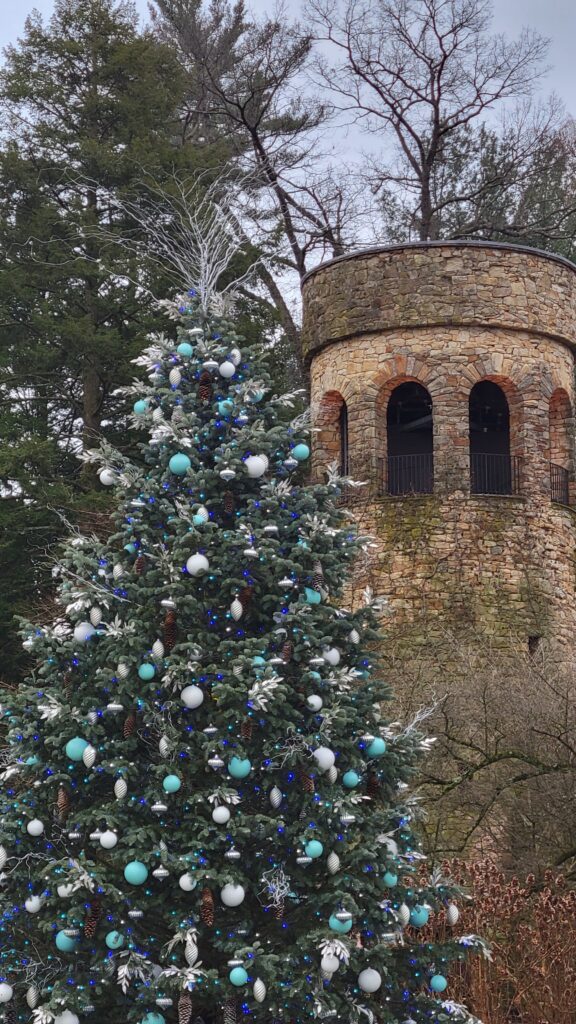 Lastly, as I head back to the gift shop and the parking lot I again pass these wreaths– huge 2 or 3 foot in diameter– and am amazed yet again.
I've only shown you a glimpse of all there is to see and experience at Longwood Gardens. Gardens like these remind me of the Garden of Eden, and how beautiful and amazing it must have been.