How to Decorate a Hall Bench for Fall
This post contains links to affiliate websites, such as Amazon, and we receive an affiliate commission for any purchases made by you using these links. We appreciate your support!
Keep reading to see how I decorate a Hall Bench for Fall, by re-using some things I already had, plus a few new thrift store things.
Ever since I decorated my Hall Bench for the Fourth of July, I've been wanting to decorate it for Fall. You may know that I like to decorate my Coffee Station area for different seasons.

This is my bathroom before I decorated for Fall.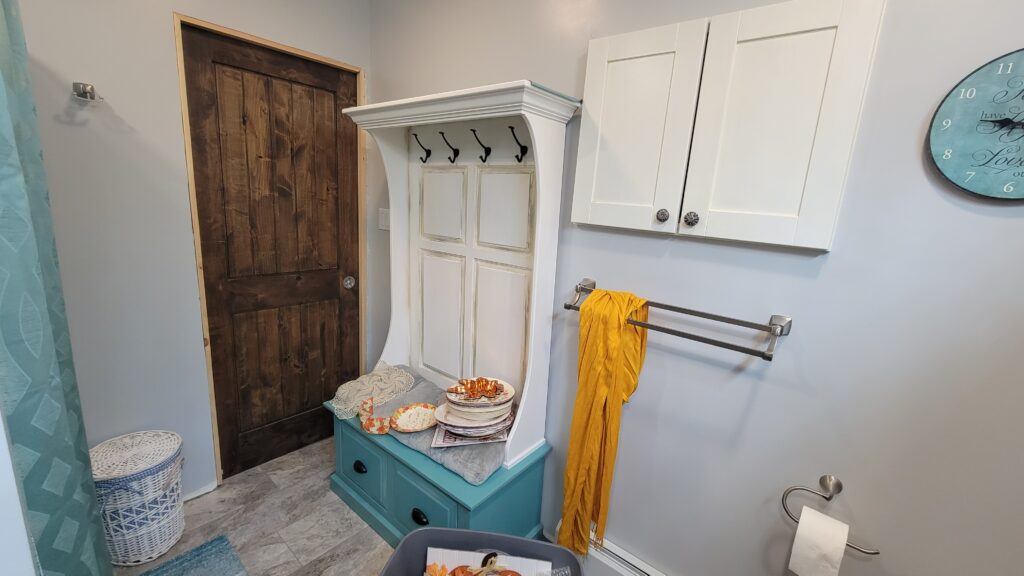 Well, now that we are at Century Farms, my Coffee Station isn't in its own area. So I started decorating the stove area a little bit– and now my newest favorite place to decorate seasonally is this Hall Bench!
This is a piece of Amish furniture that I painted with Black Dog Salvage Furniture Paint. Then I put it in my Bathroom as a Sock Changing Station! I love it– my husband and I each have our own drawer for socks, and it's really nice to have a place to put stuff on sometimes. (If you don't have room for a bench in your bathroom– you might have room for a chair.)
I didn't buy or make anything new to do this. I reused things I have saved from other years. Well, actually, I did buy some fall candles at the thrift store a few months ago….. so I guess I did spend a few dollars.
Add a Sign
To start, this is a pumpkin sign that I added some beadboard to on the back, to give it more interest.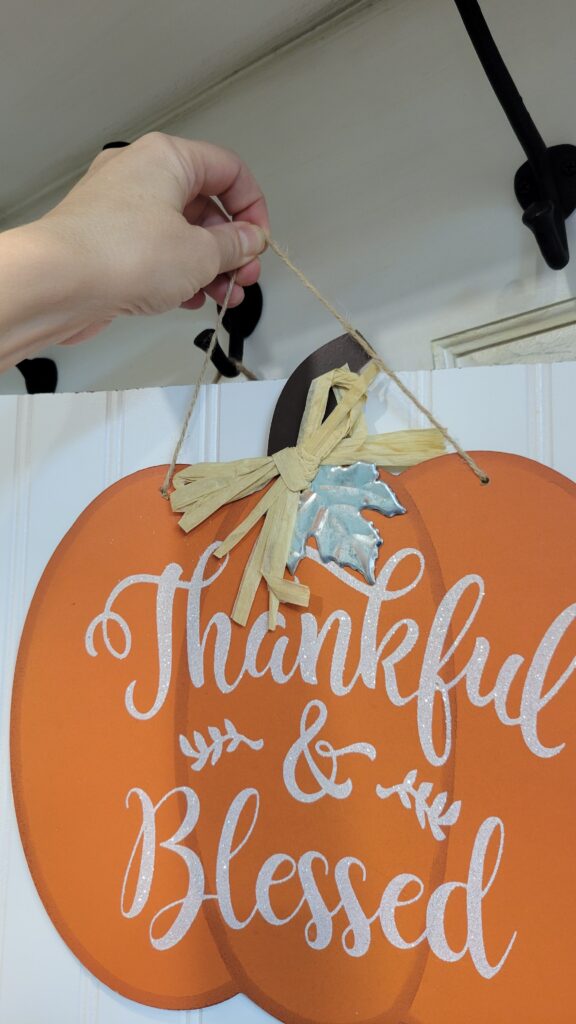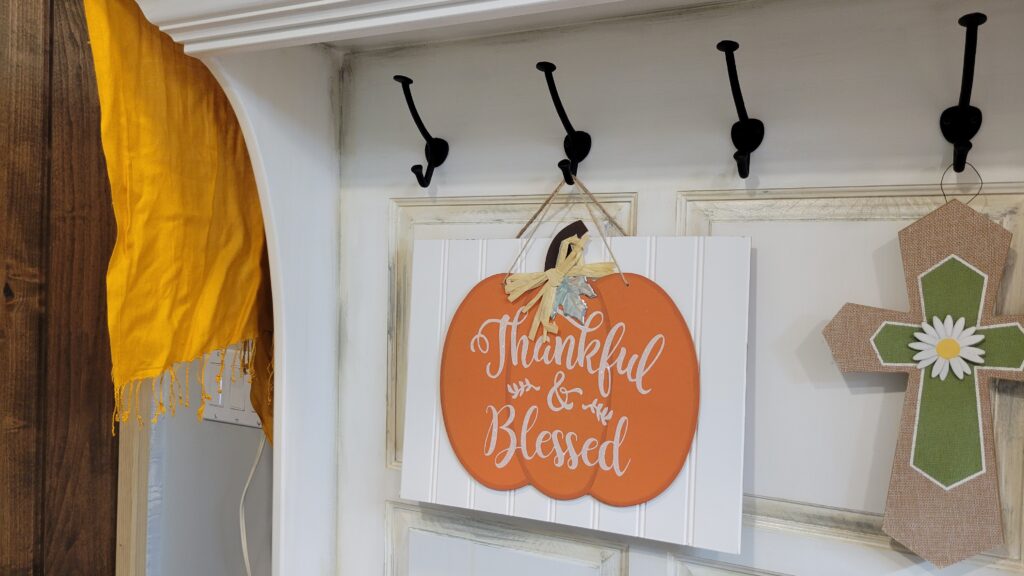 Add some Ribbon
Then on the right, I put some ribbon and felt decor on the laundry pass-through doors. (Instead of a laundry chute, I have a pass through– because the laundry room is on the other side of the doors. That eliminates the need for a hamper or basket in the bathroom!)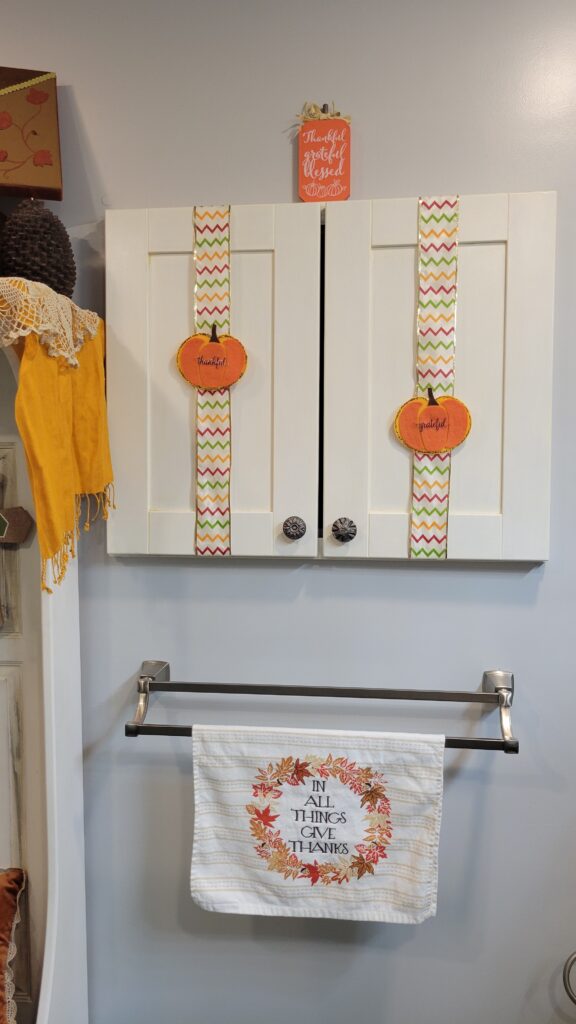 I attached the ribbon to the cabinets the same way I did when I used it in my Kitchen— with masking tape.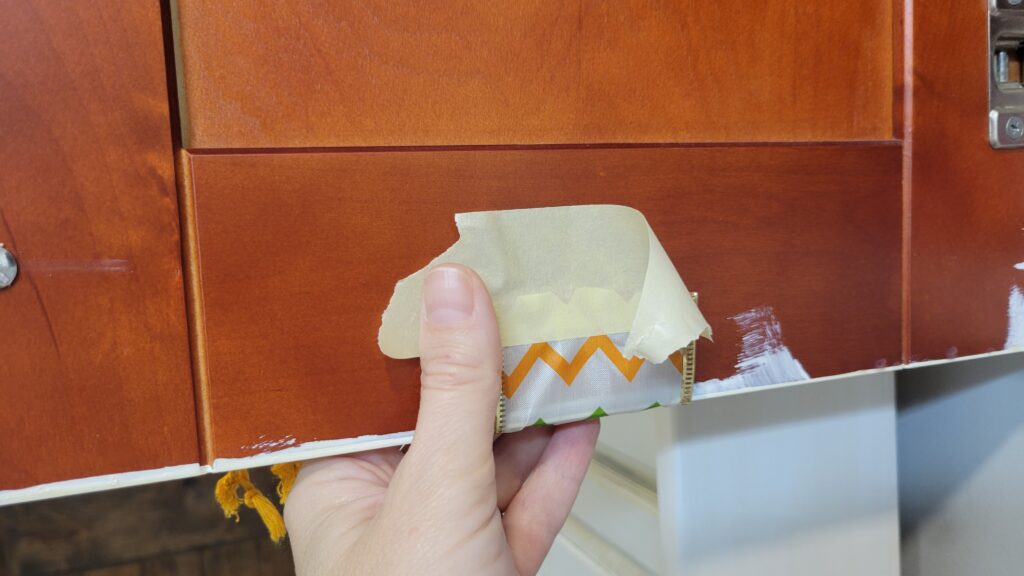 Use Candles
Candles are always a good idea. Even if you're not going to burn them, you can find them in such fun shapes. Did you know that fun shaped candles are called "statement candles"?
When I found these large pine cone candles at a thrift store, I was sure they would be amazing fall and Christmas decor. Then I found the orange/ burnt orange ones with leaves on the sides, and I knew they were perfect, too. I can't remember where I found them, though, whether it was a yard sale or a thrift store….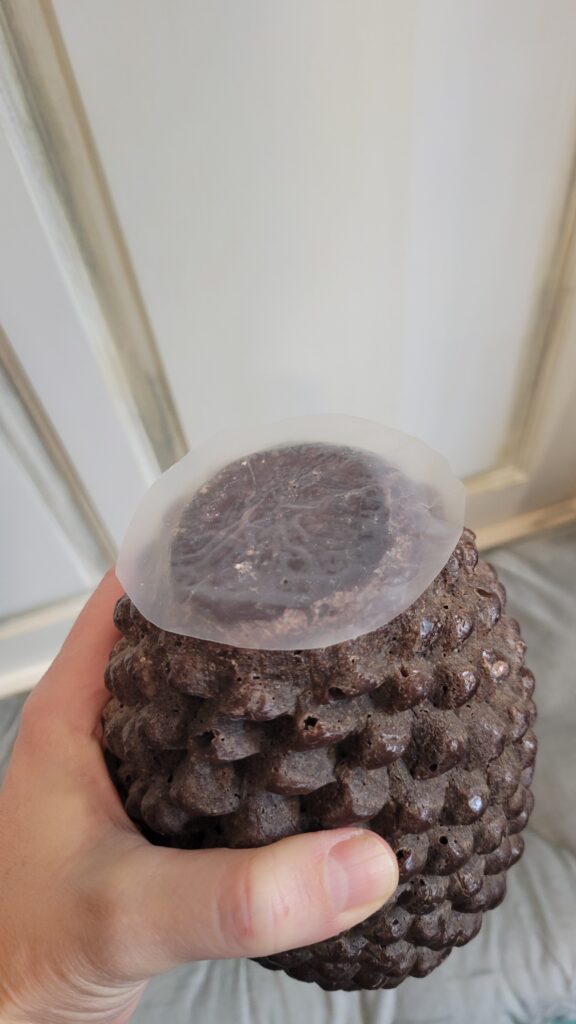 A friend gave me this yellow scarf. I'm not sure I will wear it, although I might– but I immediately knew it would look perfect in my fall decor!!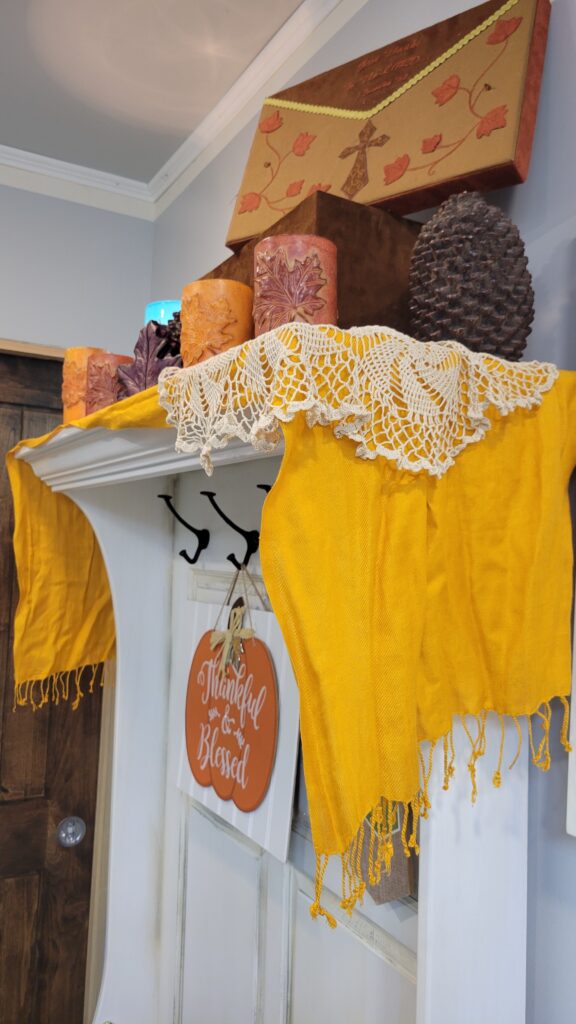 I've had the purple leaf candle for so long I can't remember where it came from…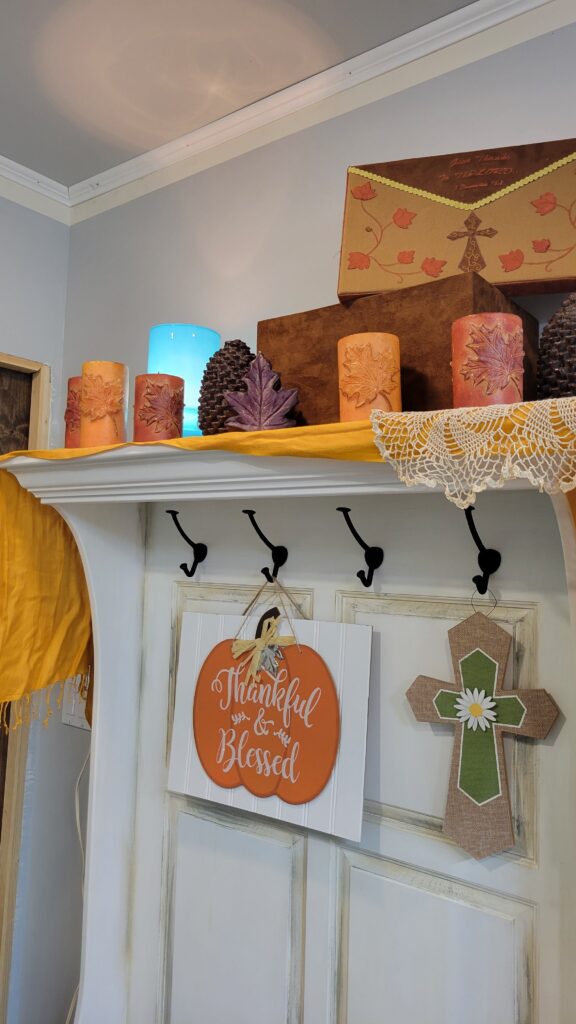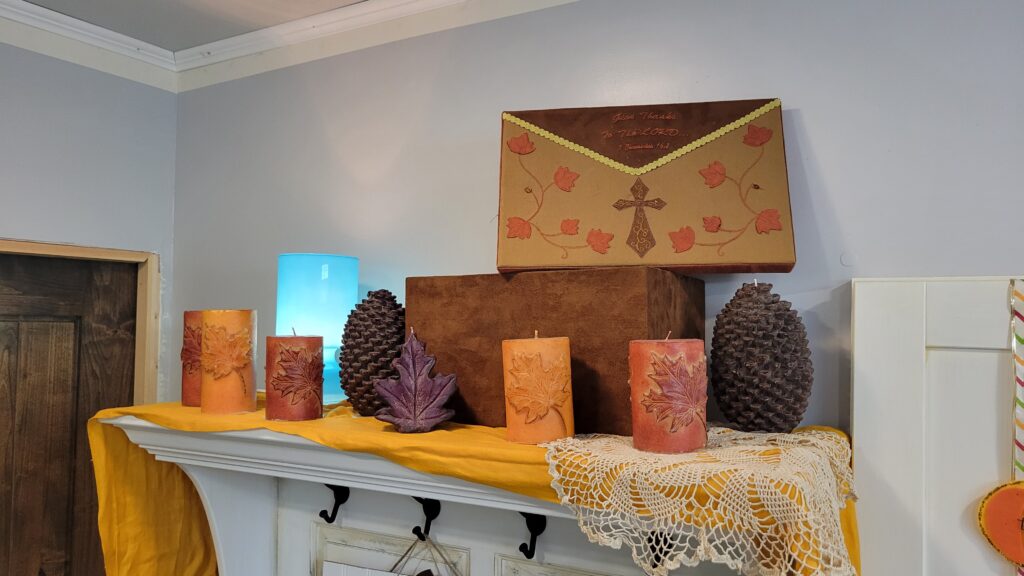 Shower Curtain
I have several seasonal shower curtains, but I don't have one for fall. So I decided to hang my fall burlap banner up and it looks perfect! This is what faces the bench.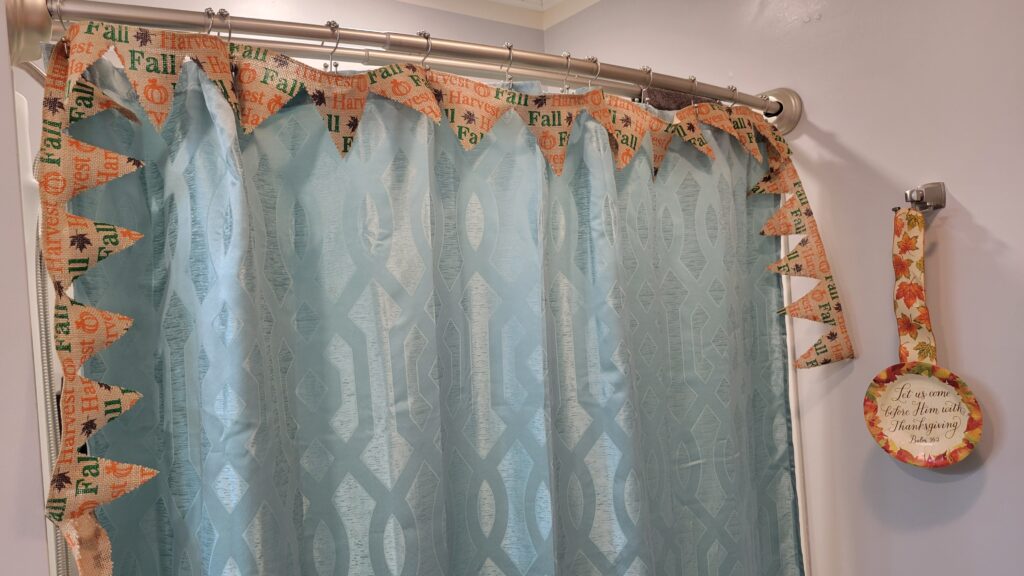 I hung this paper plate on the Robe Hook just for fun. (Well, this whole thing is just for fun, right?!) I had saved it from a time I hung it on a cabinet. Use masking or clear tape to attach the plate to the ribbon.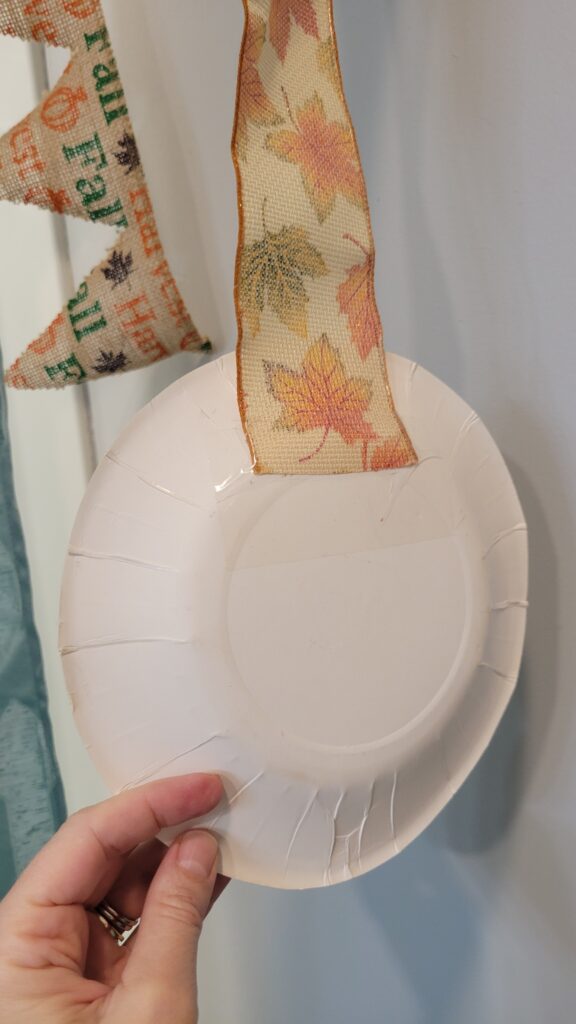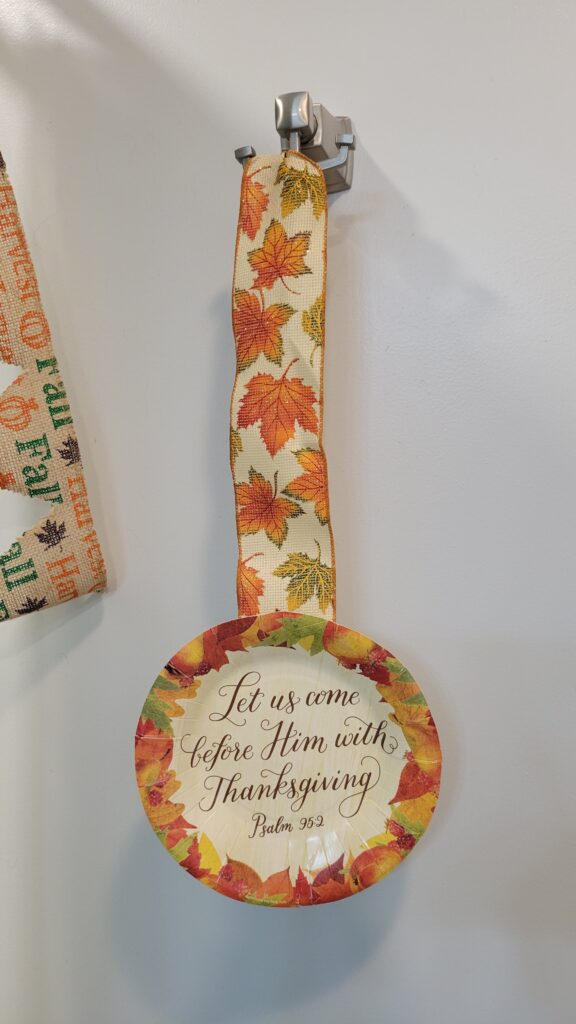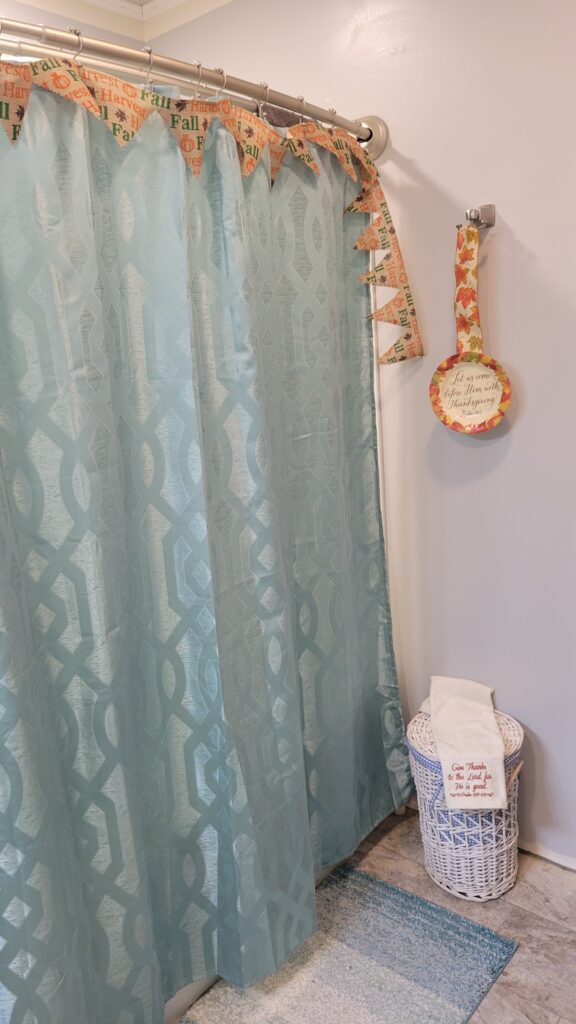 Fall Bench Decor!
Doesn't it look so cozy?! But wait– I have one more thing to add to make it PERFECT.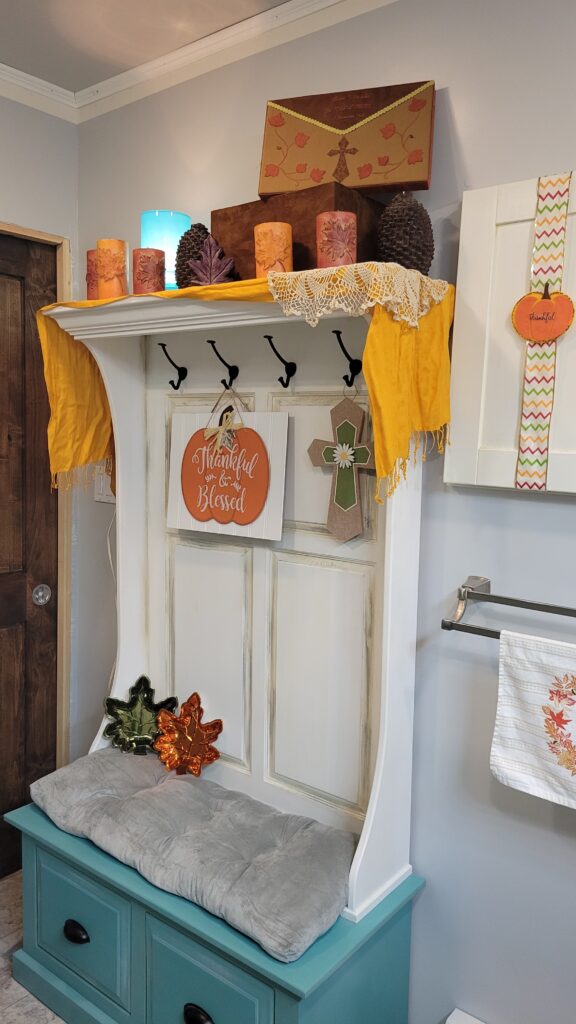 Be Thankful Pillow
This 'be thankful' pillow. Burnt orange is not usually a color I would choose. But it is so velvety soft, and it has a cute doily like edging on it. And we can always use a reminder to be thankful.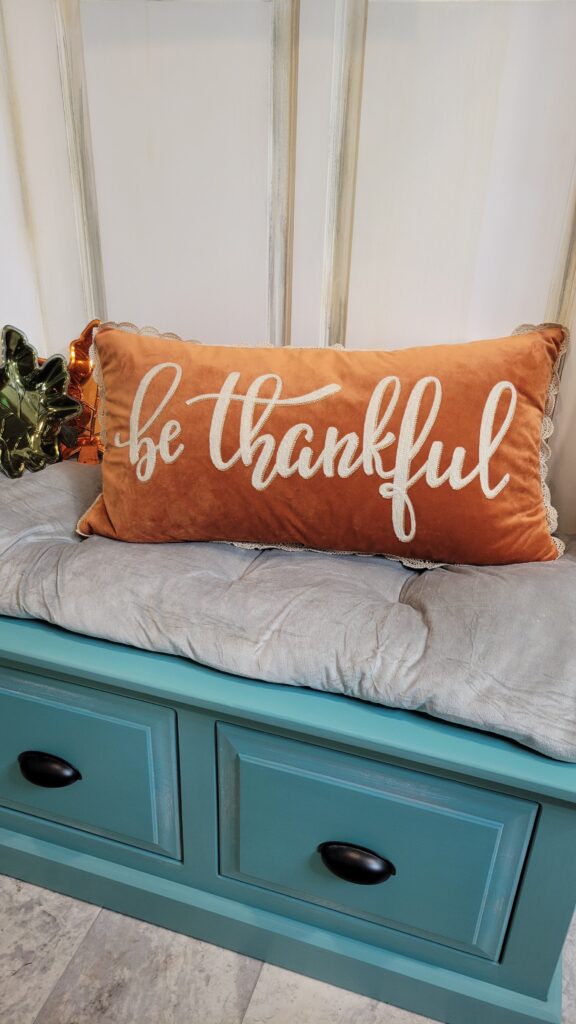 There! Now doesn't it look absolutely perfect?!