Thanksgiving Fall Decor Part One
I hope you will enjoy seeing how I have decorated for the fall/ Thanksgiving season. Here is my favorite thing first!
This "Be Thankful" pillow is a new find from Marshalls. I also bought the white blanket at Marshalls several years ago. It is sooo easy to change the color of your couch by covering it up! : )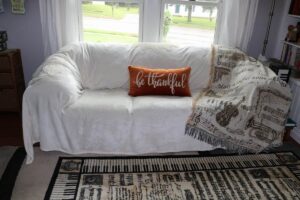 (*This post may contain affiliate links. By purchasing anything from these links, I may receive a small commission at no extra cost to you. More information is available on my Disclosure page.)
When I first saw this pillow at Marshalls, I looked at the price tag and said, "hmmm." It seemed like quite a splurge for me. During that shopping trip, I stopped by several other stores without buying anything. After saving all of that money not purchasing any other items, I decided that I could afford the pillow. So I went back to Marshalls. And I couldn't. find. it. Oh, then I knew I wanted it! Sometimes that is a good way to judge if you should do/ buy something. Will you regret not buying/ doing it? I thought I had seen two of these pillows, so I kept searching, and finally found one. I only wanted one.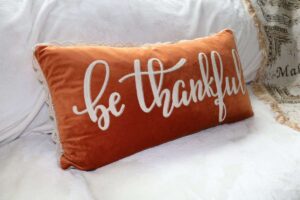 Now believe me, normally I would not purchase anything in this 70's shade of orange. But for the fall and pumpkin season, it is the right color. The fabric is velvety soft. The lettering is a sweater-style thread, with gold accents.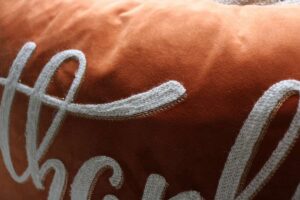 The pillow is stuffed with duck feathers. And then there is the doily-like faux crochet edging.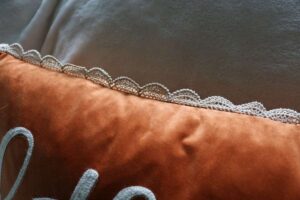 Have you ever seen these "half-doilies" that are for the backs of chairs/ couches? I love doilies and have made quite a few (although not this particular one), so I loved the doily reminiscent edging. One of the reasons that I wanted this pillow, is to remind my children (and me) to Be Thankful for God's blessings to us! So many times our attitudes would be more pleasant if only we were thankful.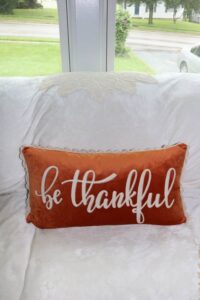 Here is a music throw that was given to me. It is there for a reason…. that white blanket is not long enough to cover my entire couch! : ) It's okay– the color blends well with fall colors.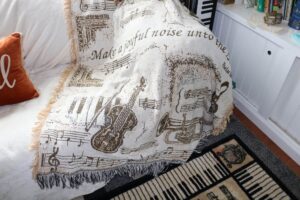 Even the cat blends well with the fall colors! This is one of her favorite spots to watch the birds in the trees.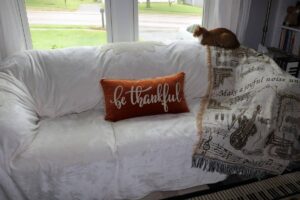 She also likes to nap here.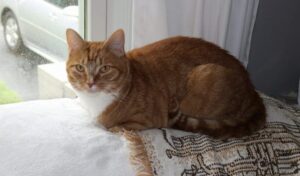 In between the windows above the couch I hung my recent Dollar Tree purchase. See the glitter?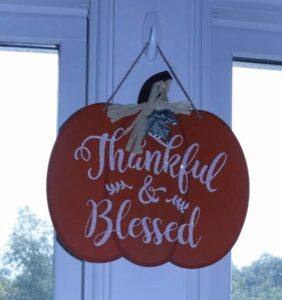 To the left of the windows is this area where I keep my purse. I put my sunglasses on the wall shelf that was given to me by a moving neighbor. The basket dresser below holds the kids' socks and some of their shoes. I will probably paint it soon (another before and after to show you!) but for now, it looks cohesive with the shelf above it. Oh, after I paint it, what will I do about the mismatch?? Ideas?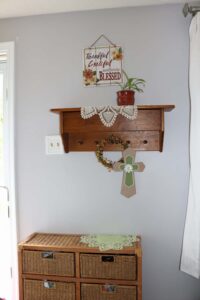 This square sign is another Dollar Tree glittery purchase this year.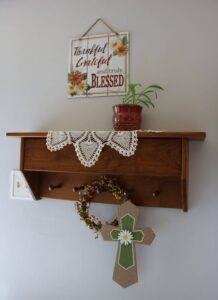 And here is the entertainment area perpendicular to the couch. I absolutely love covering up my television with some kind of fabric.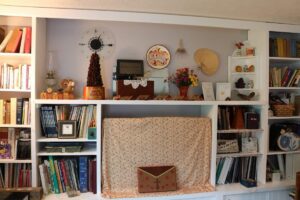 Starting from the left, here is an Autumn sign given to me by a co-worker. My Grand Canyon sheep is in the background.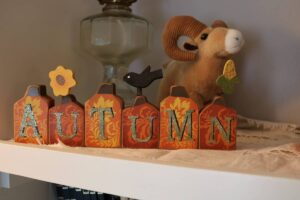 Here is the miniature pine cone tree that I made.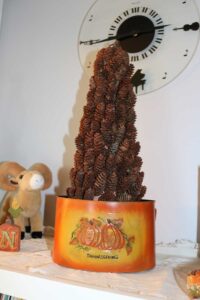 Here is a painted wooden tray given to me by a piano student. It is sitting on a fabric covered decorative box turned upside down because….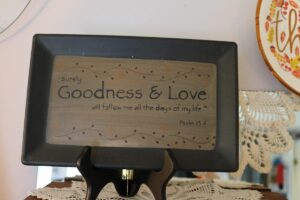 Here is the lid to said box, above, propped up in front of the tv. I bought this decorative storage box years ago with a gift card from a piano student.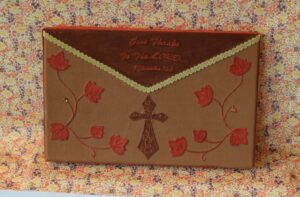 These are mums that I cut from my own plants out front. I do hope they grow back each year! This is my first success at these growing back from last fall.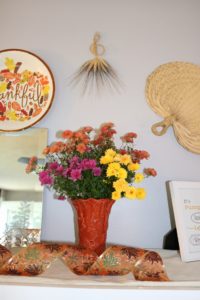 Above the mums is this treble clef made from wheat. I noticed other people using wheat in their fall decorations– so this is what I have! (yes…. it was a lovely gift from a piano student : ) ) Since it was the only wheat I had, I decided to use another grass item, also (below).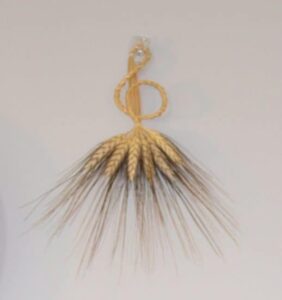 I have this silver covered real maple leaf necklace. I don't remember where I got it– and I have no idea what metal the silver is…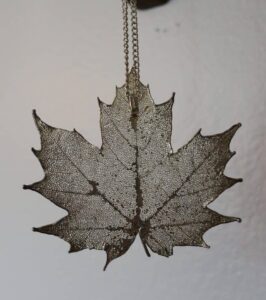 I decided to hang it over this miniature fan. This fan is the other grass item to go with my wheat treble clef.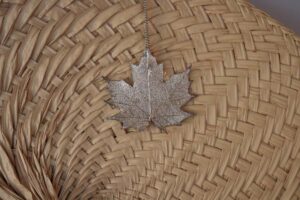 Here is another look, which also shows the Pumpkin Spice Latte Weather printables that I made, and my corner shelf.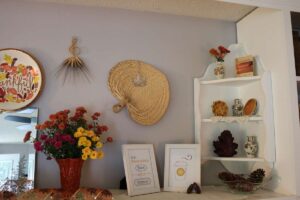 This miniature vase was a recent 25 cent yard sale find.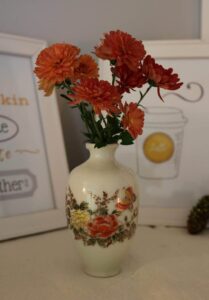 I got these other two mini vases at the same time. The miniature pies are candles. The Footprints miniature book is in this collection because of its orange color. If you want to decorate for seasons, but aren't sure where to start– just start a little bit at a time like I did, by noticing what things you already have that are in the general color scheme of the season.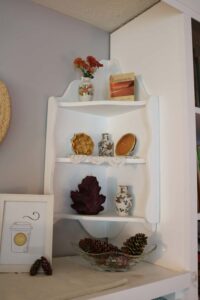 And then this leaf is also a candle. I put cinnamon and glitter on the pine cones in the dish below the candle.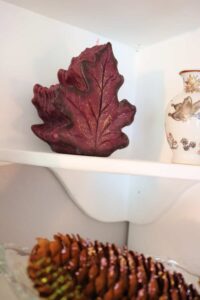 Here's one more look. Did you notice the paper plate? The one in the center that says "Thankful" with leaves in the shape of a pumpkin? I love decorating with paper plates! That is where I will begin Part Two…. (to be continued).