Easy Three Ingredient Salmon
Update: Onion Variation
Salmon, Before
Recently I made this recipe and added onions.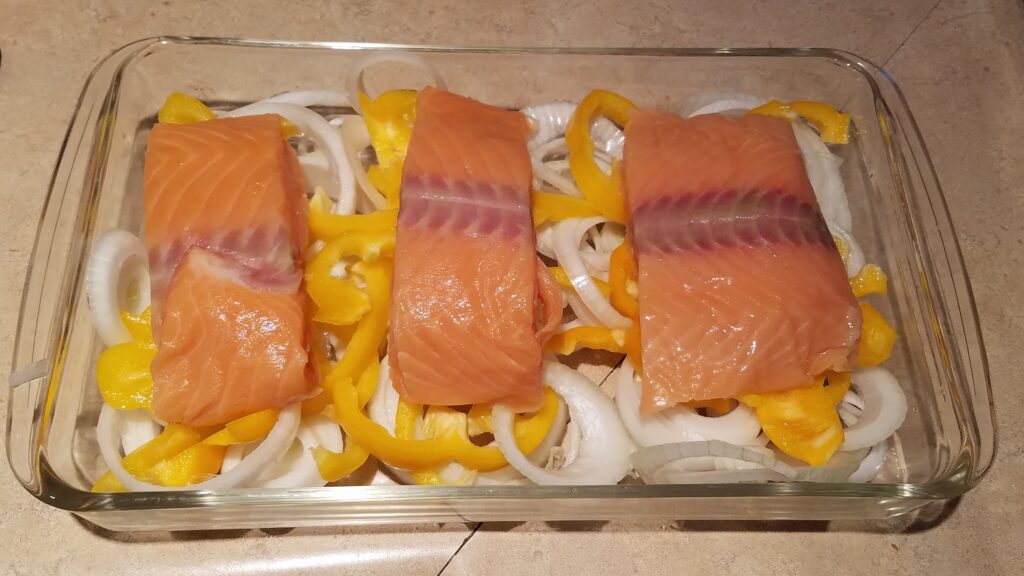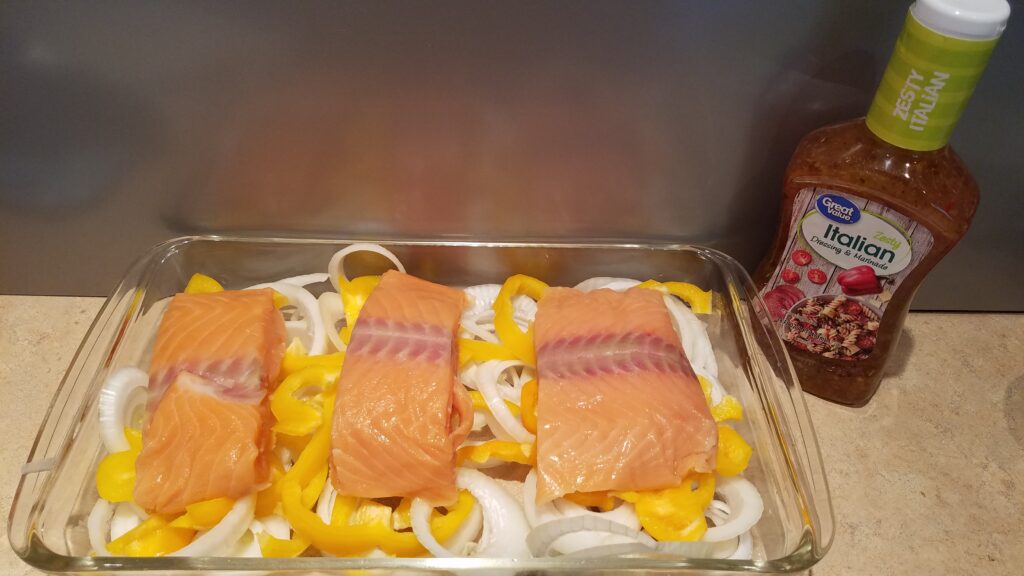 With Italian dressing, before baking: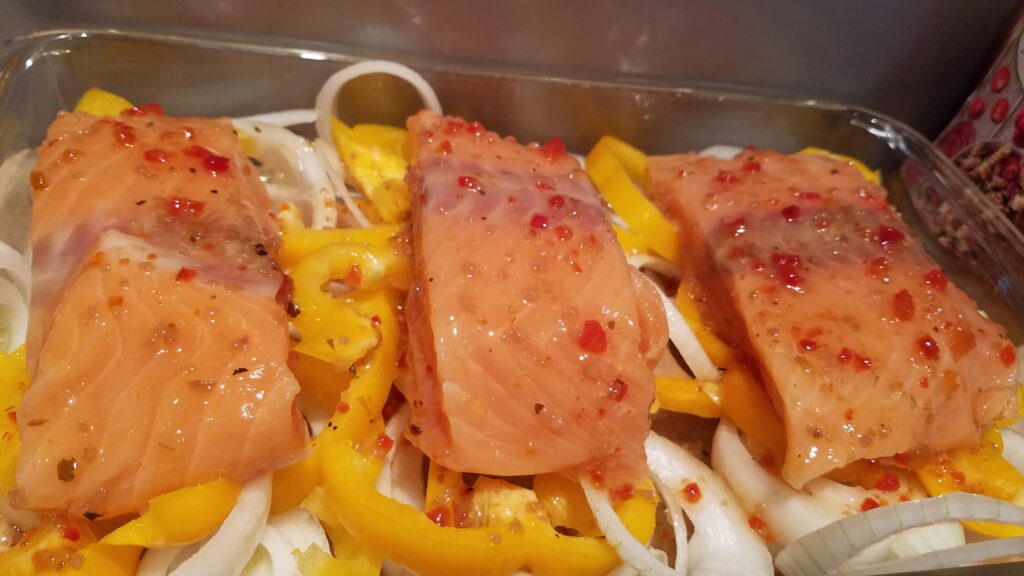 About how much of the full bottle of Italian dressing did I use? About this much…. I don't measure– I just pour it on until it looks about right….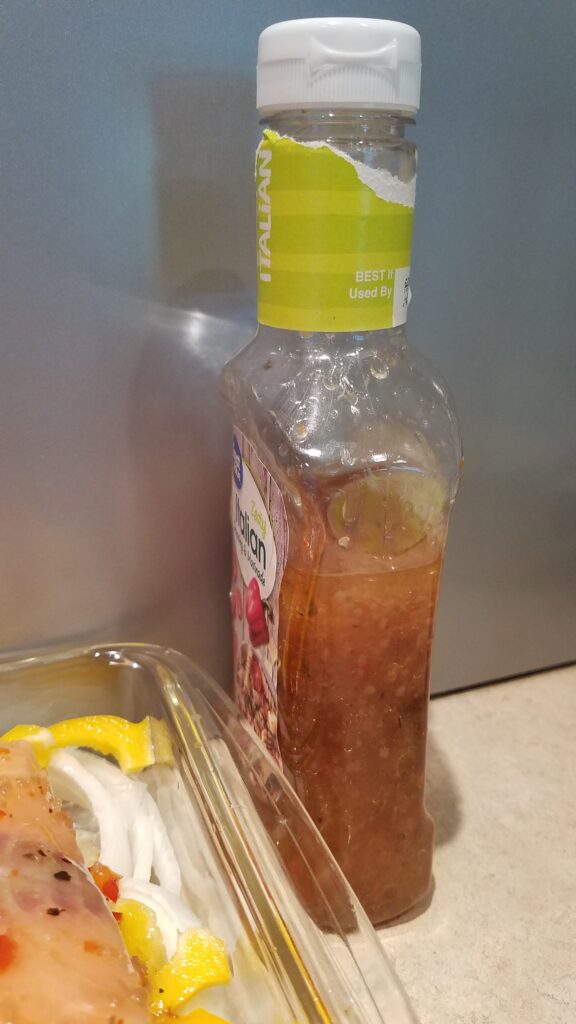 Salmon, AFTER!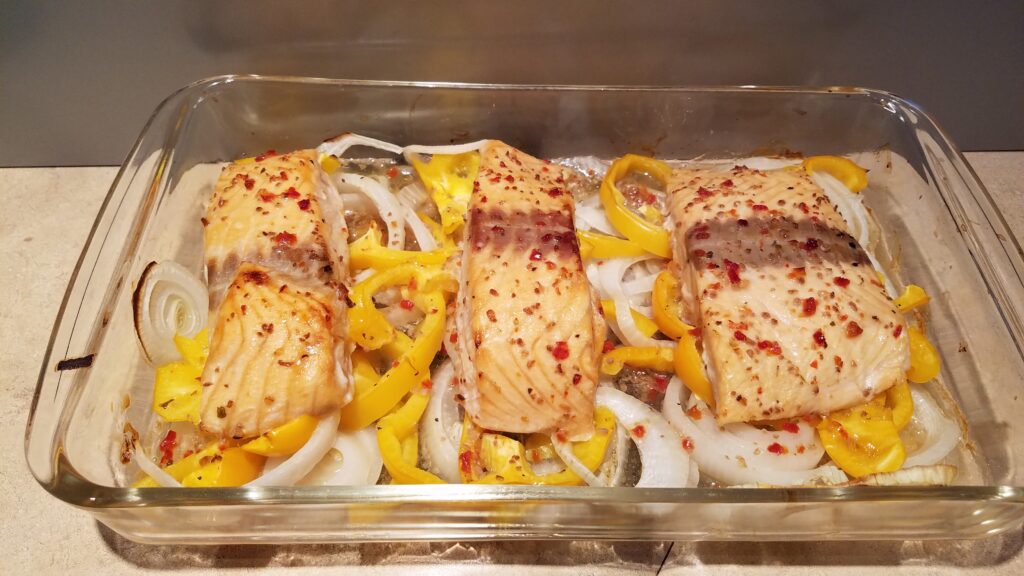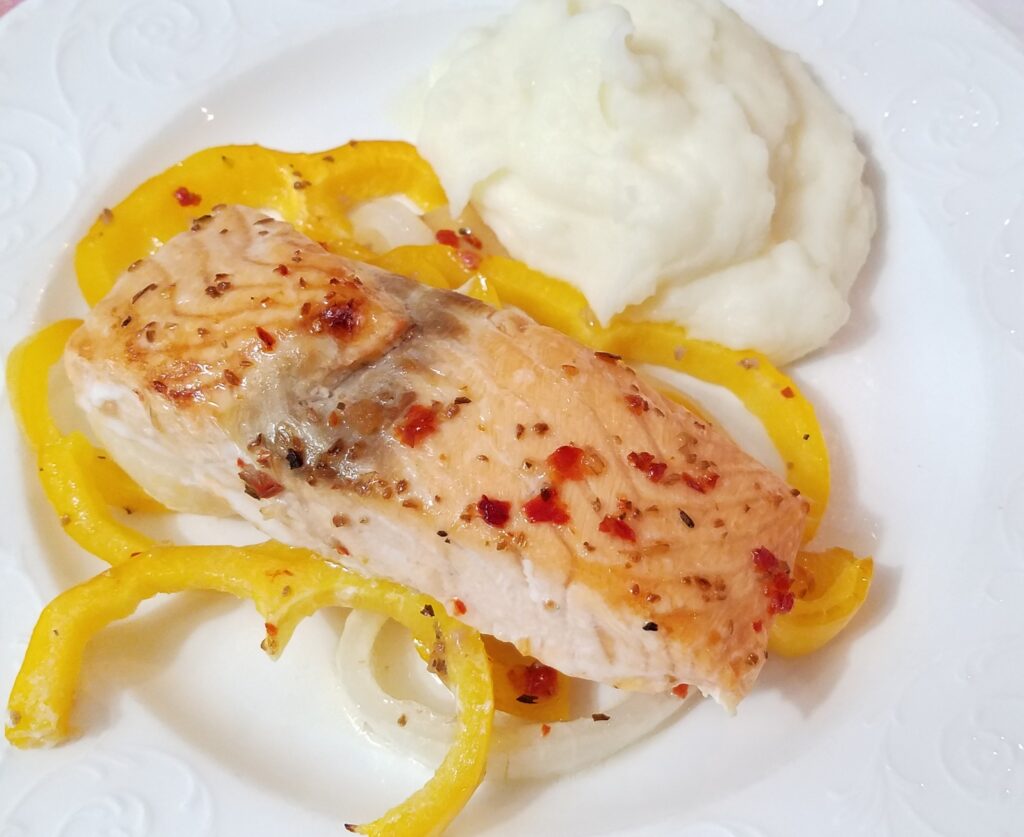 I first made this salmon nearly ten years ago. I got the idea from a recipe that used Italian dressing to cook chicken. Once I tried it, my husband loved it! My guests have also enjoyed it! I have even made this as a dish to give to a friend who was sick, for them to bake and eat at home.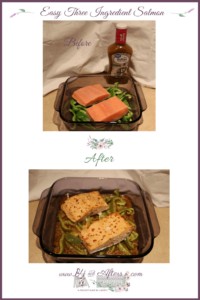 (*This post may contain affiliate links. By purchasing anything from these links, I may receive a small commission at no extra cost to you. More information is available on my
Disclosure
page.)
Easy Three Ingredient Salmon Before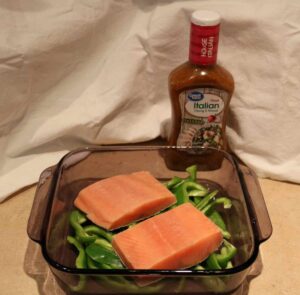 This recipe is so easy to make, I am almost reluctant to call it a recipe at all! First, slice your bell pepper lengthwise. Or slice it in pretty circles– either way. Use one color of pepper, or use red, orange, yellow, and green. I like buying Sam's club variety pack. Any combination will work. I enjoy seeing and eating all of the colors!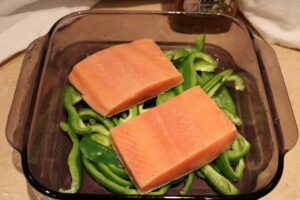 Lay your thawed salmon on top of the sliced bell peppers. Use a larger dish if making more servings. Just double or triple the amount of salmon, peppers, and dressing, and bake it a little bit longer. (I never measure anything for this recipe….)
And just like that, there is only one dirty baking dish (plus the cutting board and knife) to clean when you are done eating!! This baked salmon is soooo easy, yet it looks and tastes like you spent a long time on it.
Easy Three Ingredient Salmon After, 1st version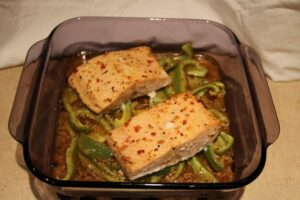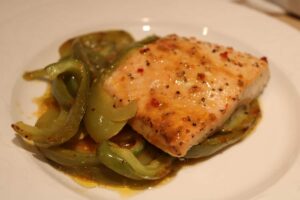 This is one of two ways that I bake salmon. The other salmon is sweet, with a little bit of spice. You can find it here.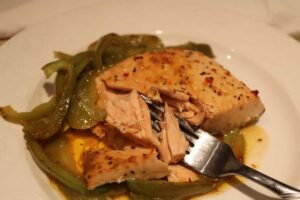 If you have tomatoes instead of bell peppers, you can use them. I grow these miniature yellow pear shaped tomatoes in my gardens. I had a few small red ones, too. This dish is perfect with a side of mashed potatoes or rice.
Easy Three Ingredient Salmon After, 2nd version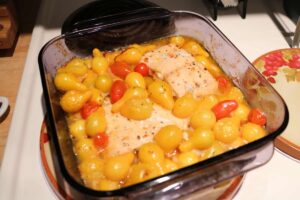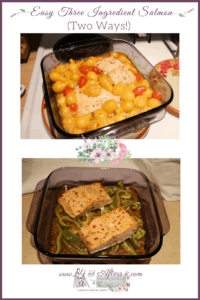 This easy baked salmon is so pretty whether you use one color of bell pepper or all of the colors all at once!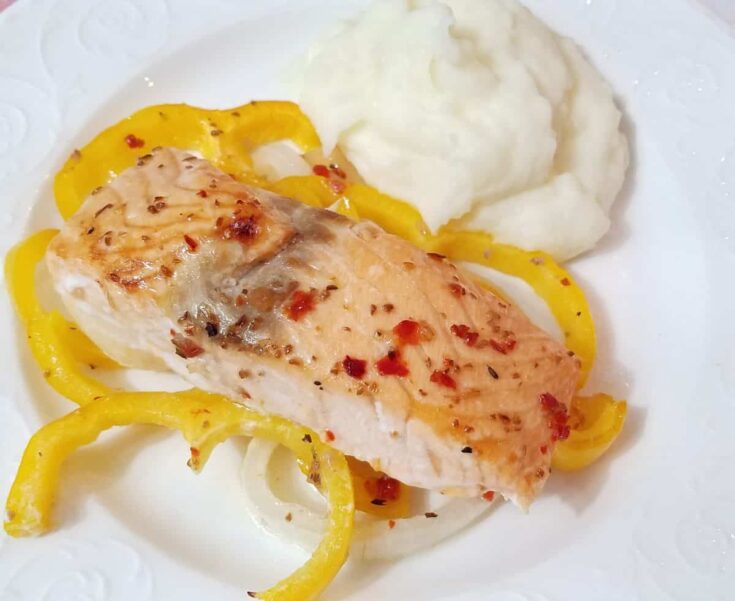 Yield:

4 servings
Easy 3 Ingredient Salmon
This is a flavorful way to eat salmon, and definitely one of the easiest recipes you will ever make!
Ingredients
4 frozen salmon fillets
2-4 cups Green, red, yellow, or orange bell peppers (or any combination of all four!) OR/and cherry/ pear tomatoes OR/and onions
1 to 1½ cup Italian dressing (zesty, roasted red pepper-- any variety)
Instructions
Thaw salmon according to package directions.

Slice bell peppers, onions, or tomatoes. Cover the bottom of your baking dish with them.

Lay salmon on top of vegetables.

Pour dressing over everything. The oil in the dressing will keep the food from sticking to the baking dish! (I like to use a glass baking dish for this recipe.)

Bake at 400 or 425 degrees for 20 minutes or until the salmon flakes with a fork.
Notes
Serve with a side of rice, quinoa, or mashed potatoes.