Art Party Activity
This post contains links to affiliate websites, such as Amazon, and we receive an affiliate commission for any purchases made by you using these links. We appreciate your support!
When I was searching for ideas to make my daughter's Art Themed Birthday Cakes, I came across an idea for an art activity for her party. This is how I made that idea our own!
First, I went to the appliance store and gathered about four large pieces of cardboard. They had been used for stoves, washing machines, or dishwashers. I may have even saved large pieces from our screen slider door.
Instead of drawing a design myself, I found someone else to do it. Thankfully, I know some talented teenagers who were willing to draw all of these scenes for me! All I did was tell them my idea, and that my daughter liked horses. They came up with these amazingly creative scenes all on their own!
Before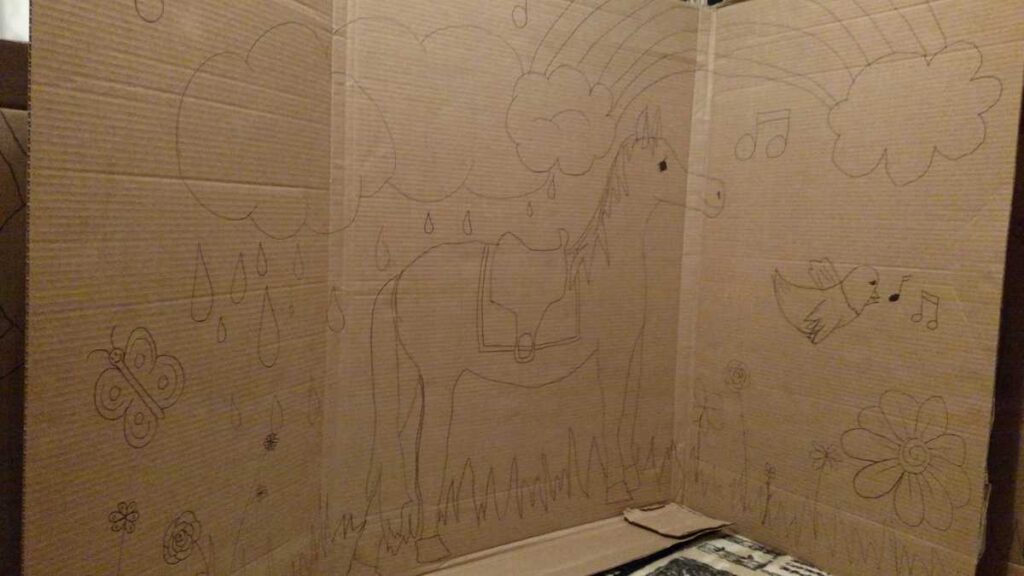 Aren't these designs amazing? This horse even has a saddle! All of the extra birds, butterflies, clouds, grass, and flowers ensured that all of the party guests would have something to paint.
I had to sneak these "before" pictures at night so that my daughter would not see them before the party. I like to surprise my kids with their cakes, and also with as much of the rest of the party as I can.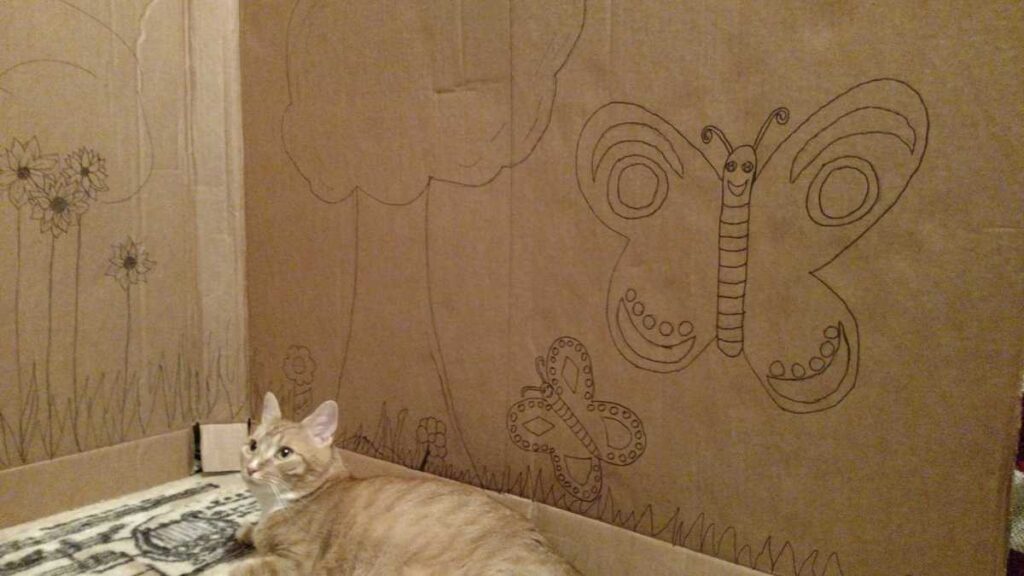 Here is a house and tree scene with honey bees flying around.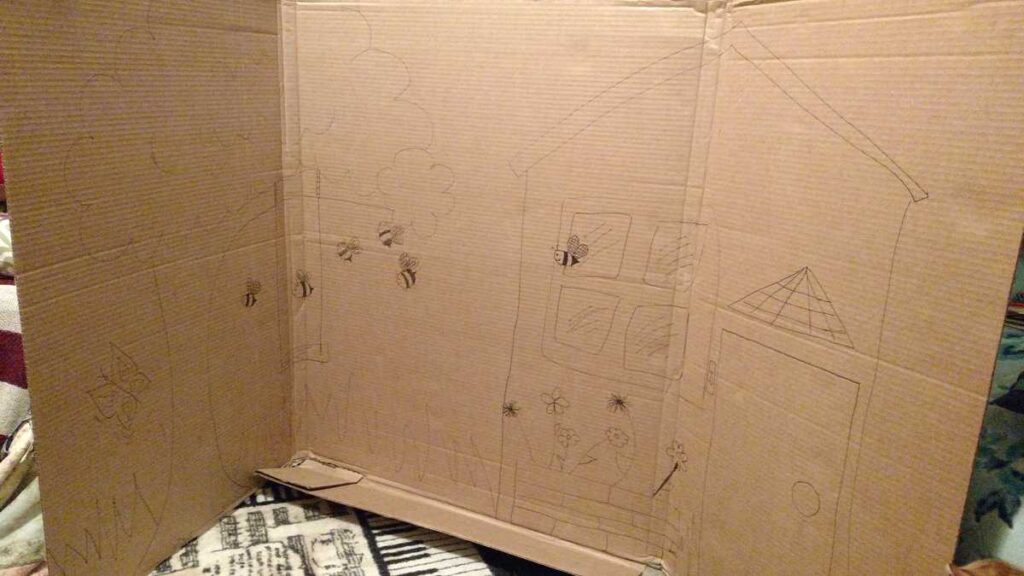 This second horse scene is in a different setting. The horse has no saddle and appears to be out in a pasture with a nice fence.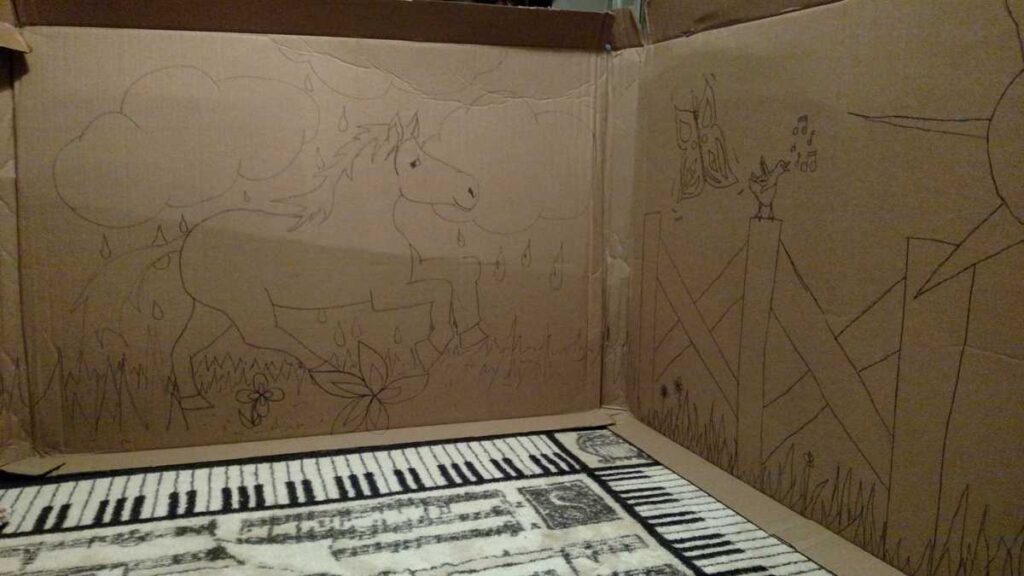 Here is the rest of the fence scene, including the sun shining.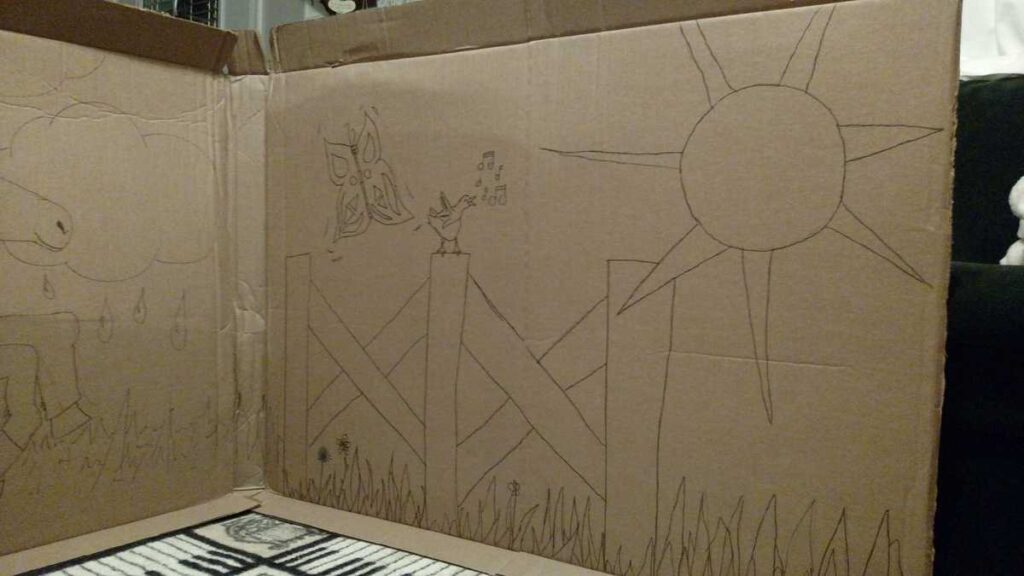 My scene drawers were also willing to be in charge of dispensing paint during the actual art themed party. The guests were instructed to wear clothes that could get messy with paint on them. The parents were willing to help prop up the cardboard scenes while they were being painted.
The kids had a lot of fun painting these giant coloring scenes. (There are some more to the left that you can't quite see in this picture)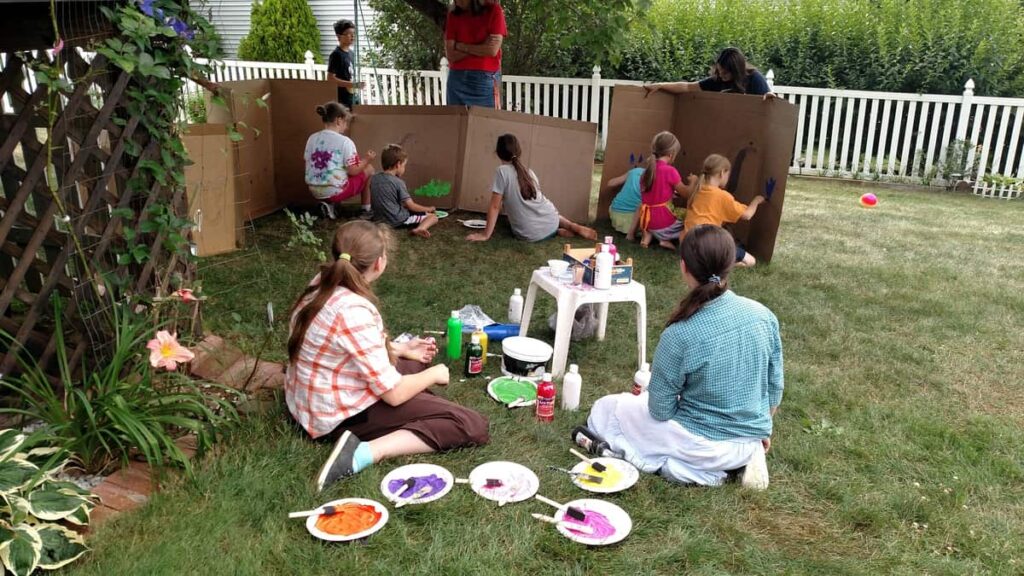 Here is my daughter painting her favorite horse scene. Her friends helped her with some of it.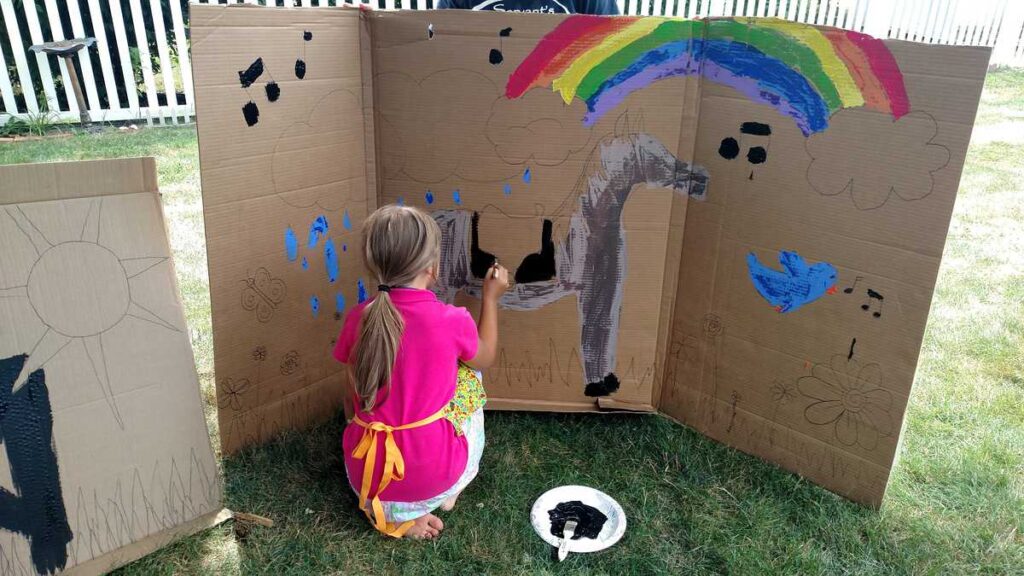 I took pictures of the finished scenes afterwards. I had brought them into our basement so that the weather wouldn't ruin them.
House Scene, After!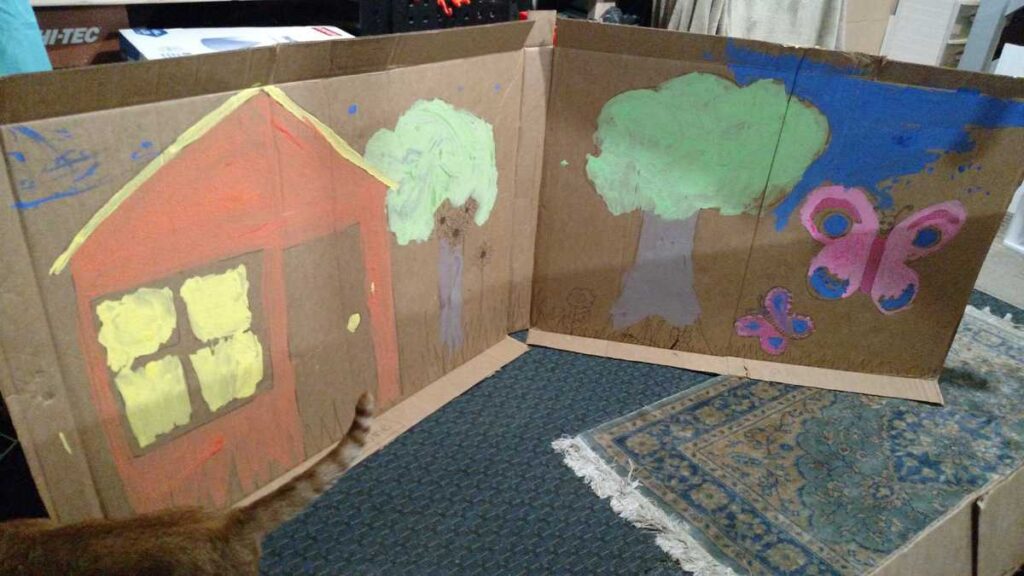 What can you do with such a large painted scene when the party is finished? Well, I have used these for dividers to keep our dog out of part of a room. I have also used one to protect the wall beside the dog crate. You could use them to decorate a garage or shed for a little while.
Another idea is that you could use large craft paper (like this one at Amazon) instead of cardboard. You could tape the paper up in your child's room later, or use it in a playroom area.
Horse and Pasture scene, After!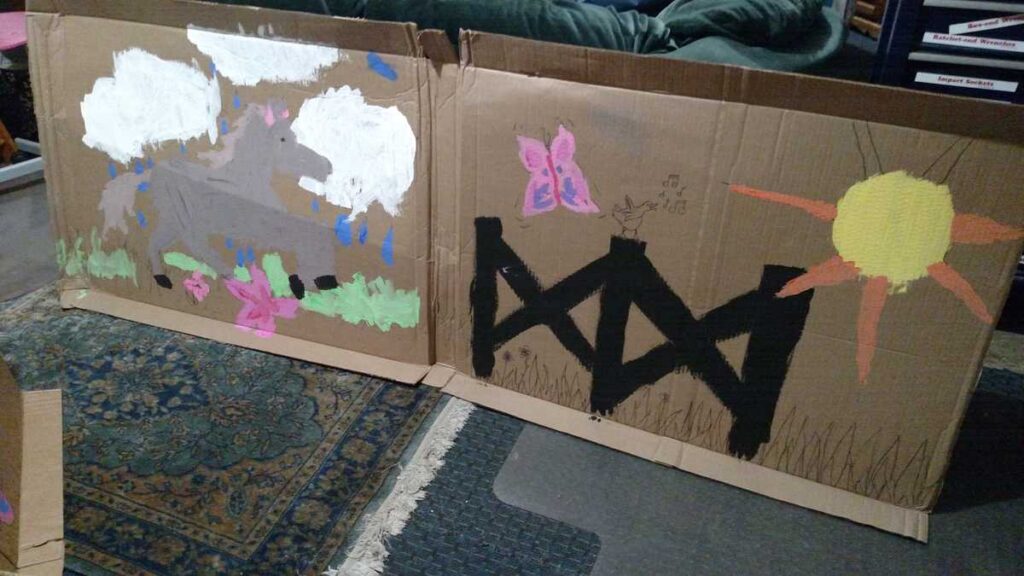 Even adults who like art and creating things might enjoy a party like this, with scenes created specifically for their favorite things.
Horse and Rainbow scene, AFTER!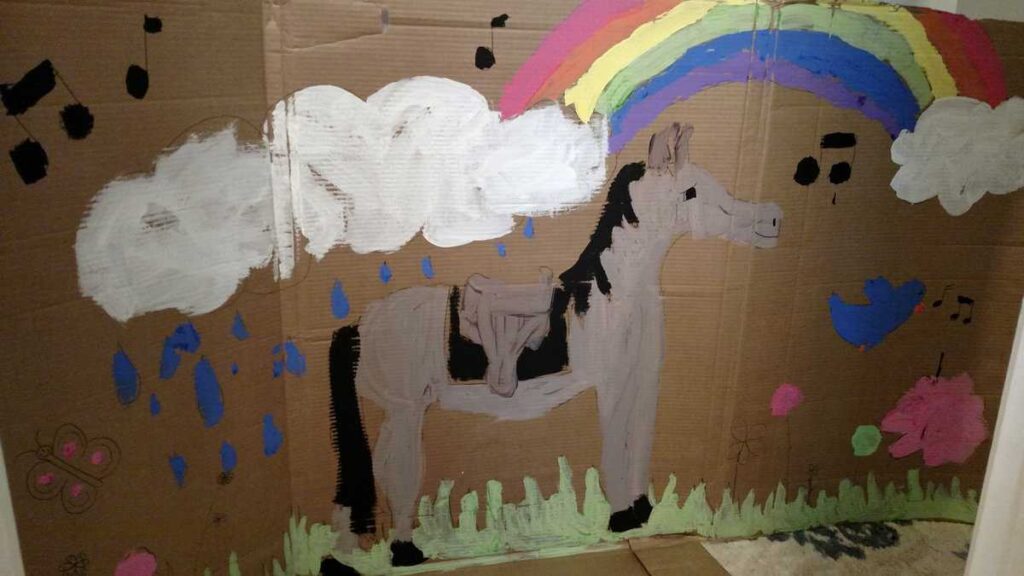 Since I love to play the piano, I think the music notes are so cute!
To see the rest of this Art Themed Party including the cakes, see the posts below!