Bacon and Egg Pretzels
*This post may contain affiliate links to websites such as Amazon. By purchasing anything from these links, I may receive a small commission at no extra cost to you. More information is available on my Disclosure page. I appreciate your support!
I remember seeing these bacon and egg pretzels when I was a kid at a potluck. I think maybe we made them ourselves a couple of times. And so I wanted to share them with you here at B4 and Afters!
Chocolate covered pretzels are one of my favorite snacks to eat and to make. They are so easy! You only need a few ingredients to make these cute treats. Three, in fact. You will need white chocolate melting wafers. These are my favorite. You could also use white almond bark or white chocolate baking chips if you prefer. Then you need straight pretzel sticks, and M+Ms.
Pretzels, Before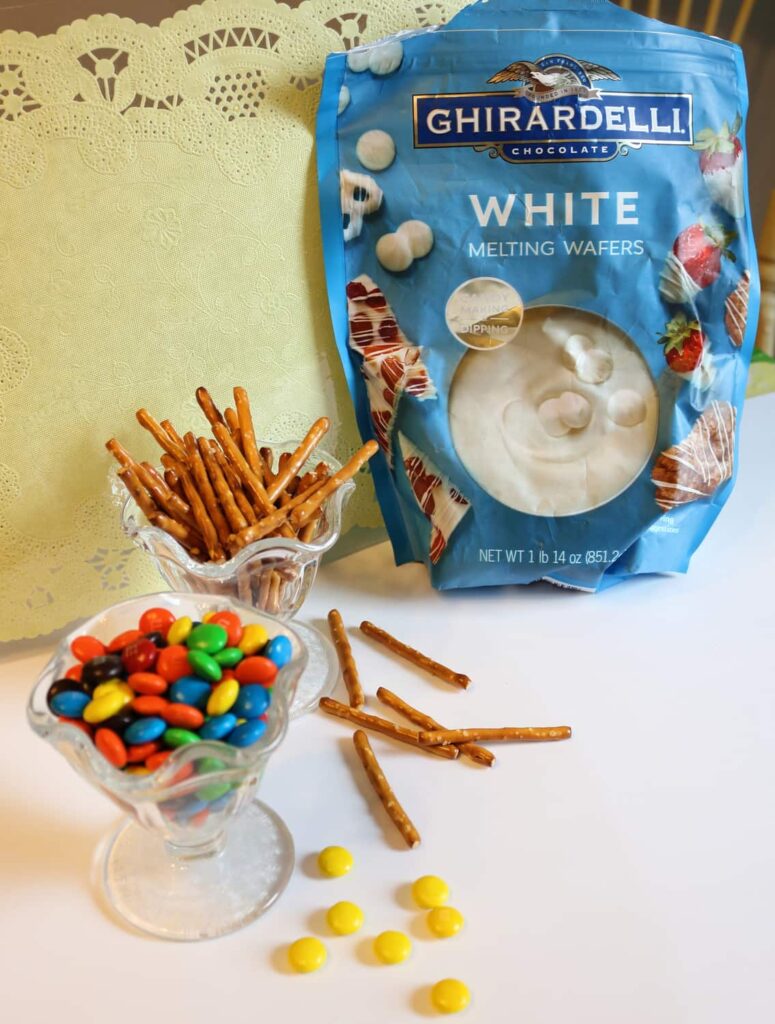 Lay the straight pretzel sticks on wax paper in sets of two. I like to save the wax paper from empty cereal boxes for jobs like this!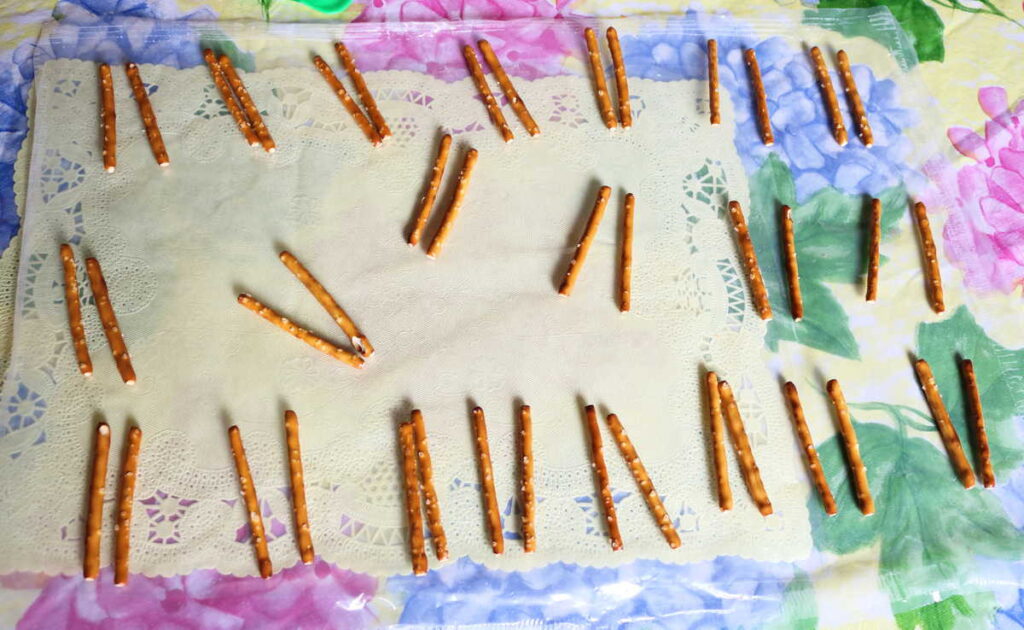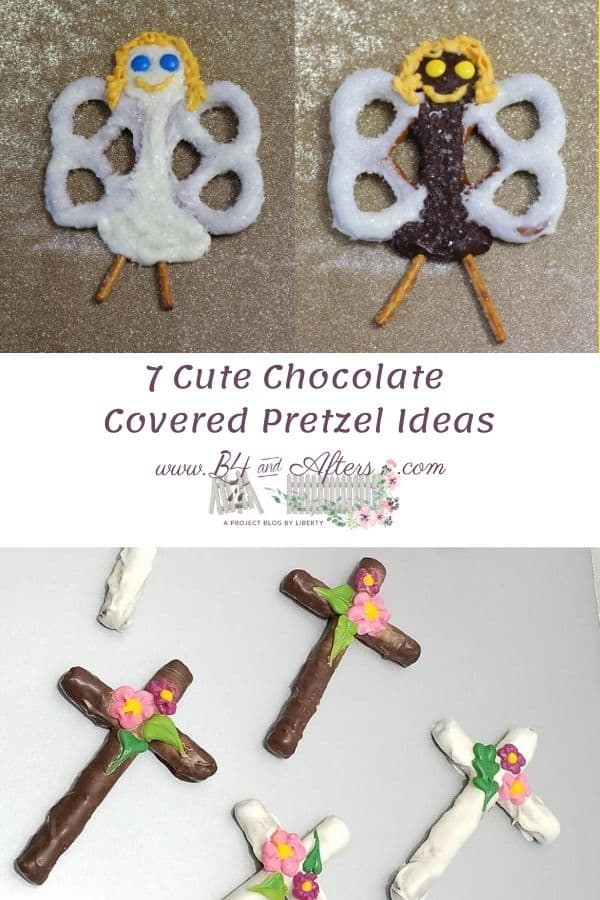 Melt the white chocolate in a glass bowl using the microwave melt chocolate setting, or on low power and stir ever 30 seconds until melted. Then put the melted chocolate in a ziplock bag. Use scissors to cut a small hole in one corner of the bag.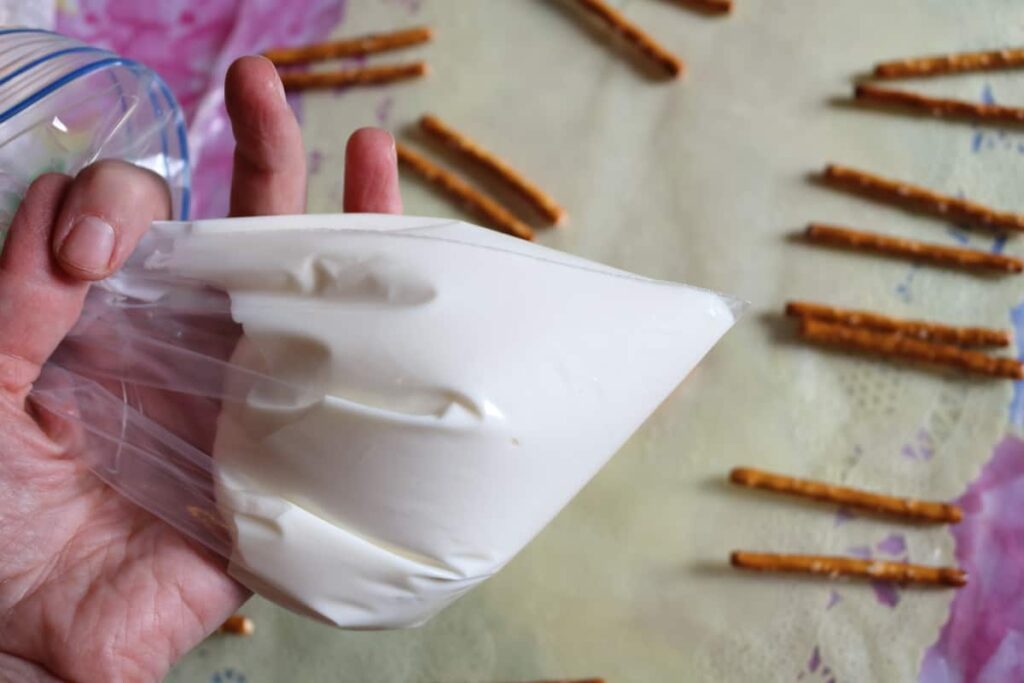 Then squeeze out the chocolate onto the pretzel sticks, covering both sticks a little bit. I like to put my dollops off center.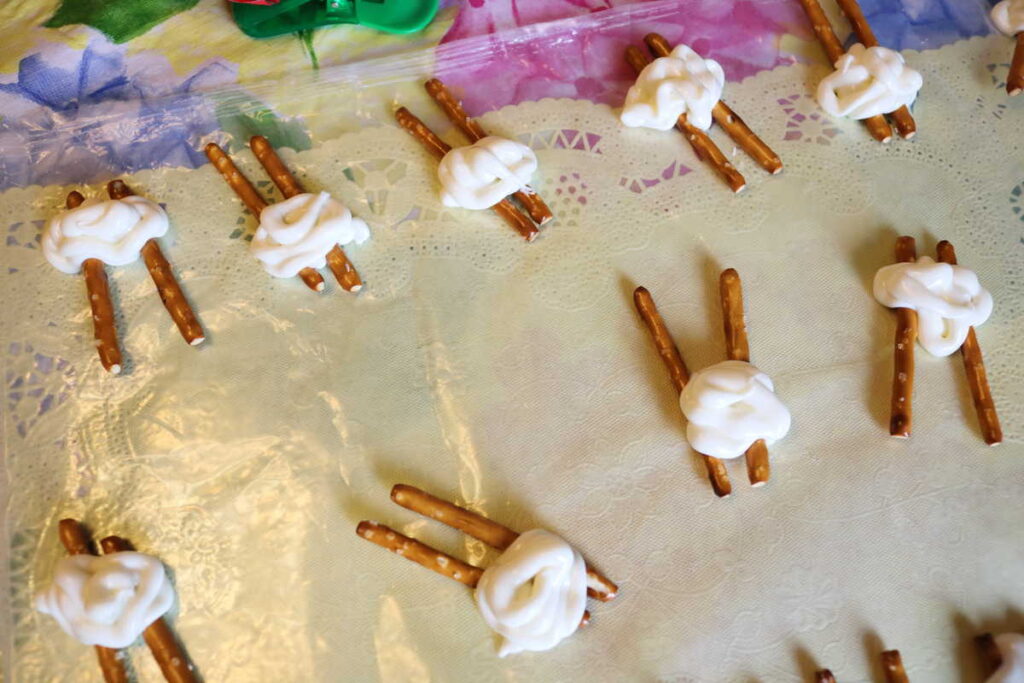 Next, push yellow M+Ms into the chocolate before it hardens. This will help smooth out your dollops, too. Use one or two M+Ms per pretzel set. And there they are! Two sunny side up "eggs" with two pieces of "bacon." Aren't they cute?!
Bacon and Egg Pretzels, AFTER!!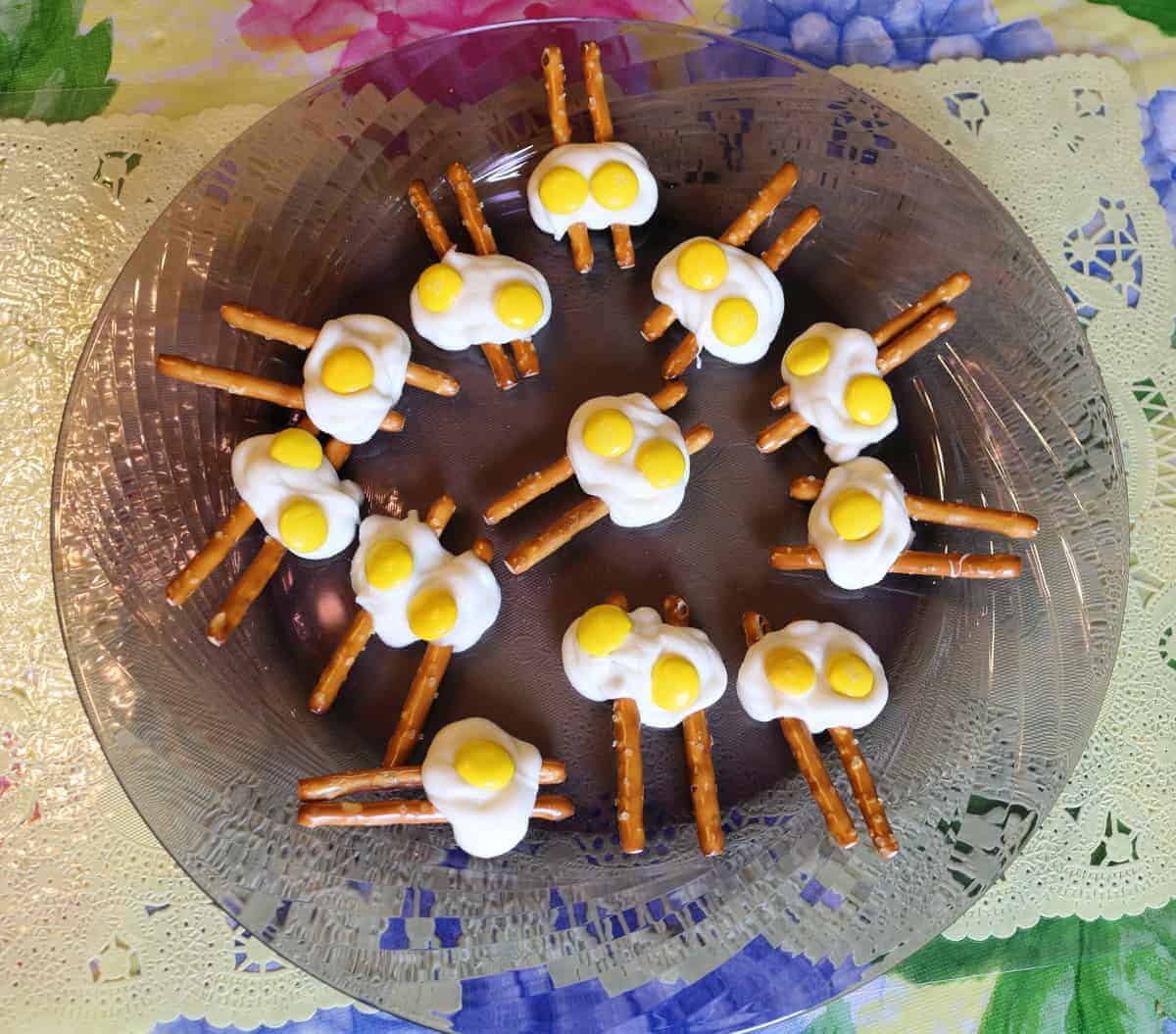 Go ahead and use all of the M+M colors if you wish– they will taste just as good as the yellow bacon and egg pretzels.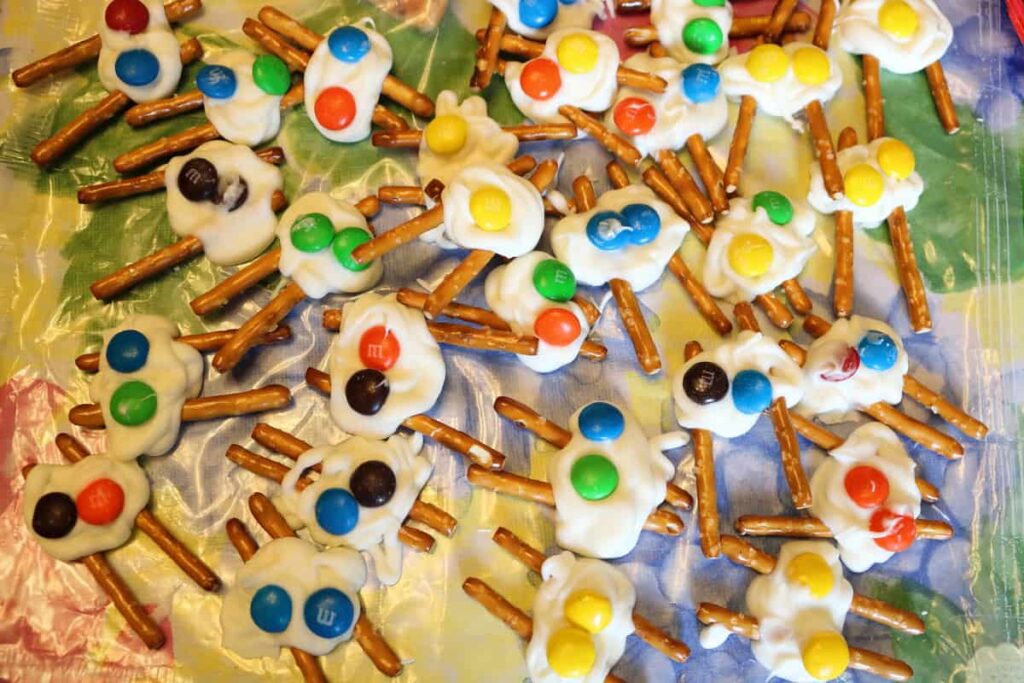 Have you ever seen these treats made this way before now? Wouldn't these be cute snacks for an "Old MacDonald" farm birthday party, to go with the chicken?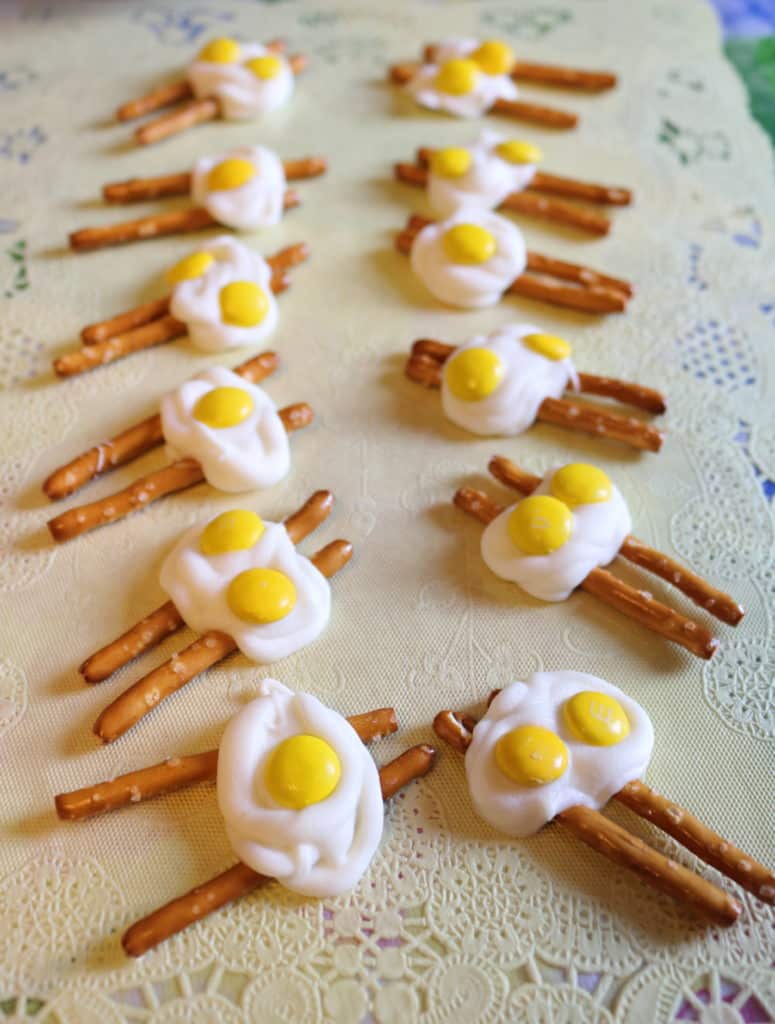 These bacon and egg treats would also be cute for an Easter brunch, wouldn't they?