Pretzel Angels
This post contains links to affiliate websites, such as Amazon, and we receive an affiliate commission for any purchases made by you using these links. We appreciate your support!
I think chocolate covered pretzels are some of the easiest homemade treats that you can make. The other day I had an idea. I wanted to make chocolate covered Pretzel Angels. So I looked around in my usual places for some inspiration… and do you know what I found? Nothing! Nobody had made a Christmas Pretzel Angel anywhere near like what I envisioned in my head.
So here is my version of a Christmas Pretzel Angel. You can do this, too!!
What do you need? You need melting chocolate (Ghirardelli Melting Wafers are my favorite), large Sourdough pretzels, straight pretzels, and pretty White Sugar Sprinkles. You also need mini M+Ms for the eyes, and some yellow melting wafers (or you can color some of the white chocolate).
Before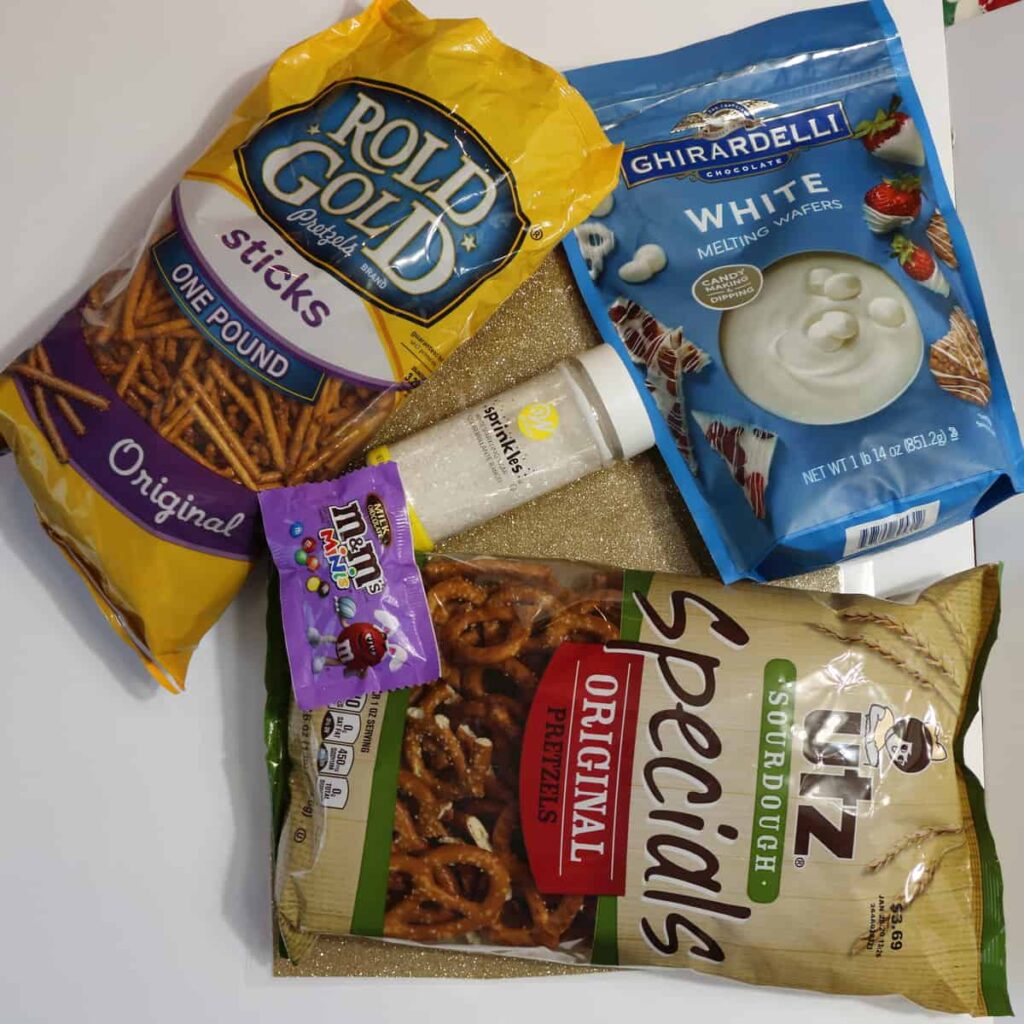 First, melt white wafers in your microwave using the melt chocolate setting. Or, just stir every 20 seconds or so. Then dip in 2 sourdough pretzels for each angel you are making (If you are making six angels, dip 12 pretzels.) I slide the pretzel on the edge of the bowl to get the excess chocolate off of the bottom. Then lay it on a wire rack to dry, or on wax paper. Sprinkle with white sugar sprinkles before the chocolate hardens.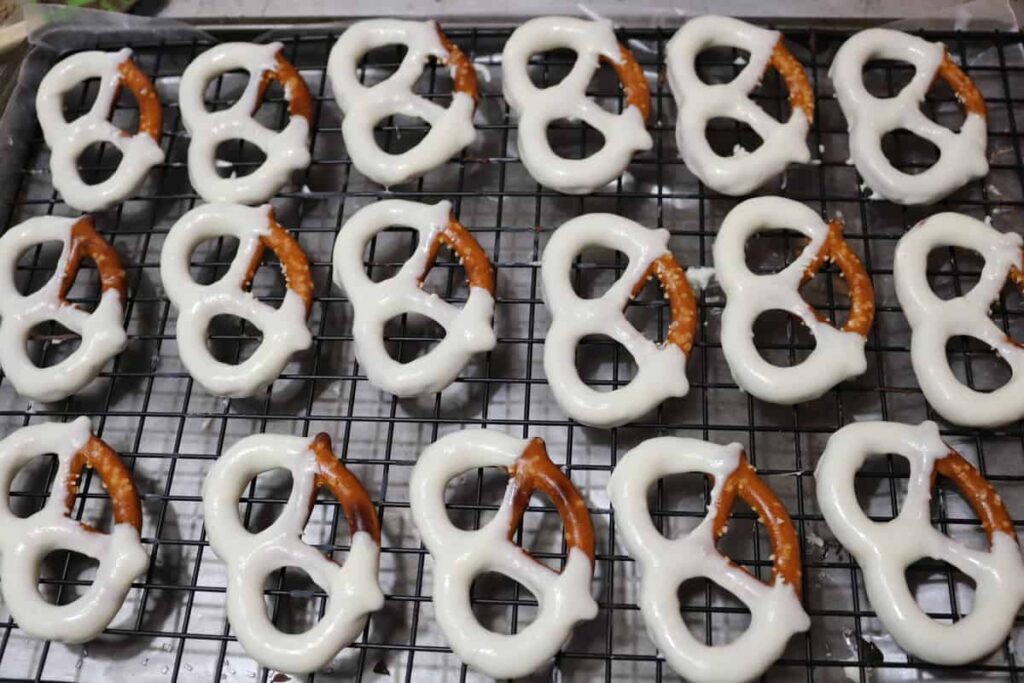 After the sourdough pretzels have hardened, lay them out on another piece of wax paper opposite each other, like angel wings. I save the wax paper from cereal boxes to reuse– I learned that from someone who grew up in the recent years after the Great Depression of 1930. Just don't use it in the oven, as some of it is thinner than regular wax paper and may melt…. ask me how I know!! : )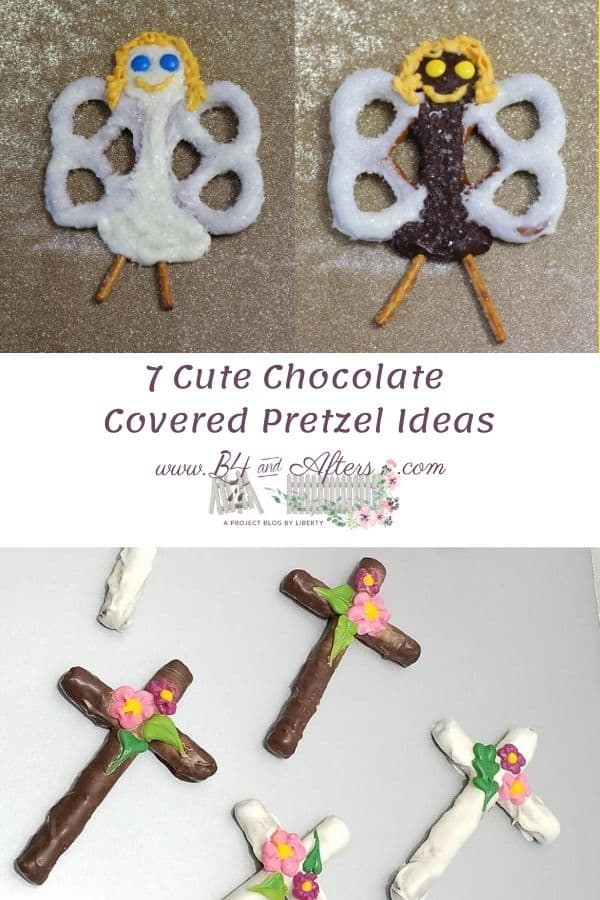 Then put a melting wafer where the head will be, and leave it there. Lay out two straight pretzel sticks for the legs.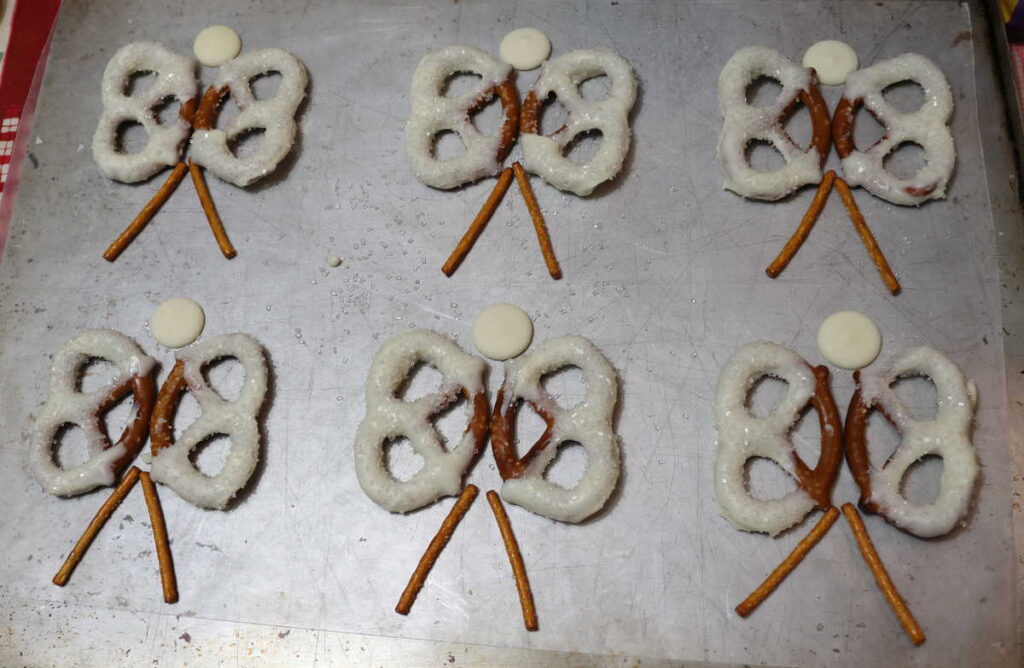 Melt some more white chocolate (or use dark, if you prefer brown angels– mix any combination of white chocolate and dark chocolate for various shades of light or dark brown). Put it in a ziplock bag and cut the corner off (I don't use a frosting bag so that if some is leftover, I can just leave it in the ziplock bag). Then carefully squeeze white chocolate all over the body, being careful to cover the insides of both of the wing pretzels, the head wafer, and the tops of the pretzel legs. Sprinkle white sugar on, and apply mini M+M eyes before the chocolate hardens. Last of all, after everything has hardened, add the hair and smile.
AFTER!!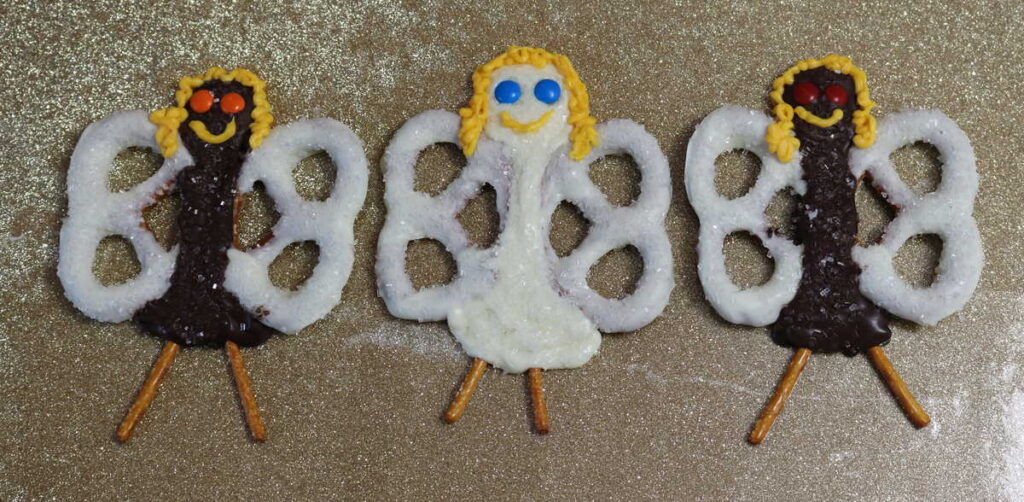 Here is the back of one, so that you can see what it looks like.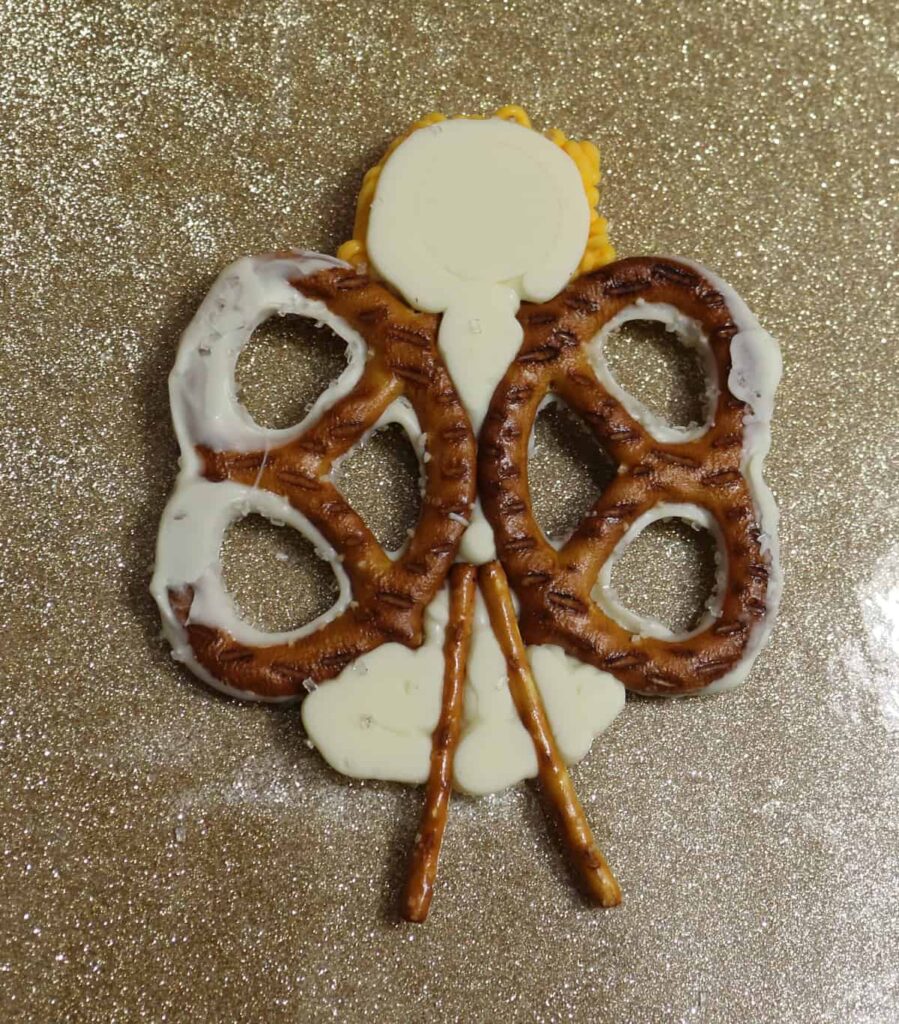 Since I am light-skinned, my first thought was to make white angels. Then I realized that there should be dark skinned angels, too! (Do angels have skin??) Although, I think I probably should have used different color hair? I could have have mixed some white and dark chocolate together, to make a milk chocolate, light brown color for the hair.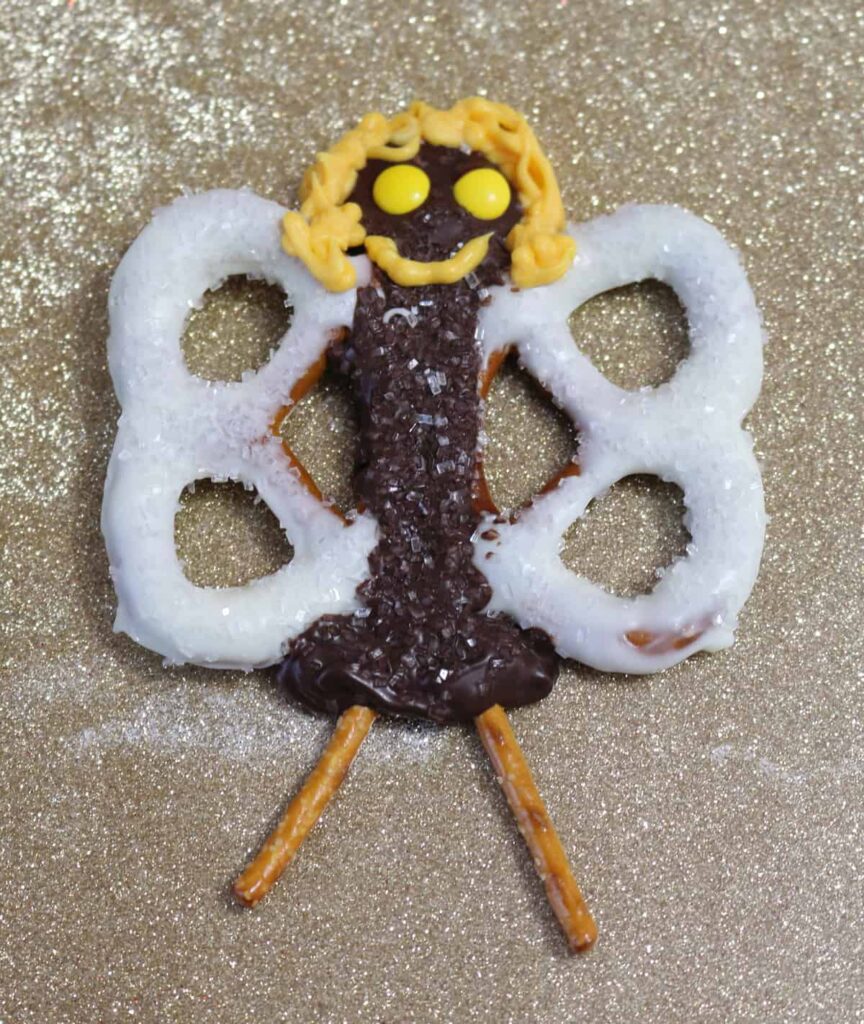 Here are the backs again, and because of the dark chocolate you can tell better what was added for the second step of adding the body and connecting everything.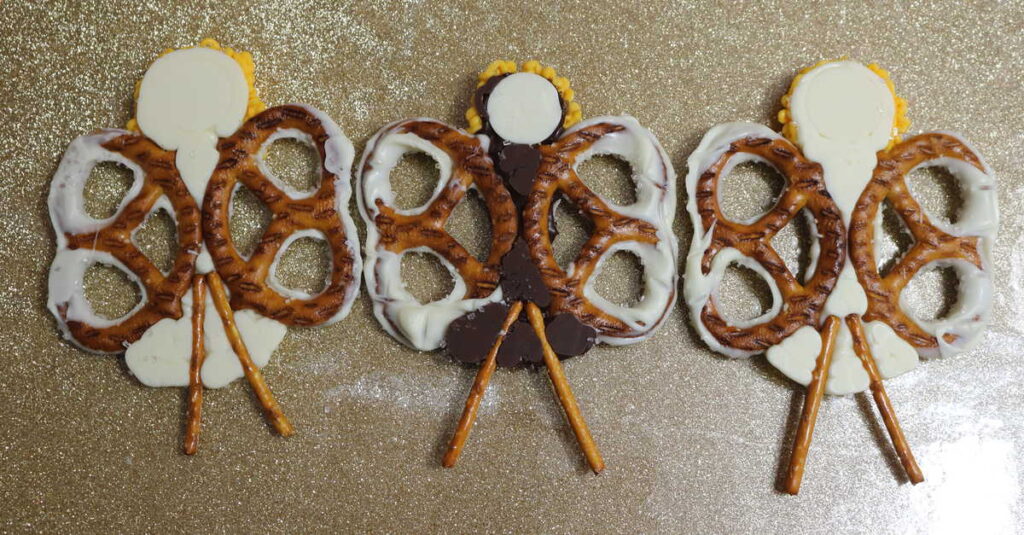 Use my free gift tags when giving these cute pretzels away as a gift!
These make very large pretzel angels. Just six will fit on a large cookie sheet. Here are my nine year old daughter's hands holding one so that you can see how big it is.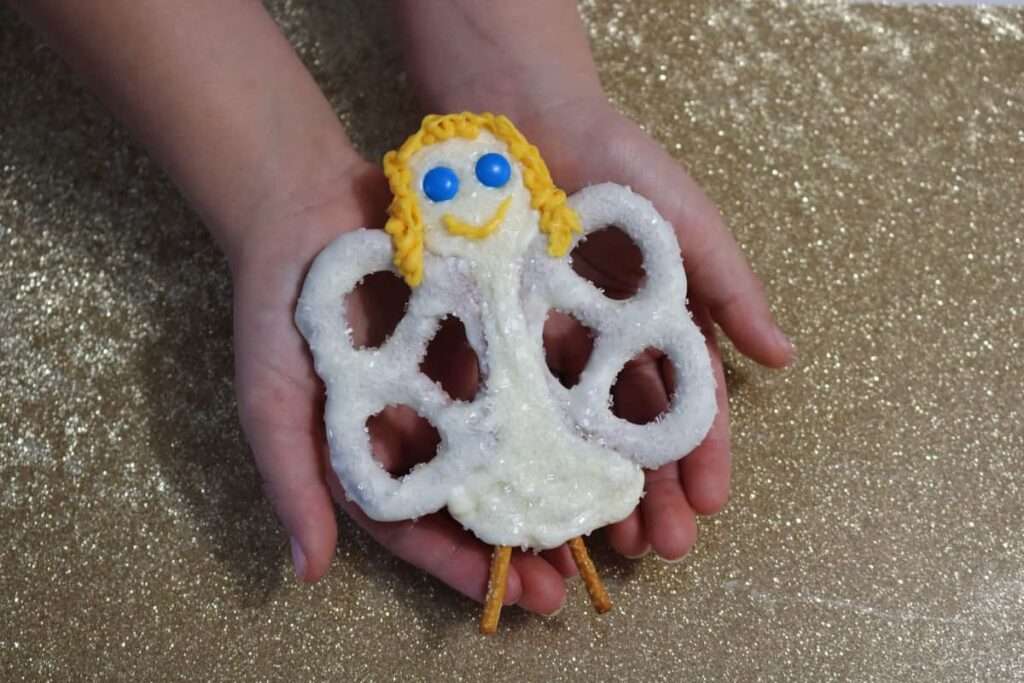 Pretzel Angel, After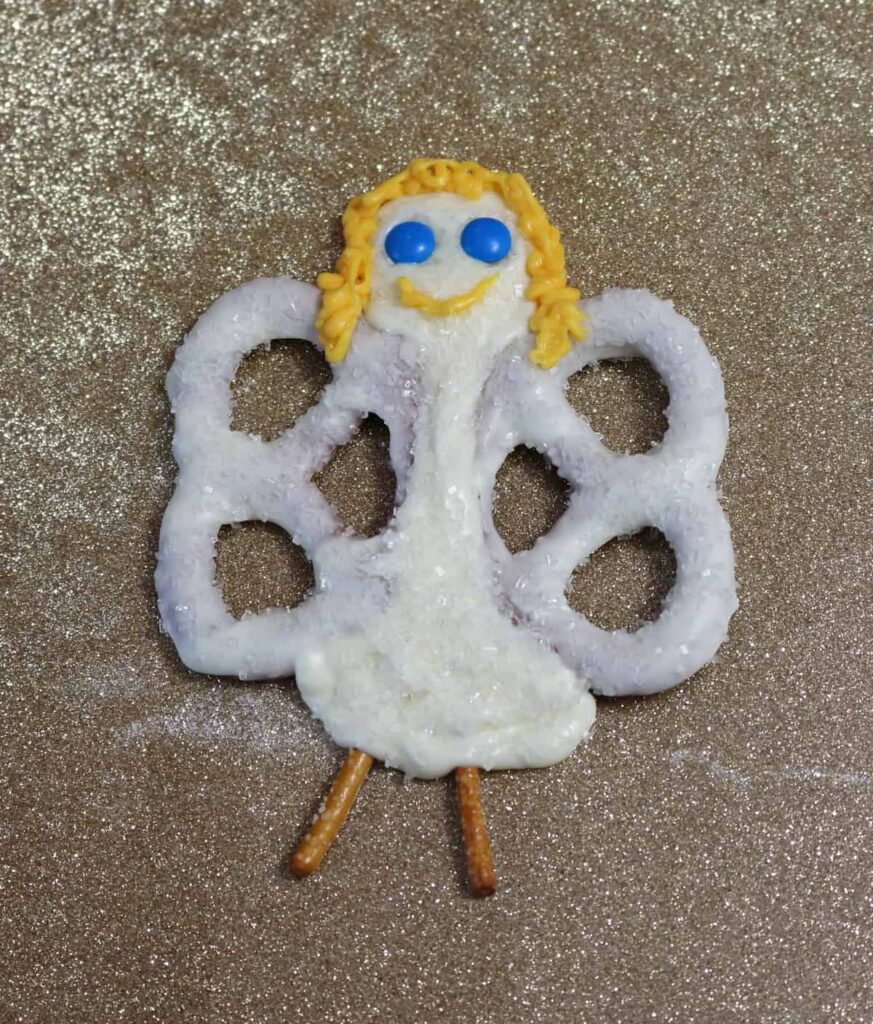 Aren't they the cutest Christmas Angels?!