7 Cute Chocolate Covered Pretzel Ideas
This post contains links to affiliate websites, such as Amazon, and we receive an affiliate commission for any purchases made by you using these links. We appreciate your support!
I think chocolate covered pretzels are one of the best combinations of sweet and salty treats. Today I'm sharing some of the cutest chocolate covered pretzels that I have made to inspire you! I think making chocolate covered pretzels to give as gifts are some of the easiest and yet elegant homemade gifts you can create! (And yes, I do have another idea besides the ones shown here but I haven't had a chance to make it yet!)
To make chocolate covered pretzels you have a lot of options. You can use gluten free pretzels if you prefer, and you can even omit the salt and use salt-free pretzels. Of course there are many different kinds of chocolate brands you can choose from. My absolute favorite is Ghirardelli because Sam's Club sells Ghirardelli Chocolate Melting Wafers in Dark Chocolate or White Chocolate at a very affordable price. If you like milk chocolate, then just use some of each white and dark! You can even use more economical chocolate substitutes like almond bark, which comes in white vanilla or brown chocolate flavor.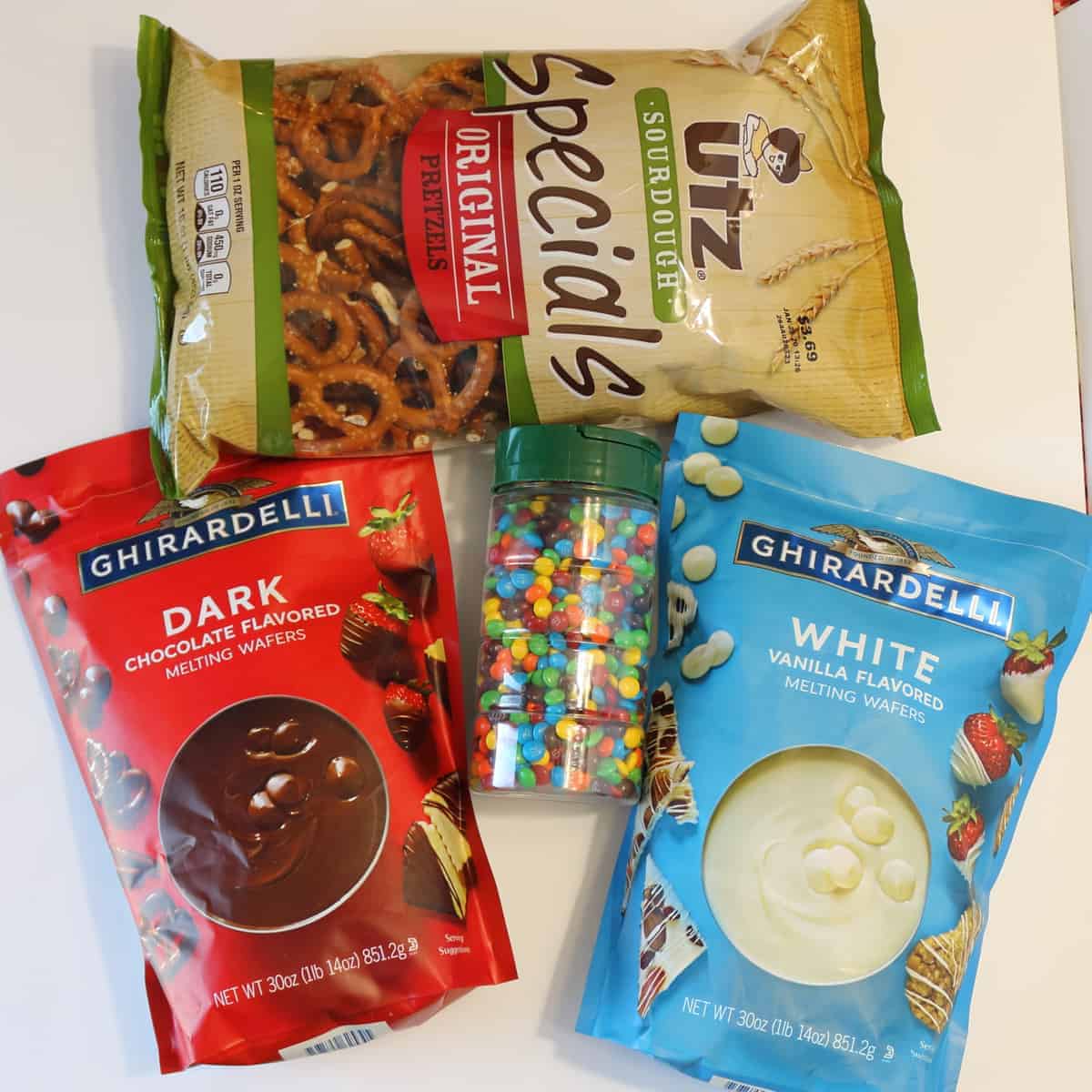 Then of course there are the color options! Wilton's sells melting wafers in every color of the rainbow. So you can make pretzels to match any occasion, whether it is for a baby shower, a wedding, or a school graduation.
1. Butterfly Pretzels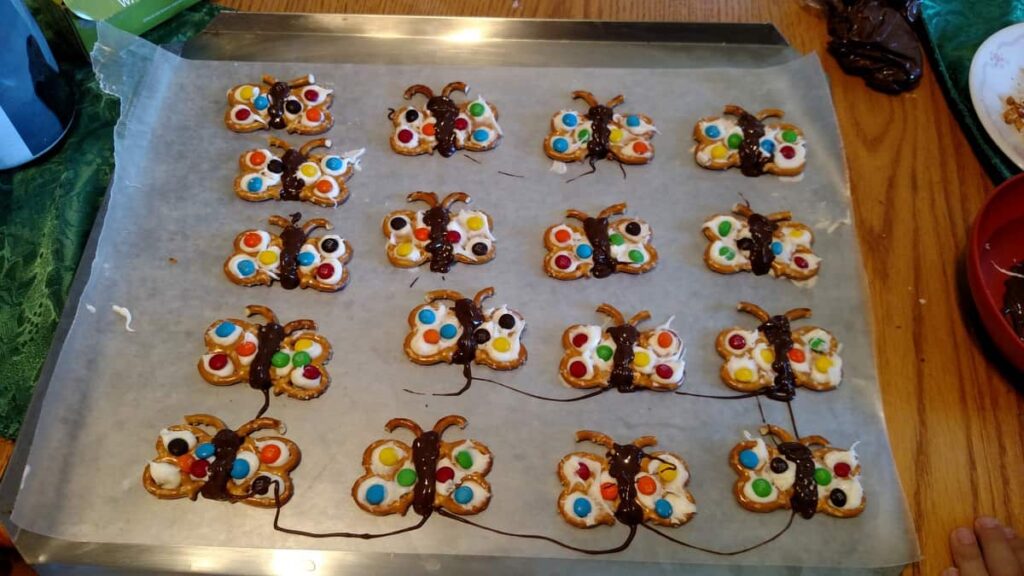 I was inspired to try these butterfly pretzels several years ago after seeing this Pinterest Pin:
https://www.pinterest.com/pin/94153448430349881/
Mine did not turn out quite like the beautiful ones in the Pin, but they tasted just as good! Not bad for a first try at making butterfly chocolate covered pretzels!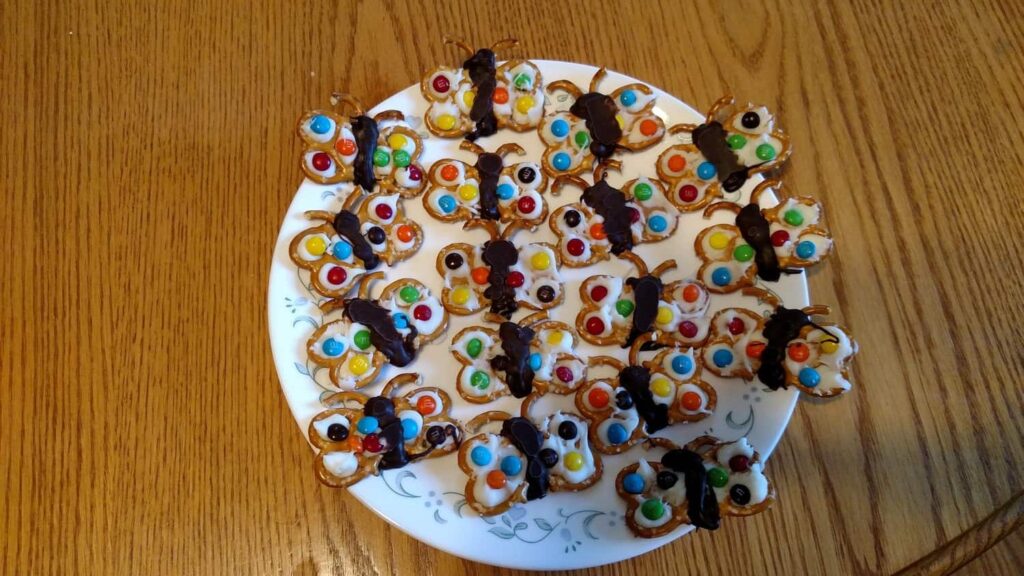 2. Pretzel Rods
Chocolate Covered Pretzel Rods are some of the easiest chocolate covered pretzels to make. Use a coffee mug (the taller and narrower the better) to melt your chocolate in the microwave and easily dip and coat the pretzel rods.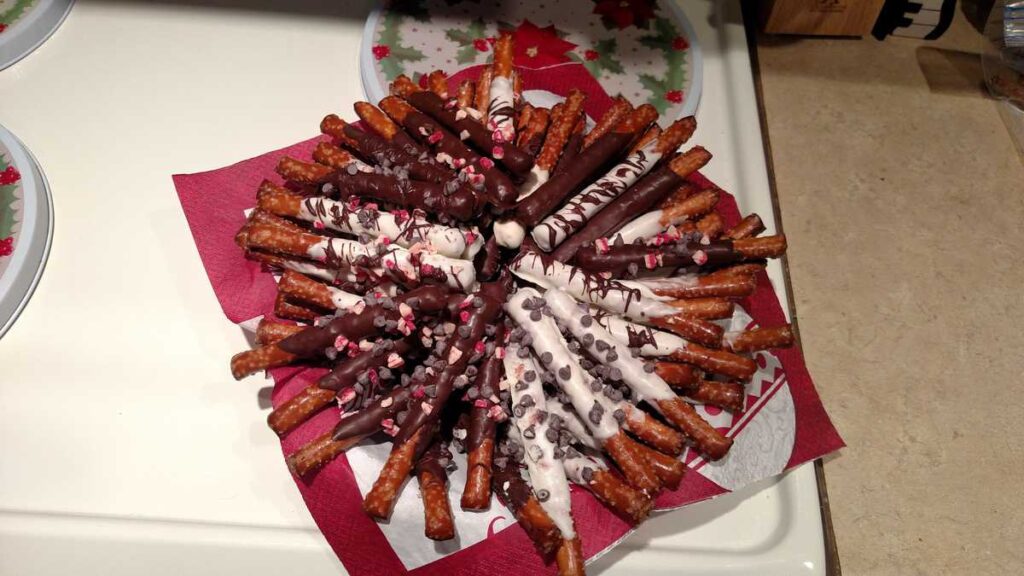 3. Plain Pretzel
The Pretzels pictured below are about 4 inches wide, so medium size. You can use smaller ones like I used in the Butterfly pretzels, but I prefer this larger size for gift giving.

Leave them plain, add colored sugar sprinkles, or add mini M+Ms. They all taste really good!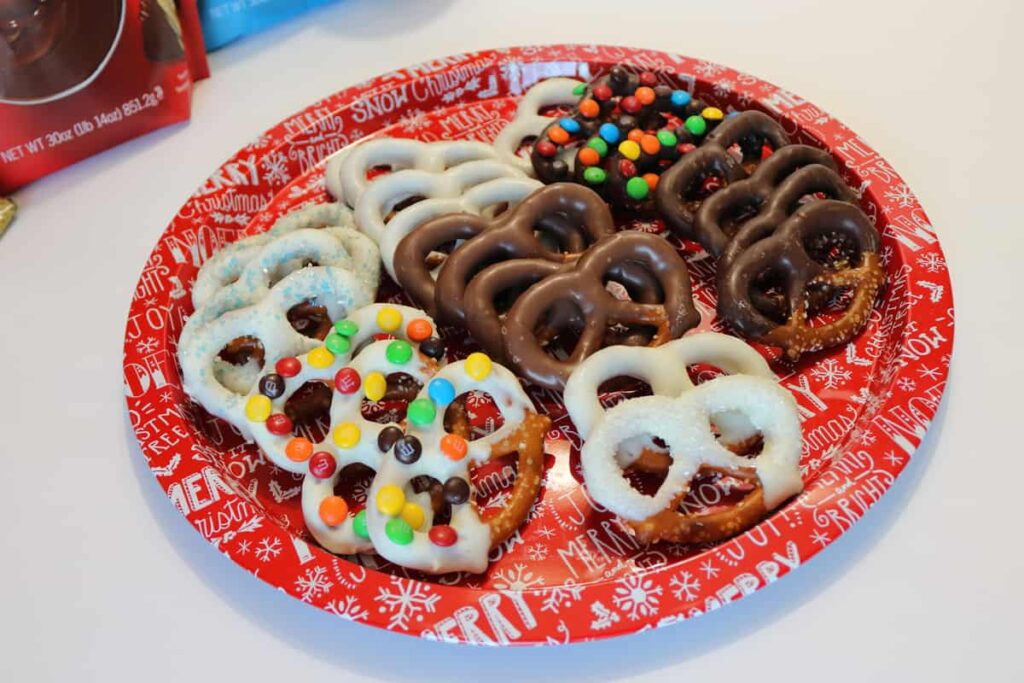 4. Cross Pretzels
These Cross shaped Pretzels might be my favorite ones. I made the flower embellishments ahead of time using Wilton's candy melts. Then while the crosses were still wet, I stuck the flowers on. Such a pretty idea for Easter!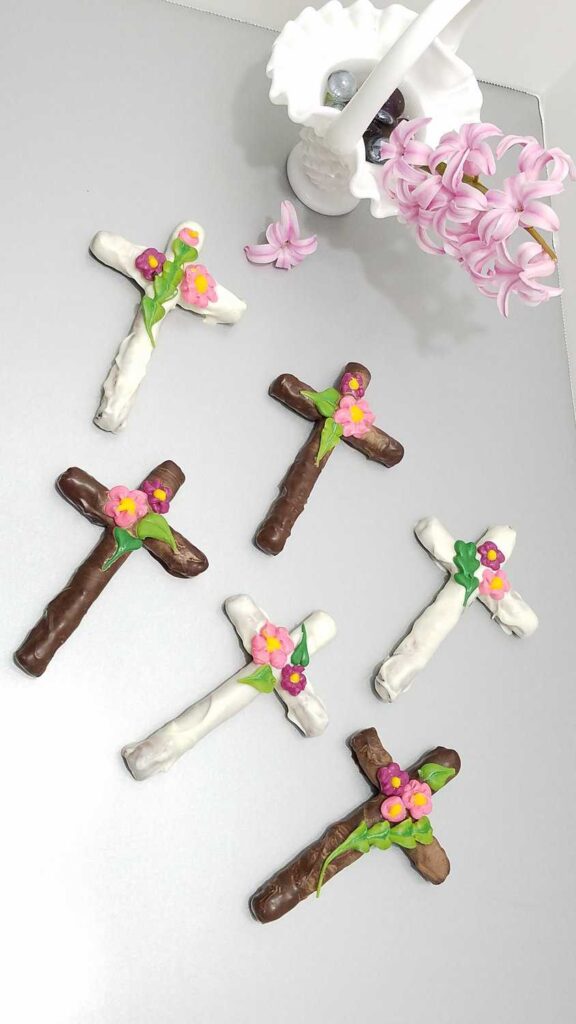 5. Bacon and Egg Chocolate Covered Pretzels
These Bacon and Egg Chocolate Covered Pretzels are an idea from my childhood. Perhaps a child in your life would enjoy making these with you! You can use all of the M+M colors if you like, for different colored "eggs." Are you thinking "green eggs and ham" like I am??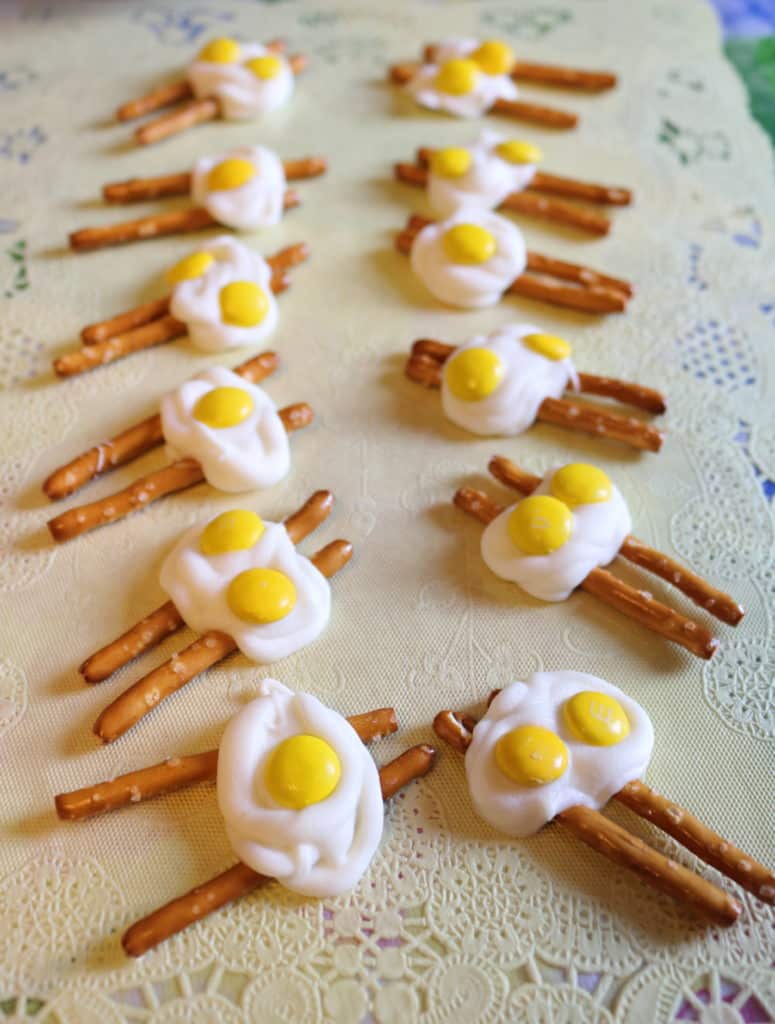 6. Peeps Turtle Pretzels
These Peeps Turtle Pretzels are my variation of the regular Turtle Pretzels made with Rolos and Pecans. They tasted good, but talk about a sugar rush!!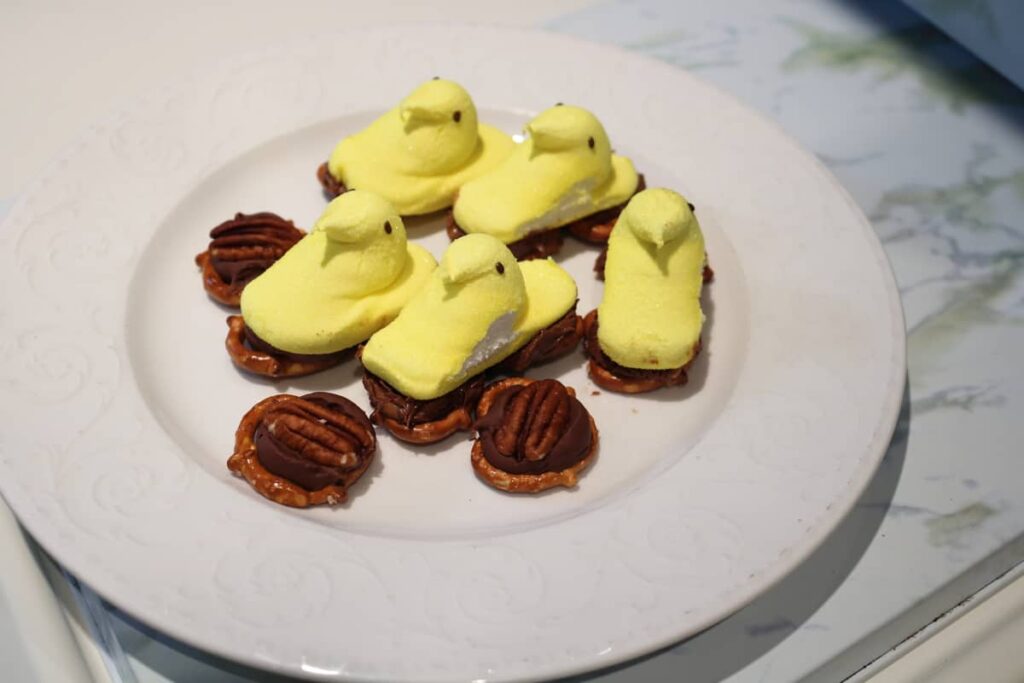 7. Chocolate Covered Pretzel Angels
These chocolate covered Angel Pretzels were so fun to make! I used the larger 4 inch pretzels for the wings, sprinkled coarse sugar sprinkles on top, used Wilton's candy melts for the hair, and used mini M+Ms for the eyes. When I think of Angels, I think white robes. So I made this angel white.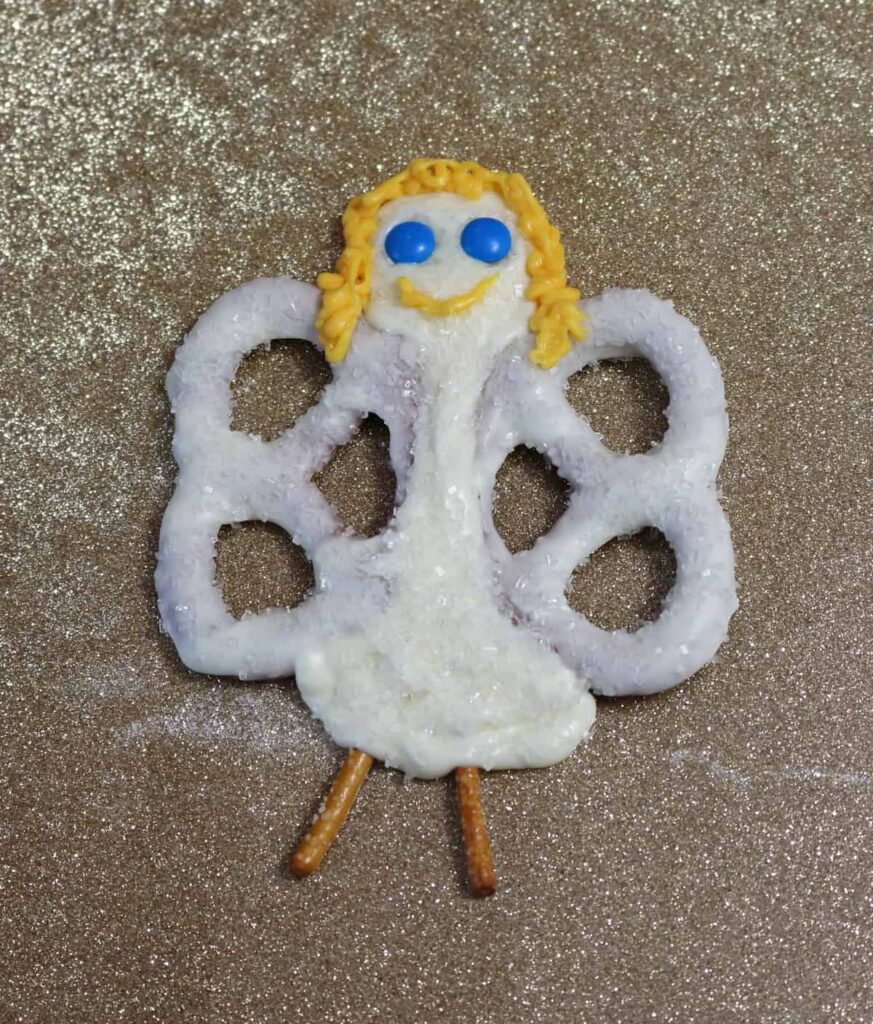 But I realized that other people may not think of angels as white, so I made a dark colored Angel, too! (By the way, I recently read an article that said all people are a different shade of brown.)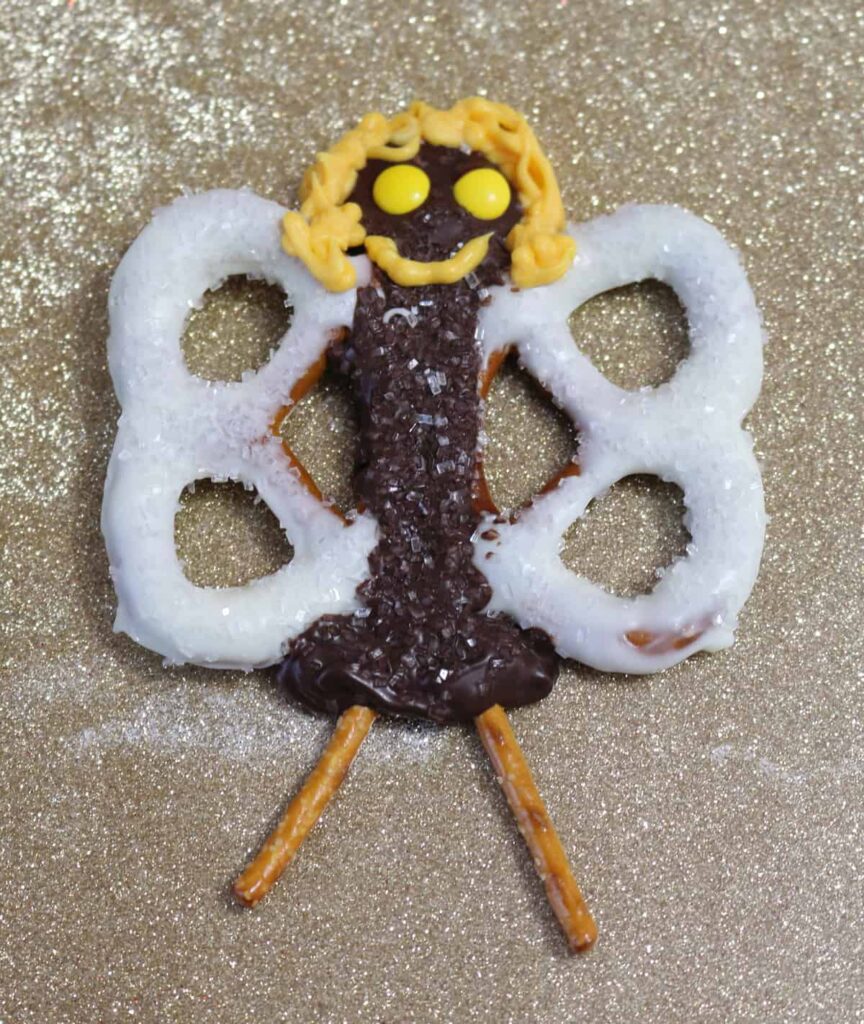 I hope that you have enjoyed seeing these 7 cute ways to make chocolate covered pretzels!