The Right Way to Fill a Taco
During my high school years I worked making fast food at a local taco place. Usually, no one east or south of Ohio has ever heard of Taco John's. But they are everywhere in the midwest. They are the competitor to Taco Bell. It was through this experience that I began to love Mexican food– I did not grow up eating tacos. I want to give and show you some tips for how to make tacos (the right way…).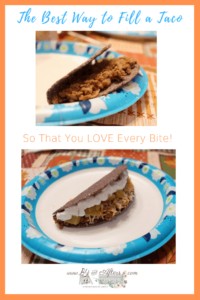 (*This post may contain affiliate links. By purchasing anything from these links, I may receive a small commission at no extra cost to you. More information is available on my Disclosure page.)
I was glad to find blue corn taco shells on sale for 99 cents. I bought several boxes. To start off, you can eat the tacos right out of the box, but they taste fresher if you toast them in your little toaster oven first. Watch them carefully— it is easy to burn the shells. (You should be reheating your leftover pizza in this toaster oven, too–it tastes much better than the microwave even if it does take a little longer….)
Make your taco meat according to the box directions. Prepare your toppings.
First Step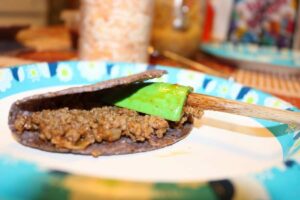 Now that your ingredients are ready it is time to assemble the taco. Usually the way I see people assembling tacos, they put all the meat on the bottom, and then add the toppings. But, if at all possible, you should be spreading the taco meat up the side of the shell, as shown above and below. I used my mini green spatula, but a flat pie server works well, too. Spreading the meat flat like this is the most important step. : )
First Step: Spread the Taco Meat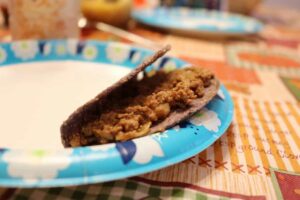 Then add your shredded cheese, on top of the surface of the meat. Some people like their tomato sauce on the meat and then the cheese, but I prefer the cheese first and then the sauce or salsa.
Second Step: Add Cheese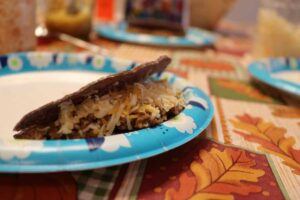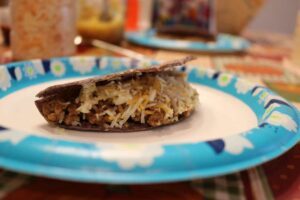 I had some homemade spicy pineapple salsa that I put on these tacos (I think it was made using THIS. There are a lot of pineapple salsa recipes online). Use salsa or picante sauce according to whatever flavor you like. This taco dinner kit came with spicy tomato sauce, but I don't care for it. For other toppings, use tomatoes, lettuce, and black olives; or leave them off as I did in this case.
Third Step: Add Salsa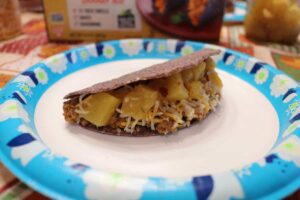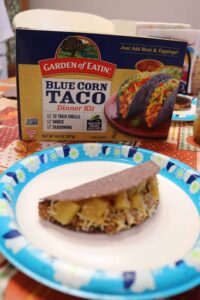 If you want to add sour cream, the easiest way to do this, especially if you are feeding a crowd– is to put the sour cream into a ziplock bag.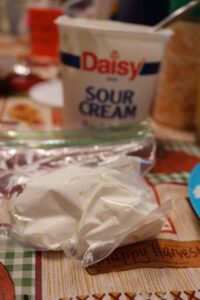 To make it easier to fill the tacos, stand them upright using an upside down muffin tin. This way you can put the sour cream down beside the other ingredients, instead of by itself on top. Who wants to bite into a mouthful of only sour cream?!? (not very many people, I think….)
Fourth Step: Stand the Taco Upright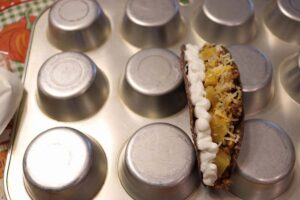 Then cut a hole in the corner of the ziplock bag and squeeze out just the right amount of sour cream, in just the right place on the tacos. If you want it to look super nice, then go ahead and put it in your icing bag with a star tip on it.
Fifth Step: Add Sour Cream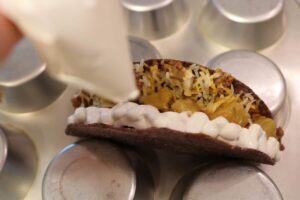 These tacos were soooo good!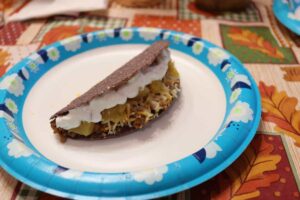 Once again, here are my tips:
Toast the corn shell first.
Use something flat like a pie server to spread the meat up the side of the taco.
Stand the taco in an upside down muffin tin to add the rest of the filling.
Use a ziplock bag to add sour cream or guacamole (optional).
Enjoy EVERY bite!!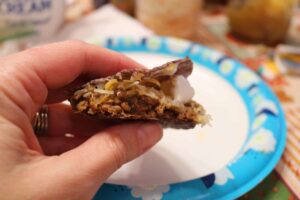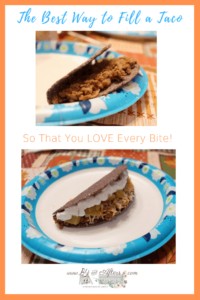 Mexican Food you might like: