Simple Snack Travel Idea
*This post may contain affiliate links to websites such as Amazon. By purchasing anything from these links, I may receive a small commission at no extra cost to you. More information is available on my Disclosure page. I appreciate your support!
Recently we drove a long way on vacation. Before we left, I had a new idea for how to organize and store the kids' snacks for the trip. I used twine (any small rope will work) and hooked it to the garment hooks above the doors tied with a slip knot. Then I used clothespins to attach the snacks to the snack line. This way, the snacks would not be smashed during travel.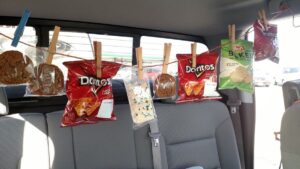 [sc name="This Post May Contain Affiliate Links"]
My kids are 6 and 8 years old, so this was perfect. The kids really enjoyed helping themselves. If your kids are too young, they won't be able to manage the clothespins. If your kids are too old– there won't be enough snacks on the line to satisfy them! (and if you have a pet big enough to reach the line– well, I'm sorry, this won't work for you!) A couple times throughout the trip, I just restocked the line.
Bone Pillow
I really enjoyed the kids being able to help themselves, because then I could continue my nap! I used two of my trusty "bone" pillows. They are also known as neck pillows. But since they look so much like a bone, I call them bones. They are easy to sew using three identical pieces of bone shaped fabric for each pillow. I have made a lot of these over the years as gifts for people who travel a lot. And I've used mine so much they are wearing out. Sometimes I use two of them to be able to lie on my side while traveling. Do you use a special travel pillow?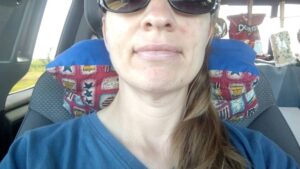 If you like it, Pin it!