Saturday Snippets #6
This post contains links to affiliate websites, such as Amazon, and we receive an affiliate commission for any purchases made by you using these links. We appreciate your support!
Around twice a month on Saturdays I am quickly showing you several projects that I have tried. Other people have already given the instructions, so I will link you over to theirs.
My goal is to share links to recipes and Pinterest ideas that I have tried, and then to let you know how it worked out for me when I tried it. It might be a success, or it might be a flop. Perhaps you would like to know if I have tried something in particular? Let me know! If I haven't tried it yet, maybe I will, and then I can let you know how it went.
Today's projects include two flops, and one good result.
(*This post may contain affiliate links. By purchasing anything from these links, I may receive a small commission at no cost to you. More information is available on my Disclosure page.)
Wallpaper
Okay, this was a really huge Flop for me. Have you seen this beautiful image floating around Pinterest of removable wallpaper?
I saw this pin, but at the time it did not have anybody who had tried it. Now, you can see that the person who tried it (and attached a photo) had the same results as me. The wallpaper is going the other direction!! And worse, the colors are off! The colors are a lot darker!!
Here is another pin (that has 74,000 repins!) showing how beautiful it is supposed to be:
I searched around online, and finally found the same wallpaper in the lighter colors, but it was REAL wallpaper, not peel and stick. I decided to use the Real wallpaper. Here are both wallpapers side by side, before I returned the darker one. The Real wallpaper is on the top, and the peel and stick is on the bottom: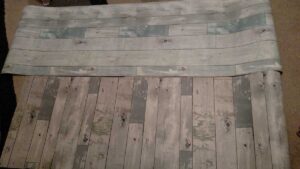 What a difference! Here is the wall I used the Real wallpaper on: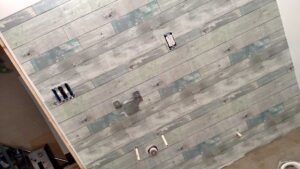 To see how the entire bathroom turned out, click here.
So I saw this pin about organizing your closet with velvet hangers. I have plastic hangers, but I thought that maybe the velvet hangers would allow me to fit more clothes in the same space.
I bought my velvet hangers at a discount store. I like the hangers well enough, but they were wider than my plastic ones.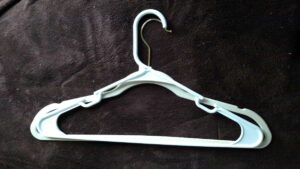 I have a lot of t-shirts and high necked shirts— and those velvet hangers would stretch the necks too much. If I were a bigger size and had bigger clothes, the velvet hangers would work just fine– but not for me. I decided that they were better suited to my husband's clothes, than for mine. They also did not seem to save any more space than the plastic ones.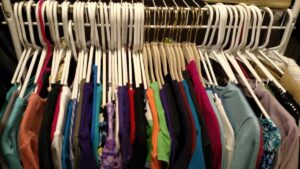 I want to do a master closet makeover in the future, and I hoped that these hangers would help, but they did not.
Have you planted tomatoes in your garden yet? I am the only one in our house that loves this tomato pie. I have made different variations of it. I've seen some recipes call for bacon, without onions, etc. The crust on the bottom tends to get a little soggy, so I've even tried it with the crust baked on the side! It makes a great dip! I've used less mayo than the recipe calls for; I've used different cheeses. I love using my miniature yellow pear tomatoes along with red tomatoes. I think this is a great way to use up extra tomatoes at the end of the season if you have them.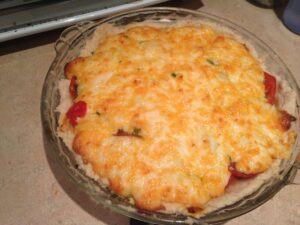 I hope you have enjoyed this edition of Saturday Snippets. Please consider sharing this or any post on Facebook : )