Scrabble, Fridge Magnet Version
Scrabble is my all time favorite game to play. In my childhood I learned how to play various board games including classics like Checkers, Chess, and Monopoly. Sometimes we played them over and over because— well, when it is winter in South Dakota and you don't have a television, a computer, cell phones, or the internet, there isn't much else to do!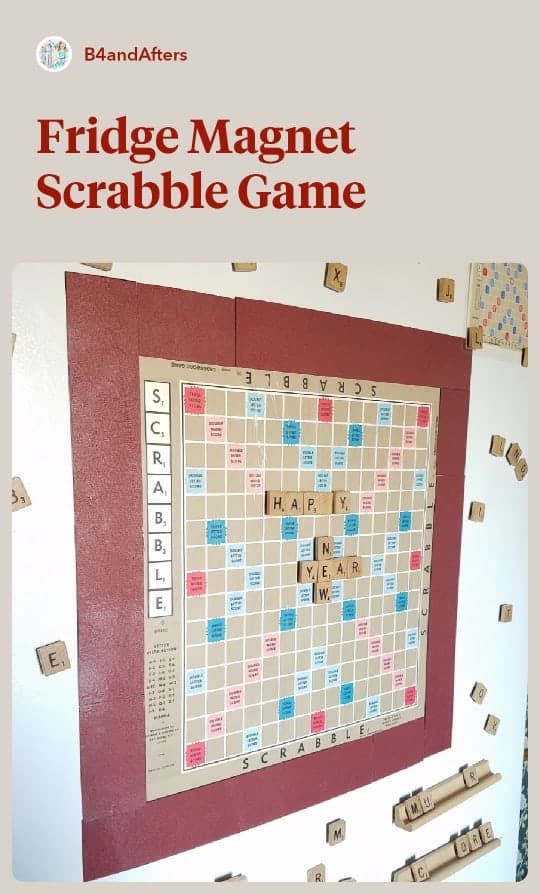 (*This post may contain affiliate links. By purchasing anything from these links, I may receive a small commission at no extra cost to you. More information is available on my Disclosure page.)
As I grew older I realized that I don't care for board games that are group games. I like more one on one type games (because I like one-on-one conversations, too– I am one of those mixed up extroverted introverts). And while Scrabble is not one-on-one, it is close enough for me!
Recently I was thrilled when my 8 year old son wanted to play Scrabble with me. It was my dream come true! Scrabble obviously involves a lot of spelling, so if you don't enjoy spelling, you won't enjoy Scrabble. While we played, I realized how much Math is involved, but we won't tell my son about that!
When I see a giant Scrabble game like this one on Pinterest, it makes me smile.
I like seeing crafts made with Scrabble pieces, too. So when I see Scrabble games at yard sales or thrift stores, I started buying them for crafts. I even bought a French version! It has different number values for the letters. Eventually I felt like I had enough extra games to craft with them.
This is my idea for a Fridge Magnet Scrabble Game! This would also work if you just wanted a fun way to display a Scrabble game. Just wait until you see how I attached it to the fridge!
1
I had several Scrabble games from yard sales just for crafting with!
2
I used boiling water/ steam to loosen the paper off of the game board. It took at least 45 minutes.
3
Half of it is loose! I used a lot of patience so I wouldn't tear the paper.
4
Clear plastic wrap held the paper on my fridge with static!
5
No tape or anything else was used. To cover the plastic edges, I made a border of magnets
6
by using my @Xyron laminator/magnetizer.
7
Roll the paper through the rollers without electricity!!
8
It laminates and magnetizes at the same time! My @Fiskars paper cutter trimmed the edges.
9
I used cheap free magnets from telephone books but they were not strong enough
10
So I purchased stronger magnets and attached them with hot glue.
11
Now we can play Scrabble on our fridge, or leave each other messages.
12
I could put this in a picture frame with sheet metal behind it, instead of on the fridge.
13
I even have these cute little score pads. I laminated it so it can be reused with a marker.
14
The other side has a cute miniature Scrabble board on it.
15
@Scrabble is my favorite game!
16
This would be a fun New Year's activity.
Have you ever crafted anything with Scrabble pieces?