FrogTape as Faux Ribbon
This post contains links to affiliate websites, such as Amazon, and we receive an affiliate commission for any purchases made by you using these links. We appreciate your support!
Have you ever needed some faux ribbon? As in, you wanted to make something but didn't have the right ribbon? Guess what I used… Yes, I used FrogTape.

You know the kind I mean, right? The tape you use when you are painting to keep the paint from going where you don't want it to go. Well, I needed some yellow ribbon, and I didn't have any. So I decided to use my yellow FrogTape for delicate surfaces instead.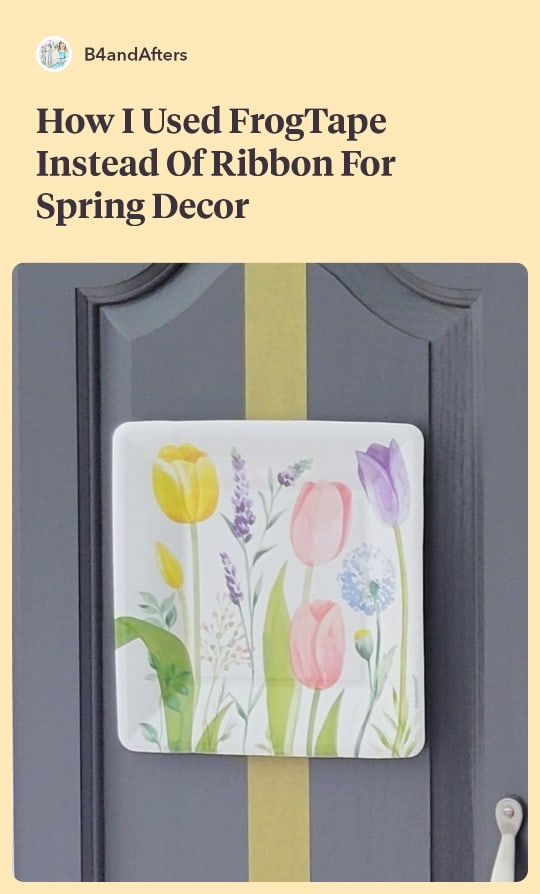 This post is part of a Craft Blog Hop hosted by Chloe at Celebrate and Decorate. Wasn't that an interesting project she had? I hope you enjoy all of the other Spring Craft ideas at the end of this post!
I knew that since the yellow FrogTape is for delicate surfaces, that it wouldn't hurt my painted cabinets.
I wanted to decorate my cabinets for spring. Usually I use ribbon, but I didn't have any yellow. So I taped yellow FrogTape on the cabinet instead.
View My Story
2
Then I rolled another piece of yellow FrogTape in a circle.
3
I attached it to the back of a square floral paper plate from Party City.
4
Then I stuck it to my faux ribbon!
Isn't it gorgeous? I will share the rest of this area decorated for Spring over here.
5
P.S. Look! Later on I purchased some yellow ribbon. Can you tell which is the ribbon and which is the FrogTape?
More Details…
I mentioned above that you can see how I made my easy Bunny Wall Decor.
You may have noticed that I like to decorate with paper plates. You can find pretty ones here, here, and here.
If you would rather use regular Yellow Ribbon, I recommend this Grosgrain Ribbon.
Lastly, if you are looking for some fabulous ready made Spring Decor, you will find it right here.
And now here are the rest of the Spring crafty ideas. Next up is Andrea from Design Morsels with a lamp made from scratch– that should be interesting!