See this Cute Spring Coffee Station
I hope my Spring Coffee Station puts a bright spot in your day! Let me tell you how it all came together.
You may or may not realize that I like decorating with Paper Plates. This theme began when I saw these floral paper plates at Party City recently.
Then I looked at my current supplies (read: craft stash) and Easter decorations for coordinating things that would look nice with the colors in the paper plates. Bunnies seemed to go with spring and flowers, and for some reason, eggs go with bunnies?
(I have done religious Easter decor in the past.)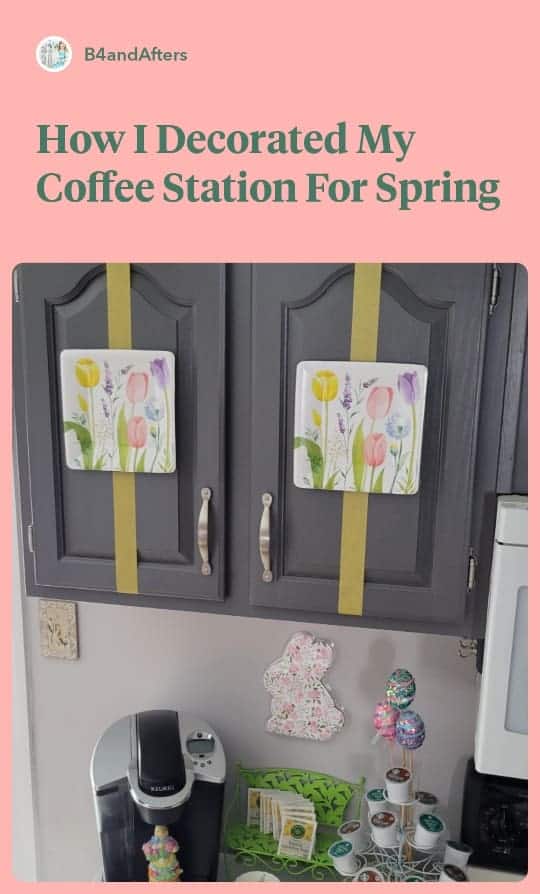 (*This post may contain affiliate links. By purchasing anything from these links, I may receive a small commission at no extra cost to you. More information is available on my Disclosure page.)
1
First, I Made This Easy Floral Bunny Wall Decor For Spring and hung it on the wall.
2
Then I Used FrogTape Instead Of Ribbon to attach these cute Spring paper plates to the cabinet doors.
View My Story
3
Then I set to work adding other coordinating things,
4
like this floral kitchen towel.
5
I don't remember who gave me this bunny. I've been given so many things over the years from my piano students.
6
It opens!
7
This little wire bench can hold tea packets.
8
The cupcake stand holds coffee K cups.
9
This is a glass flower candle dish from the Dollar Tree long ago.
10
I added egg picks to the top of the coffee holder.
11
I added pink Easter grass, a little white stuffed bunny, and more egg picks to the top. 🐰
12
I couldn't decide whether to use these cute bunny napkins, or
13
the ones that coordinated with the paper plates.
14
I hope you have enjoyed seeing how I decorated my coffee station for Spring!
More Details about my Spring Coffee Station Decor
I created the Bunny Wall Art using something that would have normally been thrown away.
Guess what I used instead of Ribbon on the doors?
Recently I hit the jackpot when I found a lot of cute kitchen towels. I used one of them for this Spring Decor– not knowing when I bought it how well it would coordinate.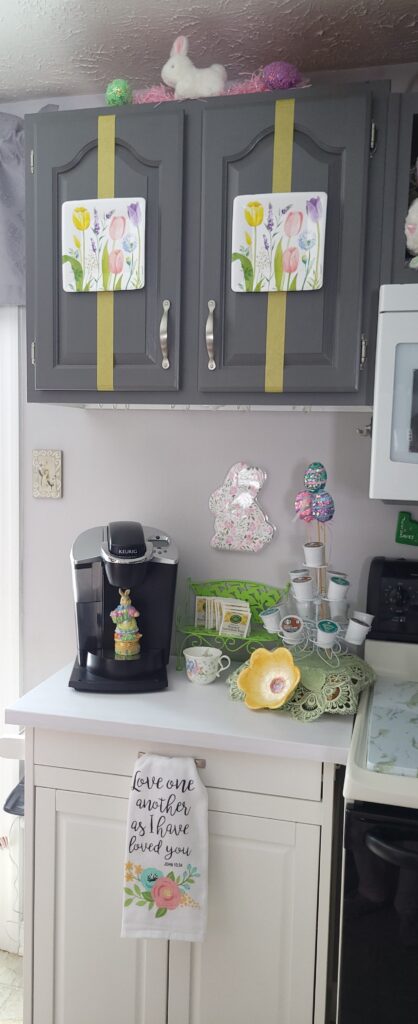 I have decorated my Coffee Station a lot of different ways. How should I decorate it next time?