Christmas Decor
*This post may contain affiliate links to websites such as Amazon. By purchasing anything from these links, I may receive a small commission at no extra cost to you. More information is available on my Disclosure page. I appreciate your support!
Here is my Christmas living room this year! I am going to show you my living room virtually since most of you cannot come visit me in person. Let's start with the front door. I bought this grapevine wreath years ago for a quarter. I added the ribbon and the red "Glory to God in the Highest" banner. When Yvonne from Stone Gable gave me some white pine cones, I used some of them to update this wreath. It looks soooo much better now that it has been refreshed! Thank you, Yvonne!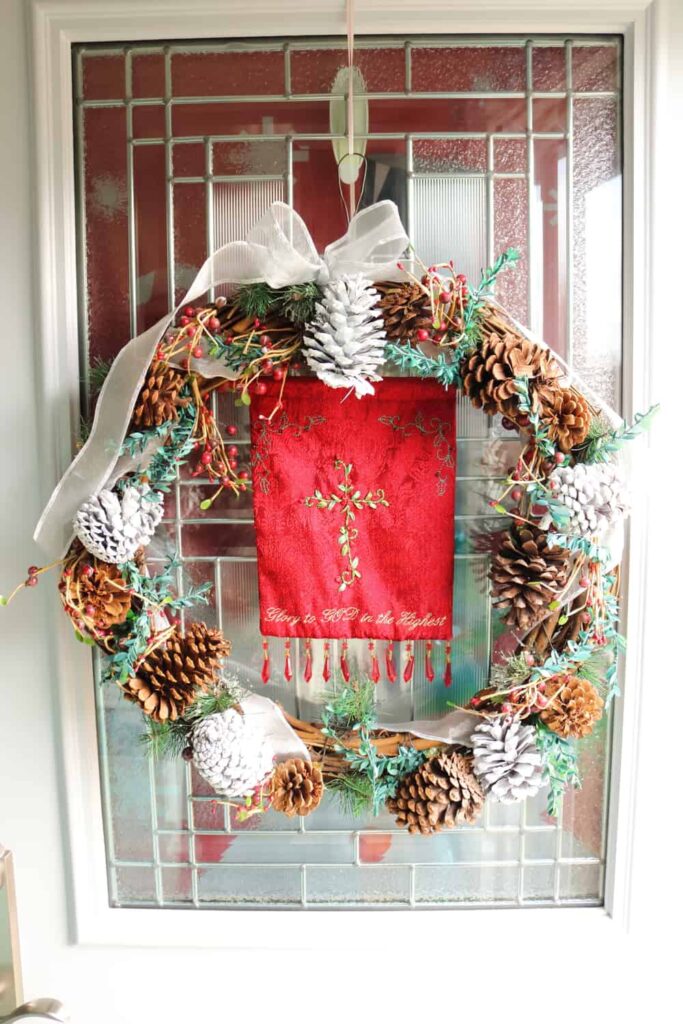 Front Wall
Now that you are in the front door, if you look to your left (it will be on the right when you are leaving), you will see this area. I hung my daughter's Christmas tree painting here, and grouped other pine tree things with it, including the double decker basket with moose on it.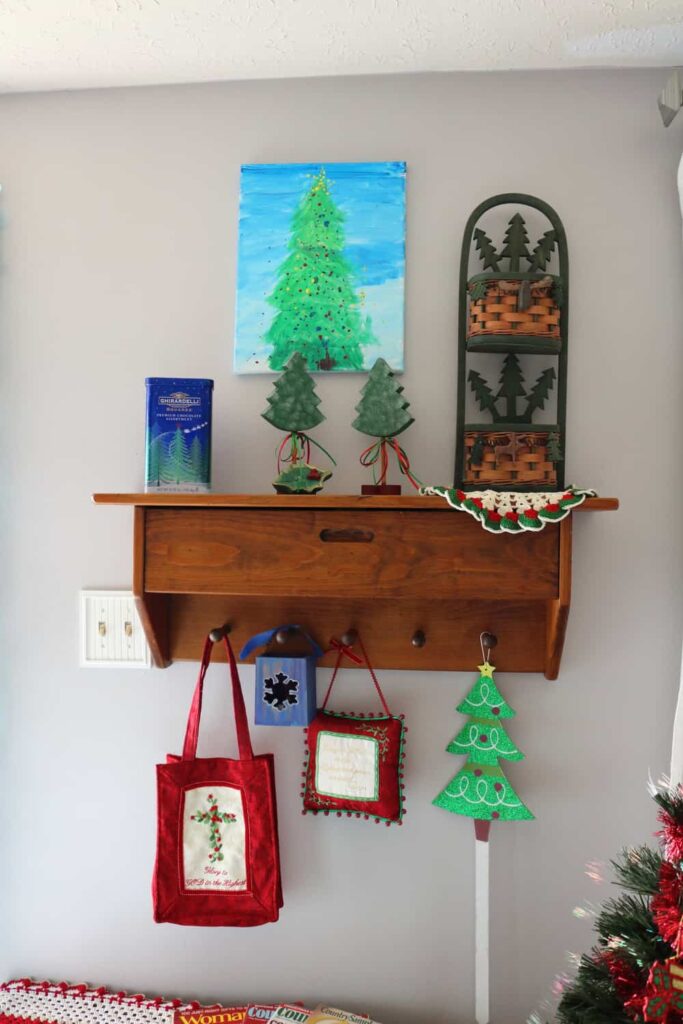 I put this doily on the basket shelves underneath and spread out some Christmas themed magazines. The one on top has Paula from Virginia Sweat Pea's ski ornaments in it.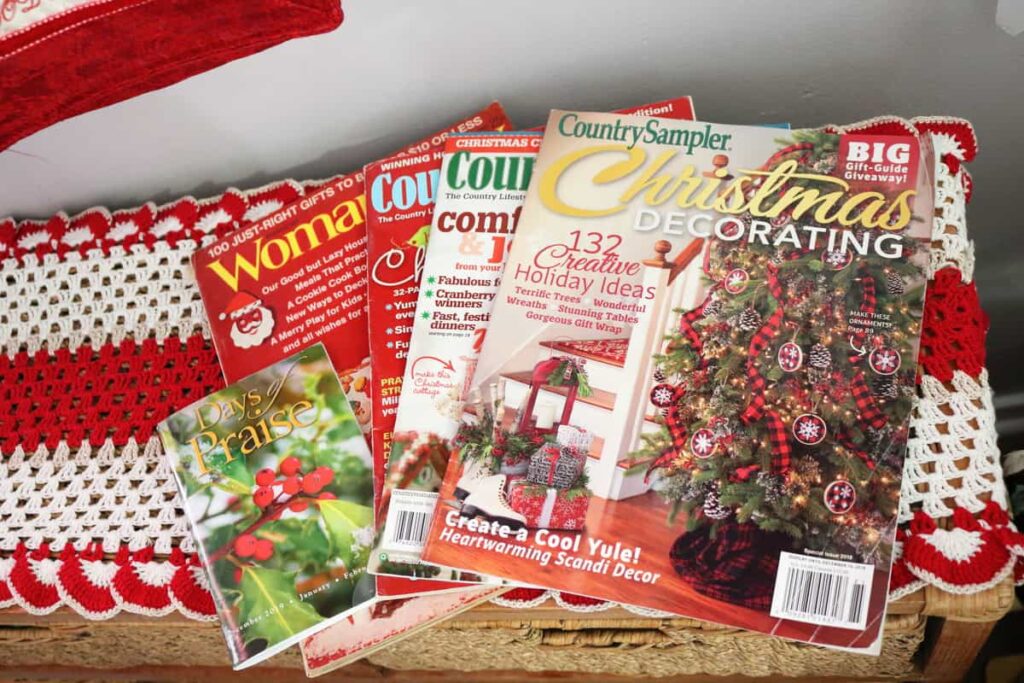 Continuing clock-wise around the room, you will see my table top fiber optic Christmas tree. It was a gift to me many years ago.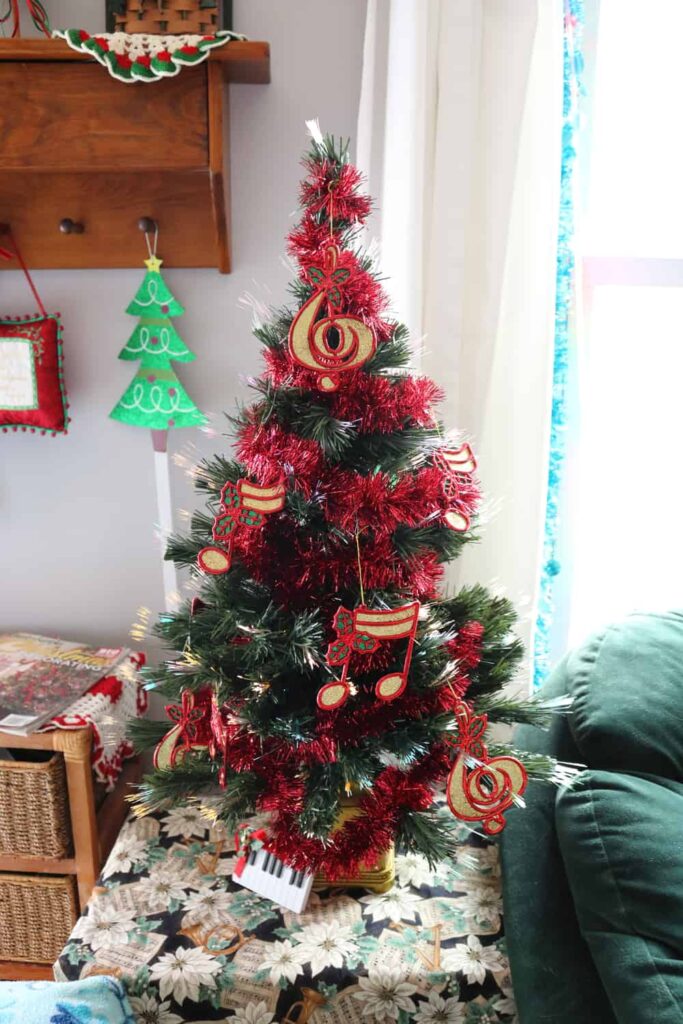 This is the view of our front windows.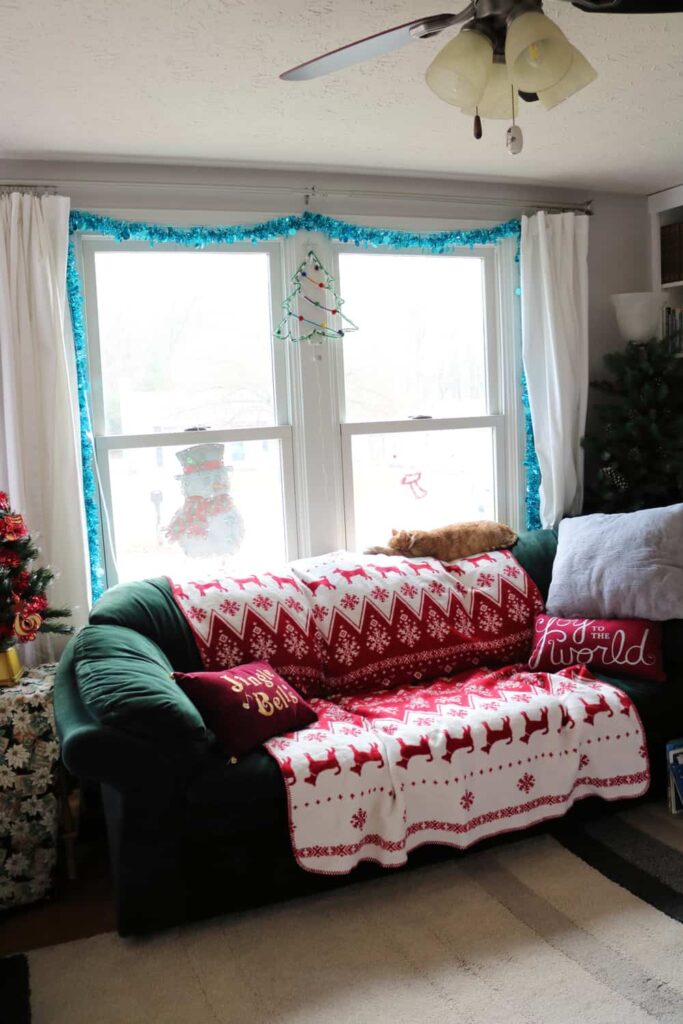 Here is a close up of the fan pull. Isn't it cheerful?!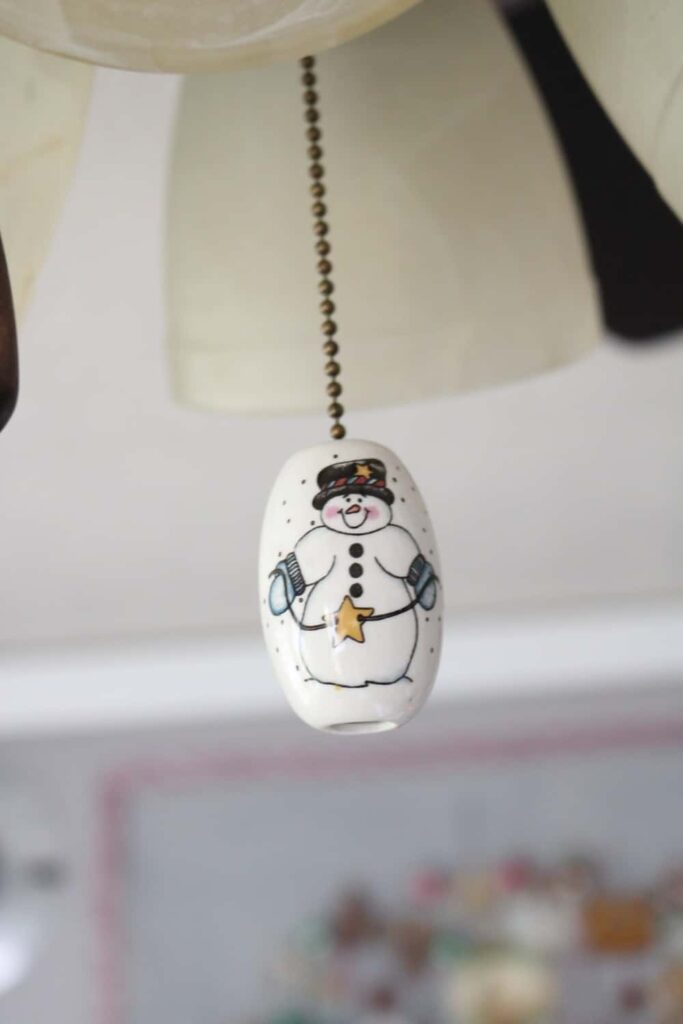 Here are the lights turned on during the daytime.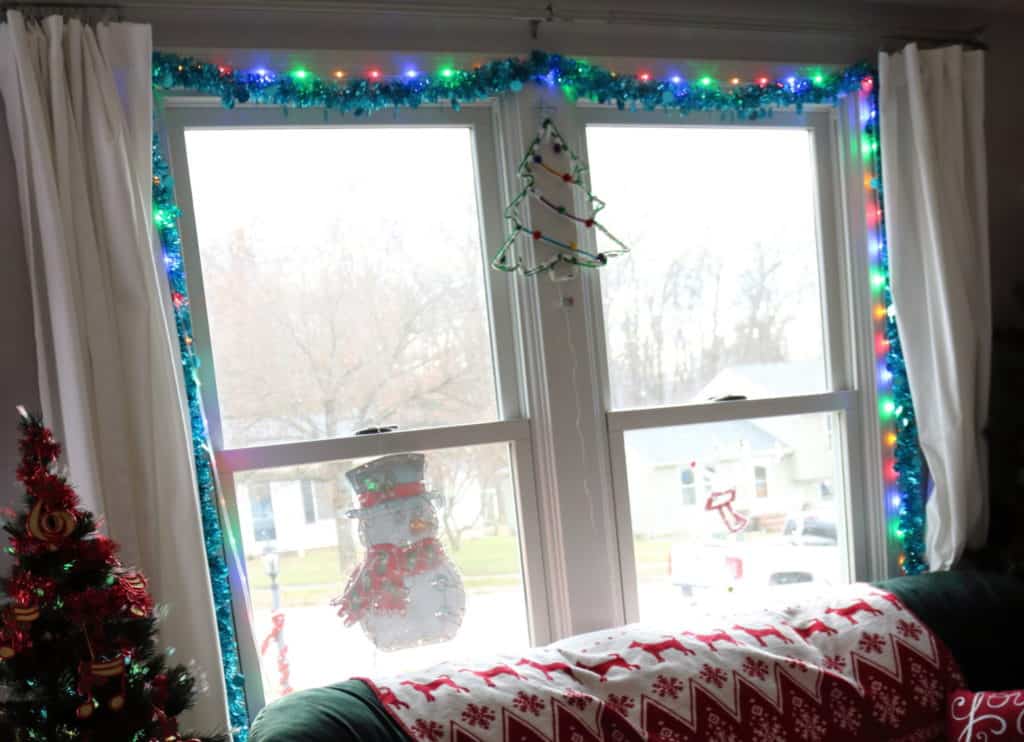 And here they are at night.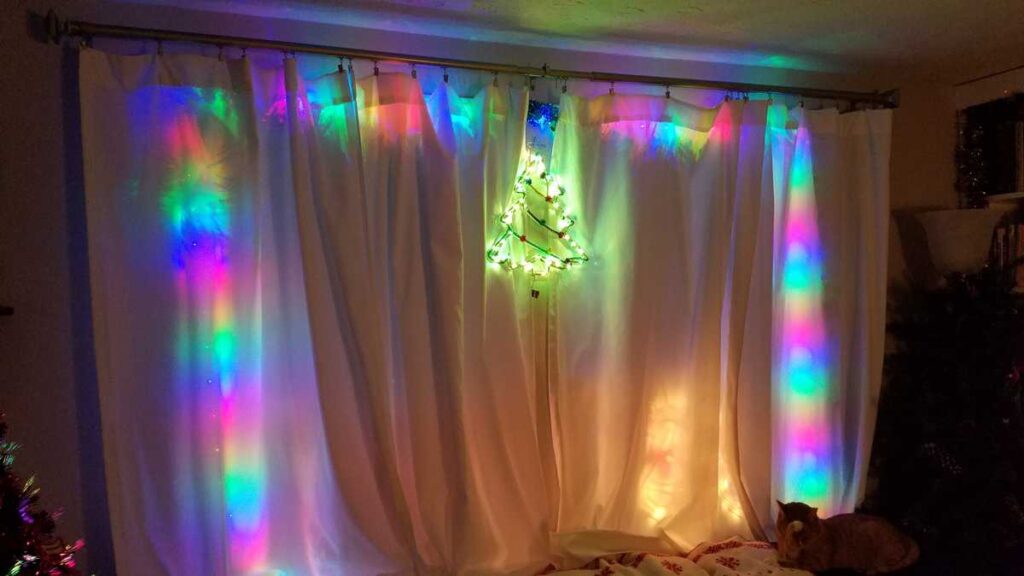 I updated this little Christmas tree with pipe cleaners and metallic pom poms like I updated my Candy Canes last year. You can see how I did that HERE.
To the right of the windows is my Floor Lamp turned Evergreen Tree.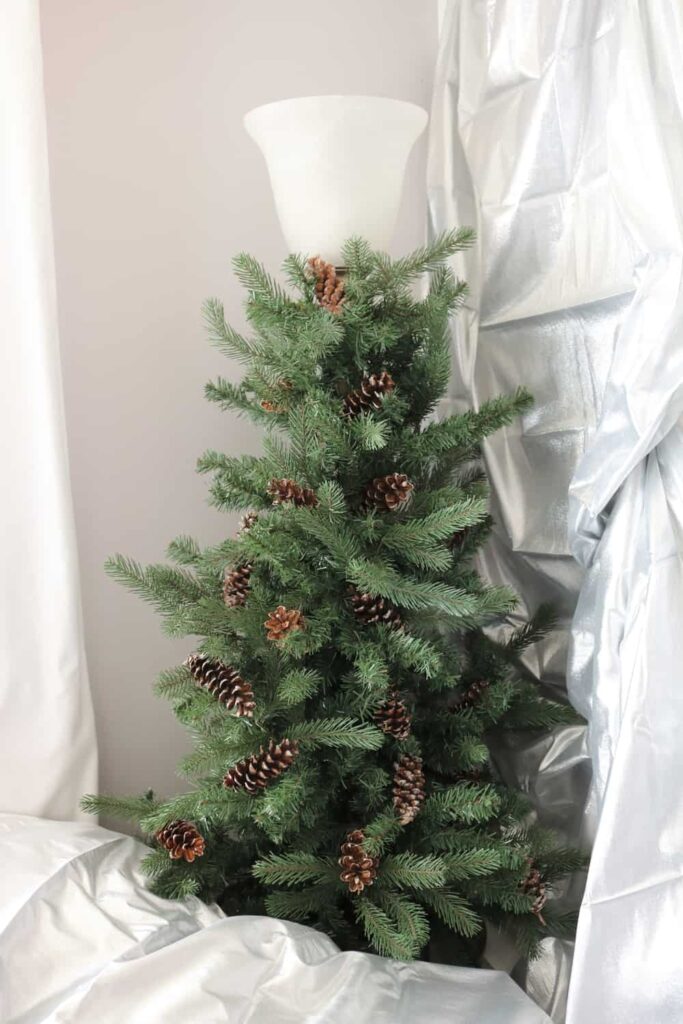 You have now seen all along the front wall of the house! Now we will turn a corner and you can see the Built in shelving wall, or the TV wall.
TV Wall
To the left is this family of snowmen.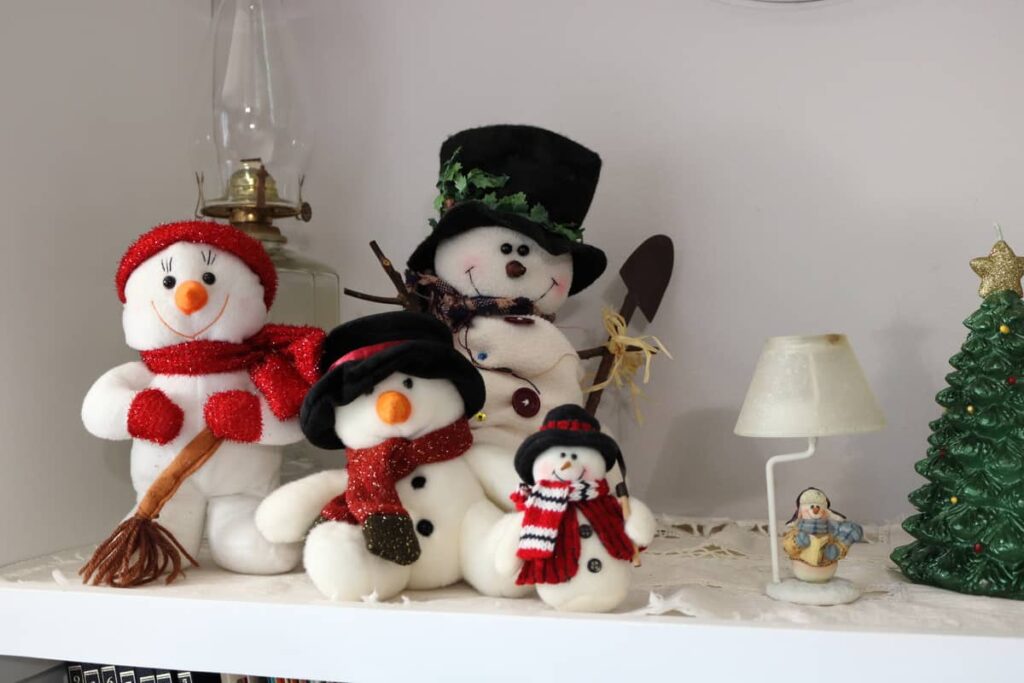 Here is the center with my Christmas Ornament Display Screen. I covered the tv with a gold metallic threaded cloth plaid Christmas tablecloth.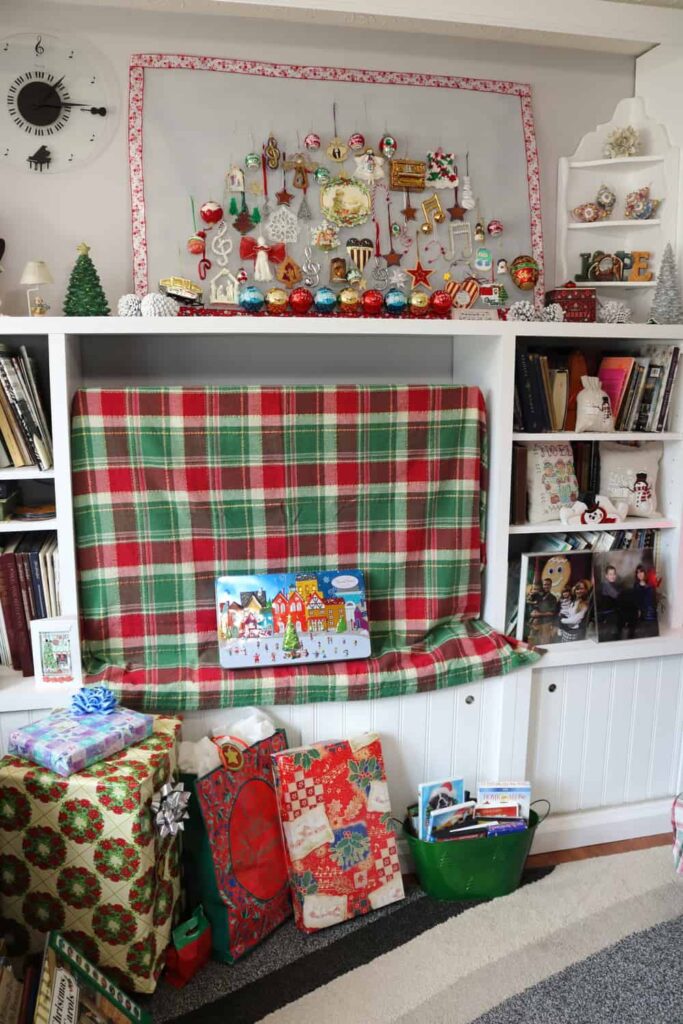 Now we will turn another corner to the Piano Wall.
Piano Wall
The piano wall is opposite the windows and the front door. To the left you can see the Reindeer that my Grampaw made for me years ago.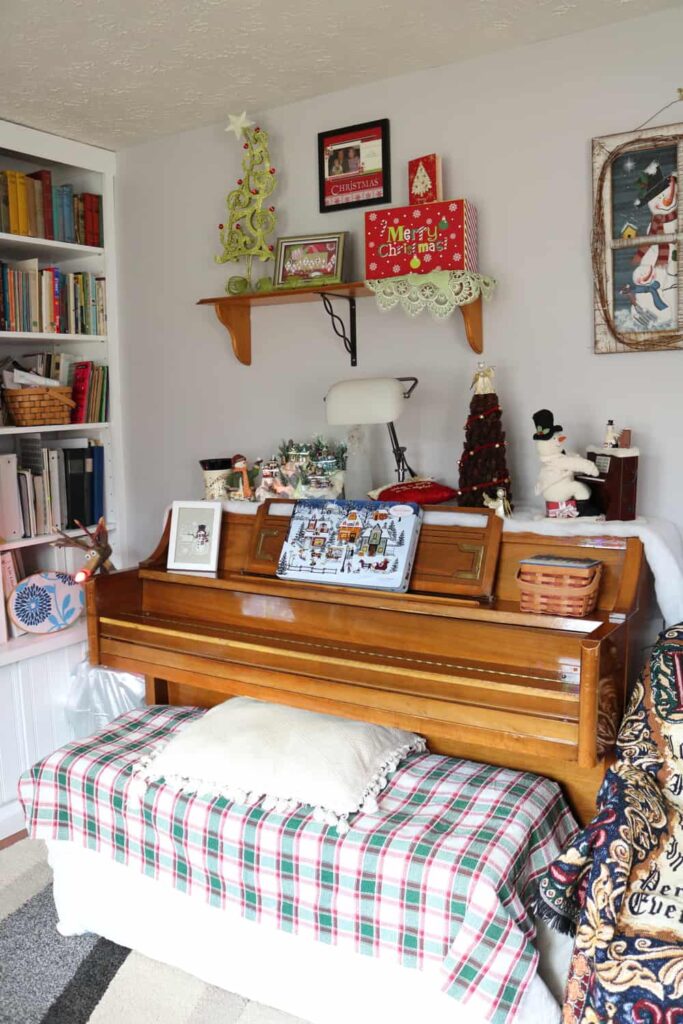 Moving across the piano is a framed Snowman print that I made by cutting up a little burlap bag that I bought last year during the after Christmas sales.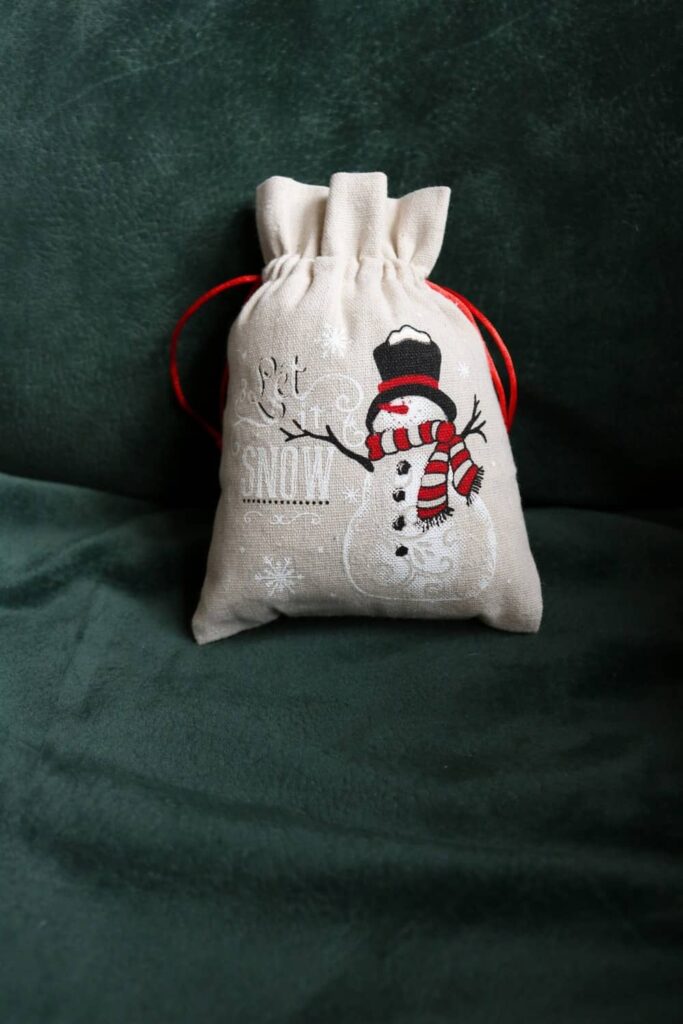 Here is a closeup of the area above the piano. The tree and both frames were gifts. The lower one is a stamped paper collage and is one of my favorites.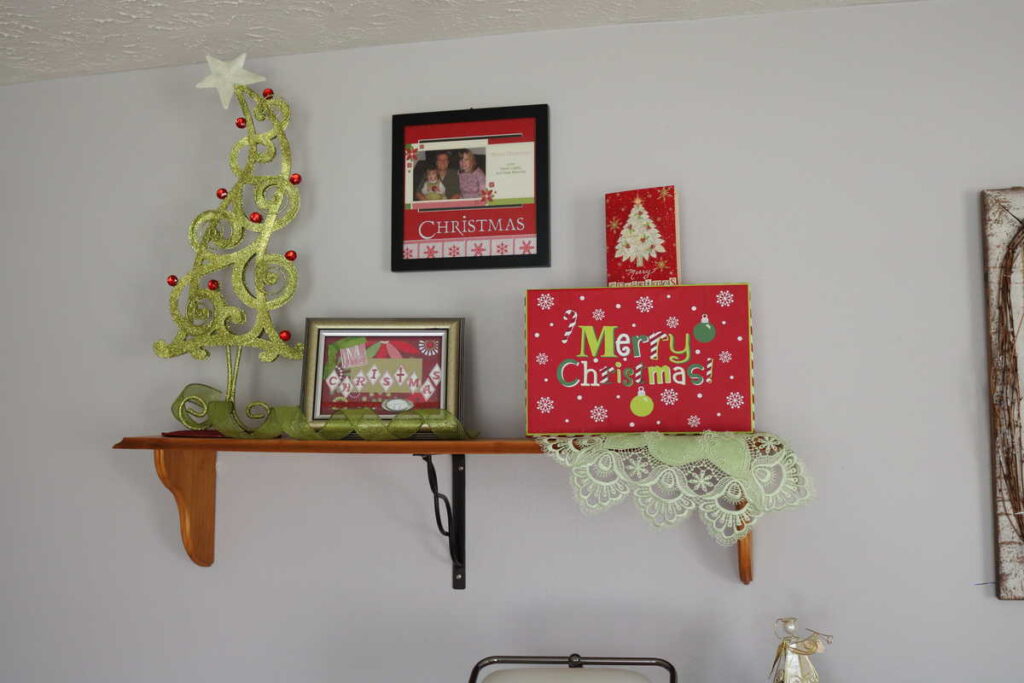 Moving across the piano is my Jingle Bell Pine Cone tree and my Piano Playing Snowman. You can see a video of the Snowman in action Here.
To the right of the piano is the doorway to the kitchen. It was easier to hang a blanket than to clean the kitchen! : ) But really, it looks much better this way than with kitchen cabinets in the background…..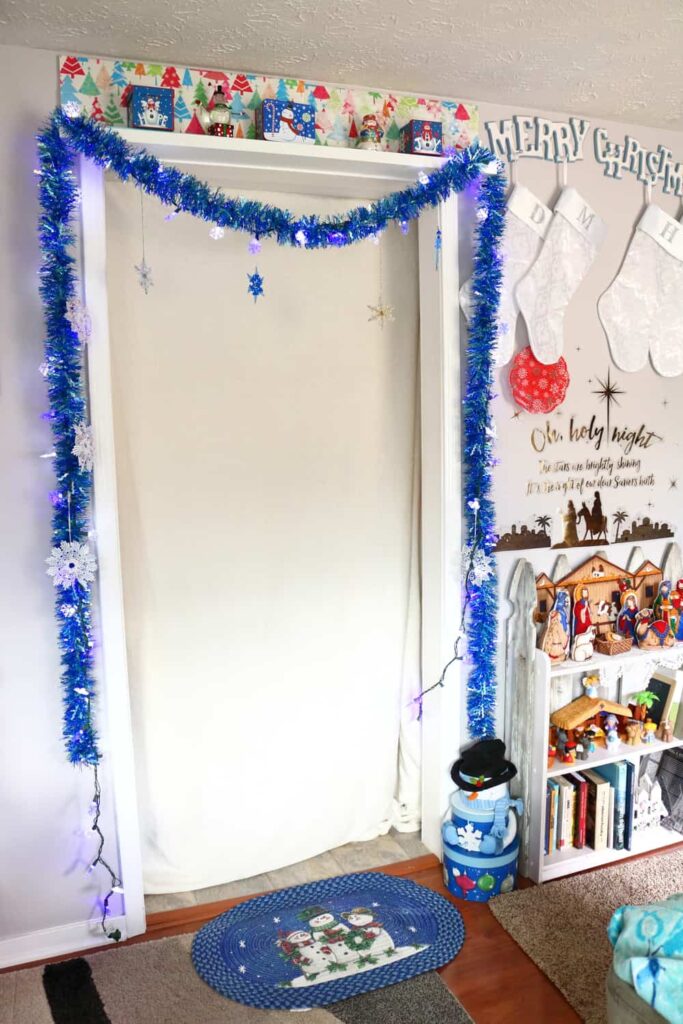 I thought you would like to see a closeup of the snowflake lights and ornaments.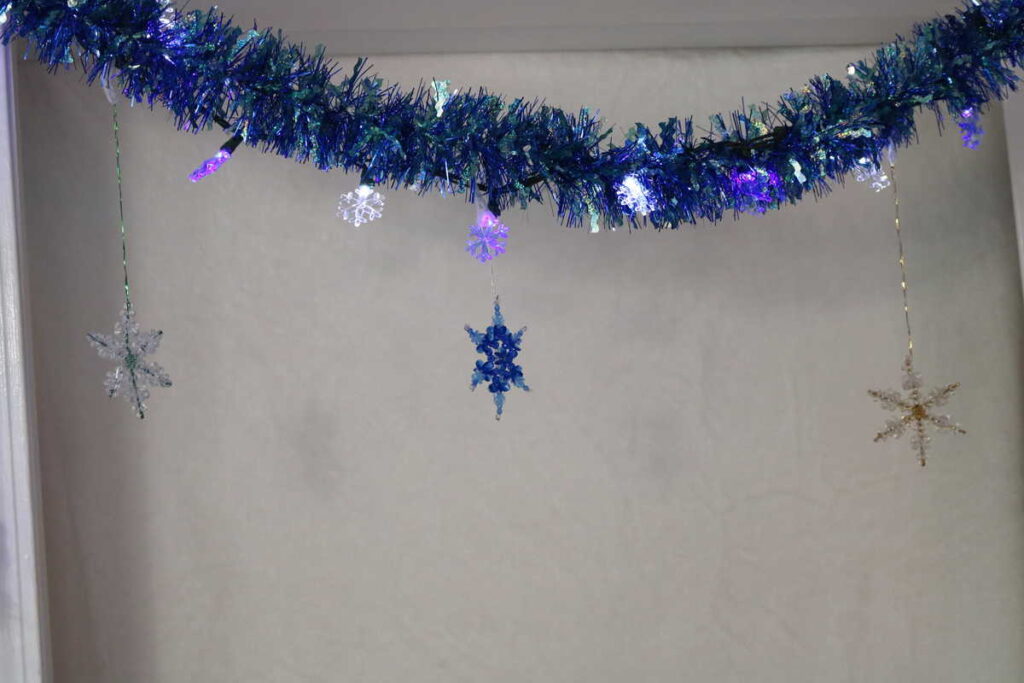 Moving on to the right, is where I put my new Manger Scene. I wanted it to be low enough for children to see it (and if they have clean hands, to touch it). The "Oh, Holy Night" quote was purchased last year during Christmas clearance sales. Because of the folds in it, the stickers did not want to stay on the wall. So I laminated them in sections and used double-sided tape to hold them in place.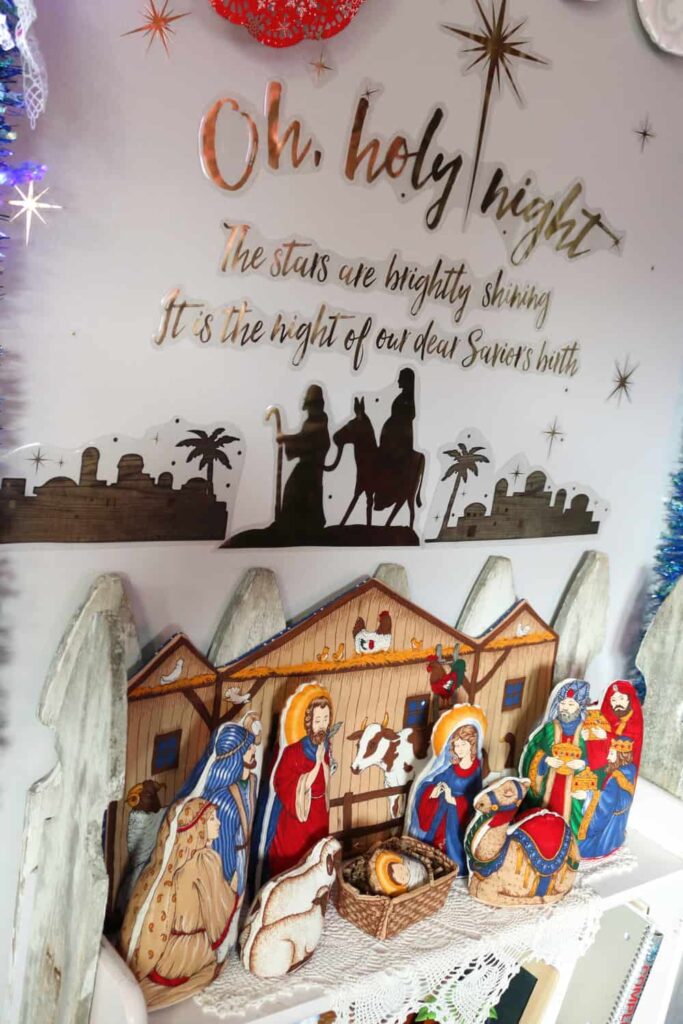 What is that red laminated paper doily doing there, you ask? I will tell you– it is hiding our thermostat!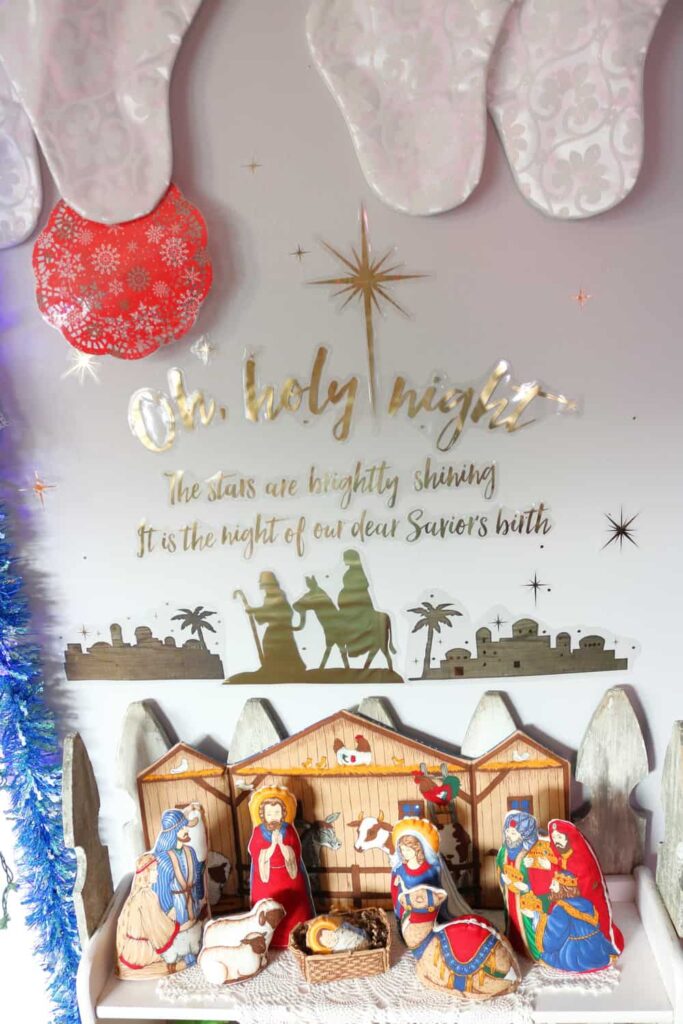 See?
Below the sewn Nativity Scene is another Manger Scene of Little People. Even though my children are getting older, they still can't resist playing with this set a little bit.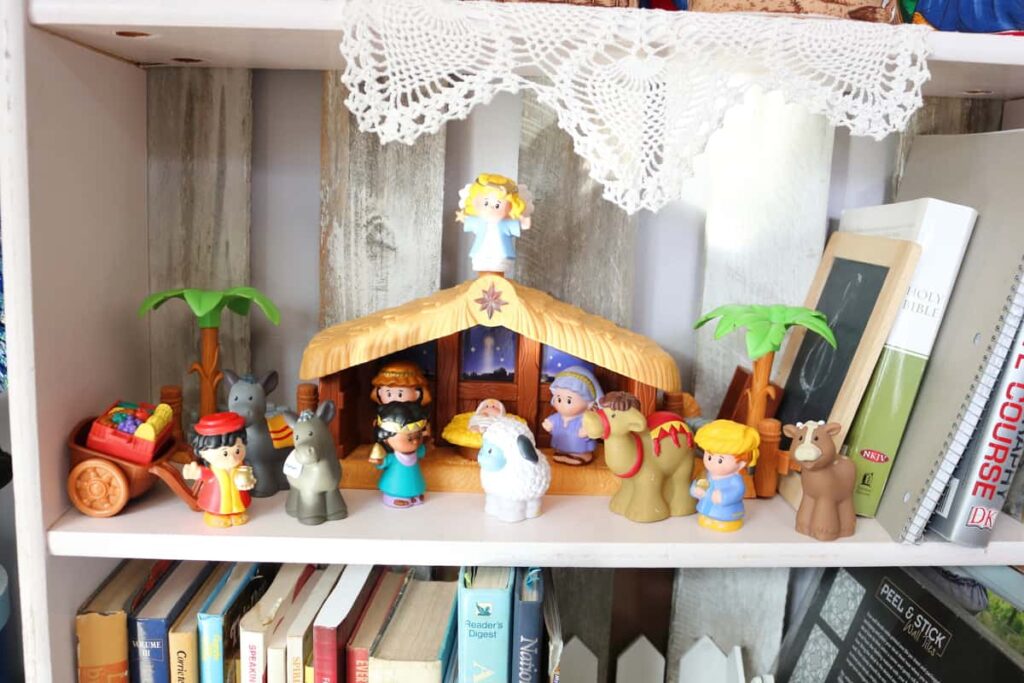 Moving to the right one more time, there is a snowman wall hanging on the basement door. I made this about eight years ago from a fabric panel. You can see more details HERE.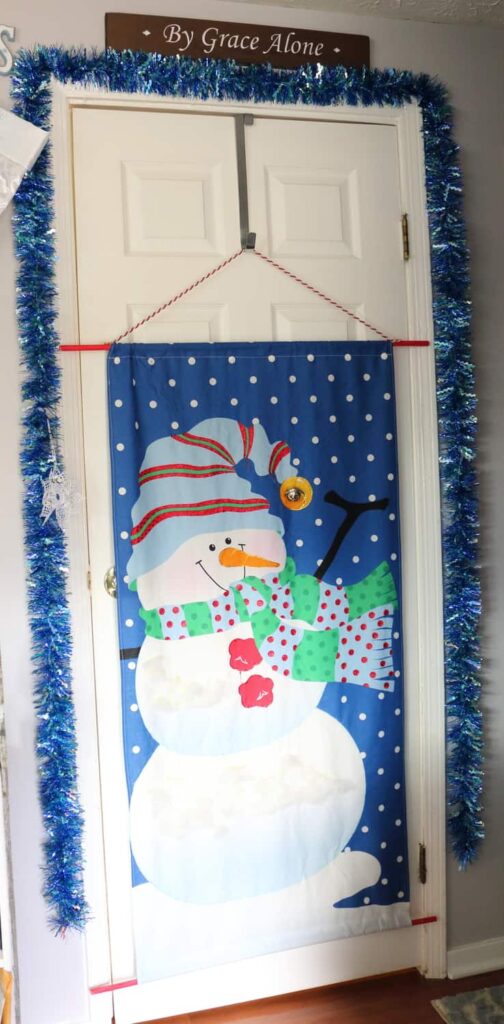 I love the blues in this section of the wall. This is the view when you come in the front door.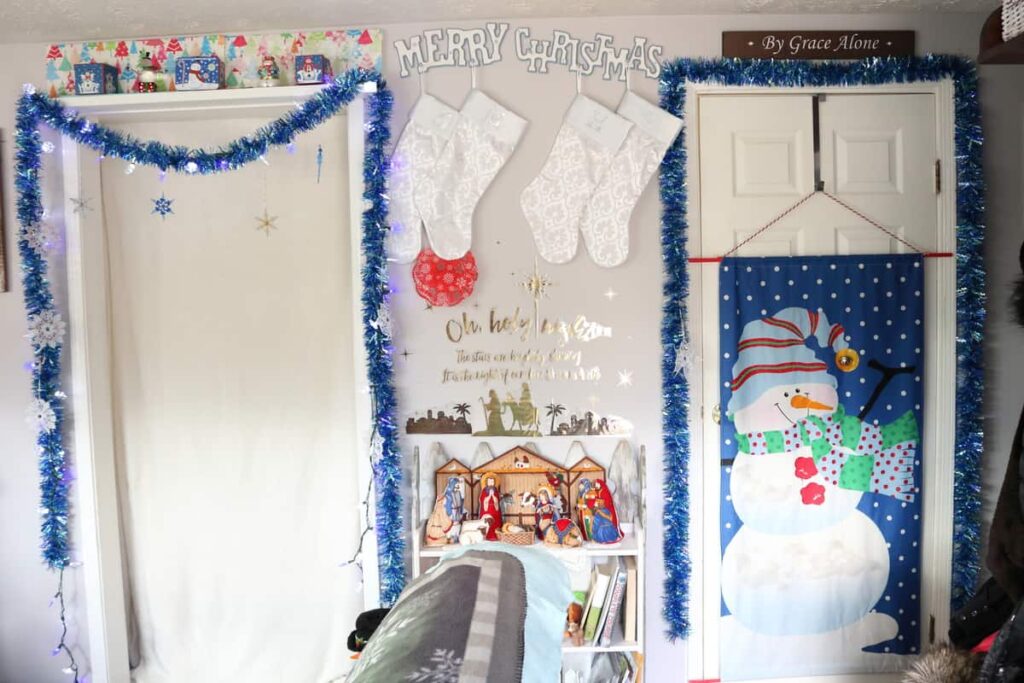 Turning to the right one more time, you see our double recliners, with the open door in the right corner. Now we have finished going clockwise all around my Christmas Living Room! I hope you have enjoyed the tour and that you enjoy a Merry Christmas!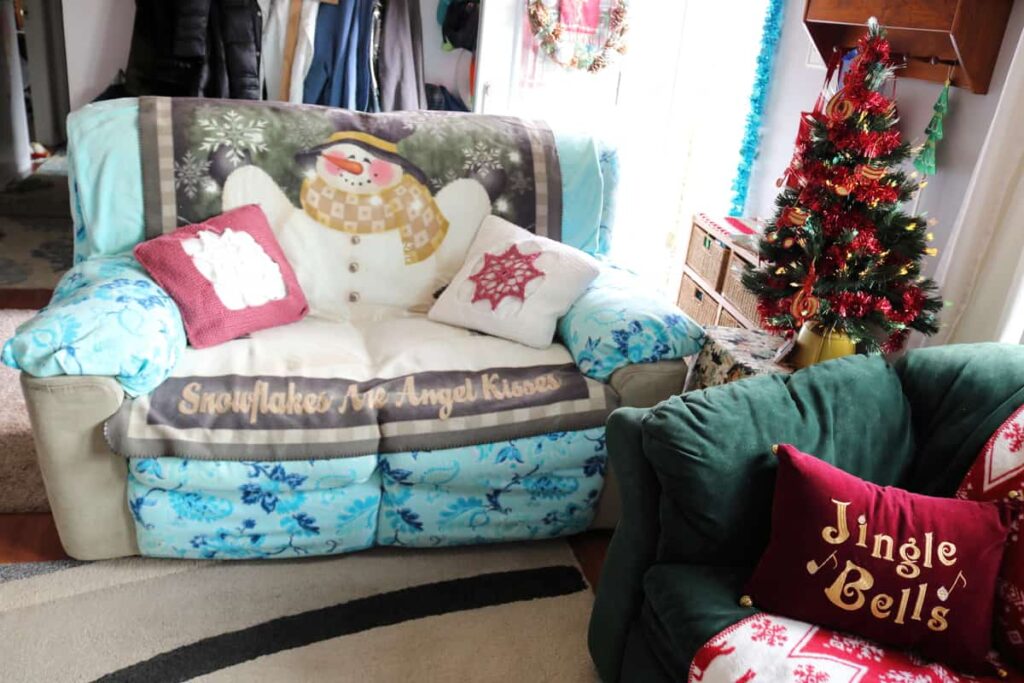 (By the way, if you would like to see our outdoor Christmas decorations, you can find them HERE.)