Sometimes the Christmas season seems too short. So several years ago when I put away the Christmas decorations, I started leaving out my snowman things throughout the month of January.
Here are my living room and kitchen snowman decor!
The living room showcases a snowman blanket covering the television. The blanket was a gift from a piano student of mine.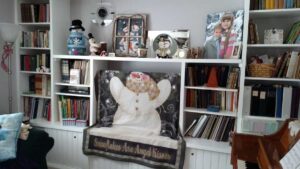 (*This post may contain affiliate links. By purchasing anything from these links, I may receive a small commission at no cost to you. More information is available on my Disclosure page.)
The first closeup is of this adorable snowman family.
I found this painted snowman family window frame at a thrift store. It was too cute to pass up!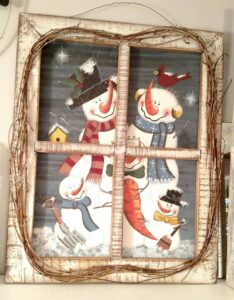 The next closeup is of my piano playing snowman.
I found two of these piano snowmen at a yard sale several years ago for $5 each. He is a Hallmark model that lights up, moves, and sings three different Christmas songs.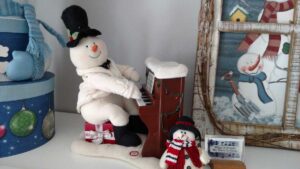 Last in the living room is a storage box snowman.
This snowman is a set of nesting boxes* from a food/snack gift set from Sam's Club several years ago. It is short and cute. You can see another post about how to use storage boxes in your home decor here.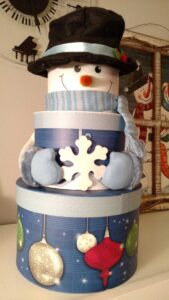 (I have a taller set that is not as cute… The tallness impresses young children.)

Now we move on to the kitchen.
I found this vinyl table cloth recently at a thrift store with four matching placemats for only $1.50!! I certainly didn't mind adding to my snowman decor at that low price!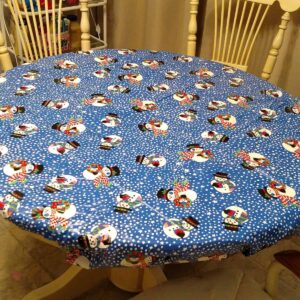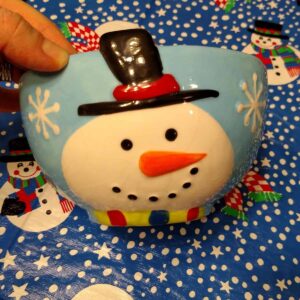 Six or seven years ago, I found some snowman fabric at Walmart. The fabric was planned out to be a wall hanging. It is almost as big as a door, at about 54 inches long and 24 inches across. I glued polyester stuffing on it for snow. Then I just had to sew pockets for dowel rods at the top and bottom, and paint the ends of the dowel rods.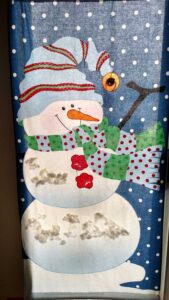 See how I sewed a large jingle bell onto the hat? I also embellished the snowman with glitter glue– outlining the bell, nose, and buttons, and brightening up the hat and scarf.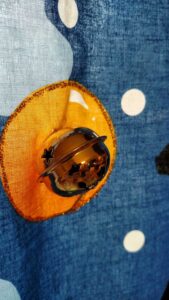 He matches my tablecloth so well! The light shining through the patio door helps to brighten up the kitchen.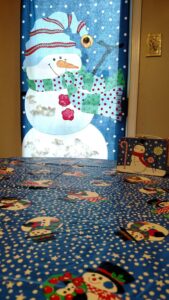 The little lunchbox was a gift to my son this year… I think it is going to join this snowman collection. It matches so well!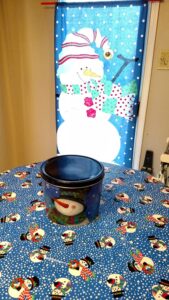 This medium size popcorn tin was a free find of mine.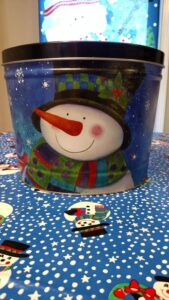 That large wall hanging fabric had small ones printed on it beside the instructions telling how to turn the large one into the wall hanging. So I cut up the little ones and made miniature snowman wall hangings! Do you think it might be cuter than the large door sized one?! It measures 15 inches long and 7 inches across. I made several of both sizes and gave them away as Christmas gifts. I couldn't decide whether to keep either the large one or the small one for myself– so I kept one of each!
You can tell that I decorated the little snowman with glitter glue, too, and put a mini jingle bell on its hat.
I know that my snowman decor doesn't fit the popular styles in the magazines right now. But that's okay. I don't usually do whatever everybody else is doing anyway! If I do, it is usually by accident! Now you've seen my kitchen and living room snowmen. To see the big one in my bathroom click here.
What about you? Do you have different decor for winter time versus Christmas?
SaveSave
SaveSave
SaveSave
SaveSave
SaveSave
SaveSave
SaveSave
SaveSave
SaveSave
SaveSave
SaveSave
SaveSaveSaveSave
SaveSave
SaveSave
SaveSave
SaveSave
SaveSave
SaveSave
SaveSave