Crocheted Pineapple Heart Bookmark
*This post was recently featured at An Artful Mom.
Crocheted Bookmark
This heart bookmark does not take very long to crochet. It would be a cute Valentine for somebody for the upcoming Valentine holiday.
BEFORE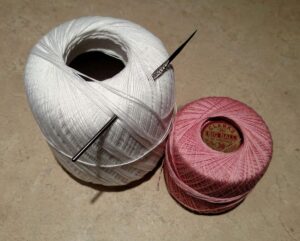 (*This post may contain affiliate links. By purchasing anything from these links, I may receive a small commission at no cost to you. More information is available on my Disclosure page.)
I made two of them with two different colors and thicknesses of thread. The white one is with size 10 regular doily thread. The pink one is size 30. The crochet hook* is size 8. You can purchase the pattern download like I did for $3.00 from this website.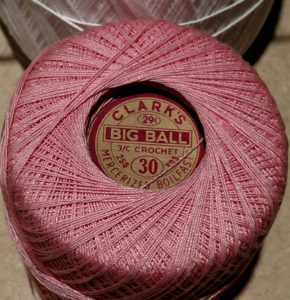 As you can see, the pink thread is from my vintage thread collection (read: yard sale find).
AFTER!!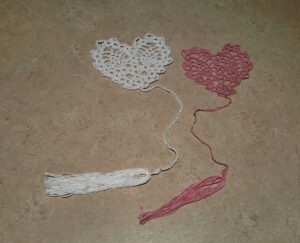 I suggest that you try the thicker thread first. It is easier to follow the pattern that way. Then make your second one with the thinner thread and it will all make sense. You may also want to use a smaller crochet hook with the thinner thread. Have fun!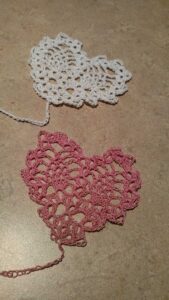 If you would like to try making a very simple crocheted necklace, you might like This Post.

SaveSave
SaveSave
SaveSave
SaveSave
SaveSave
SaveSave
SaveSave
Other Crochet Projects you may like…