Wait Until You See These Elegant Buffalo Plaid Christmas Gift Tags
Have you noticed all of the buffalo plaid items out in the stores lately? There are ornaments, and stockings, home decor, ribbon, clothes — I'm seeing it at the Dollar Store, Walmart, and Marshalls.
Some things are red and black buffalo check, and others are black and white. Which combination do you prefer?
(*This post may contain affiliate links. By purchasing anything from these links, I may receive a small commission at no extra cost to you. More information is available on my
Disclosure
page.)
Well, I have a treat for you today! But first, a question.
Do you have a stylish relative who always intimidates you a little bit with their upscale high class wrapped presents? Maybe you're already nervous because the holidays with this particular family group always seems to be frustrating?
Well, I have created a solution! At least, I hope that it will help at least a little bit. I made some complimentary Buffalo Plaid gift tags for you! Now you can go to that Christmas gathering confidently, knowing that you have beautiful presents for a fraction of the cost that your in-laws probably spent. Instead of feeling plain and ordinary, and perhaps inferior, now you can start the day with your best foot forward!
Adorn your gifts with these beautiful gift tags that you got for FREE, instead of spending money on fancy ones that are just going to get trashed.
I made Black and White ones for your Free Gift. But I thought you might also like gift tags with a Red and Black background, so I made those too– they are available for a small fee. Then you can print as many sheets as you want!
Now you will have a classy and sophisticated look for your presents that is economical at the same time!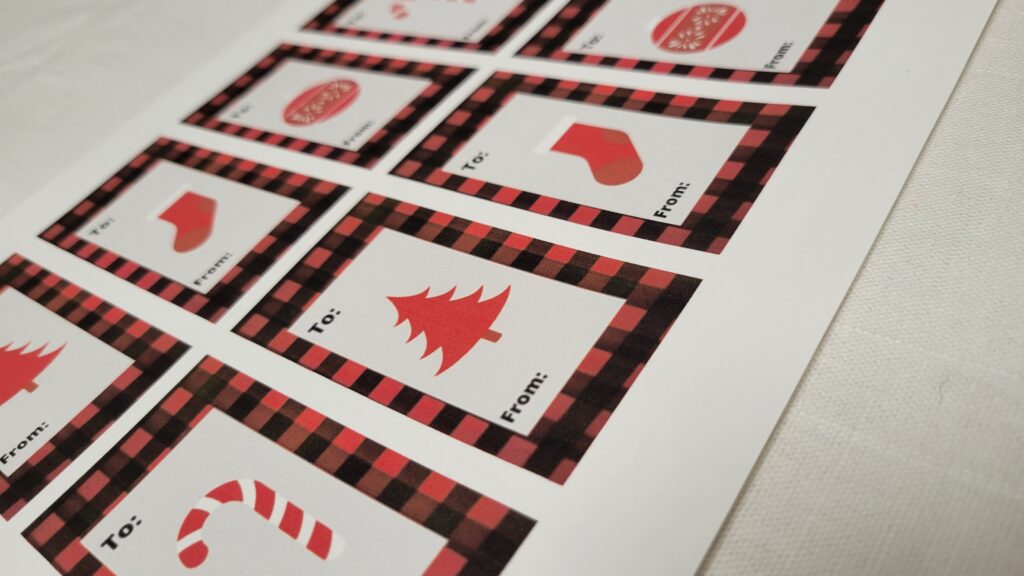 ***Get them now before you forget where you saw them, and spend 30 minutes searching online and wishing you had just gotten them when you saw them. Spend those 30 saved minutes by wrapping presents that are anything but ordinary!
Embellish the Gift Tags
You can use paper to print these, but I recommend using white card stock for getting the best results.
If you wish, use a small hole punch so you can insert a ribbon or string to tie the tag onto a gift bag. If you are going to tape the tag to a wrapped present, then you don't need to punch a hole.
I added red and silver glitter glue to some of my tags.
After the glitter glue dried, I used my silver Bowdabra wire to make a loop for the tags.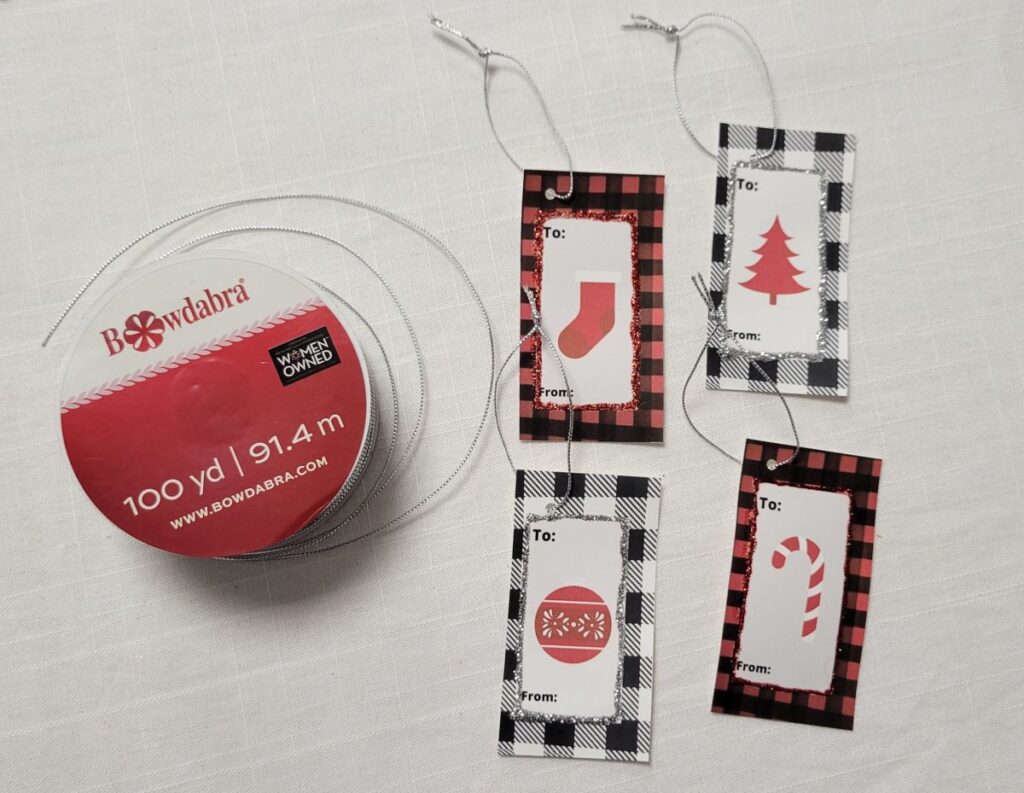 Buffalo Plaid Items Available
Then it was easy to tie the tag to a gift bag. I used a Dollar Tree buffalo check ribbon for the top.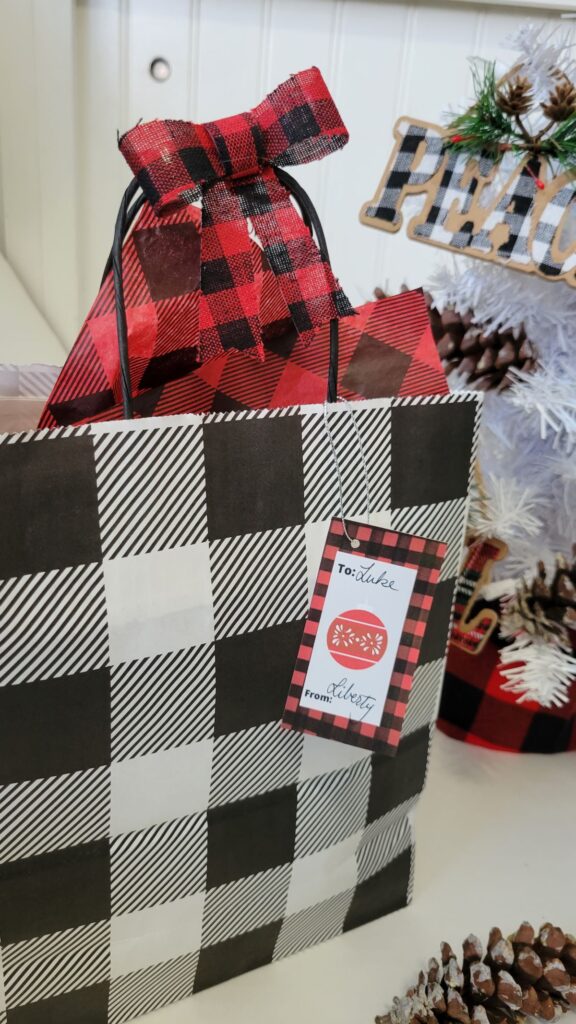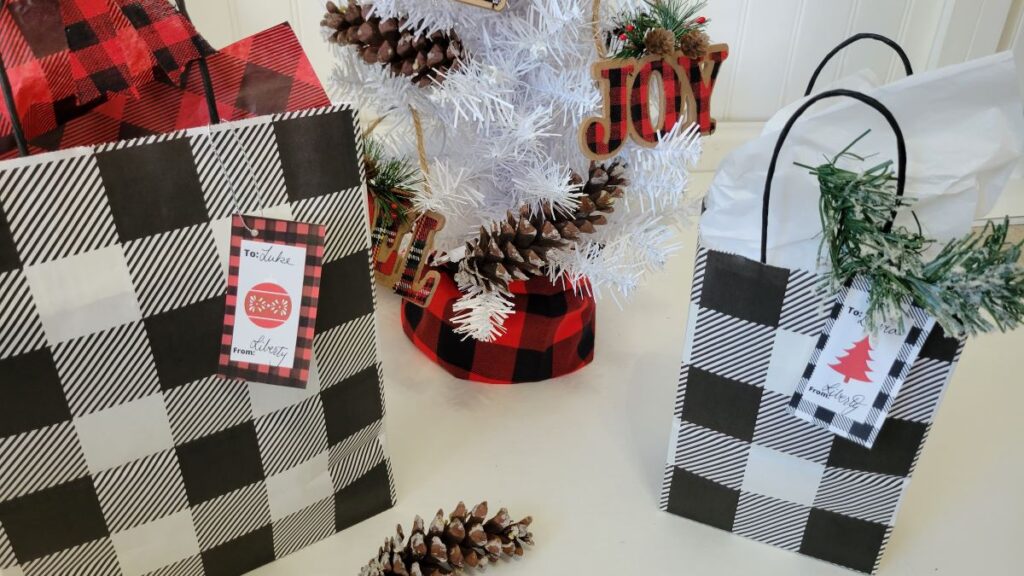 Gift Idea
While I originally thought of using these gift tags on presents, I thought of another idea! You could use these buffalo check Christmas gift tags as an actual present itself! After you add glitter and silver loops, they really do look gift-worthy. Maybe you know someone who would appreciate having tags like these for their gift giving.
Well, I hope you like buffalo plaid because I have several more ideas to show you soon. For now, let me end by sharing with you the Pinterest Board where I have been saving some of my own Black & White and Black & Red checkered ideas. Enjoy!