Felt Christmas Stocking Silverware Holders
Stocking Holders Before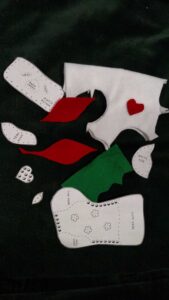 (*This post may contain affiliate links. By purchasing anything from these links, I may receive a small commission at no cost to you. More information is available on my Disclosure page.)
(*I'm going to show you how I made these cute little silverware holders. If you would rather purchase some instead, Amazon has a nice selection of miniature stockings that would work very nicely.)
I took the picture above after I had already completed this project– so you don't see as much red, green, and white felt as you would have before I finished the stockings.
I bought the supplies for this project as a kit from Herschnerrs. They don't sell this particular one anymore, but they have other ones that are just as cute! Or you can design one yourself that is like mine.
AFTER!!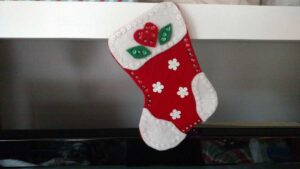 They are silverware holders.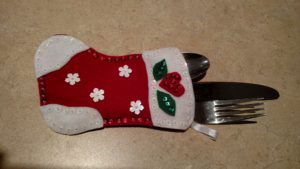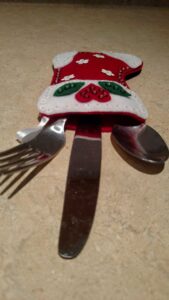 The kit came with enough supplies for a set of six. It had snowflake shaped sequins, and red, white, and green sequins in addition to the red, white, and green felt.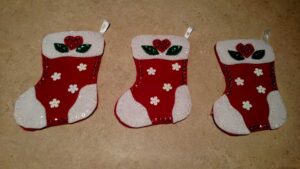 First, you sew on all the inner sequins onto the top layer (not the ones going around the outer edges). You use the sequins to hold the white felt onto the red felt, you use the green sequins to hold the green leaves on, and you use the red sequins to hold the heart on. Also, sew the top row of white sequins to the top layer, holding the white piece of felt to the red piece. Then sew a white ribbon for hanging (the ribbon did not come with the kit– that was my idea).
After the front layer is all done, then you sew on the back layer and sew on the outer edge sequins all at the same time.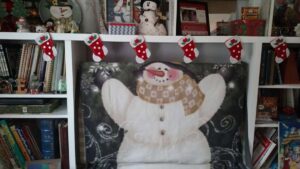 I usually like to hang them over my TV instead of using them as silverware holders. It's not a fireplace, but oh well.
I found the tiniest Command strips* this year!

I used them to hang my tiny stockings over the television.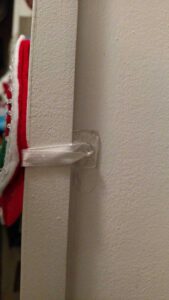 I found (read: did not make) some felt gingerbread people that I use in my kitchen at Christmas time. You can can see them here.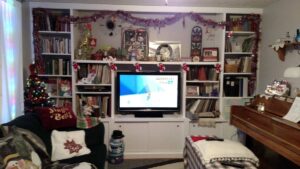 You know those fingerprints from children that get all over the television? They are hard to clean off– especially when children always like to touch the screen as soon as someone else decides to clean it…. so I decided that an easier solution would be to cover the TV. I use different coverings throughout the seasons, or as it suits me. This snowman blanket works well as a dust cover and to disguise the TV.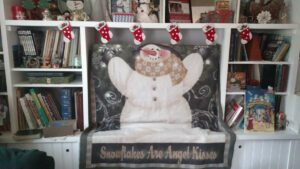 SaveSave
SaveSave
SaveSave
SaveSave
SaveSave
SaveSave
SaveSave
SaveSave
To see how I used these same stockings in my Kitchen, Click Here.