Miniature Christmas Pine Cone Tree
*This post may contain affiliate links to websites such as Amazon. By purchasing anything from these links, I may receive a small commission at no extra cost to you. More information is available on my Disclosure page. I appreciate your support!
Update: I have decorated this little tree many ways since this first version. To see the other versions, Click Here.
I posted awhile back about a miniature pine cone tree that I made.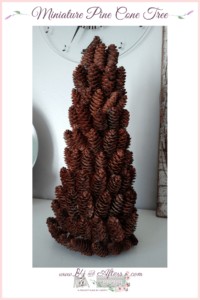 [sc name="This Post May Contain Affiliate Links"]
I really enjoyed decorating with it at Thanksgiving time.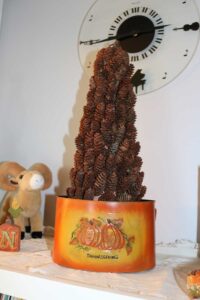 I came up with a way to decorate it and bling it up for Christmas time! I did not want to put glitter or glue on it, so that I can use it again for Fall if I want to (or Spring or Easter?!). So….. here's what I did!
Miniature Christmas Pine Cone Tree Supplies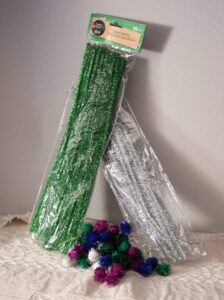 First, I used silver and green metallic pipe cleaners. I tucked the ends in between the pine cones without using any glue.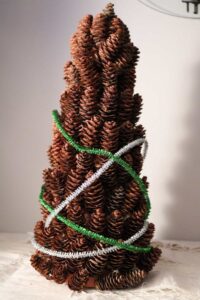 I created a topper by attaching pom poms to a pipe cleaner with hot glue. I curled up one end of the pipe cleaner into a circle, and then glued the miniature metallic pop poms on to it. Then I stuck the topper into the top of the pine cone tree (no glue needed).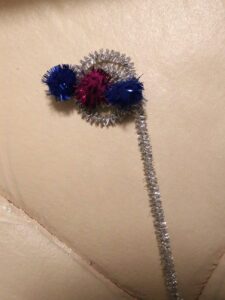 I attached miniature metallic pom poms to the rest of the tree. They stayed put without any glue!! It was so easy!
Miniature Christmas Pine Cone Tree, AFTER!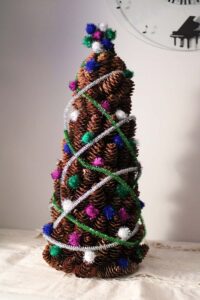 Isn't it so cute?? I hope you love it as much as I do! I chose this color scheme to coordinate with my other Floor Lamp Tree that I created.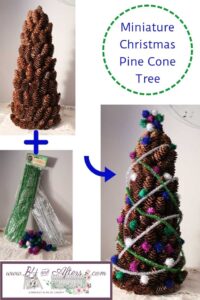 To see other ideas of how to decorate a Pine Cone Tree, Click on the Picture below.