Floor Lamp Christmas Tree
Our living room is small with a piano, a couch, and a double recliner. Because of this, we have not had room for a regular sized Christmas tree in the past. I've always just made do with the miniature tree that I have. But this year, I pushed the couch over a little, and said to the kids, "I think we might have room for a full-sized Christmas tree, if it is narrow enough." I didn't want to buy a tree. And then I remembered our cat. It's probably best that we don't have a normal size Christmas tree, because she might climb it.
Then I had a great idea! Last year I had disguised our basement support pole by turning it into a Christmas tree. I decided to try the same idea with my Floor Lamp! I bought a pair of these floor lamps with attached glass tables* brand new in their boxes at a thrift store more than ten years ago.
Floor Lamp Before

(*This post may contain affiliate links. By purchasing anything from these links, I may receive a small commission at no extra cost to you. More information is available on my Disclosure page.)
First, I wrapped the pole with a wrapping paper tube to protect it. I also needed a paper towel tube. I taped the lengthwise slit closed with masking tape.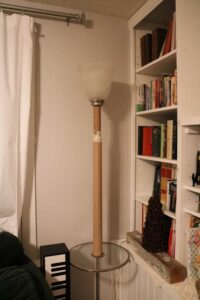 Then I took pieces of an old artificial tree and started wrapping the pole with it. The pieces are wire, and twist around each other easily, so I didn't need any other fasteners. I started at the top, and worked my way down.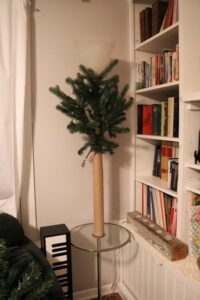 Then I attached more and more branches at the bottom, until it looked like a good size. I put most of the branches toward the front. To counter balance it and keep it from falling over, I put a weight on the base toward the wall in addition to shimming the front of the base up a little bit.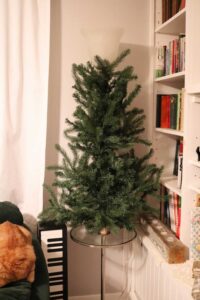 I decorated with purple lights. They photograph a little pinker than they really are.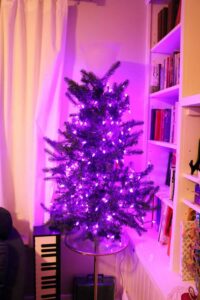 Then I put on aqua garland.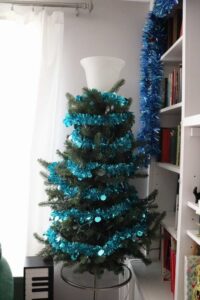 Here it is lit up at night.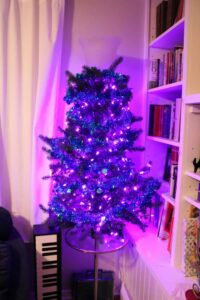 Here it is lit up during the daylight hours.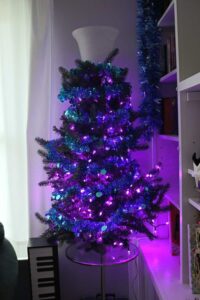 Then I attached some peacock colored ornaments that I had bought last year when I was decorating the "Basement Pole Tree."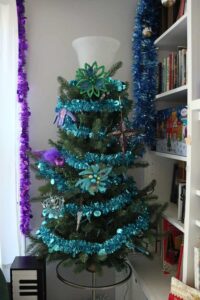 I really like the colors. I love these ornaments because they have tiny "alligator" clips that pinch onto the branches. I was concerned that the cat might want to play with everything, but so far she has left it alone.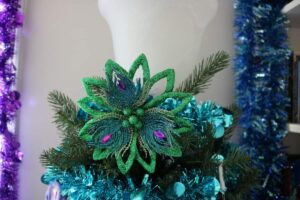 Here is another closeup of an ornament.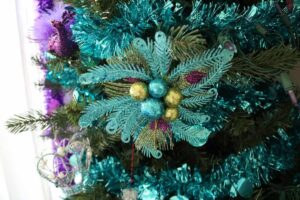 Here is a purple peacock with one purple peacock tail feather.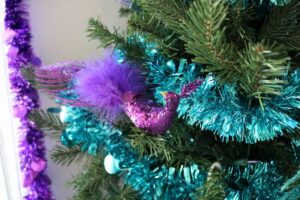 Here is a cross ornament.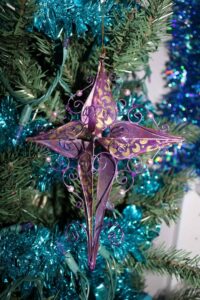 And here is a hummingbird.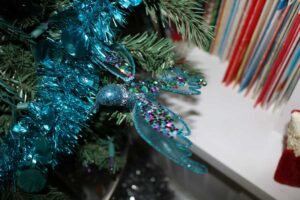 There is also a purple sweater ornament on the tree.
Floor Lamp, AFTER!!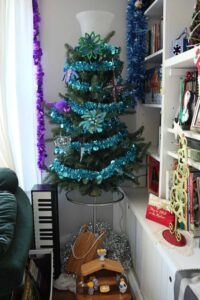 What do you think?! Isn't it the perfect tree for a household with pets or maybe young children, to keep everything away out of reach?
I am thrilled that I now have a tall Christmas tree, even though it isn't quite "full-size." I didn't spend any money for it because I already had everything from last year. And it has my favorite color combination– purple and aqua. I like this color combination so much that I decorated my Miniature Christmas Pine Cone Tree in the same colors!
Here it is again, all lit up at night. I just love looking at it!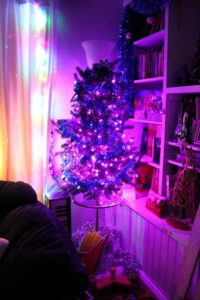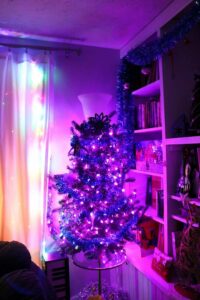 There is plenty of room under this tree for presents! (I will try to remember to take a good picture when the presents are there, and update this post.) Does this post make you want to go find a floor lamp to turn into a tree? All you need is an old artificial tree that you can take apart and use the branches, and the rest of the tree trimmings. I hope that you have enjoyed this "Floor Lamp Makeover."