Now that I've shown you my new Christmas Floor Lamp and my Miniature Christmas Pine Cone Tree, I can show you the rest of my Christmas Living Room!
Christmas Living Room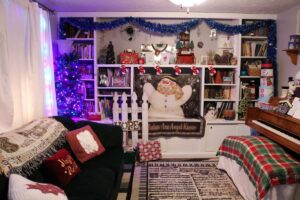 (*This post may contain affiliate links. By purchasing anything from these links, I may receive a small commission at no extra cost to you. More information is available on my Disclosure page.)
My decorating style is famously known as "yard sale style." In this case, while there are yard sale items, most of my things are hand made by me, or gifts from my piano students and others.
You can find my post on the felt stockings here.
I covered the TV with a little snowman blanket throw.
And I've been saving this picket fence gate from our old fence, hoping to use it somewhere. I thought it fit nicely here.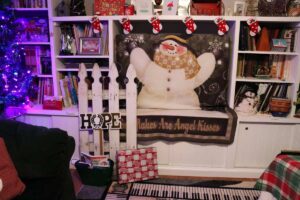 Main Wall
I bought this blue garland last year during the after Christmas clearance sales. My Christmas decorating colors are all over the map, since it is mostly a hodge podge of things given to me. If I could choose my colors though, I would probably choose blues, purples, greens, and silver. So even though I didn't think this blue would go with my traditional greens and reds, I bought it. I'm glad I did. I doubled it and I like the thickness of it. I made the blue crystal bead snowflake that you see hanging from it in the picture below.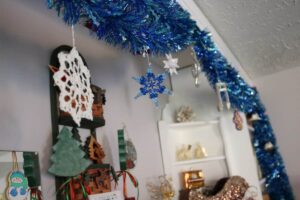 These vintage looking ornaments are just that– vintage looking. They are cute anyways. The white part is velvety.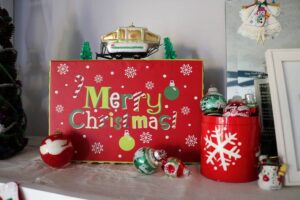 I made both of the green, red, and cream colored doilies years ago. A friend made the Angel cross stitch ornament to the left of the doily on the mirror. I painted the wooden snowman to the right of the doily. And of course, I created the Peppermint Chocolate Chip Shake Season printables, available here.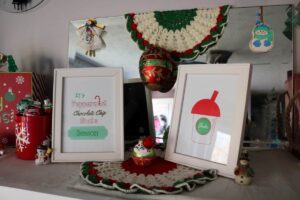 Moving along from left to right, I created this nativity scene using a Harry and David box that I got on clearance this summer. I set it on its side so the logo would not show.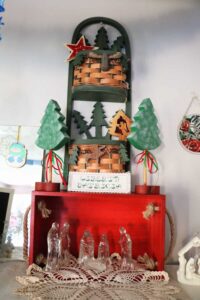 Then on this corner shelf I put some music themed ornaments.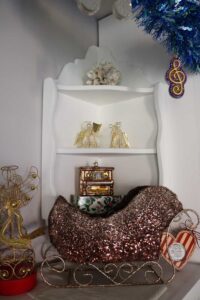 Piano Wall
The wall that adjoins my main wall to the right is where my piano sits.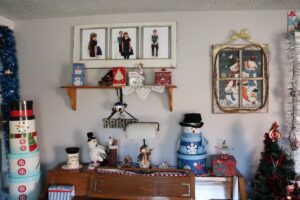 Here is a cardboard tower snowman. I covered the basket it is resting on with Frosty themed fabric.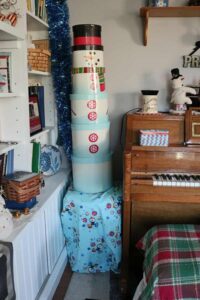 On the piano is a "dresser scarf" that I crocheted as a teenager. This miniature piano Hallmark ornament is a music box that plays Fur Elise.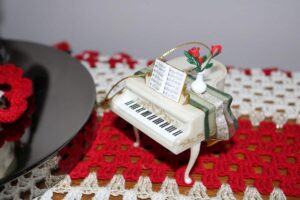 Miniature Christmas Tree
Beside the piano is a miniature fiber optic tree sitting on a table covered in music sheet and white poinsettia fabric. For around fifteen years, this is the only Christmas tree that I have had. You would think with all of those other ornaments that I would have a larger tree, but whenever I had room for a larger tree, I had very small children and thought that it wouldn't be a good idea. So I have been content with this mini tree, and I've found other ways to display my ornaments, like hanging them on the garland and lights draped elsewhere.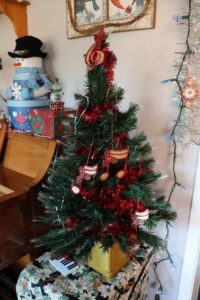 I decorated it with these plastic music ornaments that I found a long time ago. I don't remember where. You can find other music ornaments here.*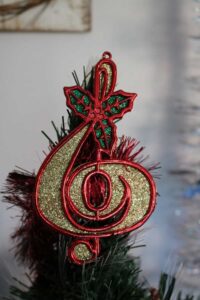 I made these wire and bead ornaments for gifts for my piano students several years ago, and kept one for myself. This is the treble clef.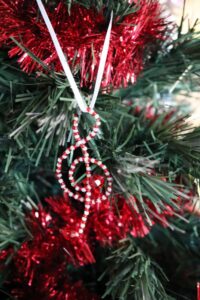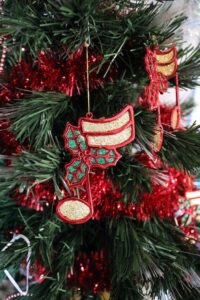 Here is the miniature tree lit up at night.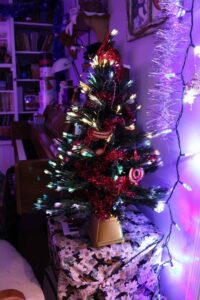 To the right of the fiber optic tree is the doorway to the kitchen. You can see how I decorated this shelf here.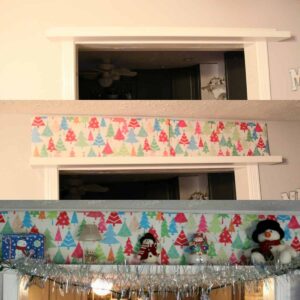 Hanging on the snowflake lights* and garland framing this doorway are these Victorian style ornaments that I made years ago from an ornament kit. You use a thimble to push the pins into a styrofoam ball. There is a pattern to follow for the sequins, beads, and ribbon.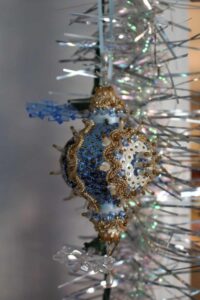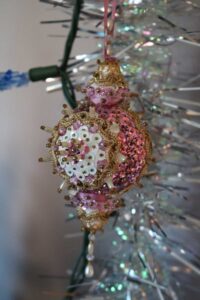 I think they are so pretty! You can purchase a similar kit on Amazon here.* Scroll down to see other colors and varieties that are offered. I think that this would be a great gift idea for that crafty person in your life!
To the right of the doorway is where I put the stockings. I found the wooden Merry Christmas at a yard sale (I told you that was my decor style!) for a dollar or two, already painted! The two stockings to the left are hiding the thermostat.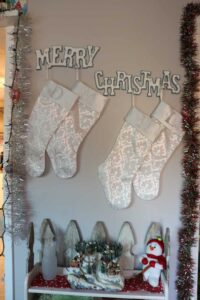 Can you see the glitter shimmer?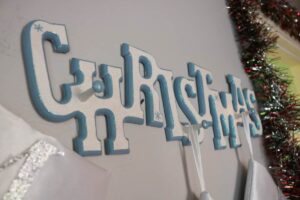 My neighbor gave me this little fiber optic Christmas village when she was moving away. I added the pickets onto this shelf from the same old fence the gate came from, above.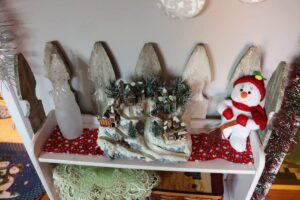 The Christmas village lights up in different colors that change constantly, and is mesmerizing to watch.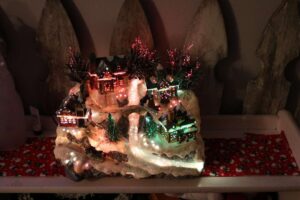 Here is purple.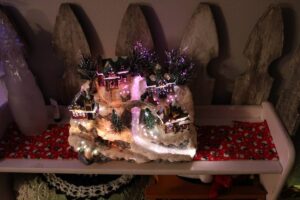 And here is green.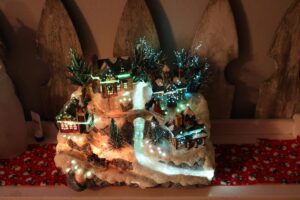 As we keep turning around the room from left to right, we come to these recliners. They face the main wall. I made the slipcovers this spring, so this is my first winter season with them. I thought the penguin pillows (that, once again, I made years ago) looked nice on them.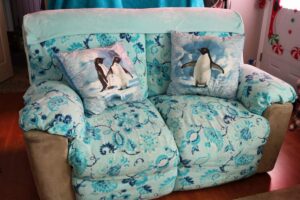 Window Wall
The last wall to see is this one that adjoins the Main Wall to the left. I found this snowman at the Dollar Tree. It is made of the same plastic the tablecloths are– just in a smaller shape made for a door.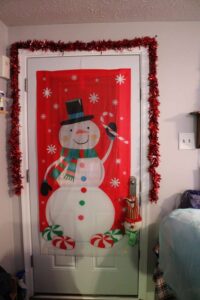 Since I have a half glass door, the light still shines through during the day.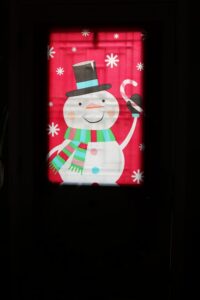 This is the wreath that I have on the other side of the door. I think I paid 25 cents for it….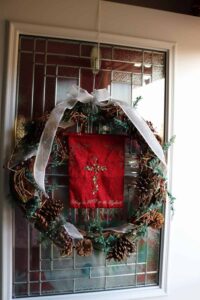 I added the silver ribbon, and this "Glory to God in the Highest" banner.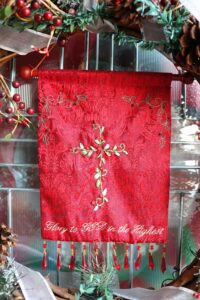 Here are the windows! I used purple garland and rainbow LED flat rope lights.* (Mine don't have a remote control for changing colors– but these do.*) There are a snowman and a reindeer in the windows. They are facing outside, but you can still see a lot of them from inside.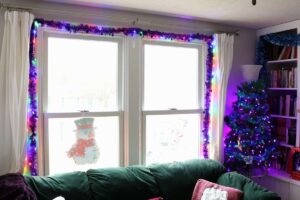 Our green couch finally fits in with Christmas colors, although I prefer it with the ivory colored blanket over it. The pillow has jingle bells on the corners– I bought it like that– but that is an easy thing that you could add to any pillow! I crocheted the two snowflake pillow covers years ago back when "rose" was popular.
It is so festive with two small Christmas trees in the living room.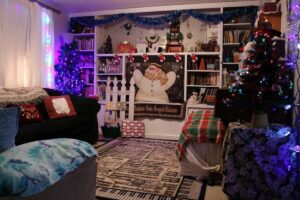 In the evening before I close the curtains, the outdoor Christmas projector lights shine through the windows onto the ceiling!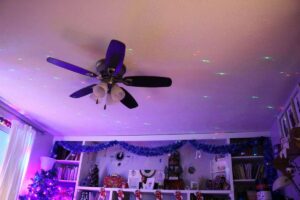 Here is one last picture, with just Christmas lights on. I hope you've enjoyed this tour of my living room decorations. I hope that you also enjoy a good Christmas season. Merry Christmas!