Miniature Soap Gift Favors
Have you ever made miniature sized soaps? At Christmas time my daughter wanted to make shaped soaps for gifts for her friends. We enjoyed making them and I wanted to share what we did with you.
I bought clear glycerin soap blocks at Michael's. I think I used a coupon– otherwise it can be expensive. You can find similar ones on Amazon. A two pound block made a ton of miniature soaps.
Here is a list of all the supplies we used:
I already had a variety of chocolate molds, and they can be used for soap, too! This is a music note mold for candy lollipops. I decided to use it for miniature soaps, lollipop style!
Before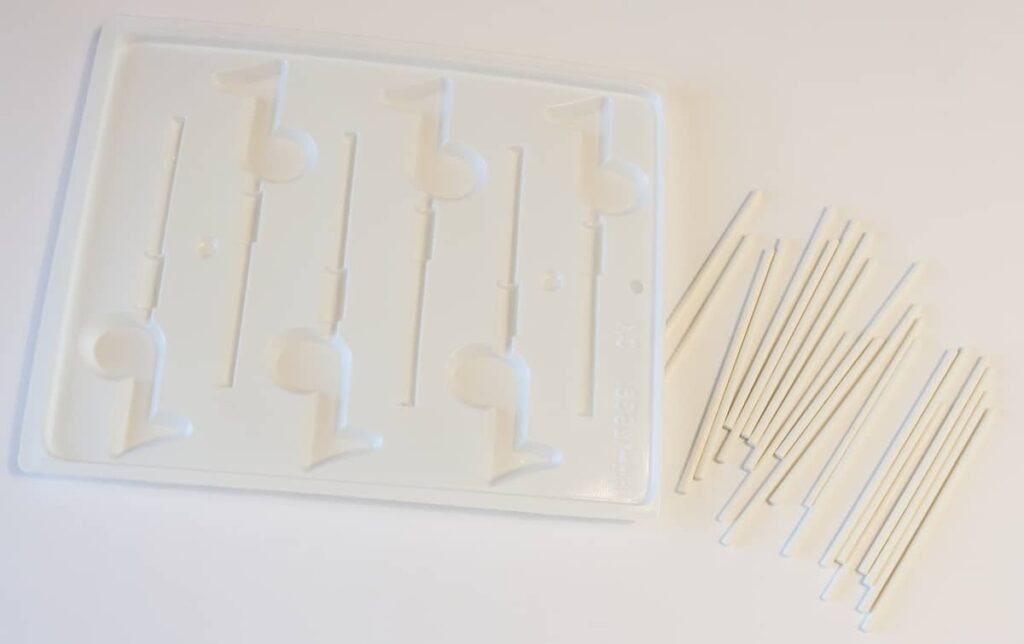 (*This post may contain affiliate links. By purchasing anything from these links, I may receive a small commission at no extra cost to you. More information is available on my Disclosure page.)
If you have ever tried candle making, you know that it can be a waxy mess. Everything is hard to clean up. But with soap making, everything was a breeze to clean up because it was, well, soap! So the soap just washed right off!
In addition to using chocolate molds or silicone soap molds, you can also use flexible ice cube trays as molds! I found these Christmas tree ice cube trays at the Dollar Tree. They were perfect for cute little tree shaped soaps!
Before and After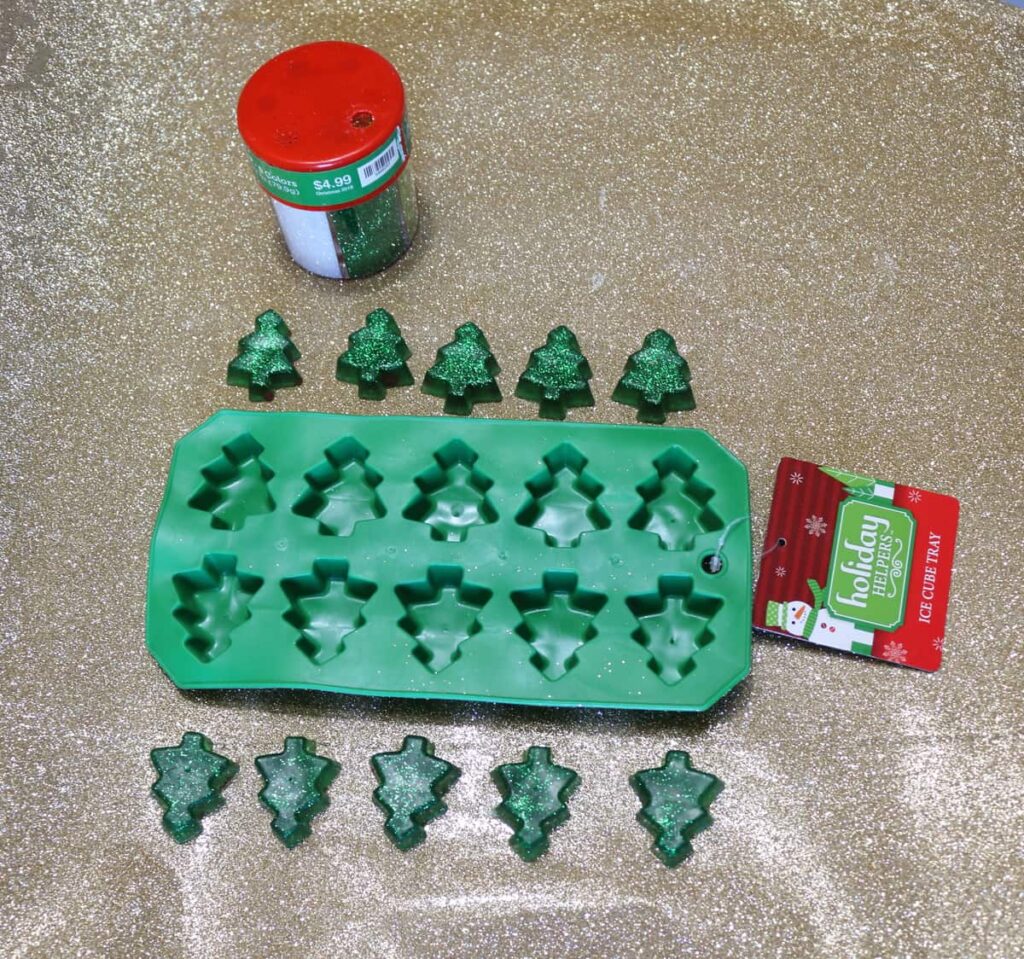 You can melt the glycerin soap base in a quart sized glass measuring cup in the microwave, or you can also melt it on a stove top in a pan. If you melt it on the stove top, then you may want to pour it into the glass measuring cup for easy pouring into the molds.
After we melted the soap base, we added regular food coloring, and glitter. I also added peppermint flavoring. Afterwards, I realized that I had peppermint oil and that I should have used that instead. If we make them again (and we probably will) I will use oil for flavoring.
I have this cute music note mold that I have used before to make crayons. You can see how tiny they are by how many I can fit on a dinner plate!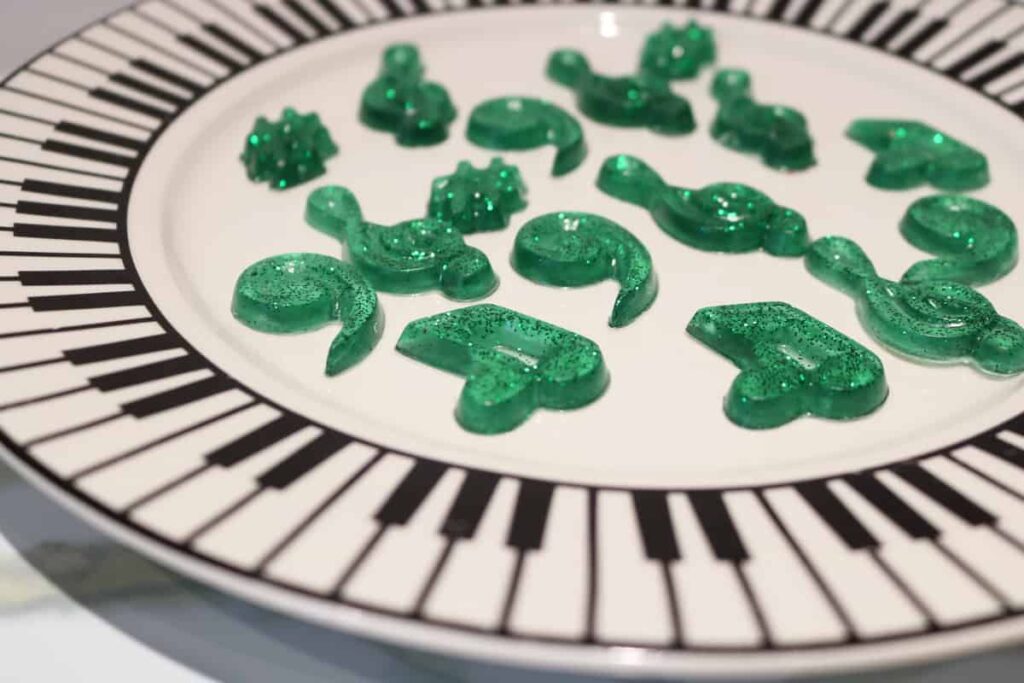 The glitter really added a nice extra touch. We put green glitter with the green colored soap, red colored glitter with the red colored soap, and silver glitter with the dark purple soap. After pouring the soap into the molds, I put them into the fridge to speed up the hardening process. Since the molds were so small it only took a few minutes.
AFTER!!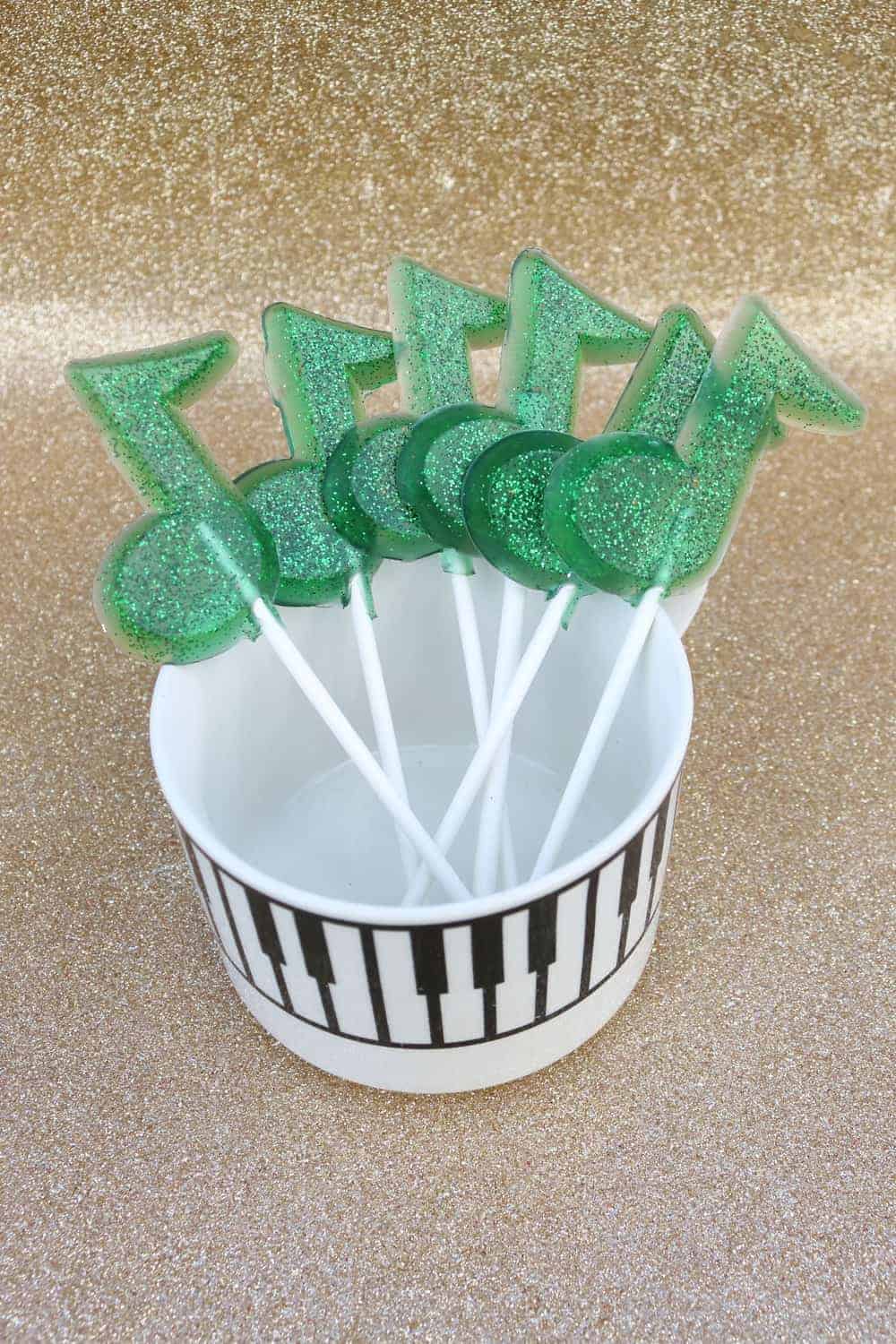 We wrapped each individual soap in a small piece of plastic wrap for gift giving. We mixed Christmas trees with music notes and put several into little treat bags. In the past we usually gave out something edible– so we had to be sure to tell people not to eat these! They are not candy! : )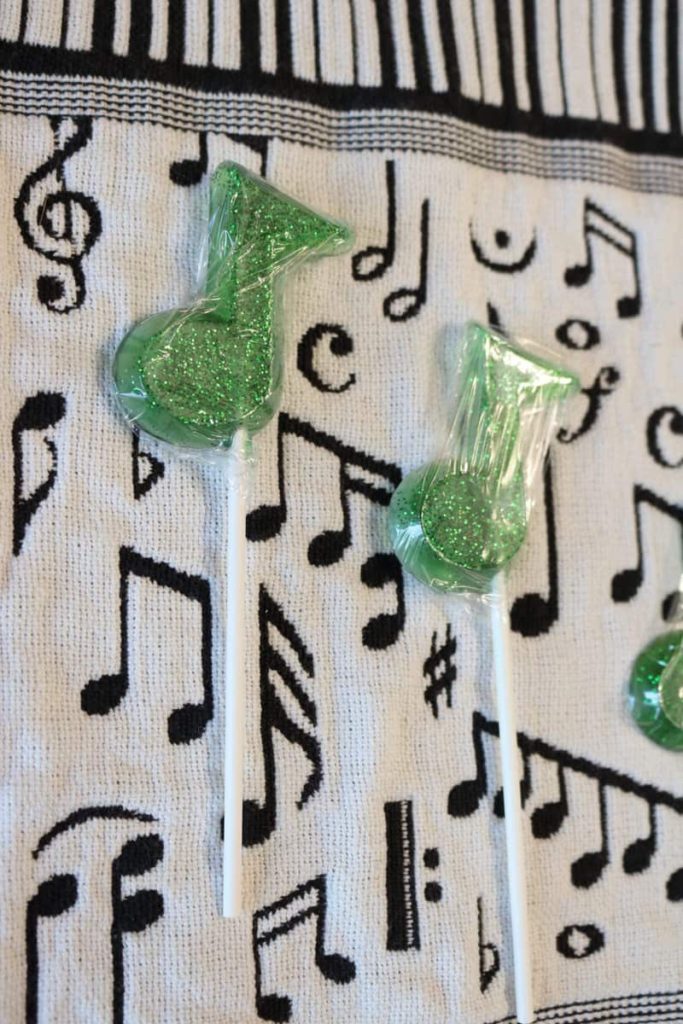 The lollipop molds can be used without the lollipop sticks. I just liked using the sticks for some of them.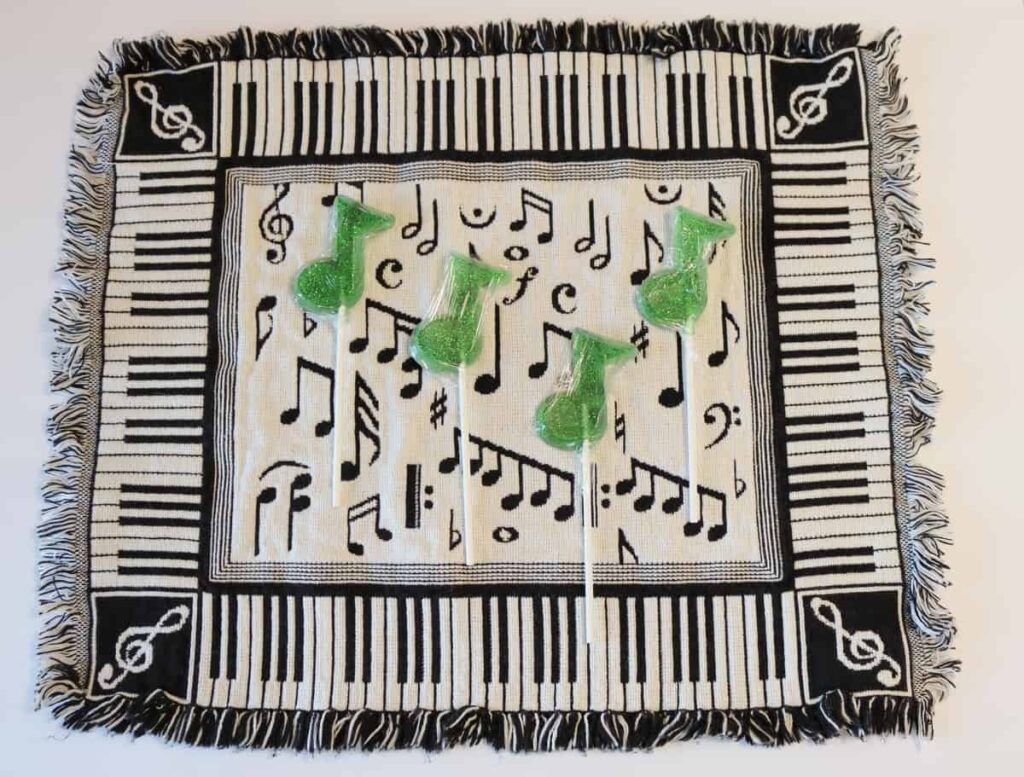 And of course I did make some chocolate music notes, too.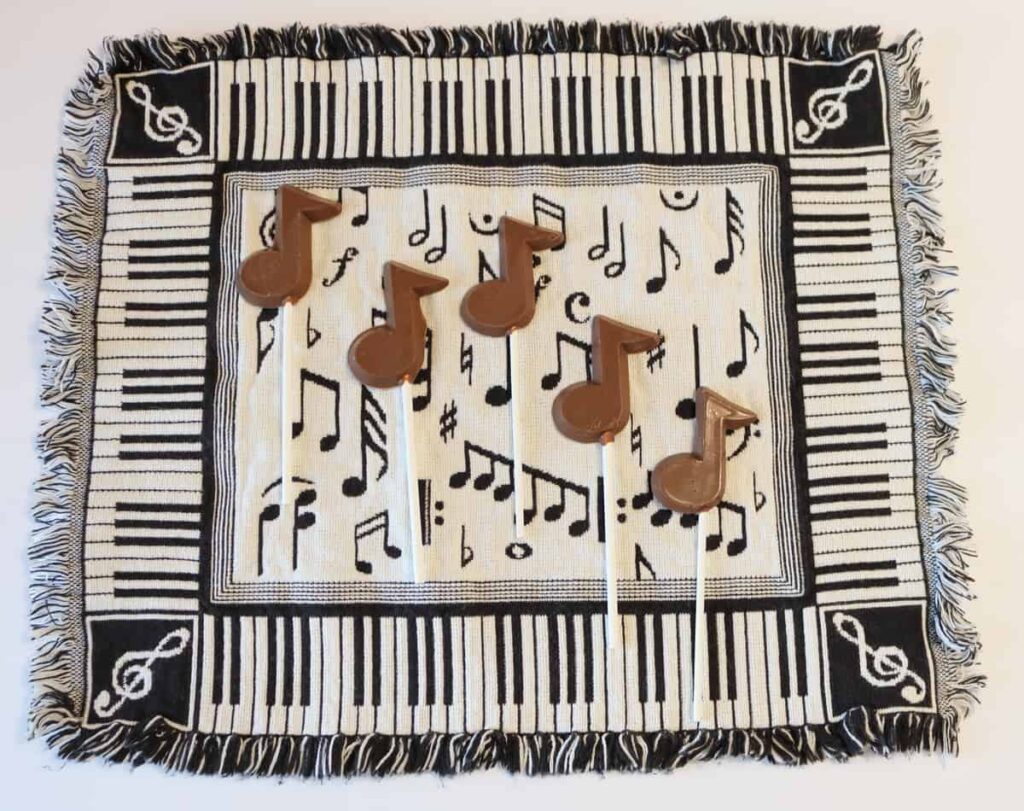 There are so many occasions that you could use these for– baby showers, holidays, birthday parties– just get the appropriate themed soap molds for whatever you need! They also make a great party favor when you need something not edible– for example, if you have guests who are allergic to various foods. Another reason to give an inedible gift is that it does not cost any calories for those who are on a diet or watching their weight.
Wouldn't these make such cute stocking stuffers?!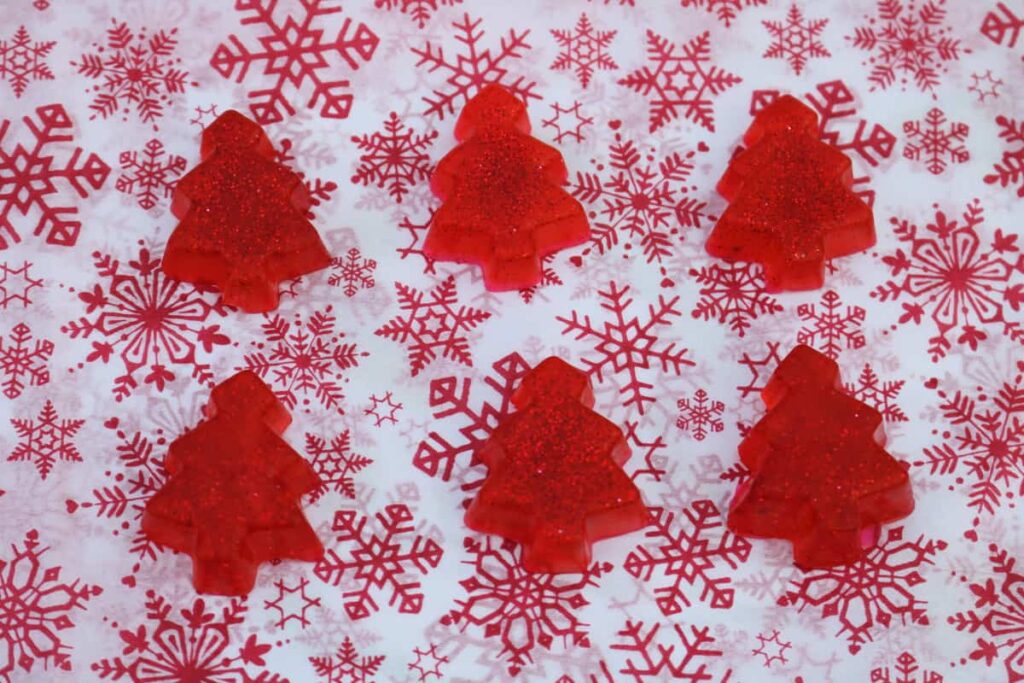 What you can use for soap molds:
ice cube trays
silicone molds
chocolate molds
lollipop molds
candy molds