When I knew that my DIY Fabric Christmas Trees had made it into this year's American Farmhouse Style magazine, I was sooo excited! I looked for people who would want to join me in spreading the word, and found a great group of bloggers and Instagrammers. They agreed to style one of my trees! (I had acquired a small forest of them!)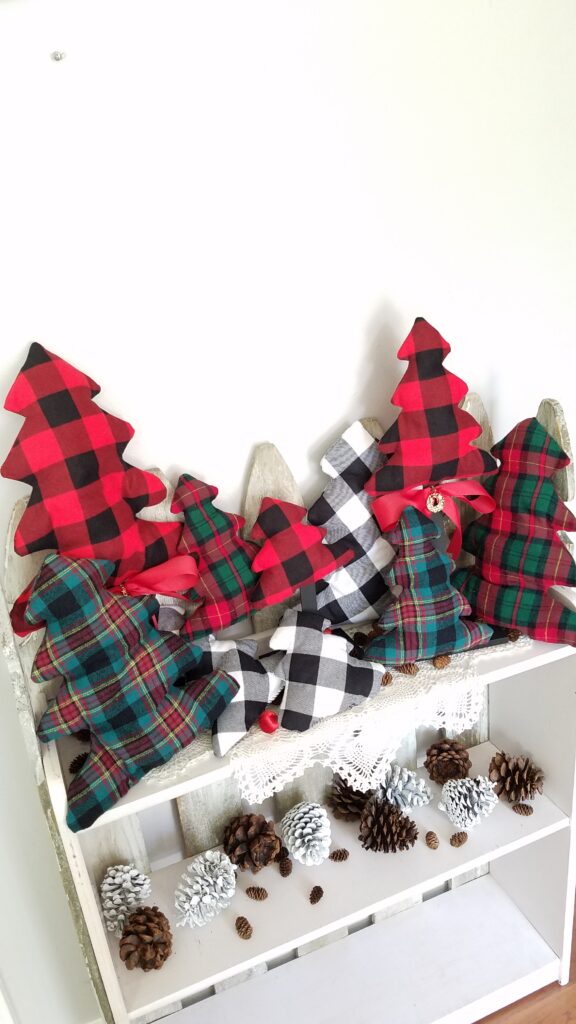 (*This post may contain affiliate links. By purchasing anything from these links, I may receive a small commission at no extra cost to you. More information is available on my
Disclosure
page.)
So I got busy and mailed them off.
Now I'm so happy to share their style ideas with you here! I hope you will stop by and let them know how much you like their ideas!
First up is Stephanie from Gathered in the Kitchen. She came up with several ways to use Buffalo Plaid around the house.
Here is her Instagram post.
Next up is Danielle from Faith and Farmhouse. She styled a tree at her dining table and it is so sweet!
Dee from Cottage Comforts Home has been so encouraging to me, and she suggested I ask Anna from Shabby and Sew Much Mor, on Instagram, to style a tree. Little did I know how much Buffalo Plaid Anna had all over her house, and how much she loved it! Anna agreed, and you can see how she used two trees in her gorgeous Christmas guest room.
Then Jen from A Fireman's Wife shared how she used one of the smallest trees in her kids' area. Doesn't it look like it belongs there?!
Kristin from White Arrows Home is all about everything plaid, all year long– whether it is buffalo plaid or any other kind. It is so neat to see that even her comfy chairs are black and red plaid– matching my tree perfectly! She shares several places she uses buffalo plaid in her home for Christmas time– including a really neat idea for a stairway bunting.
You can see her Instagram here.
[I want to give a shoutout to Marianne Songbird who was going to join us, but was unable to at the last minute. She was also encouraging in her ideas to me, and has a really sweet blog if you want to visit her.]
Last but not least, as the saying goes, is Dee from Cottage Comforts Home. She is welcoming and encouraging, and always has a neat giveaway going on over at her Instagram.
I hope these girls all enjoyed this Plaid Christmas tree collaboration as much as I did.
If you don't have a copy of the magazine, it's not too late to get your own!
If you want to make your own trees, here's where you can find the patterns.
And…. I'd love for you to follow us for more great ideas over at our Buffalo Plaid Pinterest Board.