Toilet Paper Tree
*This post may contain affiliate links to websites such as Amazon. By purchasing anything from these links, I may receive a small commission at no extra cost to you. More information is available on my Disclosure page. I appreciate your support!
Today another group of crafters have joined together with a group of crafts to show you! Thank you to Chloe at Celebrate and Decorate for inviting me to join this Blog Hop. If you are here from Calypso in the Country, then welcome! I encourage you to visit all of the bloggers that are linked at the end of this post.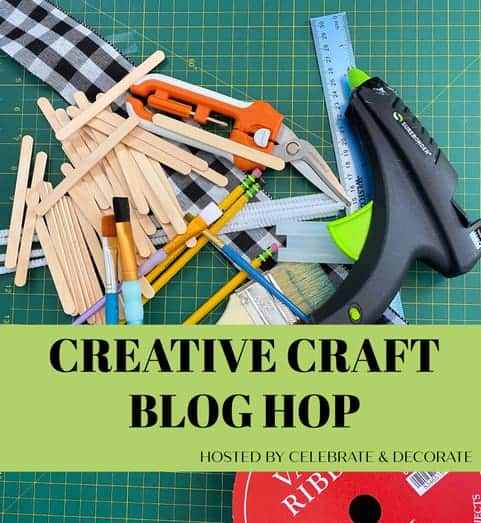 When I last posted about my newest pine cone tree decorations, I asked if anyone had any suggestions for me. Sure enough, Amy from Ms Goody Too Shoes had an idea. She said I should create one using toilet paper! That has become quite the symbol here in the USA of the Covid-19 coronavirus pandemic stuff that has put the world on pause. So I decided to join the ranks of those creating other toilet paper themed things like cakes and jewelry.
While I do understand the seriousness of the situation (and I hope you have enough of the essentials), it is also true that Laughter is the Best Medicine. One of the funniest memes that I've seen the past two months is the one that said, "Back in my day toilet paper was so plenteous that we used to hang it from the trees of our enemies!"
Everyone, Meet my Toilet Paper Tree!
The Garland
This tree began with some Dollar Tree Tube Confetti. When I saw it several months ago, I thought that it looked like seed beads. Just think! All of these "beads" for one dollar!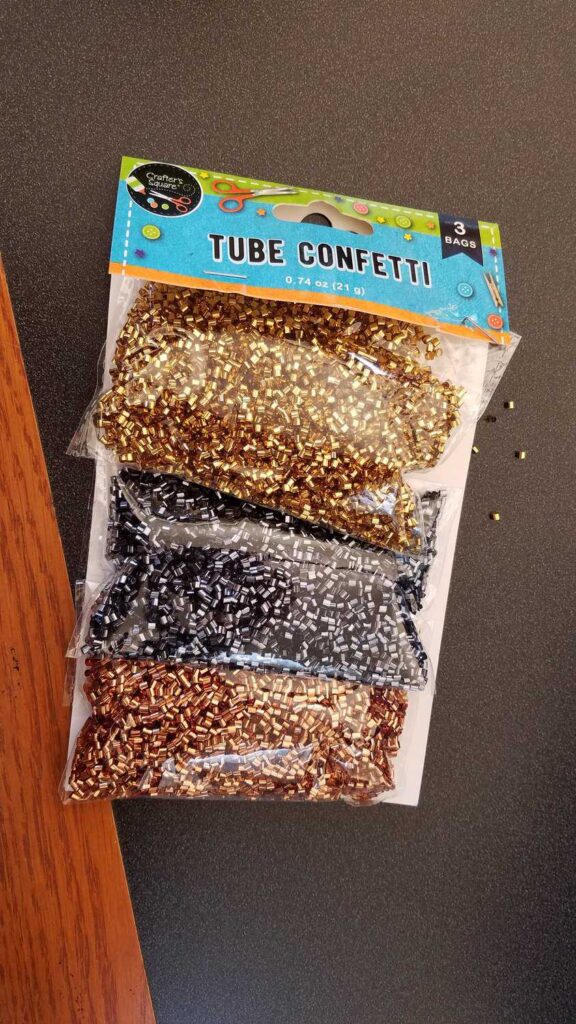 Here is a closeup. Being made of metallic foil, this confetti is not very strong. Some of theme are not complete tubes, and so they don't stay on the string. But it was worth the price.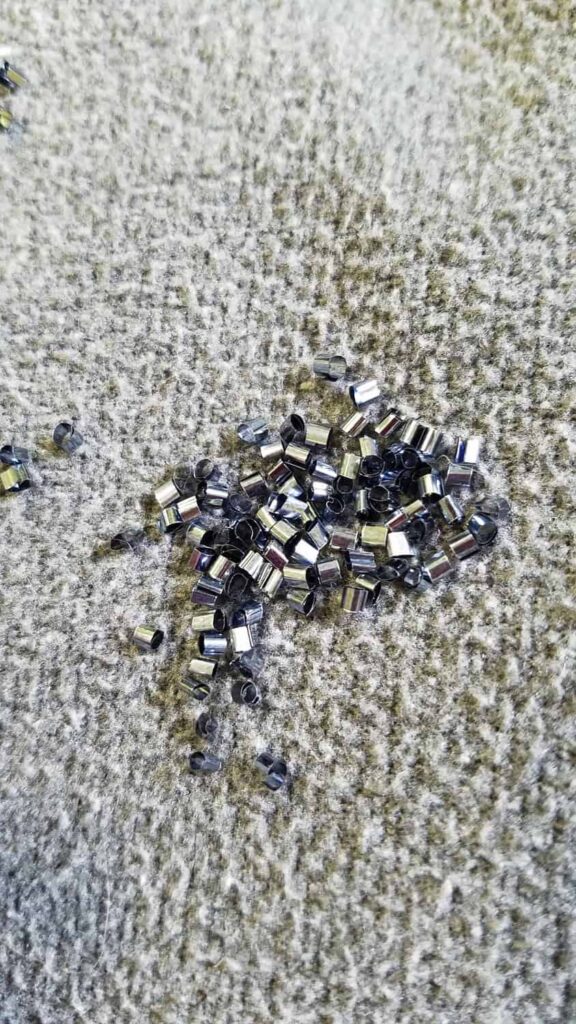 I would poke a bunch of them onto the needle, and then push them along on my string. I used doily thread for my string.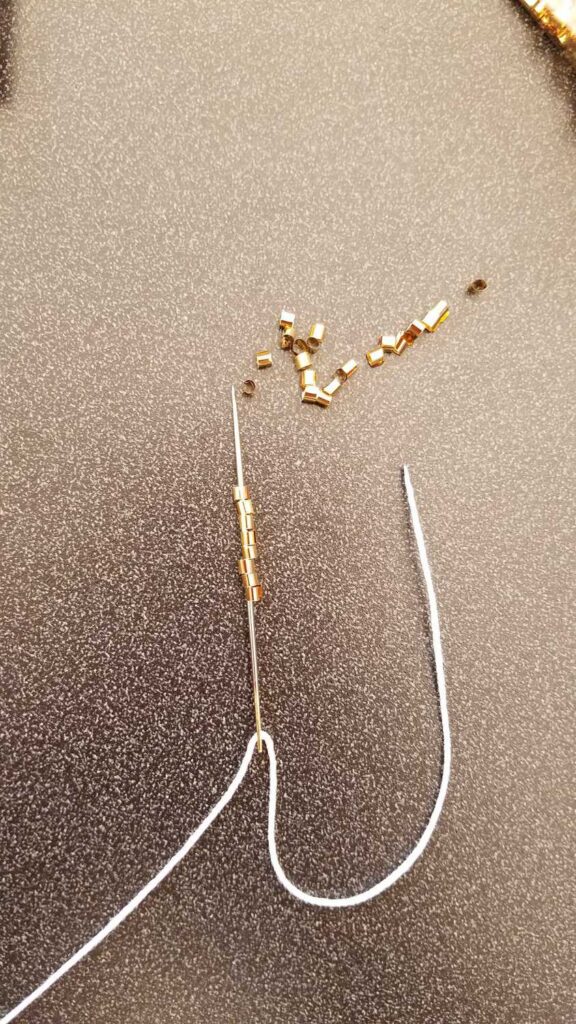 I made garlands with all three colors, but only used two colors on my tree.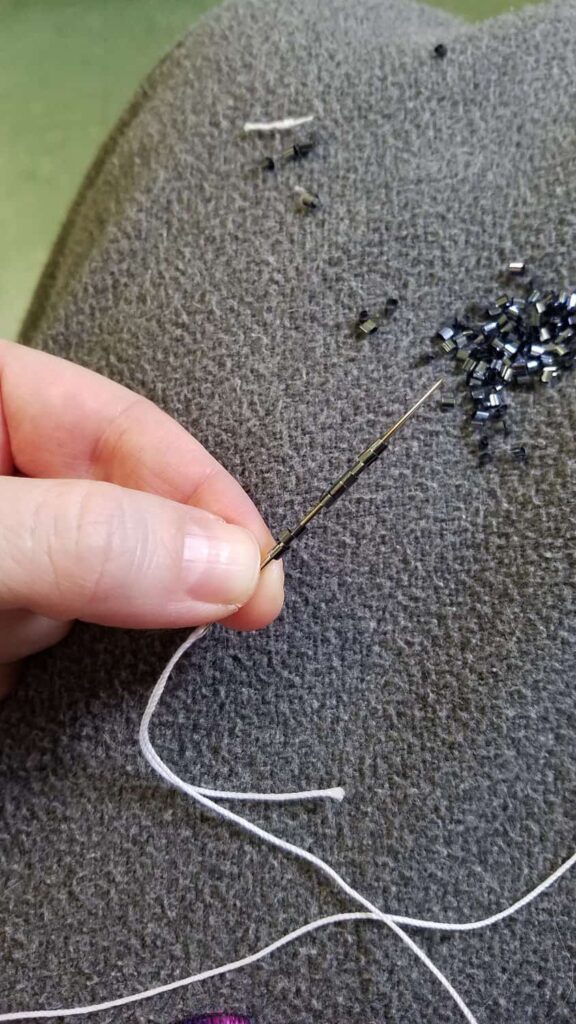 Mini TP
Next, I made faux miniature toilet paper rolls. I used my Cricut Maker to cut the felt for my toilet paper, but you don't have to have one. You can just cut out the felt with scissors.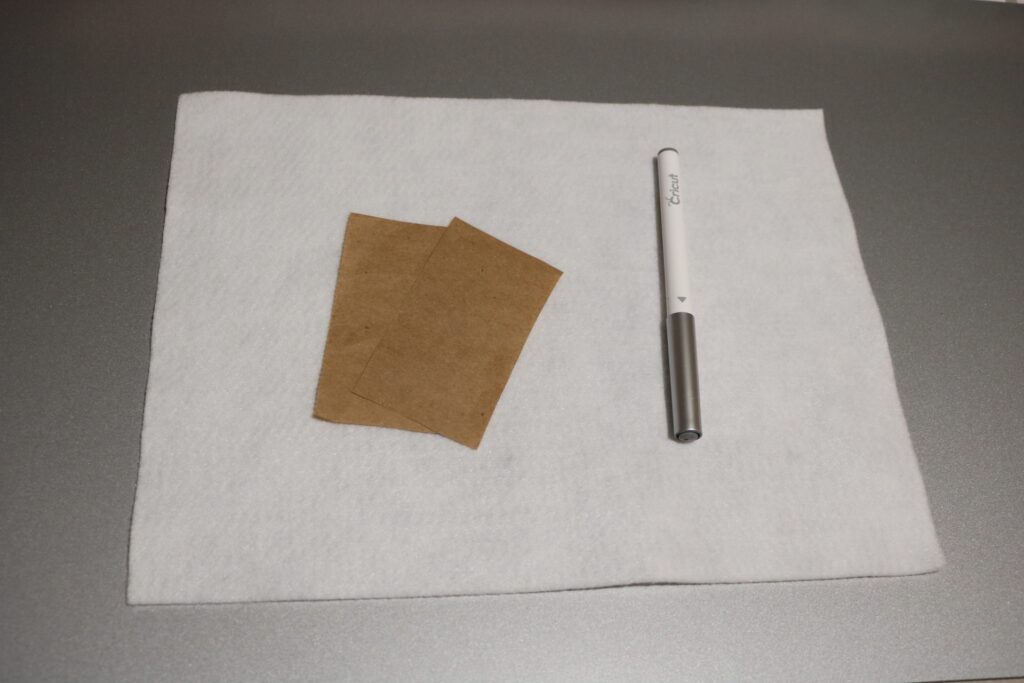 I made three different designs– plain straight, torn off, and hotel triangle. Which one is your favorite? My family liked the torn off ones.
I used my silver Cricut marker to put dotted lines for the toilet paper squares.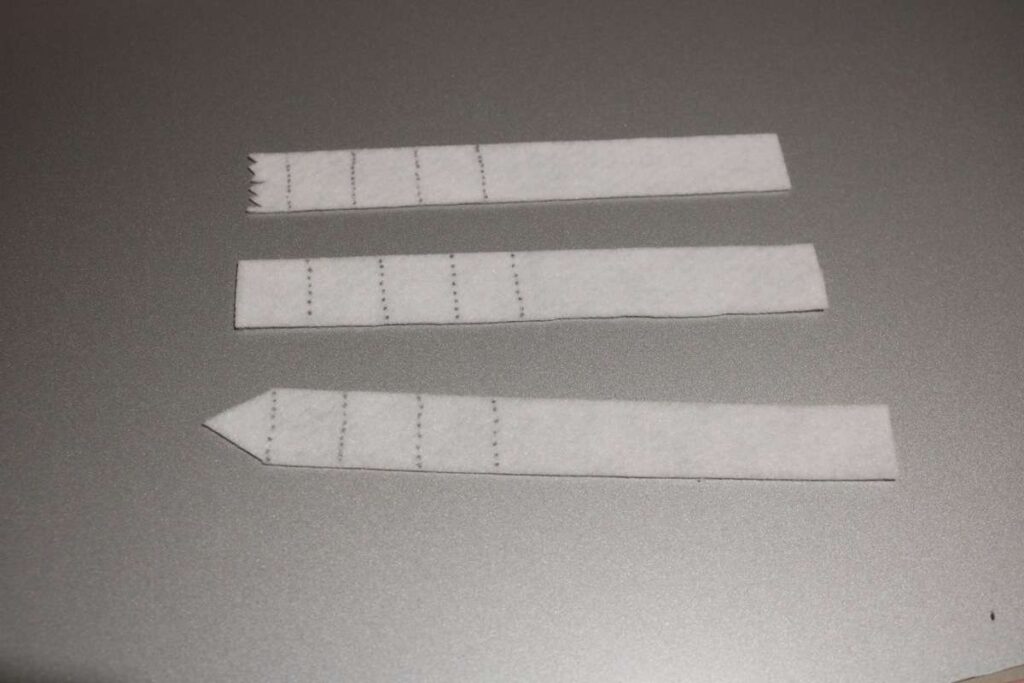 I folded the brown packing paper pieces in half and rolled them around a straw. Then I rolled the white felt over the miniature tube I had just made. To keep it from unrolling I attached a little hot glue.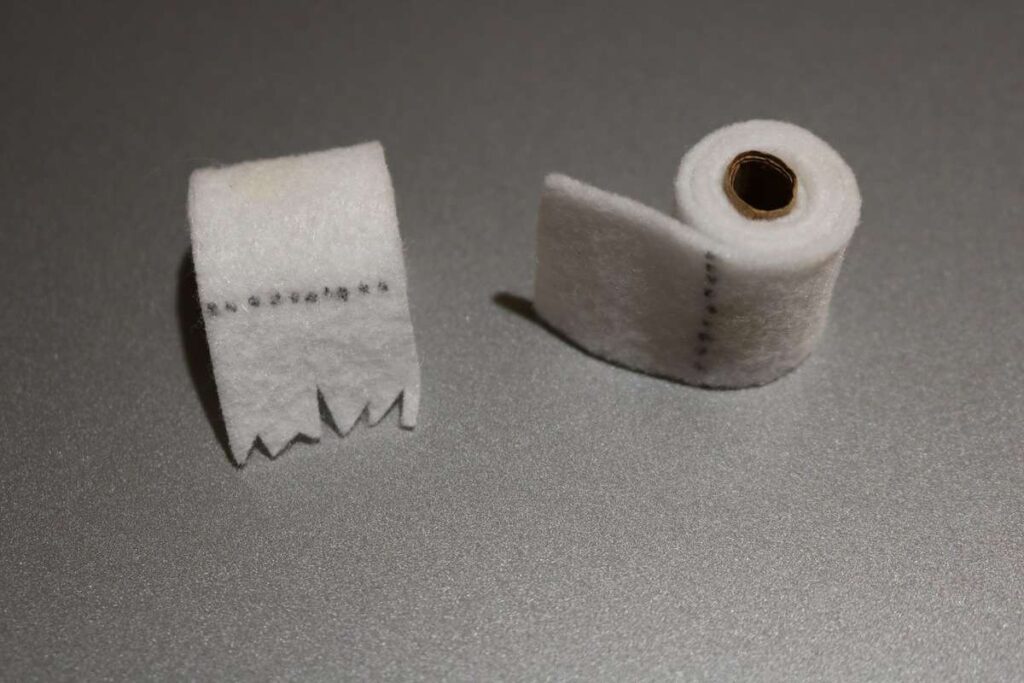 Whoever would have thought that miniature toilet paper rolls would look so cute?!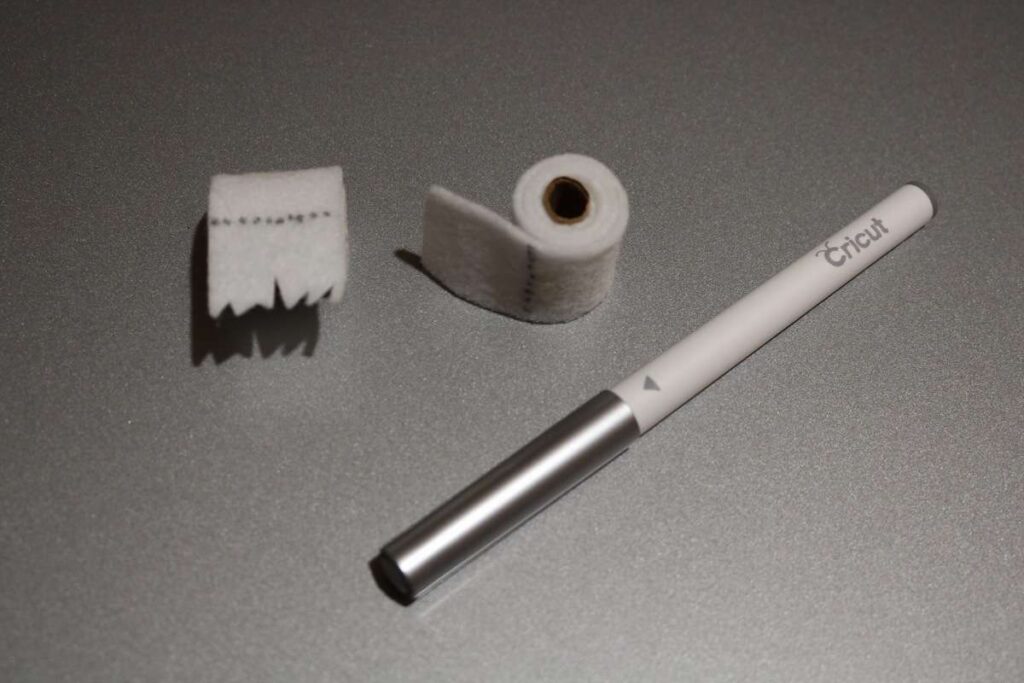 In order to hang the miniature rolls on the tree, I strung them on the pewter garland first.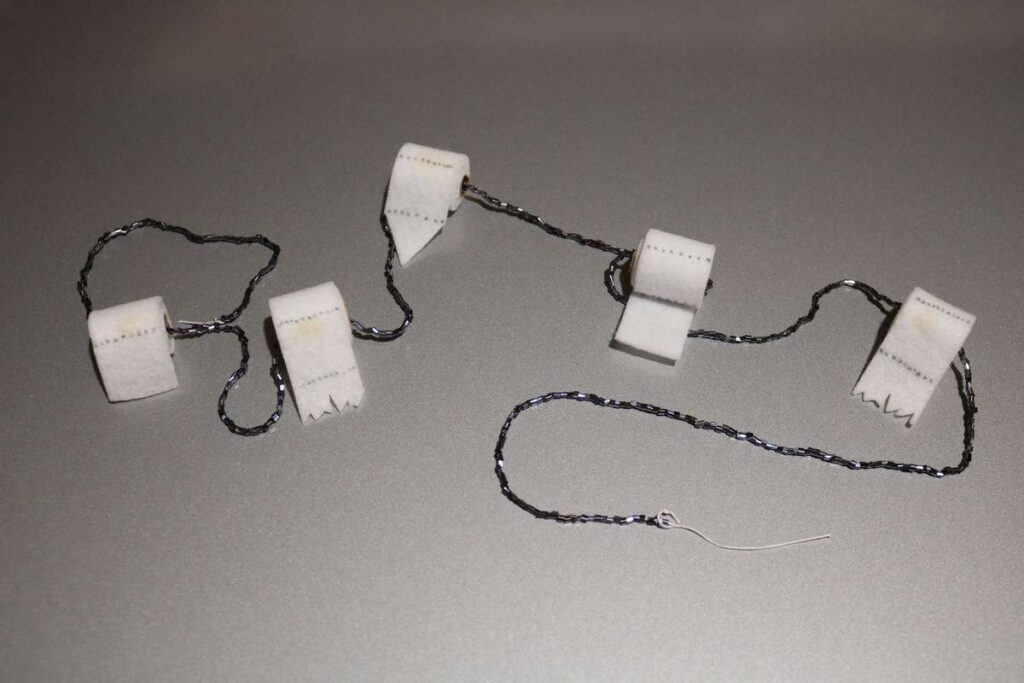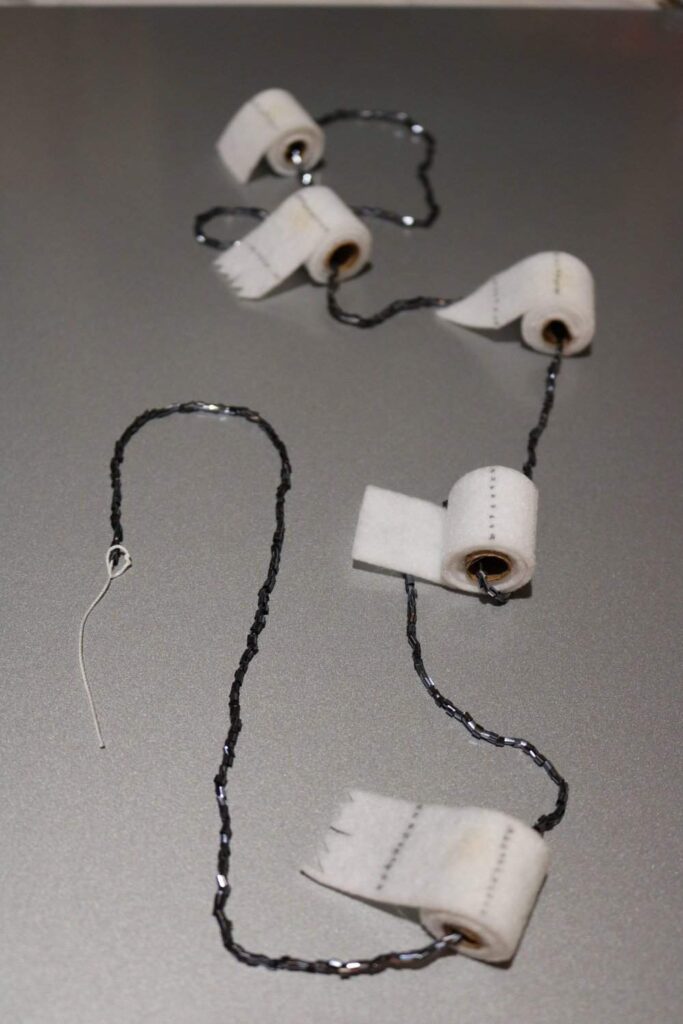 The Topper
Now you know I had to make a topper for this fantastic mini toilet paper tree!
I used a brown cardboard tube from a roll of deco mesh, and some crepe paper.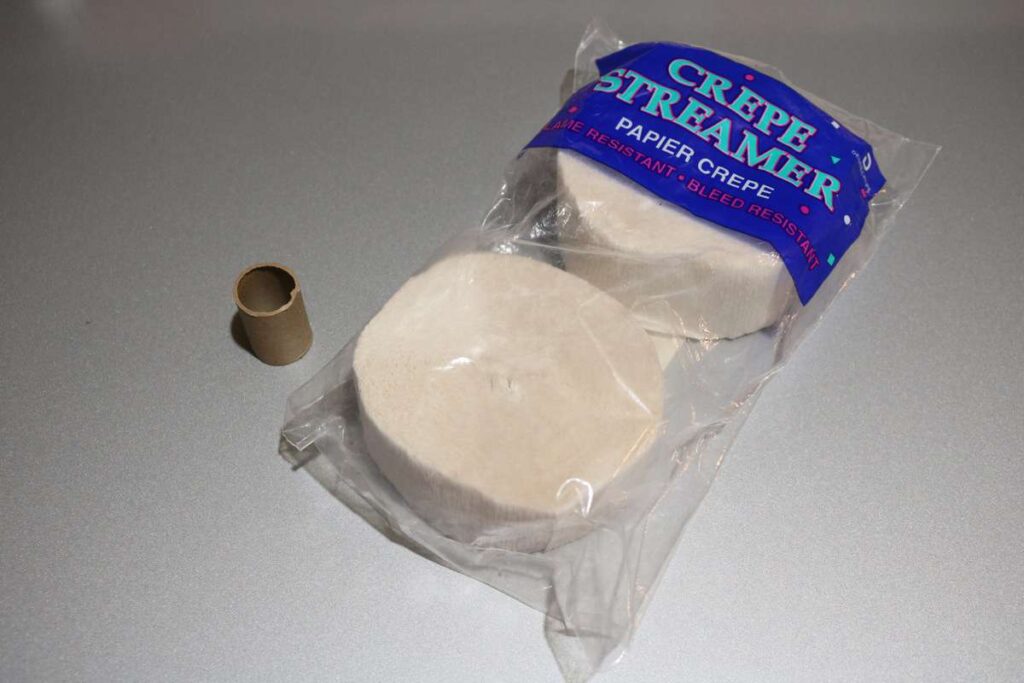 I did not roll up all the paper. I pushed a middle section out of the streamer paper. Then I pushed the center out of that, enough to make room for the cardboard tube. I decided not to add an lines for squares on this one.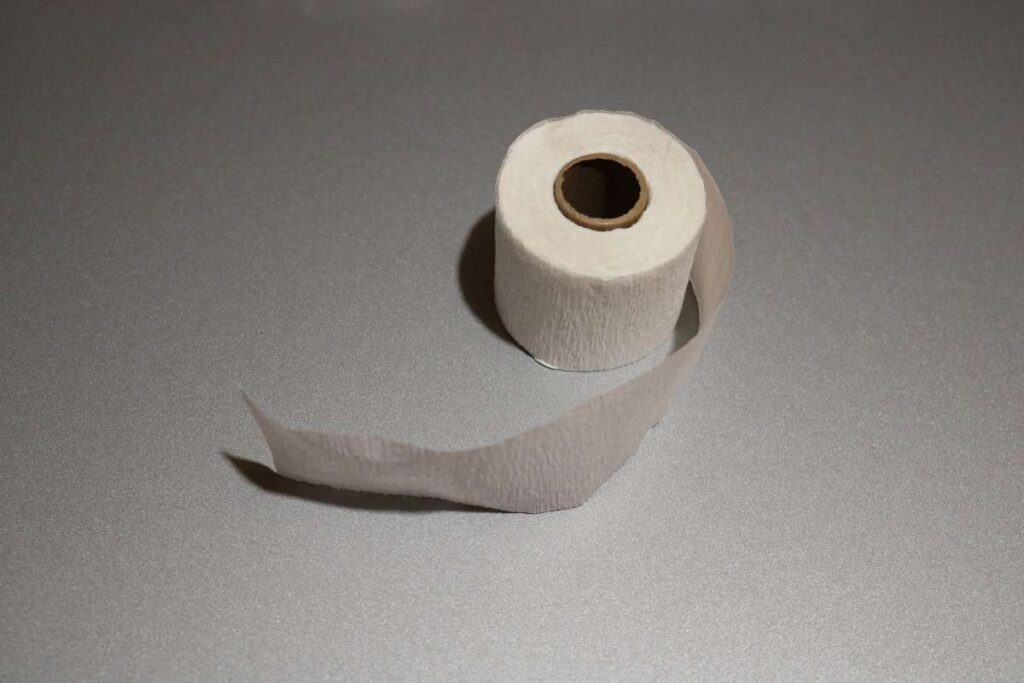 So the topper is still a mini roll of "toilet paper," but it is larger than the very tiny ones.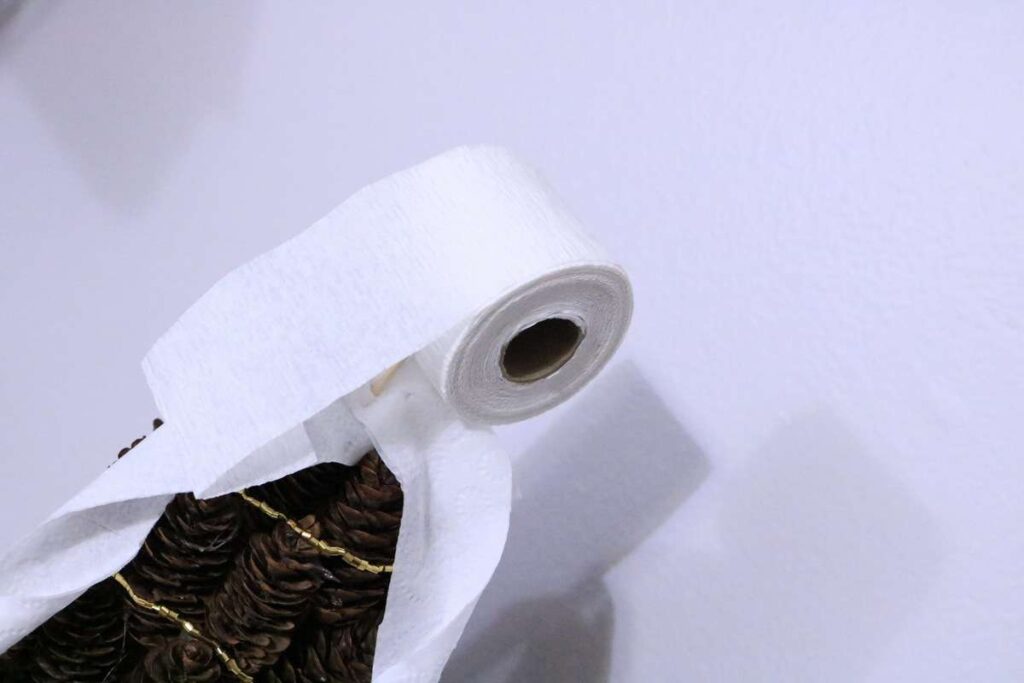 Before adding the topper, I used real toilet paper as streamers going down the sides of the tree. Here is a closeup– on the left you can see the print pattern. (Only 4 squares of real toilet paper were sacrificed for this craft.)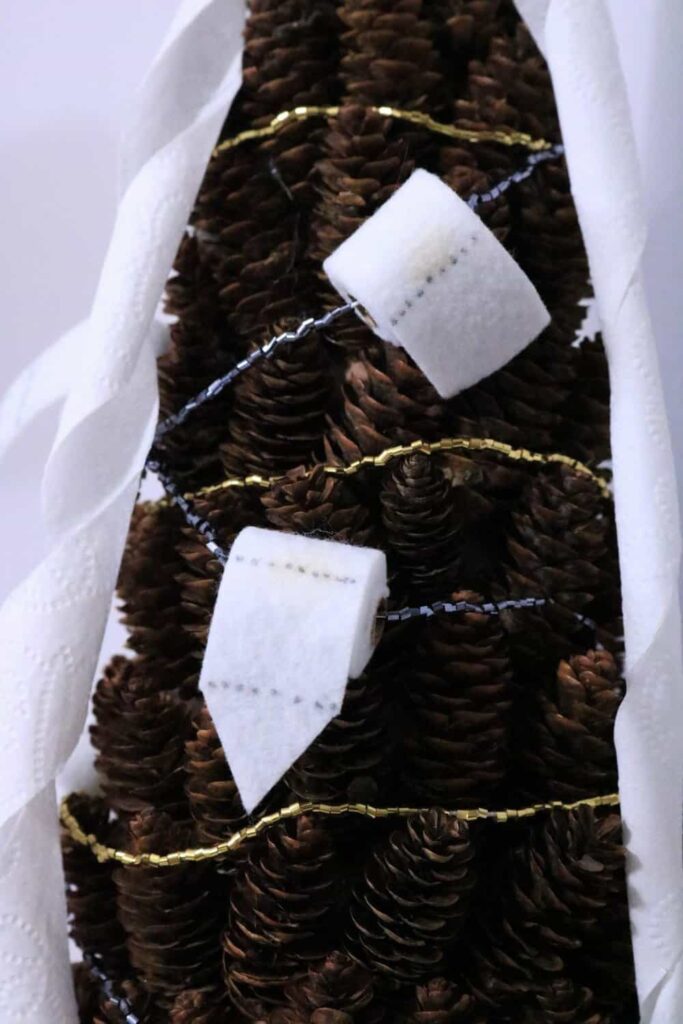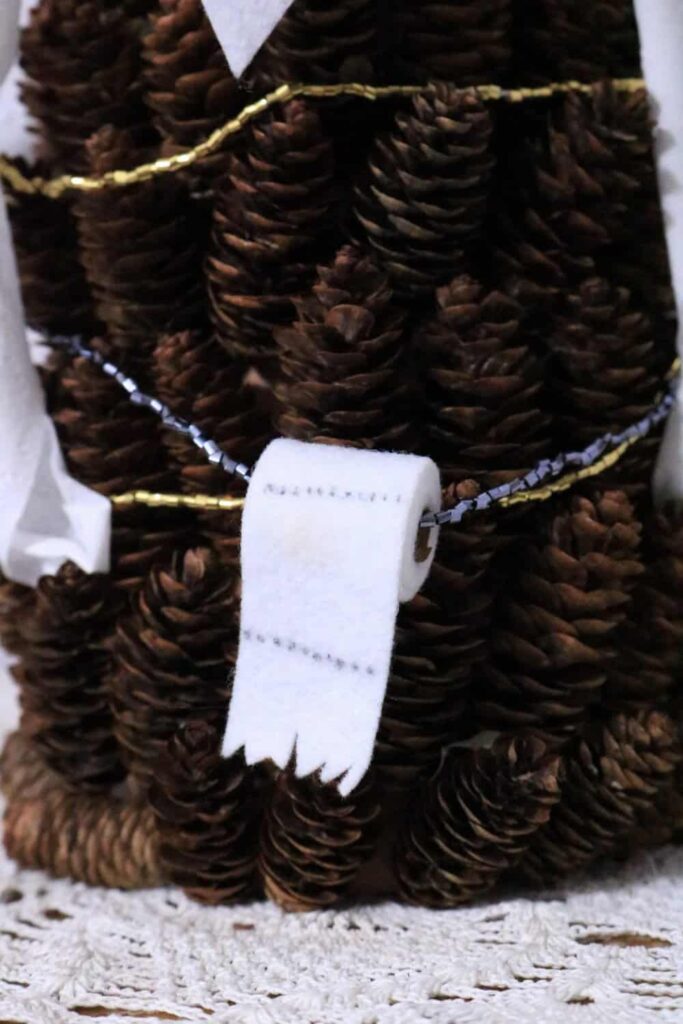 AFTER!!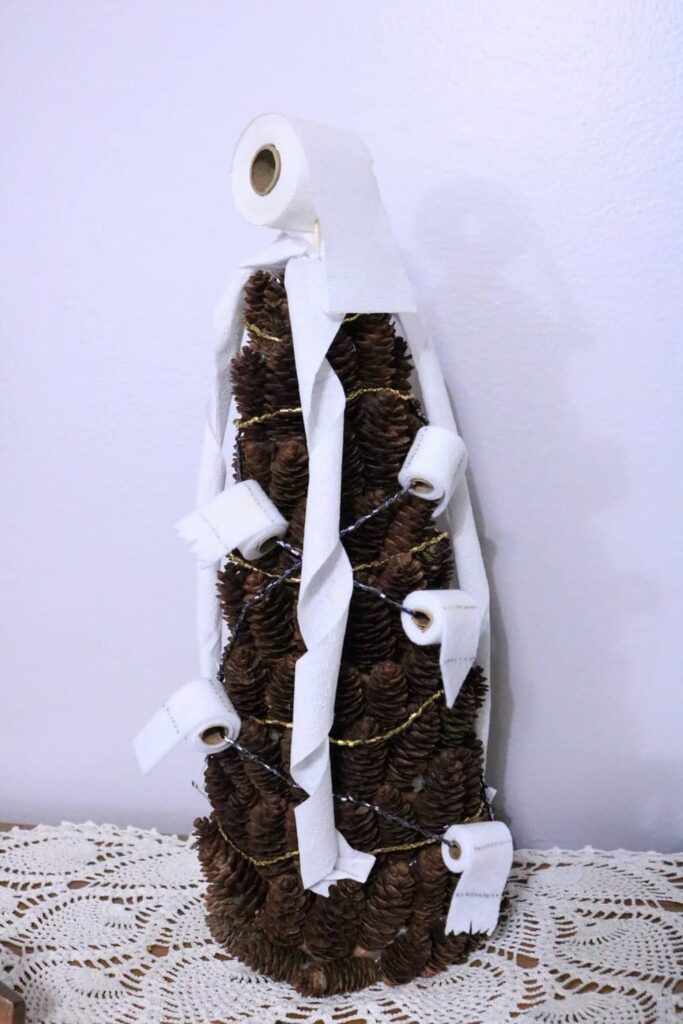 Here is the tree pictured beside a real roll of toilet paper for perspective.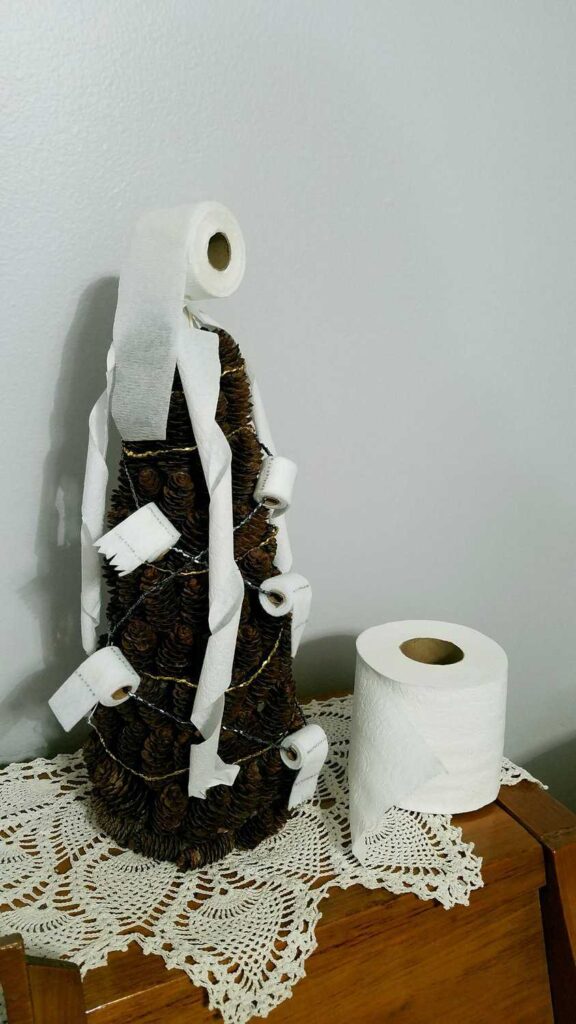 I hope that seeing my Toilet Paper Tree today has made you smile. Don't you wish that Toilet Paper did grow on trees? : )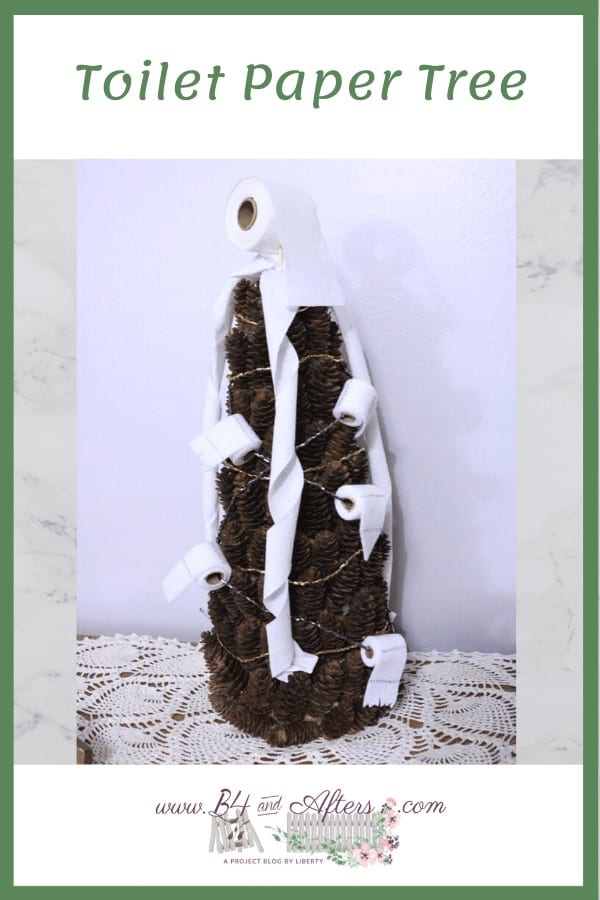 Purple Hues and Me is the next stop, if you are visiting everyone in order.
Celebrate & Decorate
At Home With Jemma
Hearth and Vine
My Hubbard Home
My Thrift Store Addiction
Home is Where the Boat Is
The Painted Apron
Chas' Crazy Creations
Harbour Breeze Home
My Family Thyme
Sustain My Craft Habit
Birdz of a Feather
Decorate and More with Tip
Our Crafty Mom
Design Morsels
White Arrows Home
Create With Cynthia
Debbee's Buzz
Calypso in the Country
B4 and Afters
Purple Hues and Me
Bluesky at Home
Raggedy Bits
Faeries & Fauna Craft Co.
Elle Marie Home
Zucchini Sisters




You can see all of the other Pine Cone Tree versions in the collage below.