Today I am excited to tell you about a Scarf, Yarn, and Pattern giveaway hosted by me and Alexandra of Eye Love Knots. You may remember last year that I showed you some gorgeous knitted scarves and did a giveaway last year, too.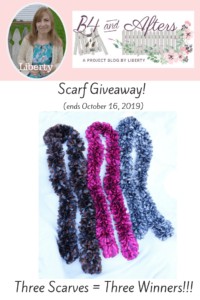 (*This post may contain affiliate links. By purchasing anything from these links, I may receive a small commission at no extra cost to you. More information is available on my
Disclosure
page.)
This year's giveaway is a little different. Keep reading to find out all the details!
This post is part of a monthly Craft Hop hosted by Celebrate and Decorate. If you are here from My Thrift Store Addiction – Thrifty Tips for Crafting Seasonal Pillows then Welcome! The rest of the fall craft ideas will be listed at the end of this post.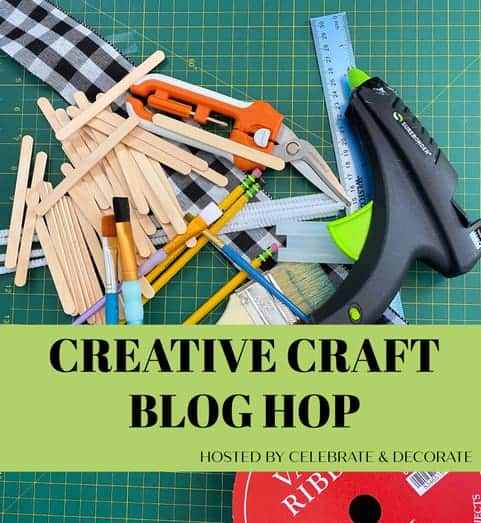 I was out shopping awhile back when I came across more yarn! And it was in a different color! It was this gorgeous pink and purple!!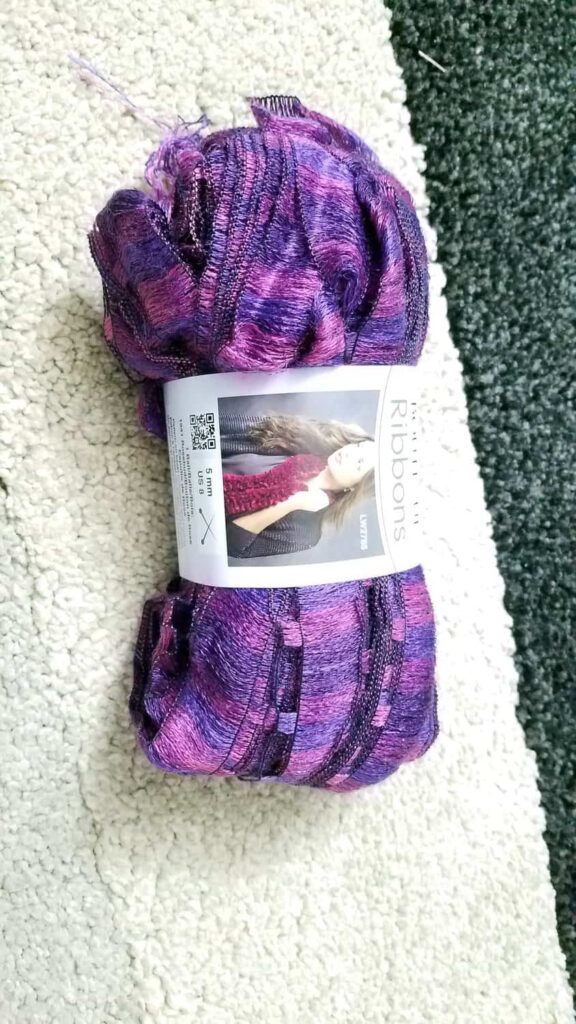 Well, you know I had to buy a lot of it because—well, it was only $1 each and I can make one whole entire scarf for one dollar!! Isn't that so fun??!!
And then I thought, why not have another giveaway…. But maybe instead of just a knitted scarf, what about a crocheted one?
Crocheted Scarves
So my friend Alexandra from Eye Love Knots decided to join me and design a crochet scarf pattern using this oh-so-fun ribbon yarn. She made two different versions. The first one is named "Haylee Sashay."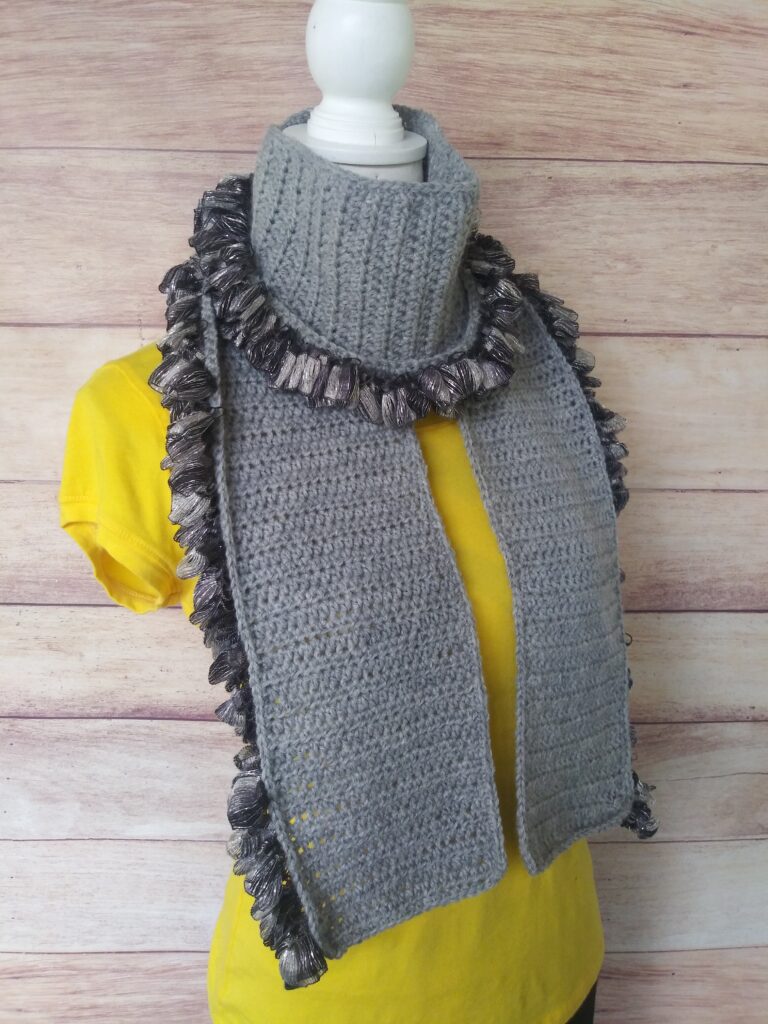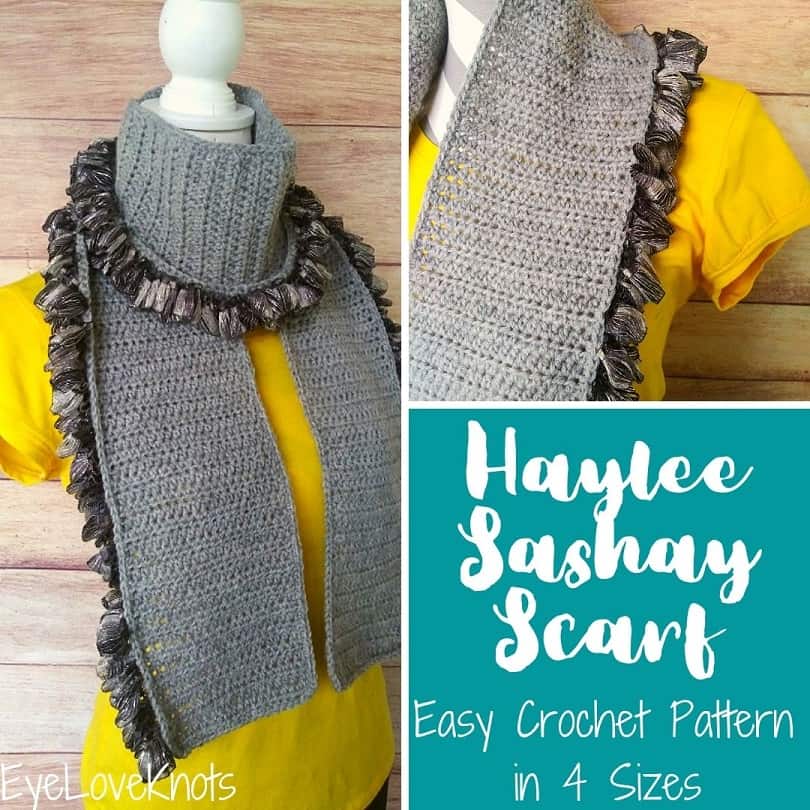 The second scarf is named "Fae Haylee Sashay."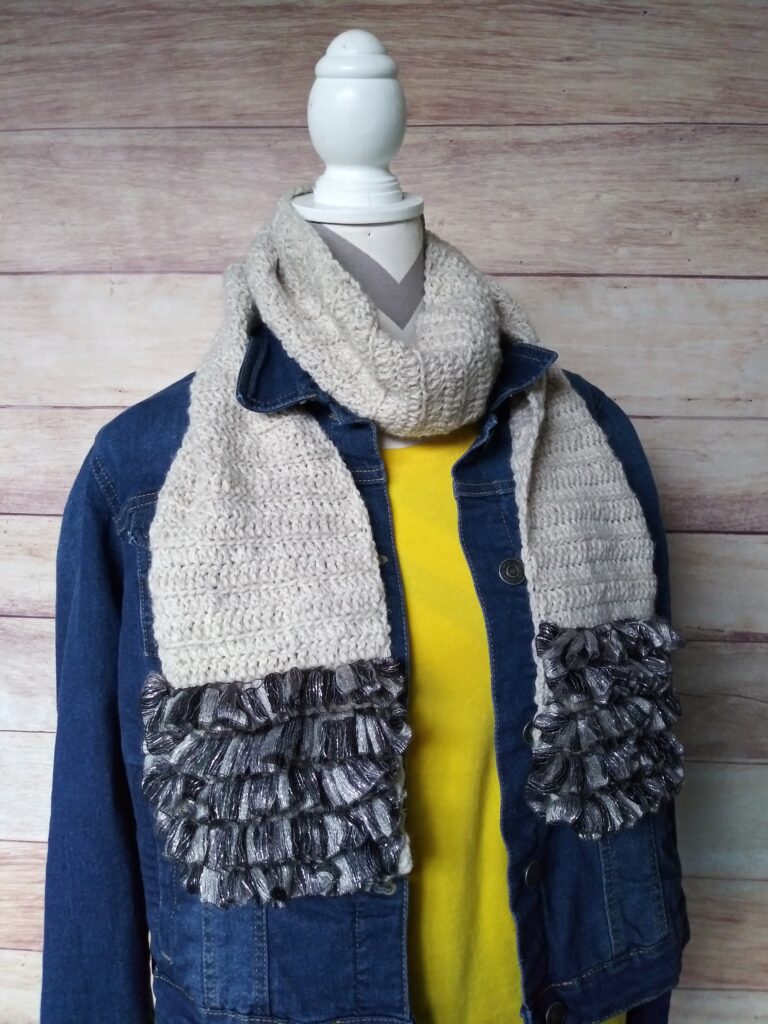 Aren't they so pretty?! And these crocheted scarves use two kinds of yarn. That means that with one skein of the ribbon yarn, you can make more than one scarf if you wish!
By the way, you can get Alexandra's crochet scarf patterns right away if you don't want to wait for the giveaway…. they are available on Ravelry at Haylee Sashay and Fae Haylee Sashay.
Knitted Scarf
Of course I had to knit a scarf using the new pink and purple yarn.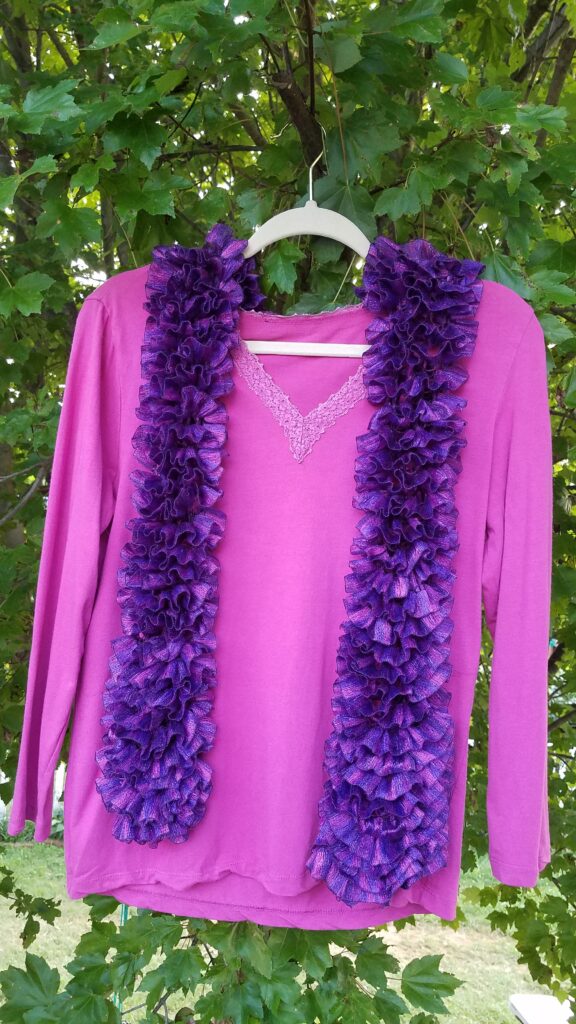 Here is a video of how I finished the black scarf so that you can see how I knitted with this ribbon yarn:
If you have a scarf like this, you may notice that they get twisted up. I made a video to show you how I untwist mine.
I just love this new color so much!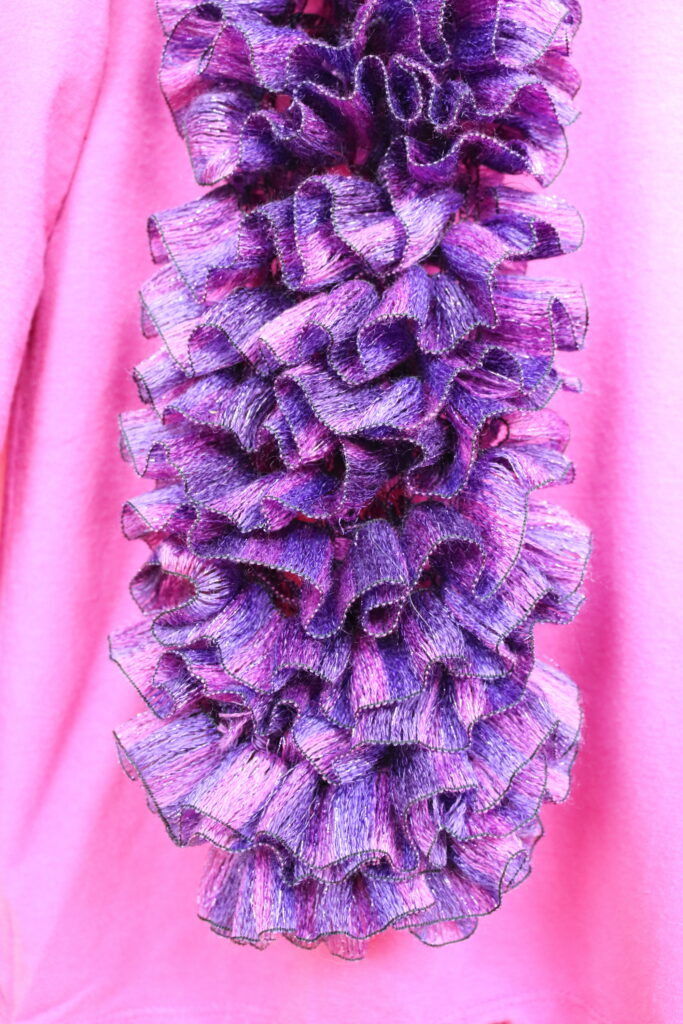 I also love that you can wear scarves so many different ways…. (By the way, have you been using your gauzy scarves for face masks, like I have? I just tie them behind my head, letting it rest on my hair clip…. You can see pictures on my Instagram.)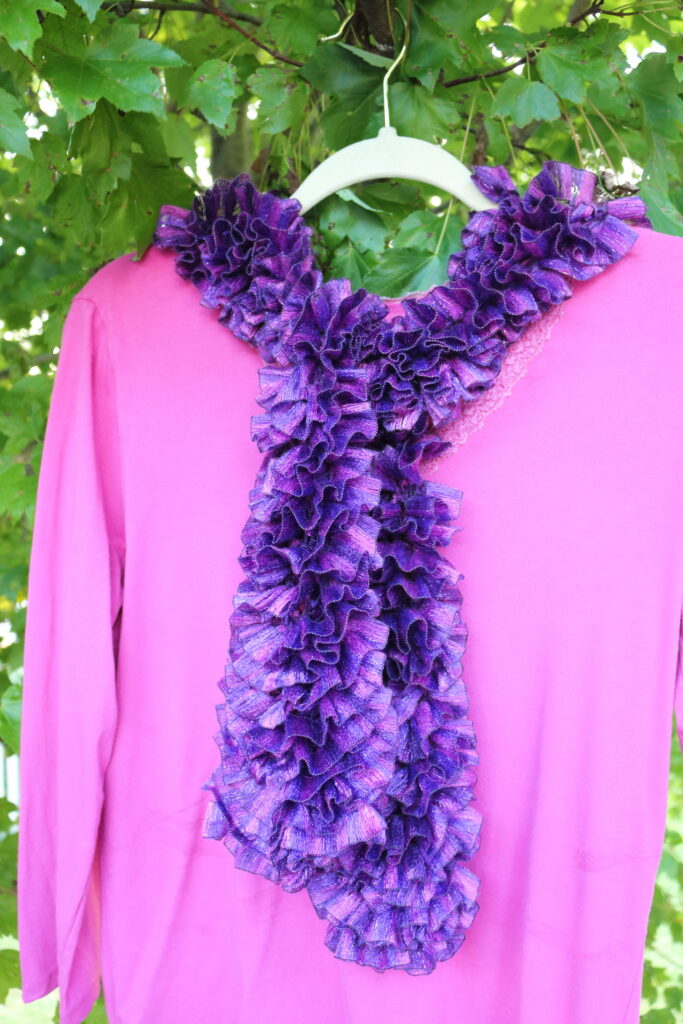 Are you ready to hear what we are giving away???
We are giving away patterns.
We are giving away yarn.
And….
We are giving away three scarves!!
Isn't that exciting?!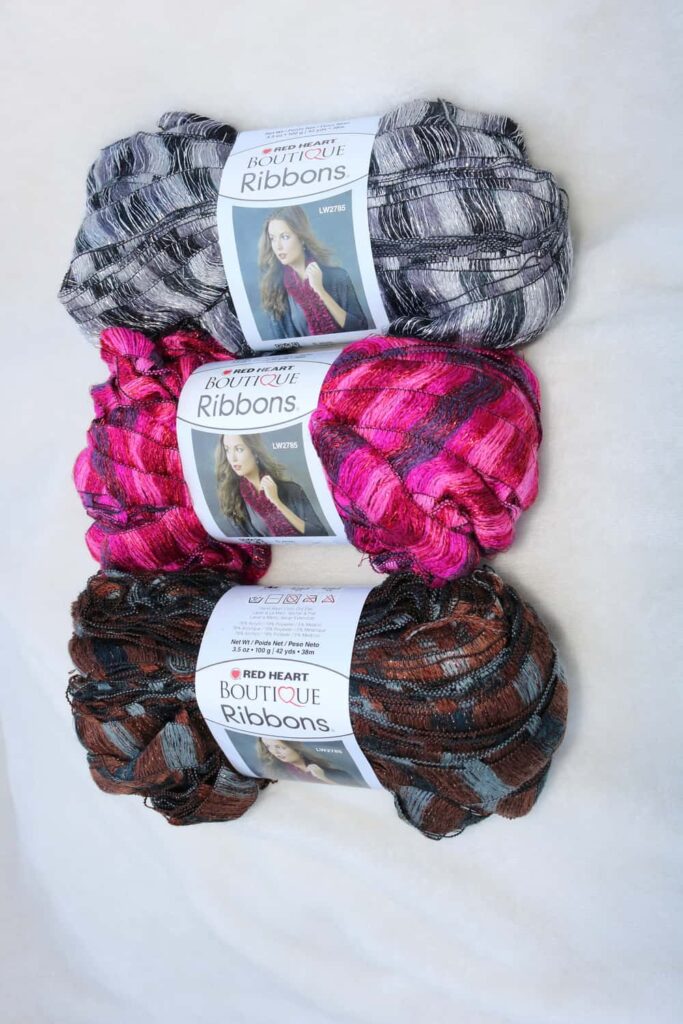 So whether or not you crochet or knit, you can still enter to win one of the scarves!
Giveaway Details
We will be choosing NINE winners!!! Three people will get scarves, three people will get patterns to the crocheted scarves, and three people will get yarn! Isn't that fun?!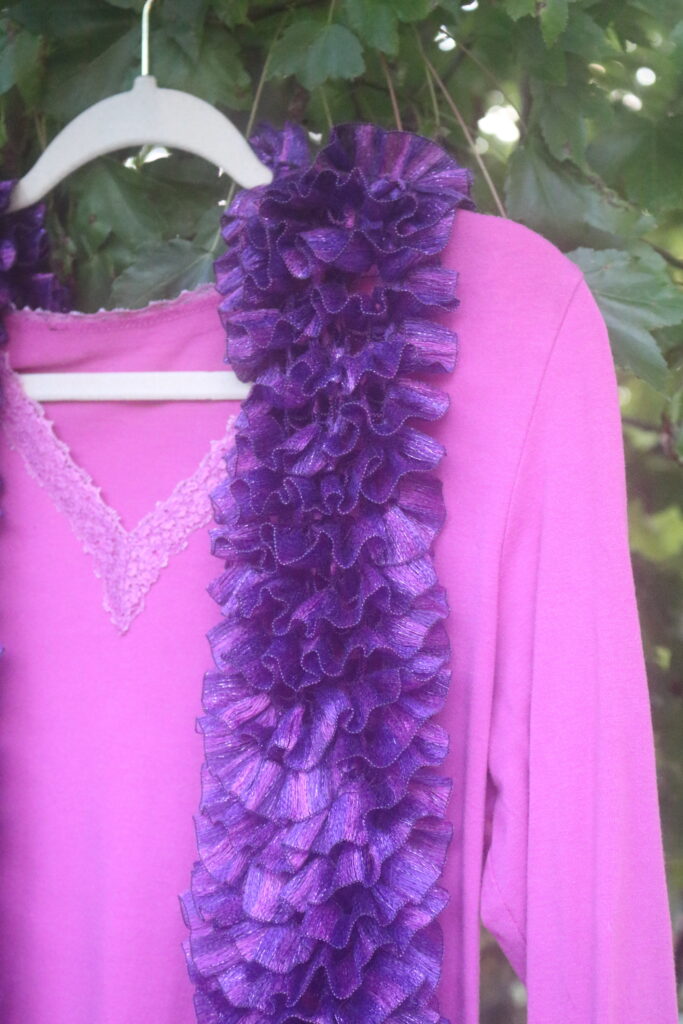 You have a chance to win one of the following:
My knitted scarf
Alexandra's crocheted scarf one
Alexandra's crocheted scarf two
Alexandra's crocheted scarf one Pattern
Alexandra's crocheted scarf two Pattern
Ribbon yarn in pink/purple
Ribbon yarn in green/brown
Ribbon yarn in black/silver
Ribbon yarn in hot pink
The Giveaway will end 10 days from today. To enter to win, click on the Rafflecopter below. You can do some or all of the suggestions. Doing more of the suggestions gives you more chances to win. Have fun and best wishes!
a Rafflecopter giveaway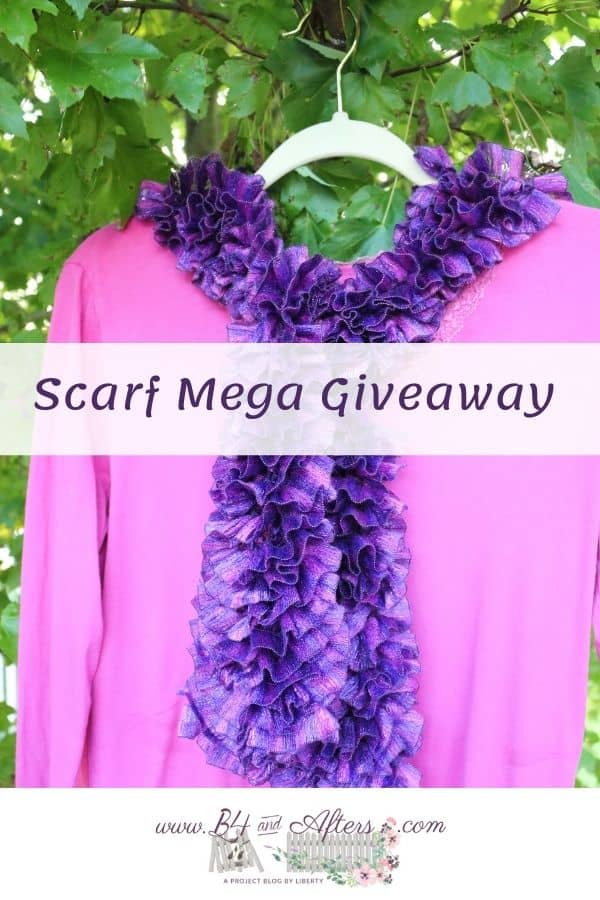 Here are all of the other Craft Ideas this month! If you are visiting us in order, Debbees Buzz – Sweater Pumpkin is next. Enjoy!
Celebrate and Decorate – Luxurious Wreath for Fall
Design Morsels – Simple Succulent Wreath
Chas' Crazy Creations – Breast Cancer Awareness Wreath
Birdz of a Feather – Cement Planter DIY
My Thrift Store Addiction – Thrifty Tips for Crafting Seasonal Pillows
B4 and Afters – Crochet Scarf Patterns
Debbees Buzz – Sweater Pumpkin
The Painted Apron – Fall Floral Candlesticks
My Hubbard Home – Rustic Autumn Craft
Purple Hues and Me – Whimsical Scarecrow
My Family Thyme – Stamped Tea Towels
Our Crafty Mom – Farmhouse Fall Tiered Tray
Raggedy Bits – How To Upcycle an Old Frame
Home Is Where the Boat Is Foraged Autumn Harvest Arrangement
Decorate & More with Tip – Simple DIY Pumpkin Pillow