23 Ideas to Get you in the Fall Mood
*This post may contain affiliate links to websites such as Amazon. By purchasing anything from these links, I may receive a small commission at no extra cost to you. More information is available on my Disclosure page. I appreciate your support!
Read on for 23 Ideas to get you in the Fall Mood! It's right around the corner… we have even had a couple of cool days. If it is not cool yet where you live, here are some projects, crafts, decor, and recipes to help you set the tone for more autumn-like days ahead.
Fall Craft Ideas
If the Fall Pine Cone Tree is not your cup of tea, then maybe this Thankful Sign is!
Have some branches? You can probably create some sort of tree with them….
With thoughts of fall weather come sweaters and scarves. These knitted scarves work up pretty quickly. Last year I gave away 3 of them. Guess what?! I found another color of this same type of yarn, and in a month I'm planning to do another Scarf Giveaway!
If you have a printer (or a friend with a printer), you can make these cute Pumpkin Spice Latte Weather printables for free! Change the size to make mini laminated ones like the picture below, or print a larger size and frame it.
Decorate your Kitchen for Fall
I started decorating my kitchen for different seasons when I had too many decorations for just my living room…. I found that I enjoyed bringing the seasonal decorations into the kitchen. Here are some of the creative ways that I did that.
I have used paper plates, window clings, and bowl lids to decorate the front of my microwave!
Once again, Paper Plates are the star of the show. But not just any ordinary paper plates. Hobby Lobby has some of my favorite plates, but if you're not able to shop there, then Etsy is another great place to look.
When you're not cooking or baking, use whatever you have on hand to deck the stove in fall attire. I thought outside the box and used my vintage Orange and Yellow Tupperware canisters to make my stove look festive.
I enjoy putting something like these Window Clings on my Patio Doors sometimes.
Tablecloth
I enjoy using a Fall themed tablecloth. You could use vinyl like I do if you have kids, or you can choose a more elegant fabric one. Even with fabric ones I still like to cover it with a clear vinyl tablecloth in case there is a spill.
Fall Bouquets
Sunflowers are such a cheerful transition from summer to fall. They really do ease the transition from warm days to chilly days! I used a vintage Tupperware canister for this gorgeous sunflower arrangement.
Festive Fall Food
It's never too early to start collecting recipes. Then you can plan what you want to make, and when. And then figure out which ingredients you still need to purchase. This Pecan Cheesecake Pie is one of my all time favorite desserts!!
If you don't care for cheesecake, then this plain Pecan Pie might be what you're looking for.
This post on Fall Hospitality has loads of ideas for easy fall snacks to get out at a moment's notice. Maple and Pumpkin Spice– just the thought of those two fabulous fall flavors might get you in the mood for Fall!
While Orange Salad is not specifically a fall dessert, it has the right color! I enjoyed bringing it to a Ladies Luncheon held in the Fall one year.
Decorate your Living Space for Fall
If you don't have many fall decorations, just start with a small vignette. This one includes two signs, a small potted plant, and a little berry wreath.
I cut some mums off of my outdoor plants to put in this miniature vase that I got at a yard sale for a quarter. It doesn't take much to brighten up a space with warm fall colors.
When I saw this gorgeous velvet pillow, I loved it. I didn't quite love the dusty orange color at first, but it grew on me. I excused the price tag because "Be Thankful" would be a good reminder to my kids to be more grateful. Pillows really do help set the mood for the room– especially if they have sayings on them!
There are two different types of small pine cones in this little collection. The maple leaf is soap that I won in a giveaway from Virginia Sweet Pea a couple years ago.
Outdoor Inspiration
Speaking of bringing the outdoors indoors, how about doing something fall like outside? One year I placed mums into hollowed out pumpkins to dress up my brick steps. Since I don't have a porch, I was aching to do something and this turned out to be just the right touch.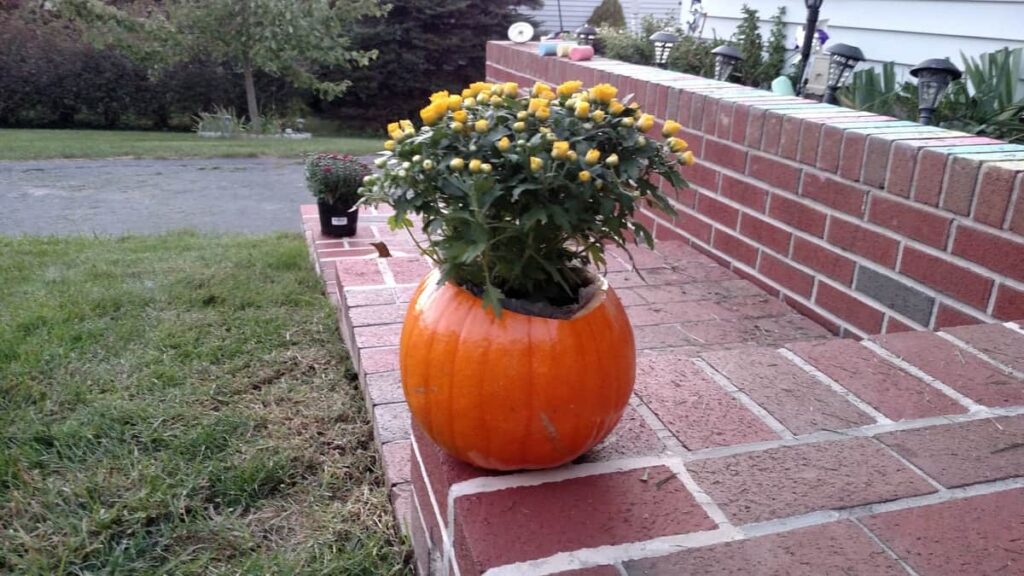 For your front door you could think about creating a fall wreath, or maybe a ribbon hanging with the word FALL on it as pictured below.
I highly recommend that you walk around outside and enjoy the changing of the seasons. Notice the plants and flowers in their last glorious blooms before colder weather makes them die back. Take a deep breath and smell the air. Can you smell autumn coming?
While you are noticing the plants– don't forget to watch for the little creatures, too! I loved seeing this praying mantis on my mums last year!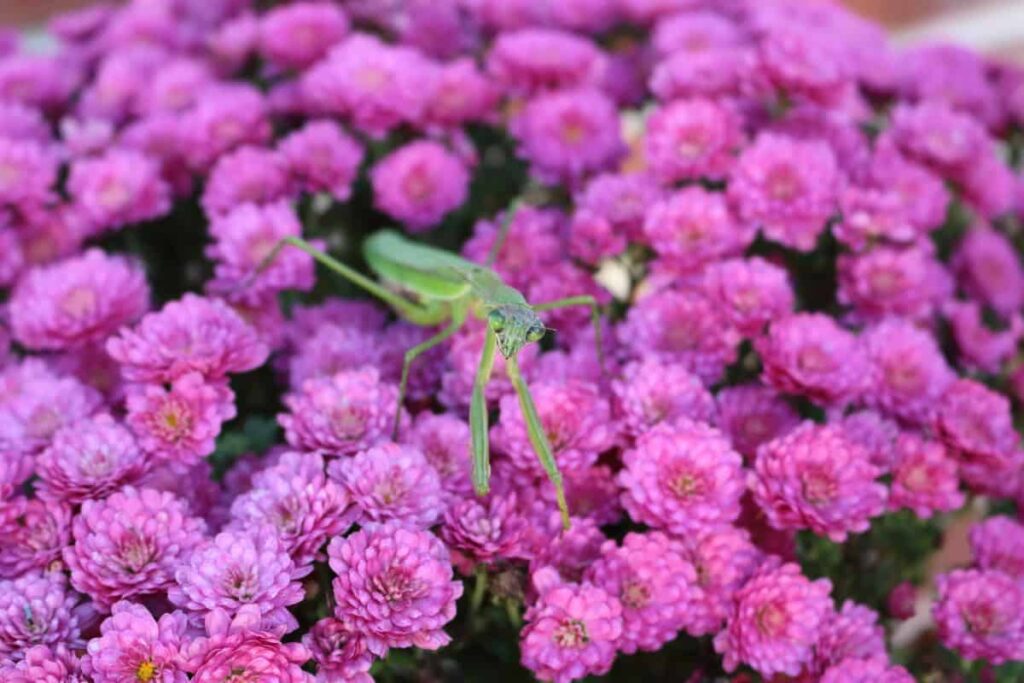 As you enjoy the sights, smells, and sounds of the turning season I hope that these ideas have helped to get you in the Fall Mood, and perhaps inspired you to try a project along the way!