Felt Cross for Easter
*This post may contain affiliate links to websites such as Amazon. By purchasing anything from these links, I may receive a small commission at no extra cost to you. More information is available on my Disclosure page. I appreciate your support!
Before I tell you all about the felt cross I made for Easter decor for my kitchen, cupboards, I have to say– How our world has changed! It seems a little frivolous to be posting about crafts when I feel like I should be spending every spare minute sewing face masks. I pray that our healthcare workers have enough supplies. And I hope that after this crisis is over, someone saves all of those fabric masks for future needs!
If you or someone you know wants to make a face mask, there are simple directions and a video to watch here: https://www.deaconess.com/SpecialPages/How-to-make-a-Face-Mask . Here is a picture of several that I made from this pattern using an old sheet. (If you are wondering how these look on a person's face– just ask– I can share a picture.)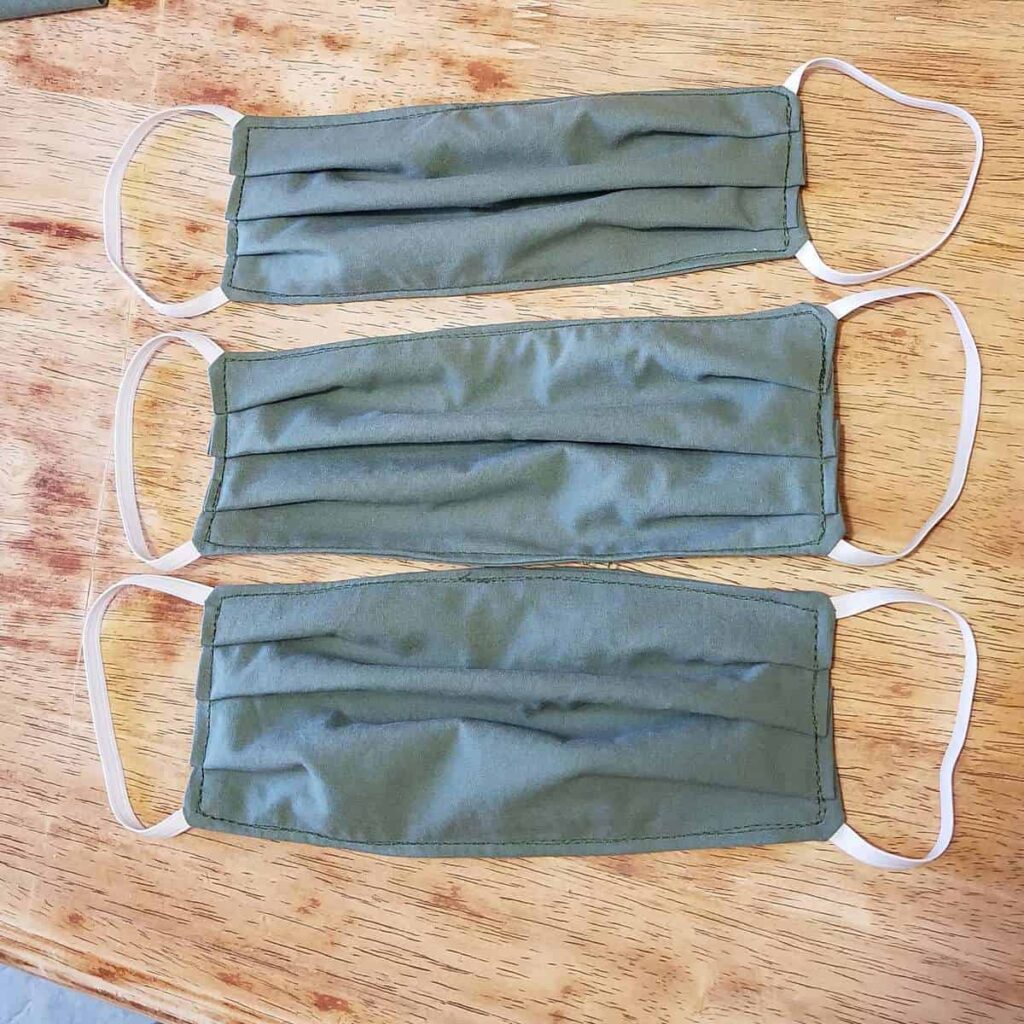 If you want a more complicated version with ties and a pocket for a filter using material from a common household furnace filter, then here is a great tutorial: https://jennifermaker.com/face-mask-patterns-cricut/
A week ago yesterday I shopped at Sam's Club. I had seen pictures of empty shelves, but it was quite a different thing to see them for myself in person. These are pictures of the empty bread aisle. We bought the last pack of flour tortilla shells. We also managed to fill our cart with other things like salads and take and bake pizzas.
If you can't sew masks, there is another thing you can do. You can pray. Pray for people to remain calm and to support each other throughout the tough days ahead until things return to normal.
And now, back to our regularly scheduled blog post….
I have been making and sharing felt decor for my kitchen cupboards. You can see Christmas Here and Here, and Valentine's Day, Here. Now I am so happy to show you my Easter Felt Cross, cut with my Cricut Maker.
I found this Easter Cross and purple robe in Cricut's Design Space, but the robe was in two pieces, and there were a lot more layers. So by using some slicing and welding tools in Cricut's Design Space software, I was able to make the purple robe as one piece.
I am really enjoying all of the features of my Cricut Maker. The hardest part of creating this Easter cross was figuring out how to make the felt robe and cross exactly how I wanted it in the Design Space software. To use the Cricut Maker, a person really does need to be comfortable with computer software, or be willing to learn it!
If you want to make this project on your Cricut machine using my edits, you can use This Link.
Cross, Before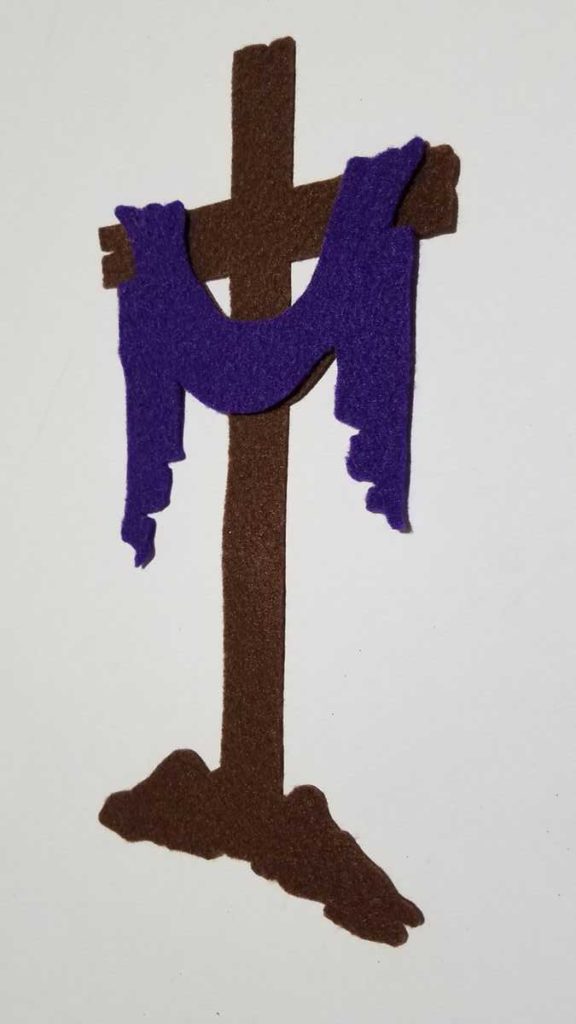 I also used the Cricut Maker to cut out a little picket fence. I had these flowers and butterfly leftover from a card I had made, so it was super easy to just attach them to the picket fence with some foam adhesive squares. (I used the foam adhesive to attach the purple felt piece to the brown cross, too.)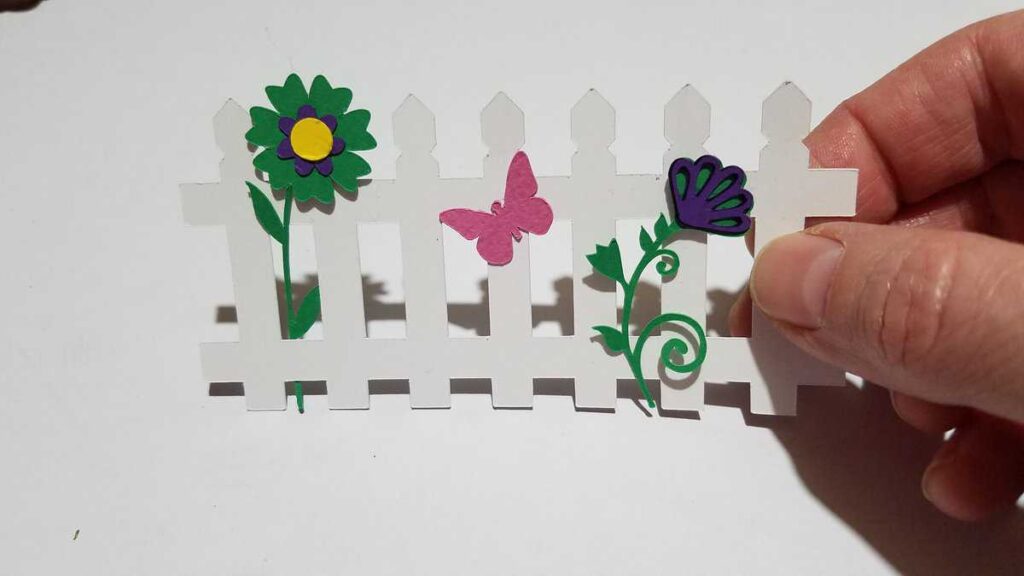 The last thing that I added was a crown of thorns. I used the Cricut Maker's draw feature to draw the thorns on some light brown cardstock, in addition to cutting it out.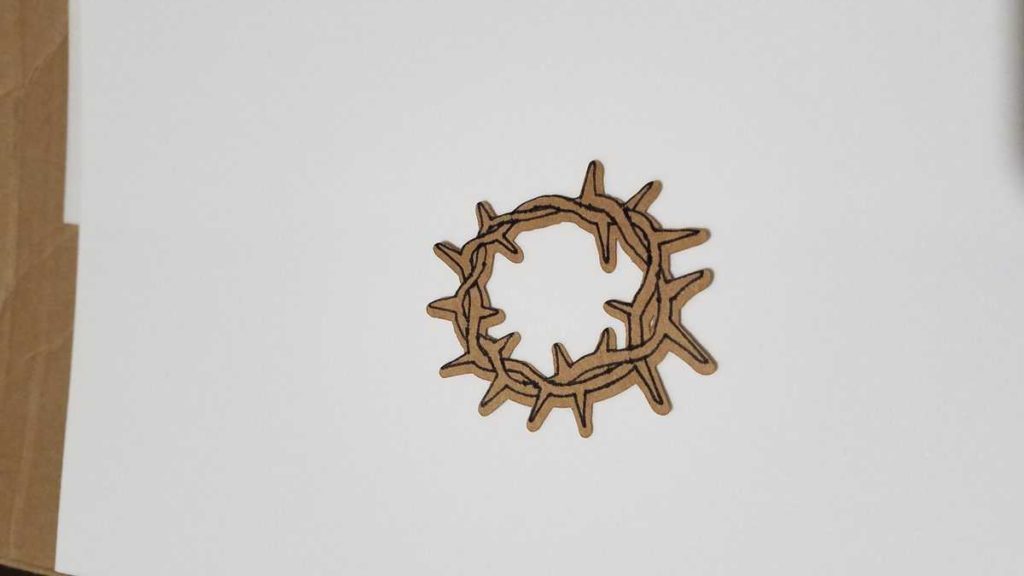 I attached this cross to my cabinet by using Dollar Tree ribbon. I safety pinned the cross to the ribbon (as shown below on a different felt cross) and then used masking tape to hold the ribbon to the back side of the cupboard on the top and the bottom.
Bunnies and jelly beans are okay, but I really enjoy seeing this beautiful reminder of the meaning of Easter. It is a cheerful reminder that the Redeemer who was crucified for my sins, is Risen!
Cross, AFTER!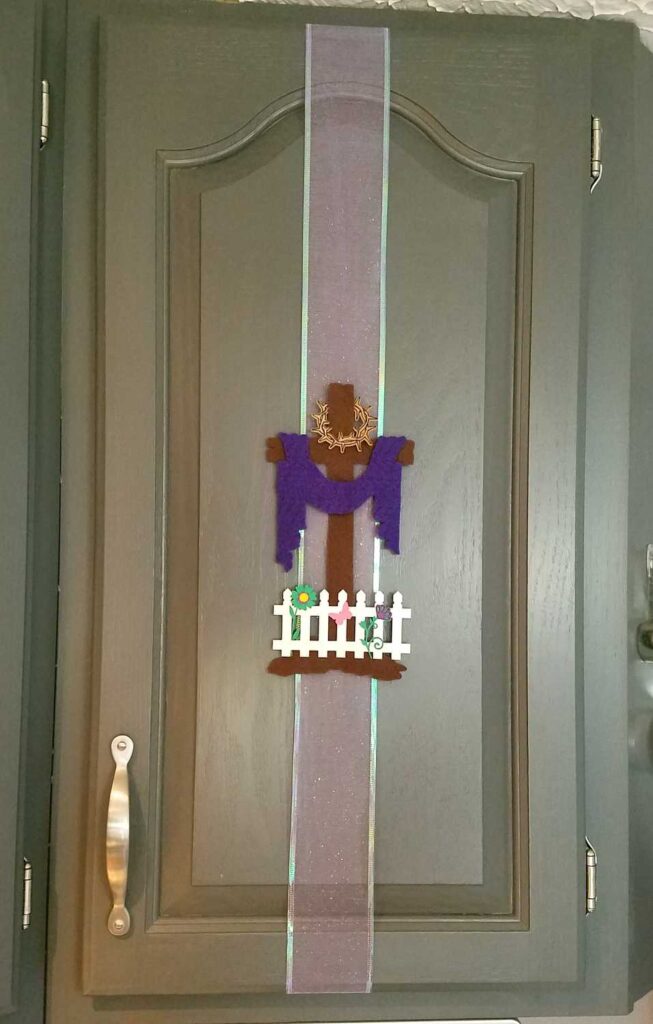 Here is a closeup for you.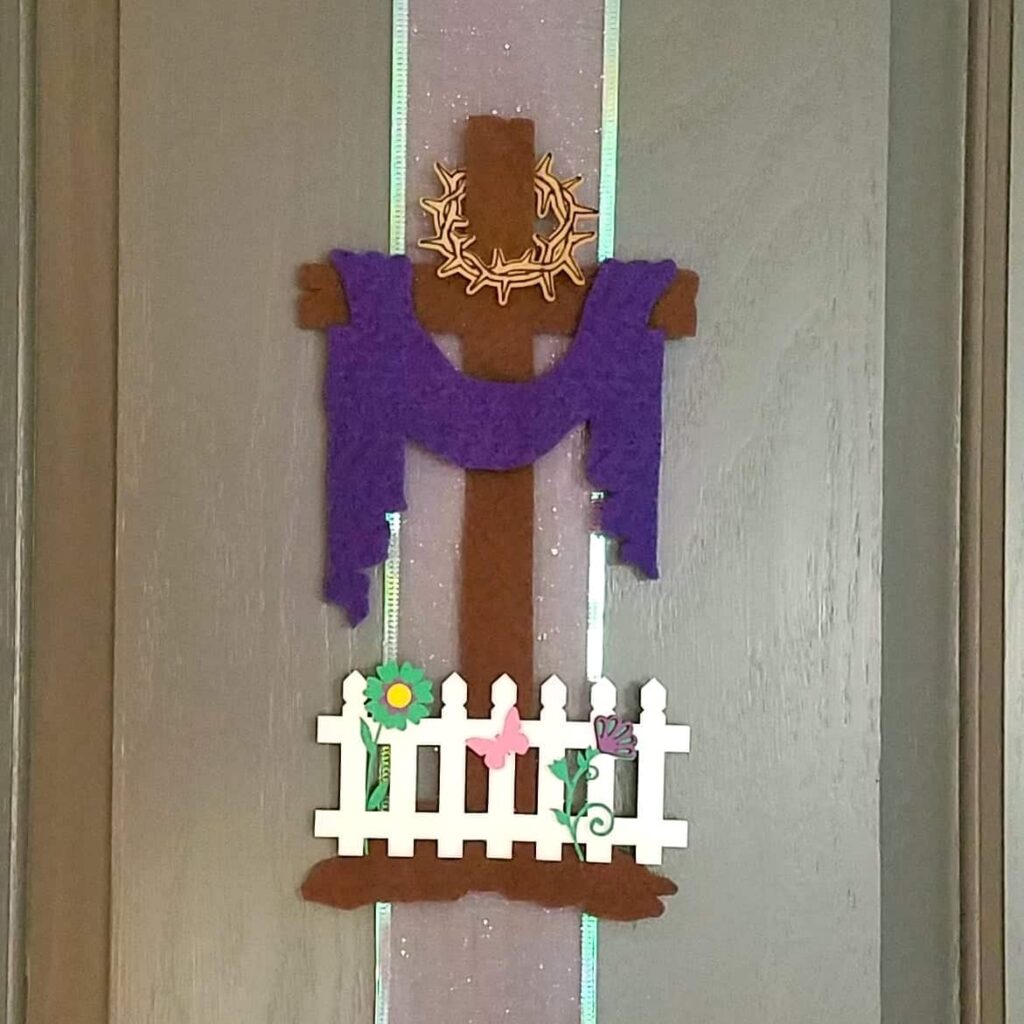 I made another style of a felt Easter Cross that I will show you in another post!