Felt Pumpkin Kitchen Decor
This post contains links to affiliate websites, such as Amazon, and we receive an affiliate commission for any purchases made by you using these links. We appreciate your support!
I am so excited to show you my Felt Pumpkin Kitchen Decor! Today's Pumpkin Themed DIY Challenge is hosted by Terrie of Decorate and More with Tip. I really enjoy these challenges. You can find more Pumpkin ideas at the end of this post! If you are here from Cloches and Lavender, then thanks for stopping by!
If you're in a hurry– go ahead and watch the video!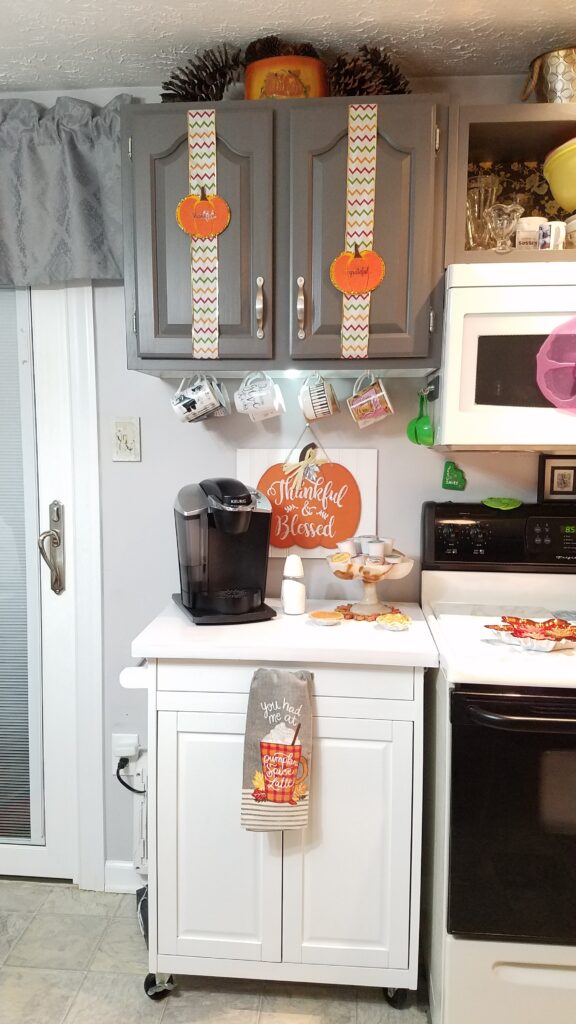 My idea all started several years ago when I pinned some felt gingerbread silverware holders to ribbon and taped it to my kitchen cupboards for Christmas. Everyone liked it so much that I was inspired to make more things for different seasons.
So with this DIY Challenge I could make anything pumpkin related. I hope you like what I came up with! I started with felt, glitter, and stickers with a clear background.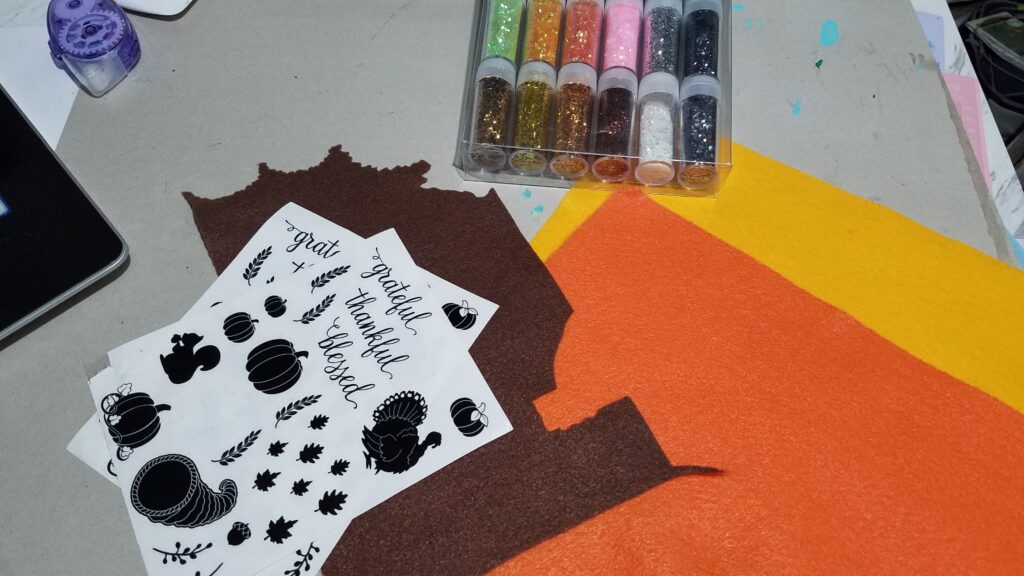 I designed a layered felt pumpkin on Cricut Design Space in 3 colors.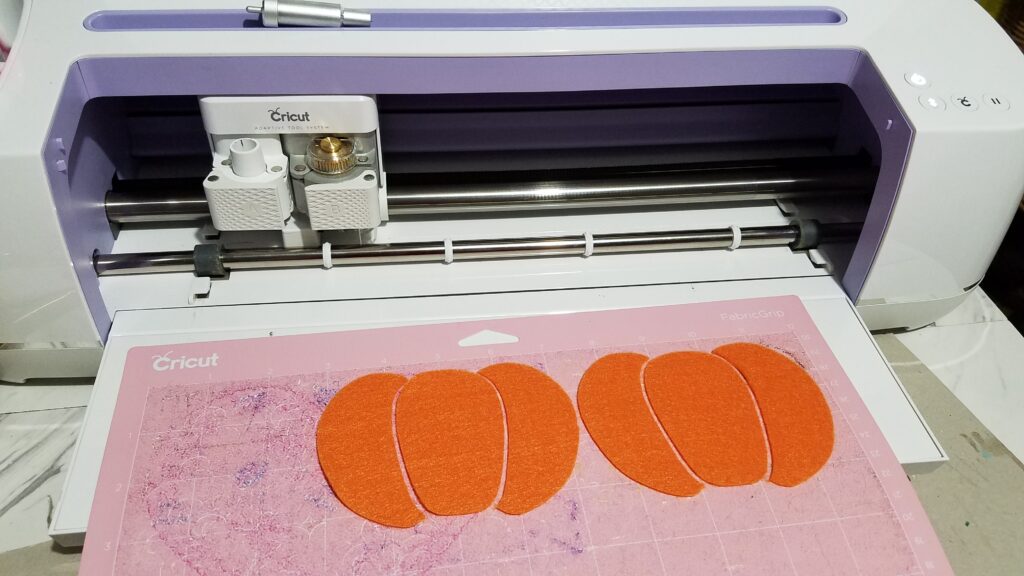 My Cricut Maker cut out the felt easily with the rotary fabric blade. You could also cut it by hand.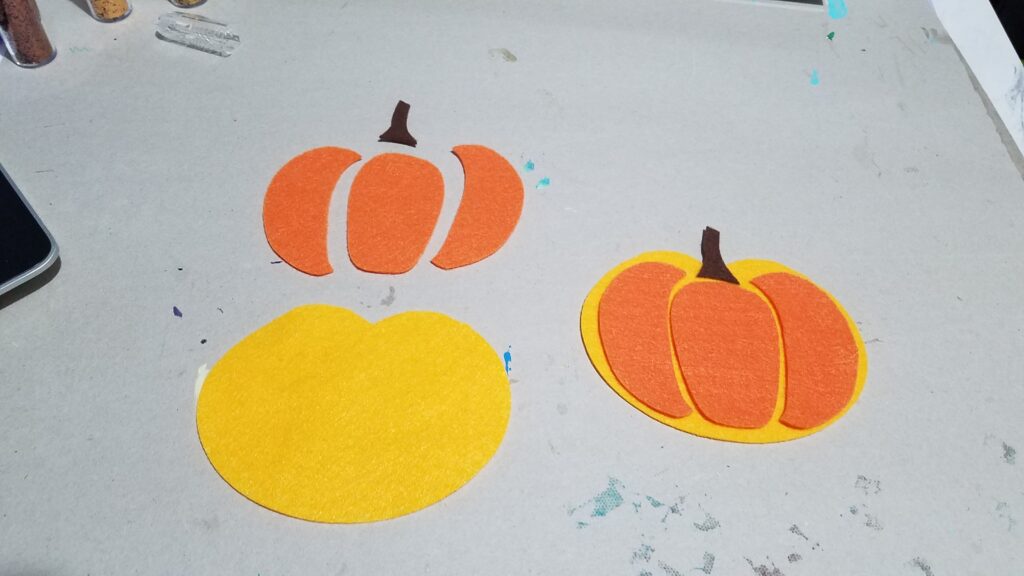 I assembled them and glued them together with Tacky Craft glue.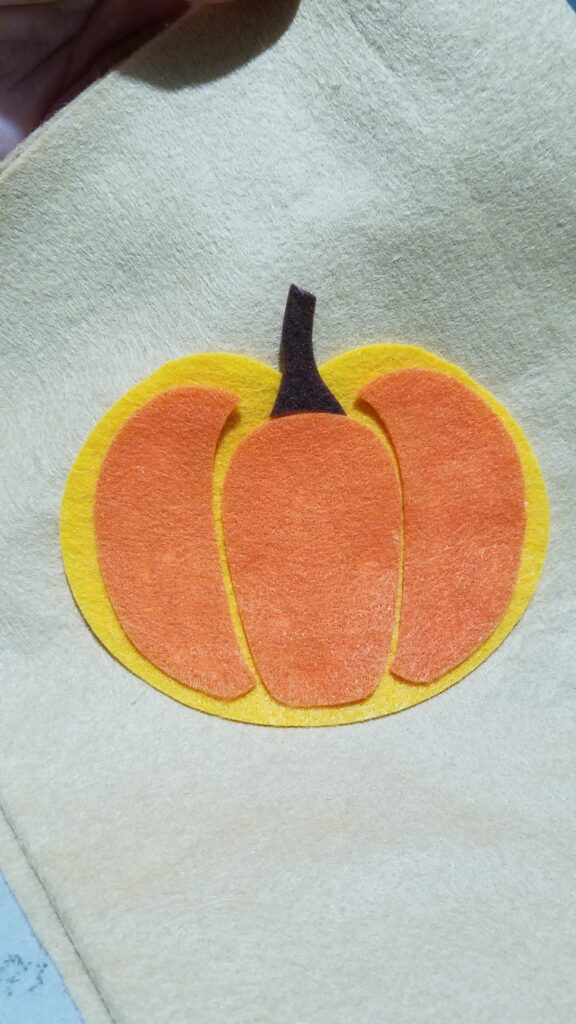 I though he pumpkin was a little plain. You can leave it that way, or…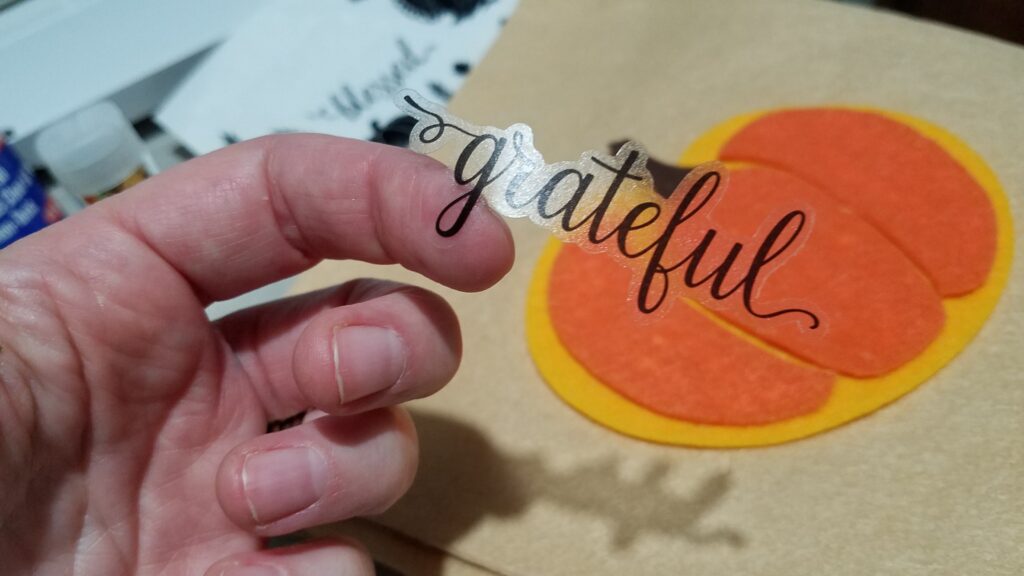 I added these clear word stickers to mine!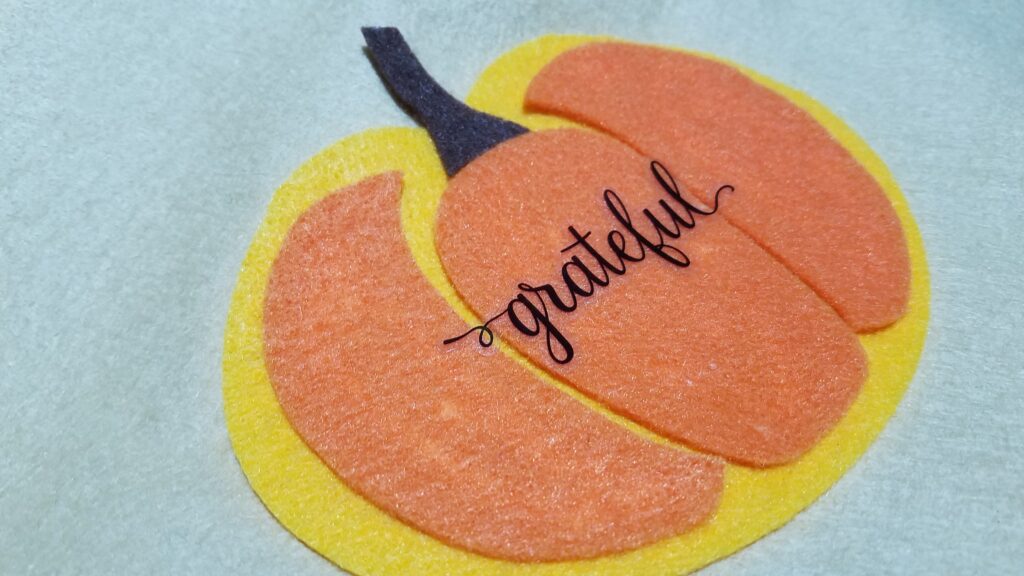 Pretty, yes?

Then I put glitter glue around the edge. But I didn't think it was glittery enough, so….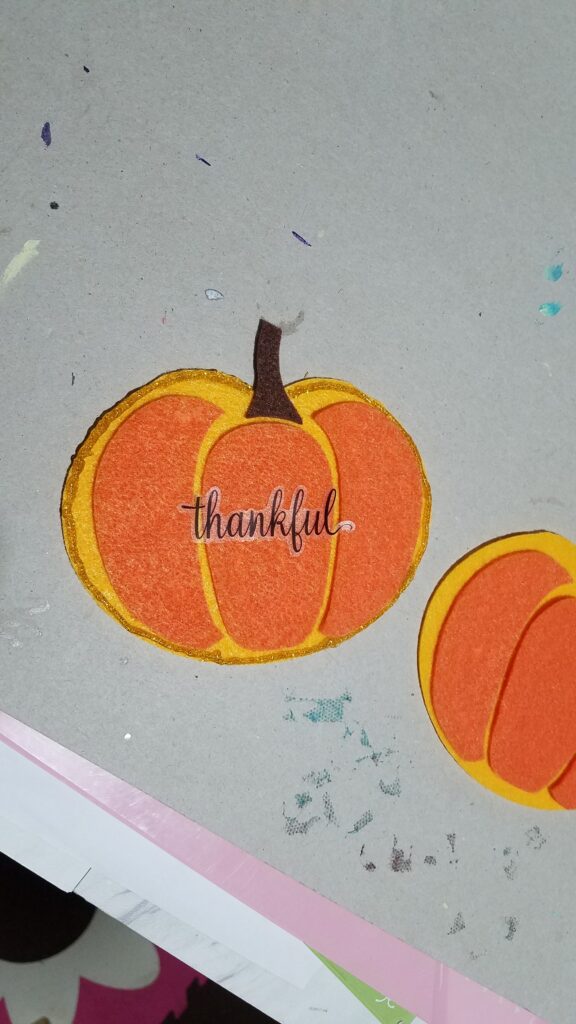 I added even more glitter! It dried overnight.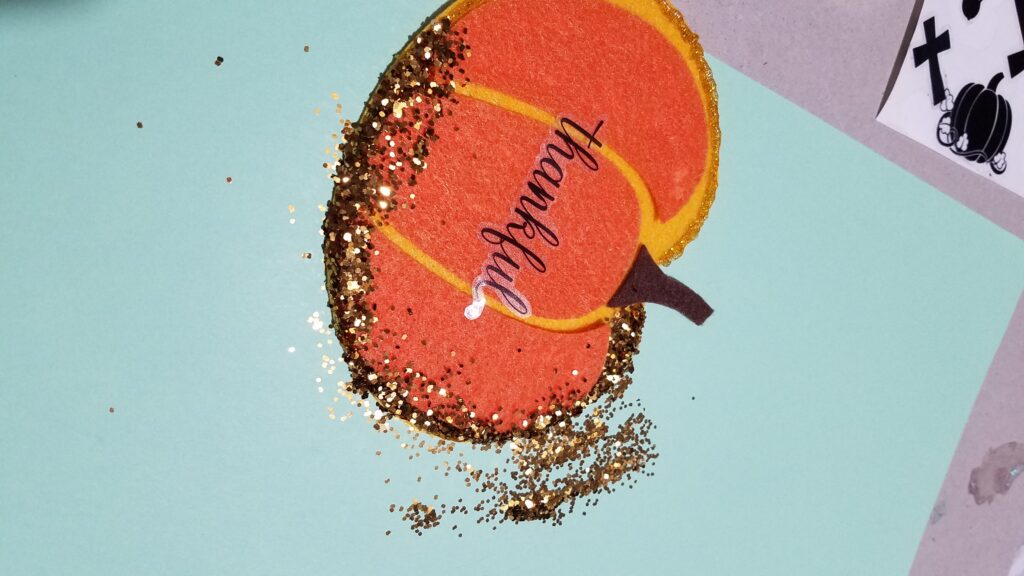 Put a paper underneath to catch the excess glitter so that you can reuse it.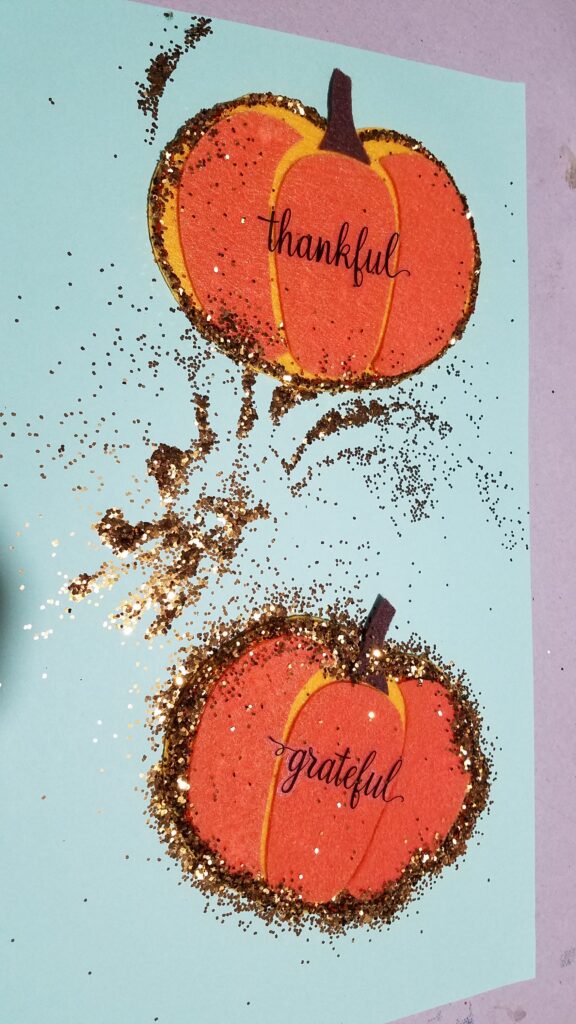 How to Put Felt Pumpkins on your Cabinets
I use ribbon to put pretty things on the fronts of my kitchen cabinets. This is how I do it.
Measure enough ribbon to overlap the cupboard doors on top and bottom.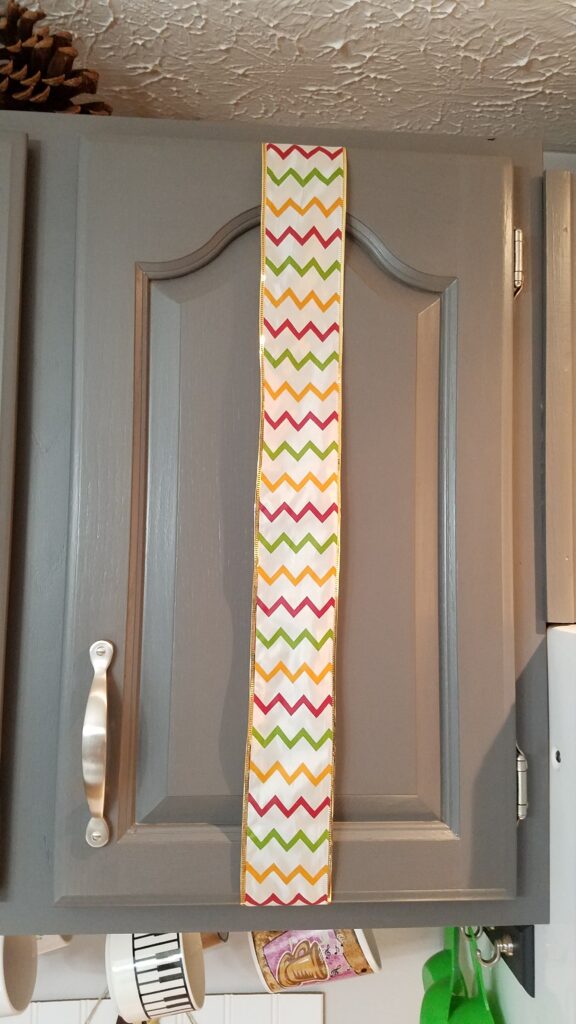 2. Use masking tape to secure the ribbon at the top of the door.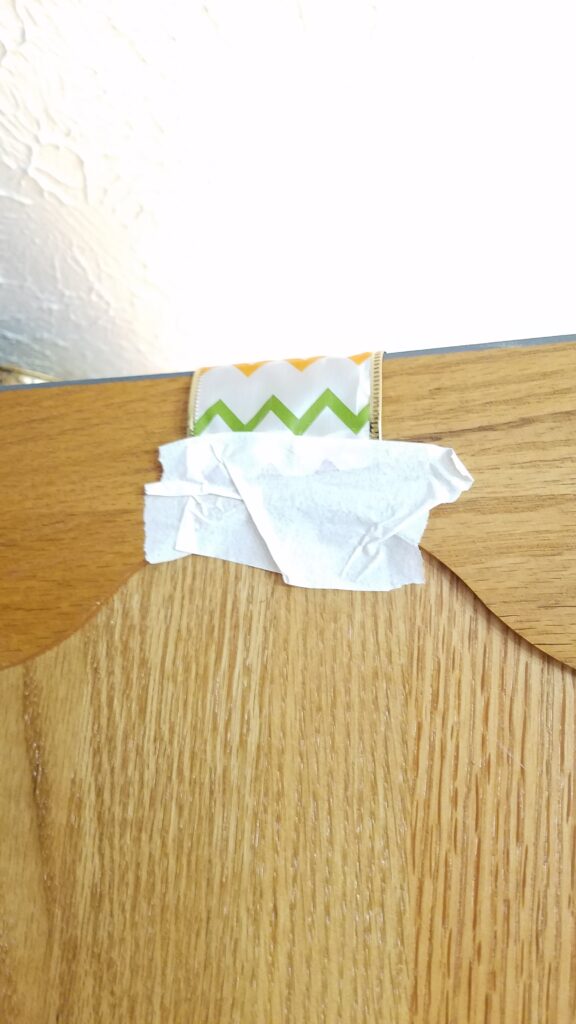 3. Attach the felt pumpkin to the ribbon. Using a safety pin, poke through only the back layer of felt.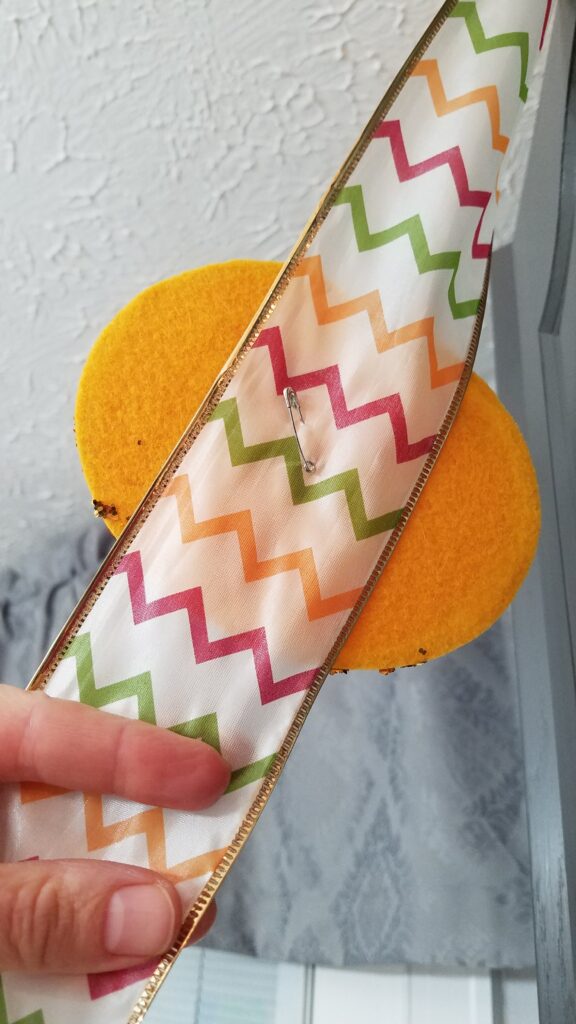 4. Then use masking tape to secure the ribbon to the bottom of the back of the cabinet door.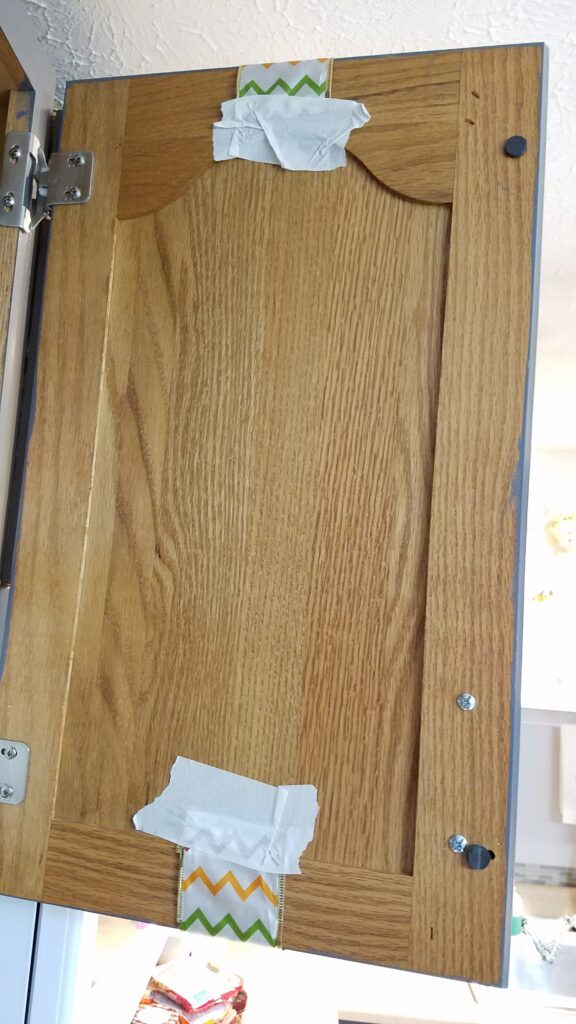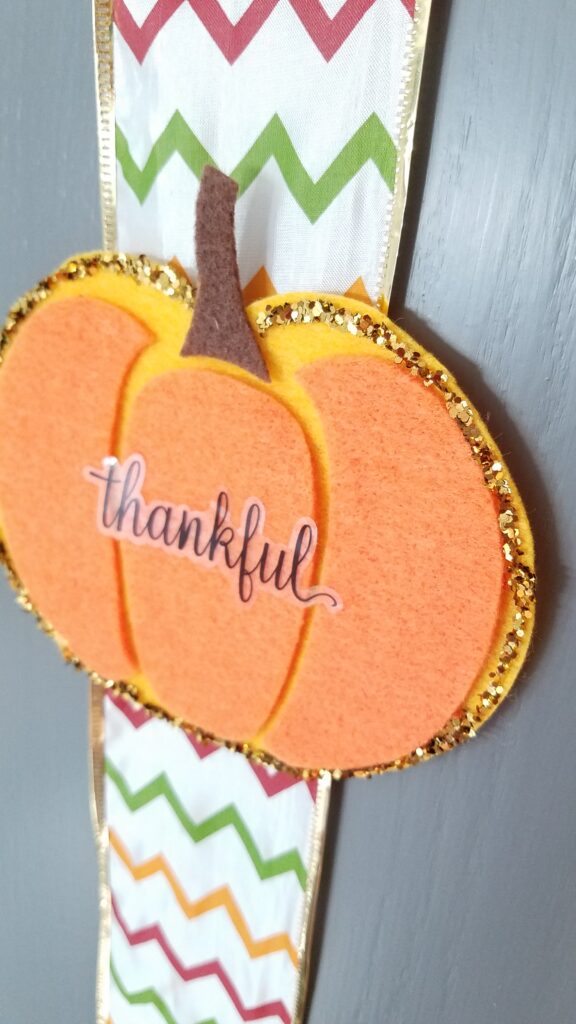 Decorate the rest of your space as you wish and enjoy your Felt Pumpkin Decor immensely!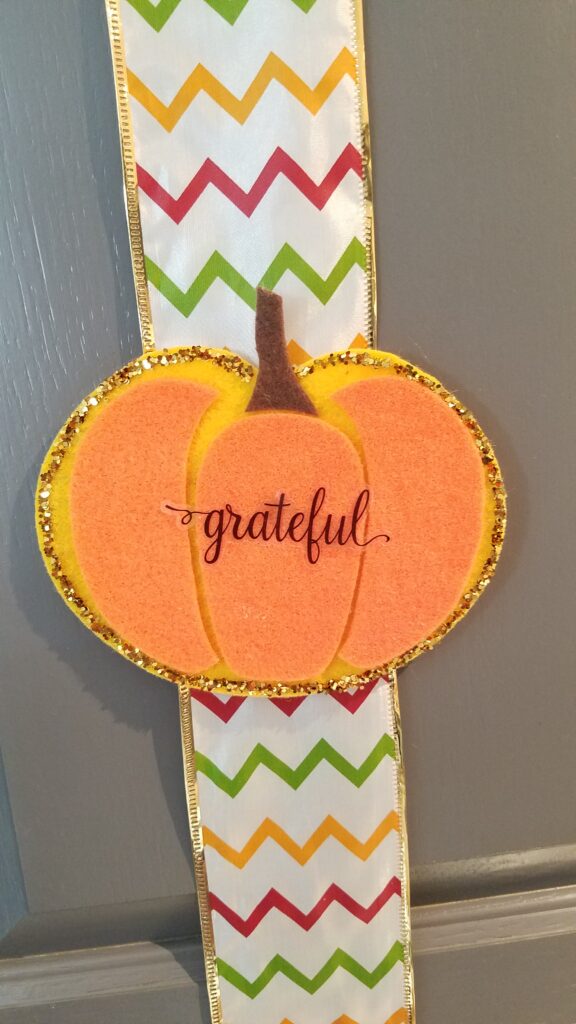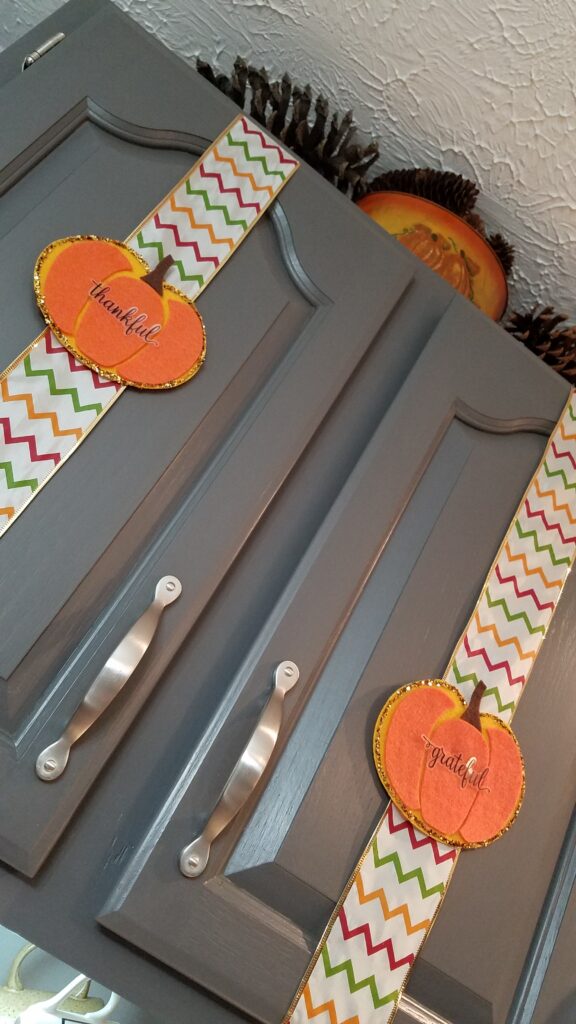 I would love for you to see how I decorated this area for Fall!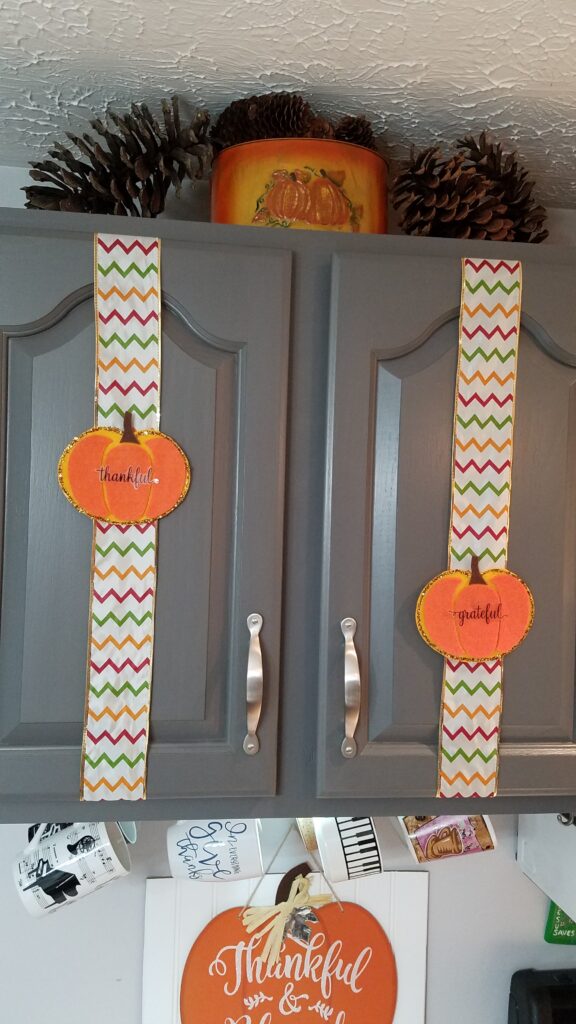 Remember to be Thankful, to be Grateful.
P.S. It is important that there be at least two layers of felt so that you can safety pin through the back layer to attach the felt pumpkin to the ribbon, without the pin showing through on the front side.
I really enjoyed decorating this area of my kitchen for Fall/ Thanksgiving. I will share more about it in another post!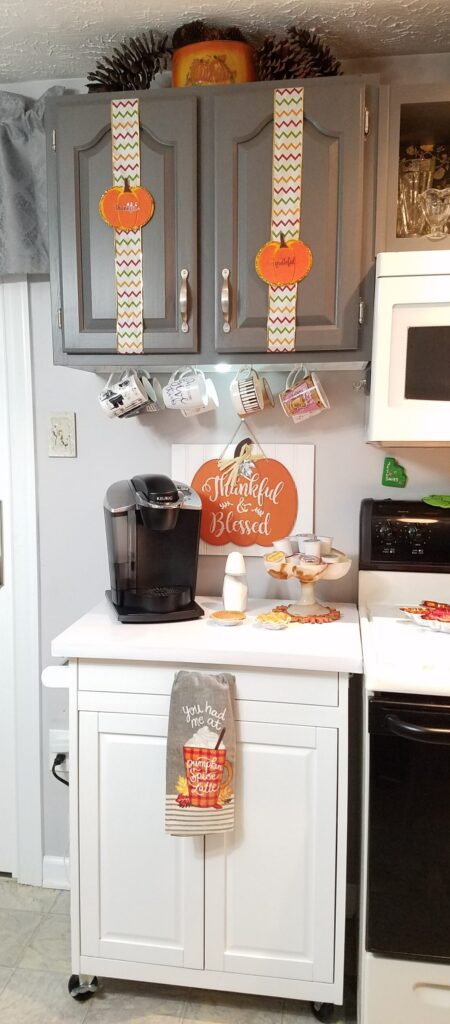 Watch the Video
Now for the rest of the great Pumpkin ideas! If you are visiting us in the order listed, then Junk to Gems is next!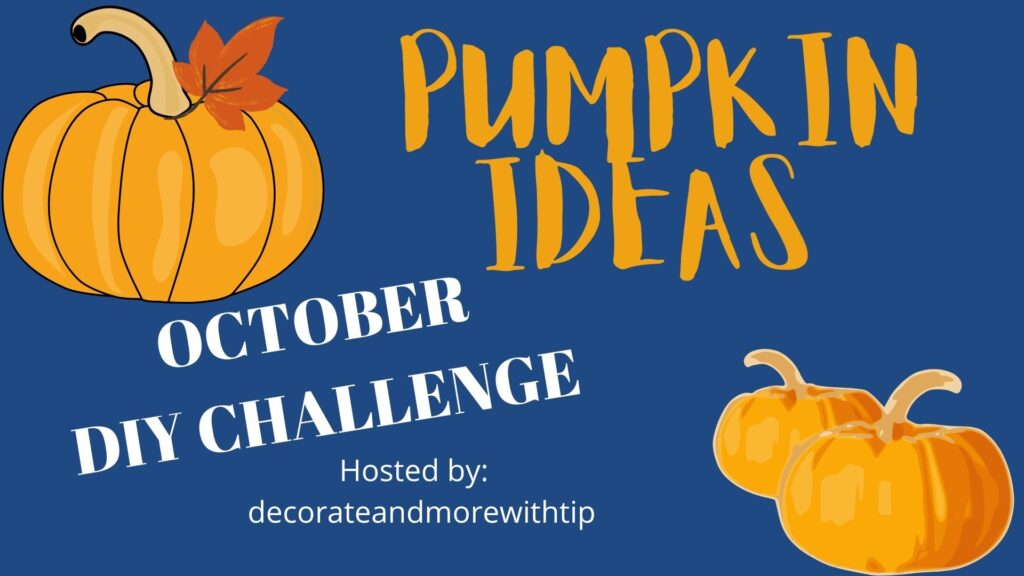 Terrie – Decorate and More with Tip
Jodi – The House House
Cindy – Cloches and Lavender
Liberty – B4 and Afters
Corine – Junk to Gems
Tammy – Patina and Paint
Carol – Bluesky at Home
Christine – Pallet and Pantry
Michelle – Blessings by Me