Jelly Bean Garland
This post contains links to affiliate websites, such as Amazon, and we receive an affiliate commission for any purchases made by you using these links. We appreciate your support!
Here I am with another idea to decorate a Pine Cone Tree by using a jelly bean garland! Do you want to make your own pine cone tree yet??
Before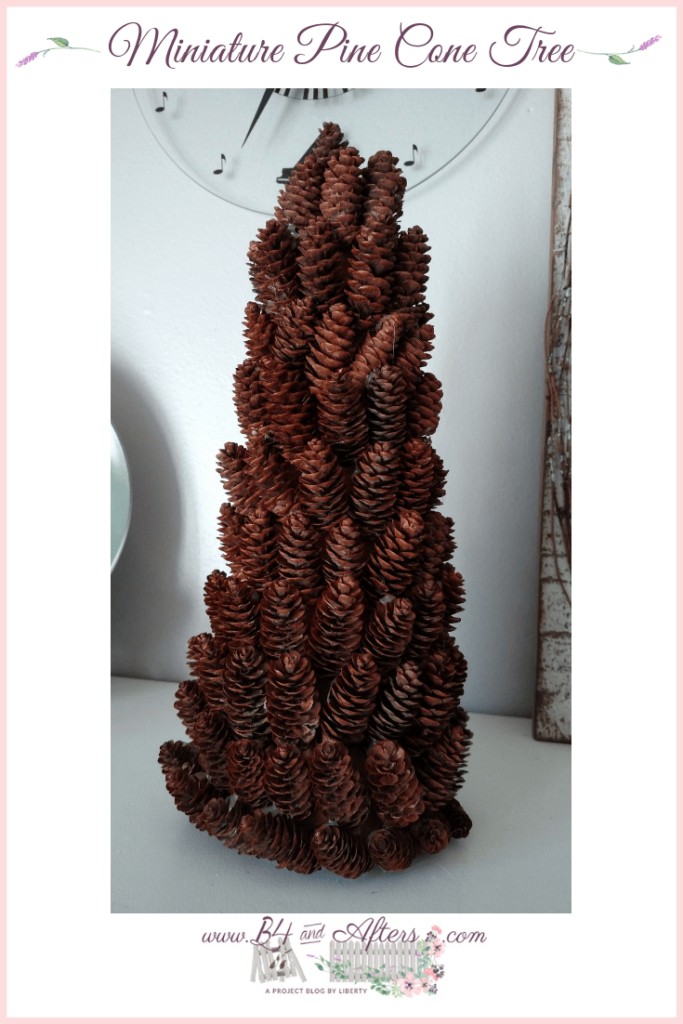 This idea started out with Jelly Beans for an Easter theme! I bought two kinds of jelly beans. I used the classic jelly beans for one garland, and the speckled jelly beans for the other garland. I will show you both of them. I used a thimble, a needle, and clear nylon thread.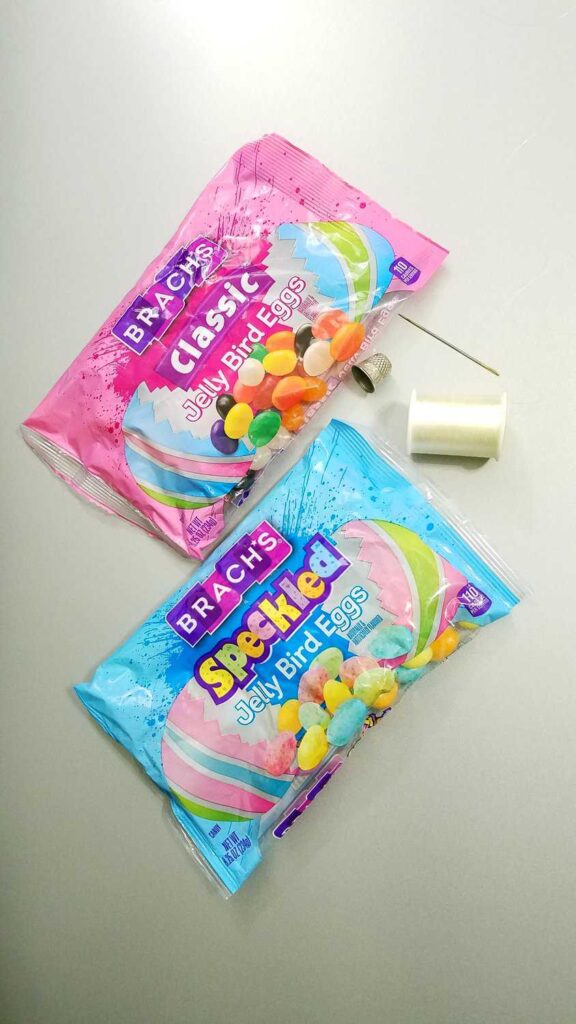 I thought nylon thread would be better than cotton thread because of the stickiness of the jelly beans, and I was right! I am very glad that I used nylon thread. Even though it got sticky, it still pulled through the jelly beans without any problems. You can see how gummy my needle got in the picture below. The thimble was very necessary to push the needle through the dense, gummy jelly bean.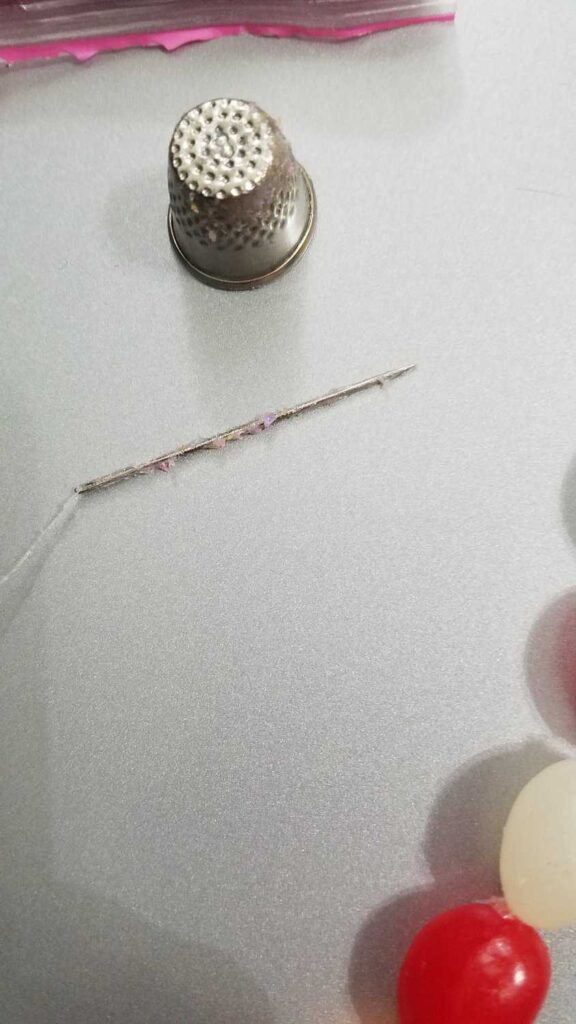 I alternated colors as I went along, trying to do it as randomly as I could. When doing a project like this you find out which colors are more "rare" than others. In this case, it was green. There were only 4 green jelly beans in the entire bag.
As I strung these jelly beans on, they reminded me of some sort of bead necklace, perhaps from my childhood? But I couldn't place the memory. Does this picture seem familiar to anybody, and remind you of something else besides jelly beans? If so, let me know what it is….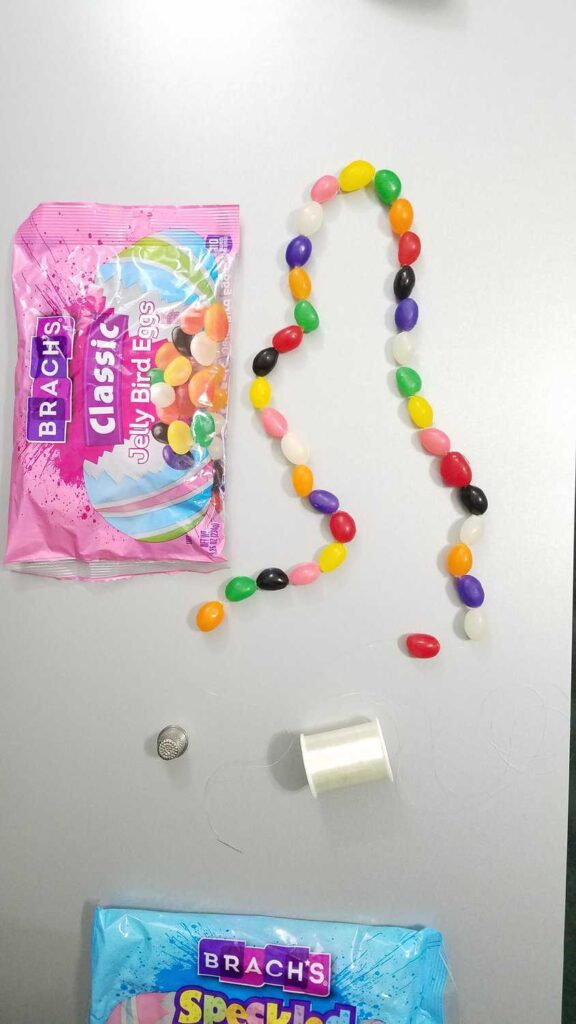 When I was about halfway through stringing on the jelly beans, my needle broke. I was stringing them on in semi darkness during a family video, and my needle bent and I didn't realize it, so it snapped. I was glad that I have plenty of needles, so I quickly found a replacement and finished stringing the jelly beans.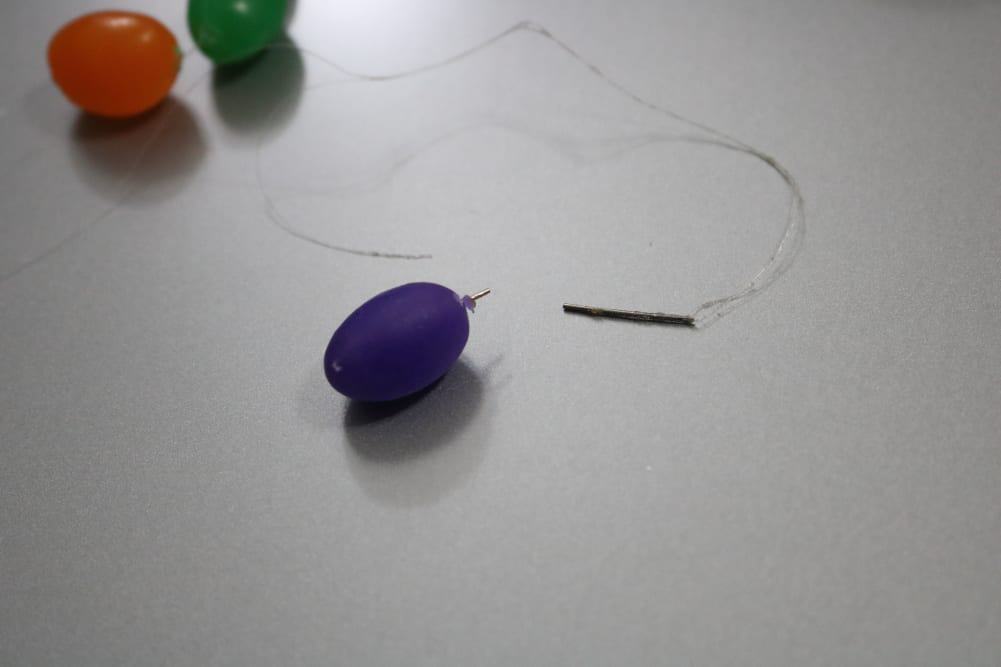 Of course, I needed a topper for my jelly bean tree…. and I had the perfect thing. When I was at the store a month ago, I found these cute stuffed plush peeps!! I could not resist picking up one or two– okay, three. I'll show you the rest another time because that's another project for another day.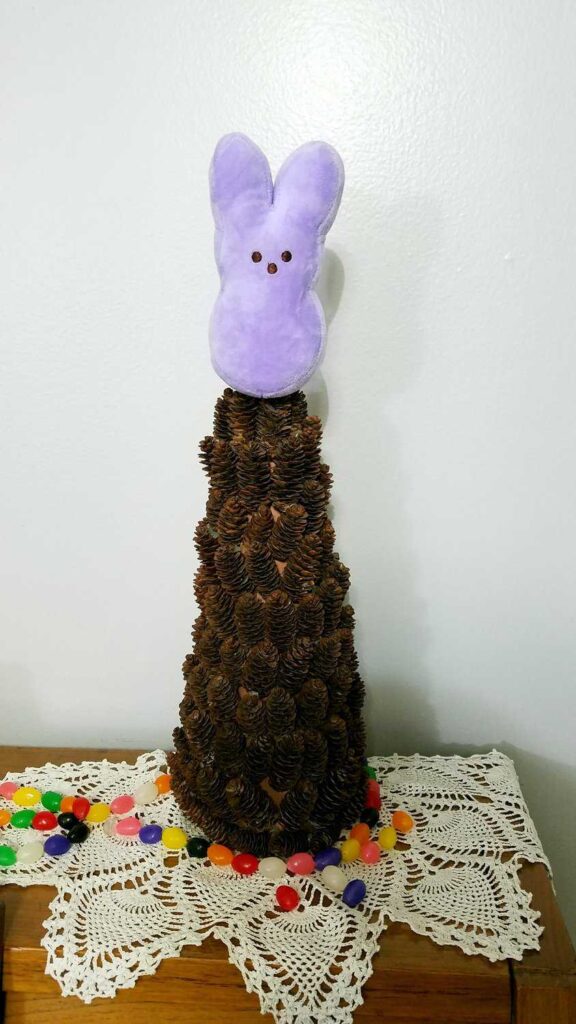 To attach the stuffed bunny Peep as a tree topper, I stuck a plastic skewer into the top of the pine cone tree. It was a plastic skewer that I saved from an Edible Arrangement. Then I used masking tape to attach the bunny Peep to the skewer.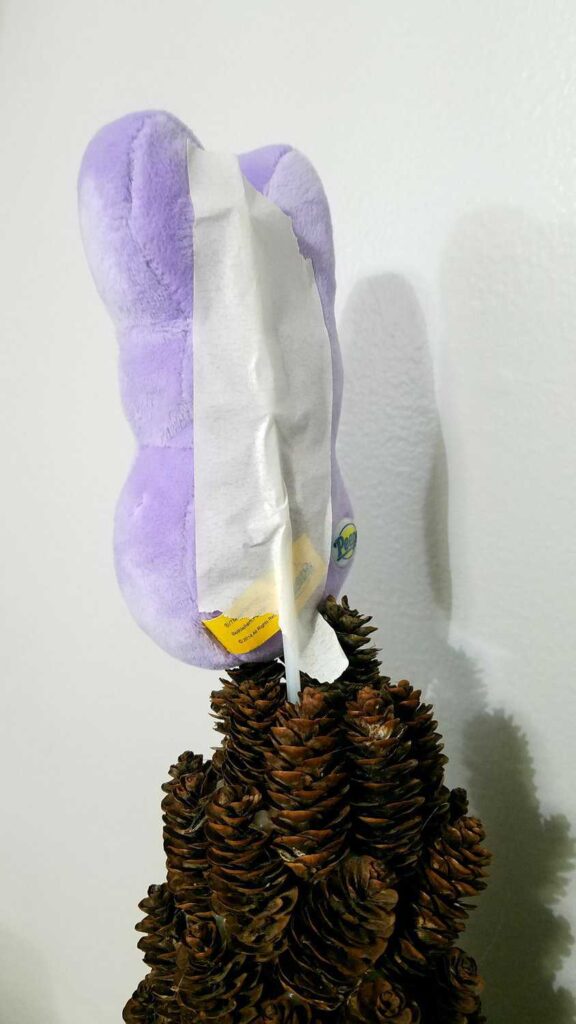 And there it is– a perfect Bunny Peep topper for a cute Jelly Bean garland pine cone tree!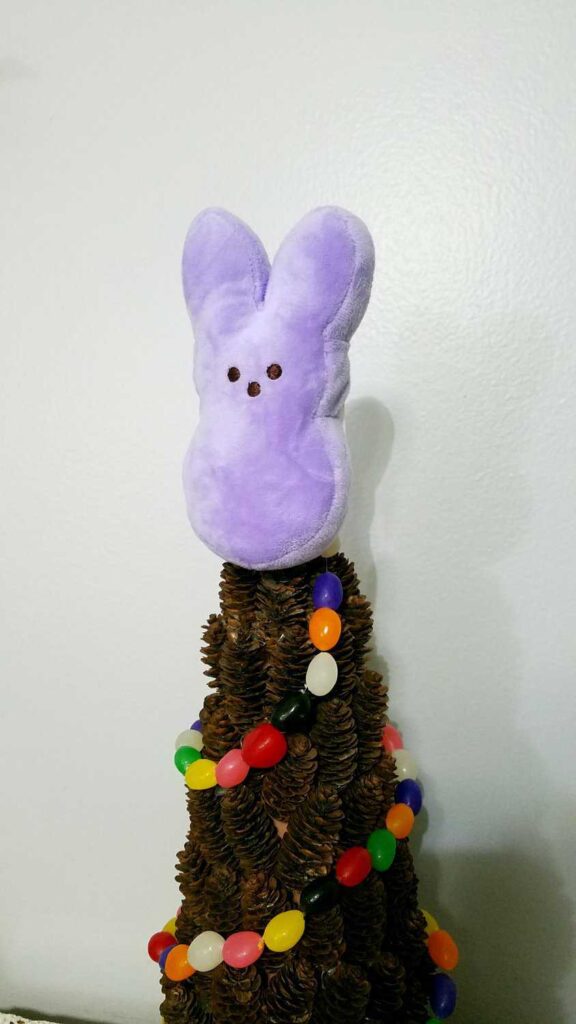 The jelly beans were a little heavy, but they have stayed on the tree just fine. (I did put a little toothpick at the bottom to hold up the end that wanted to slip off.)
AFTER!!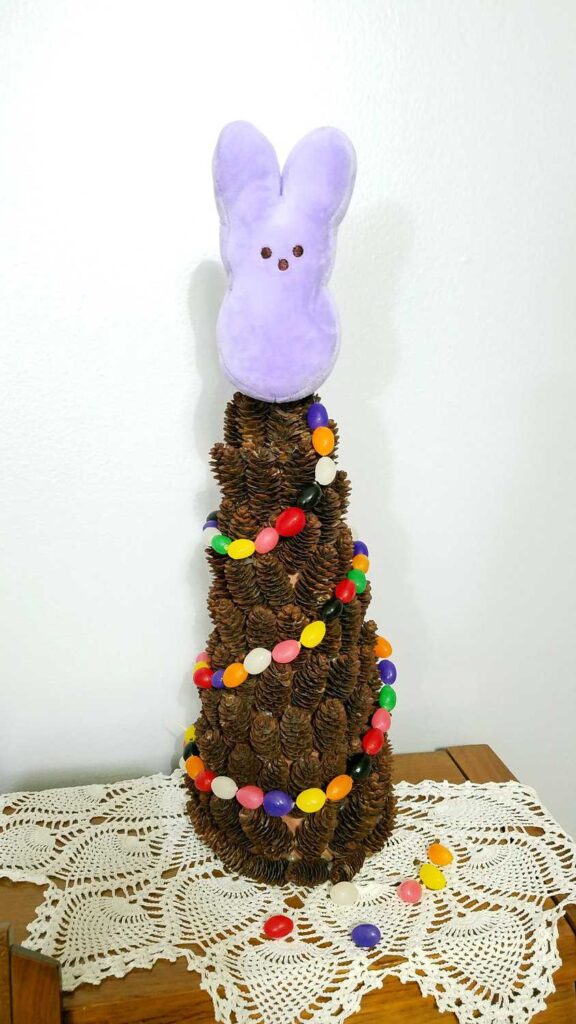 I love the look of the speckled jelly beans. They might be my favorite.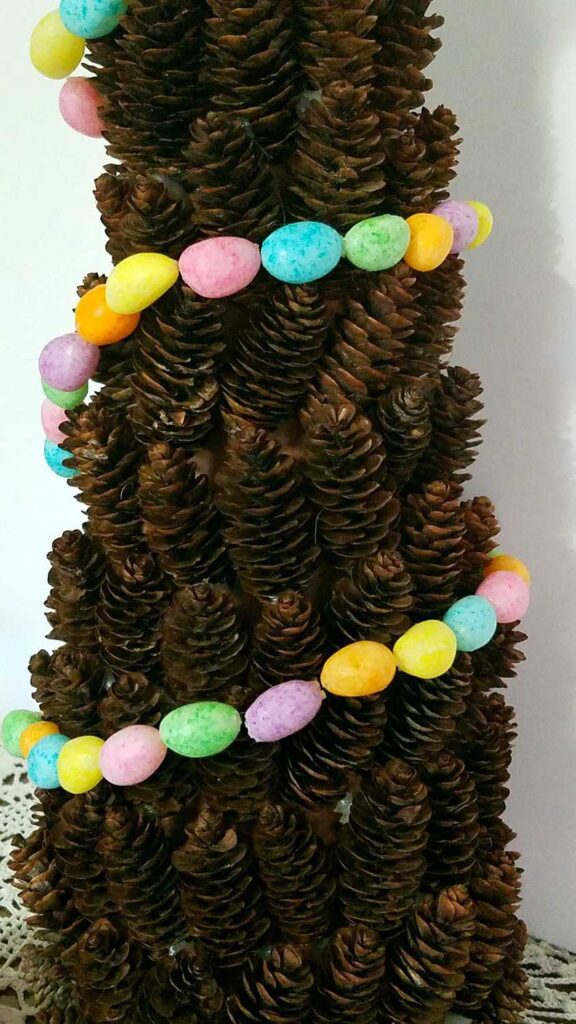 I made a different topper for the speckled jelly bean garland. I made a yellow chick Peeps nest! I used real Peeps for this one, instead of the plush version.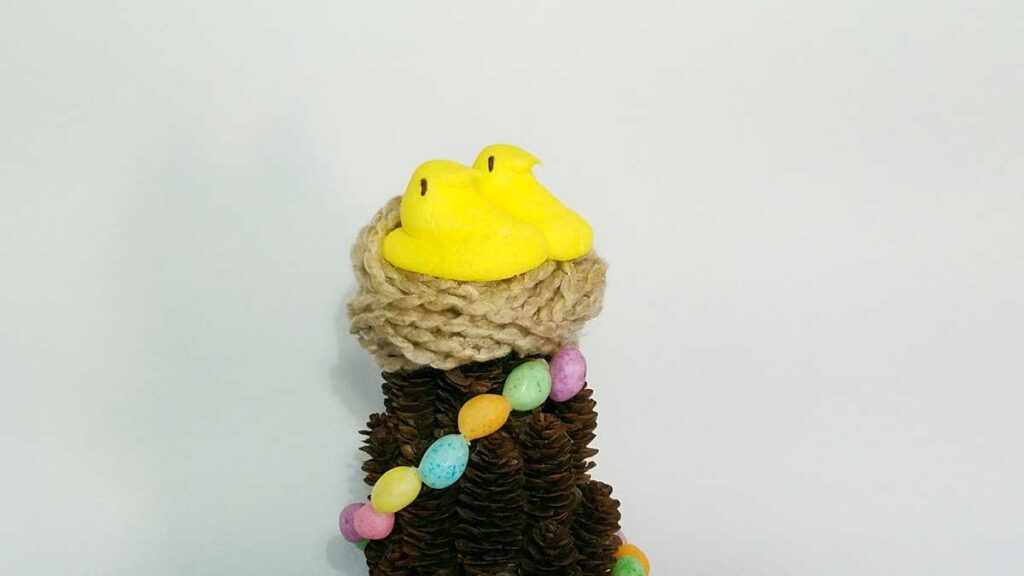 To make the nest, I wrapped yarn around a large plastic Easter egg, as shown below. Then I just took out the plastic egg and put the yarn nest carefully on top of the pine cone tree.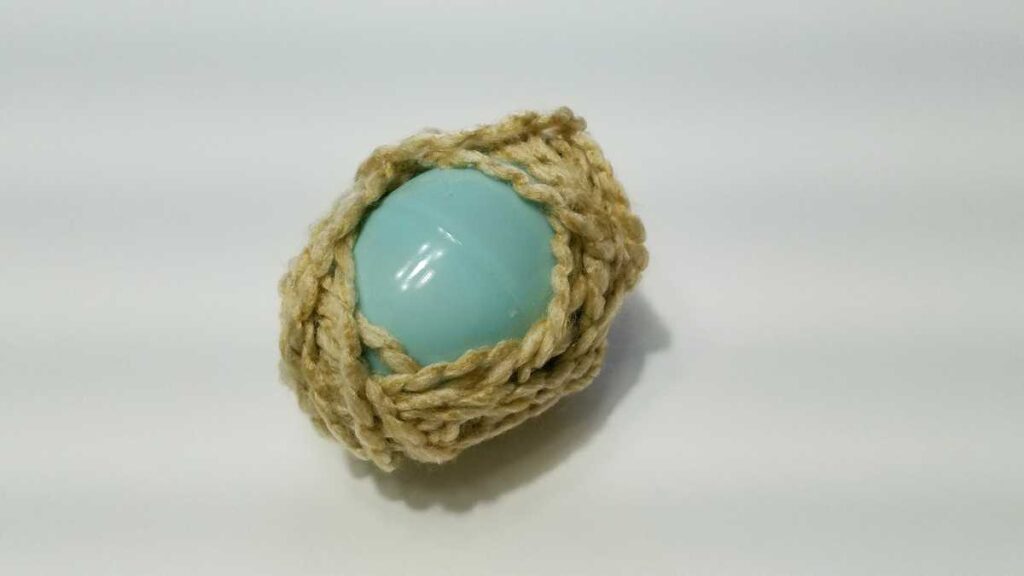 It makes sense to put birds on top of a tree decorated with eggs, I thought!
AFTER!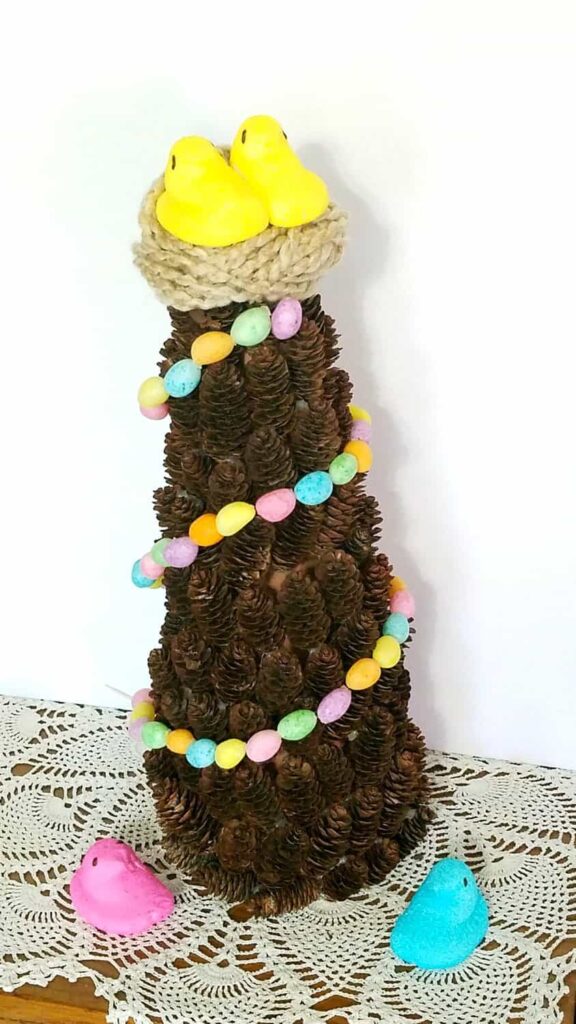 Here are the rest of the pine cone trees that I have decorated! How long do you think it will take me to decorate it 100 ways?…..