Valentine Tree Vignette
*This post may contain affiliate links to websites such as Amazon. By purchasing anything from these links, I may receive a small commission at no extra cost to you. More information is available on my Disclosure page. I appreciate your support!
I really enjoyed creating this little vignette using my Miniature Pine Cone Tree. It has been fun to re-decorate this tree with the seasons or holidays.
For Valentine's Day, I just used glittery foam heart table scatter from the Dollar Tree. I also poked a 3D glittery styrofoam red heart into the top. It is also from the Dollar Tree, and came on a stick. I cut the stick short enough to still have some left to poke it into my tree. The garlands are foil pipe cleaners from the Dollar Tree.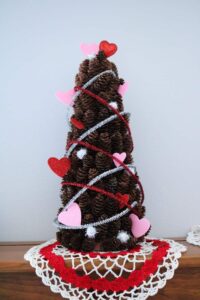 [sc name="This Post May Contain Affiliate Links"]
I put the Valentine Tree on top of a Red Heart Doily that I made. I am giving this doily (or a pink one, or a bookmark) away so if you are interested, be sure to Click Here for details how to enter! I made it as easy as possible!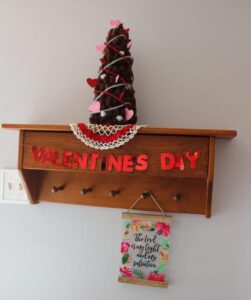 This Vignette is to the left of our couch. You can see the rest of the Living Room Here and you can see the LOVE wreath Details Here.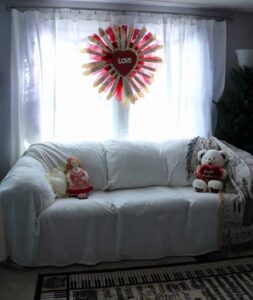 The letters that spell out "Valentine's Day" are miniature die-cut foil letters, also from the Dollar Tree. I punched holes with a tiny hole punch to string them up.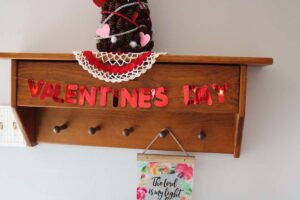 It was so easy to do! And I liked that there was even an apostrophe to use!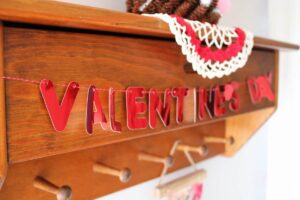 This little plexiglass picture came from Ross, I think, for about $3. I got it a year ago, and this is my first time using it.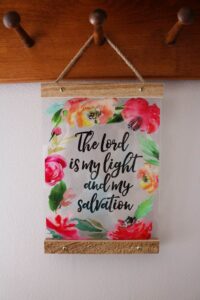 Do you enjoy seeing my little tree dressed up? Does it make you want to make your own, yet?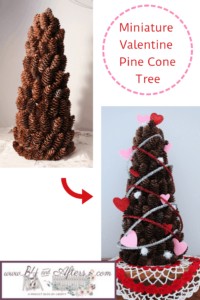 To see other versions of this tree, Click Here.