Staining the Playset with Black Walnut TWP
This post contains links to affiliate websites, such as Amazon, and we receive an affiliate commission for any purchases made by you using these links. We appreciate your support!
After we moved to our house, we were able to find a used sturdy outdoor playset in great condition for $75. It needed to be partly disassembled to move it.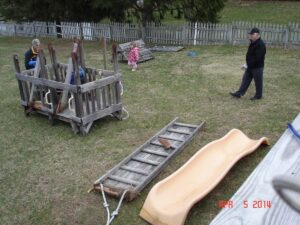 (*This post may contain affiliate links. By purchasing anything from these links, I may receive a small commission at no cost to you. More information is available on my Disclosure page.)
This is a great shot of our old fence before we replaced it! I had noticed that a lot of people put their playset at the back of their property. I'm not sure why they do it, except that maybe they think it looks better that way. I had also observed that kids (especially young ones) do not like to go all the way to the back fence to play. And so I planned to put our playset close to the house, near our deck and where the adults would be.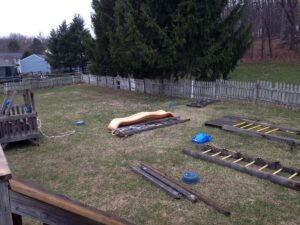 Here is the playset all put together. The ramp looked like it might deteriorate, so I eagerly put Rust-Oleum's Deck Restore on it in Green. I thought I followed the directions, but that product peeled off where it was needed most.
Before Stain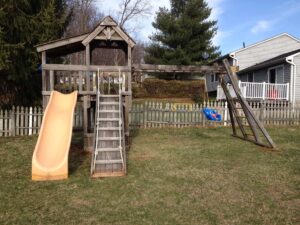 I really liked the ramp instead of a ladder, because my kids were pretty young at the time and I knew it would be safer. I was thrilled with the playset. After having someone stain our deck (see that post here), I decided to stain our playset with the leftover stain. I wish that I had realized that I could have practiced learning how to stain on our playset first, and then I could have stained the deck myself and saved some money. The wind blew part of the roof off. Later a friend would help replace the roof with some corrugated composite material. Here is a closeup after I pressure washed the playset: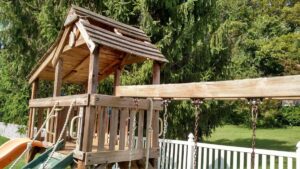 I needed a ladder to get all angles of the beams that the swings attach to. This ladder was free to me! You can also see that by now we had replaced our fence.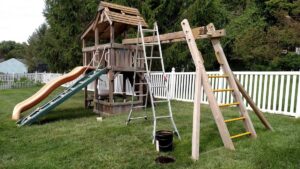 My kids helped me stain the playset. Since it was outside, it didn't matter if they made a mess. When I stirred up the stain, I discovered a nice stain bristle brush left in the bottom by the contractors that we had hired to stain our deck.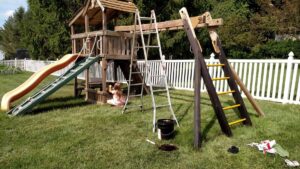 Here is the playset all stained! I went ahead and stained the ramp where the green stuff had peeled off.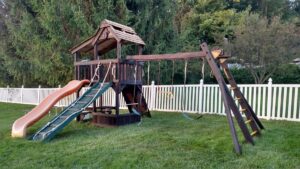 The playset looks so much better– and the wood is protected so that it will last longer. I do not anticipate having to get another playset before my kids are grown. I really like how the Black Walnut TWP stain gave it a longer life, and it matches our nearby deck!
AFTER!!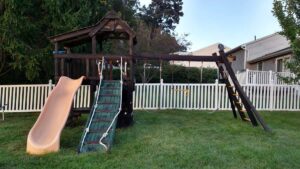 SaveSave
SaveSave