Thanksgiving Fall Decor Part Two
When I showed you my living room Thanksgiving Fall Decor, I ended by talking about paper plates. And paper plates is where we will begin with part two in the kitchen area.
I love reusing these paper plates and hanging them on my cupboard doors each year. Paper plates are the same shape as wreaths– and these are sooo pretty! Aren't they?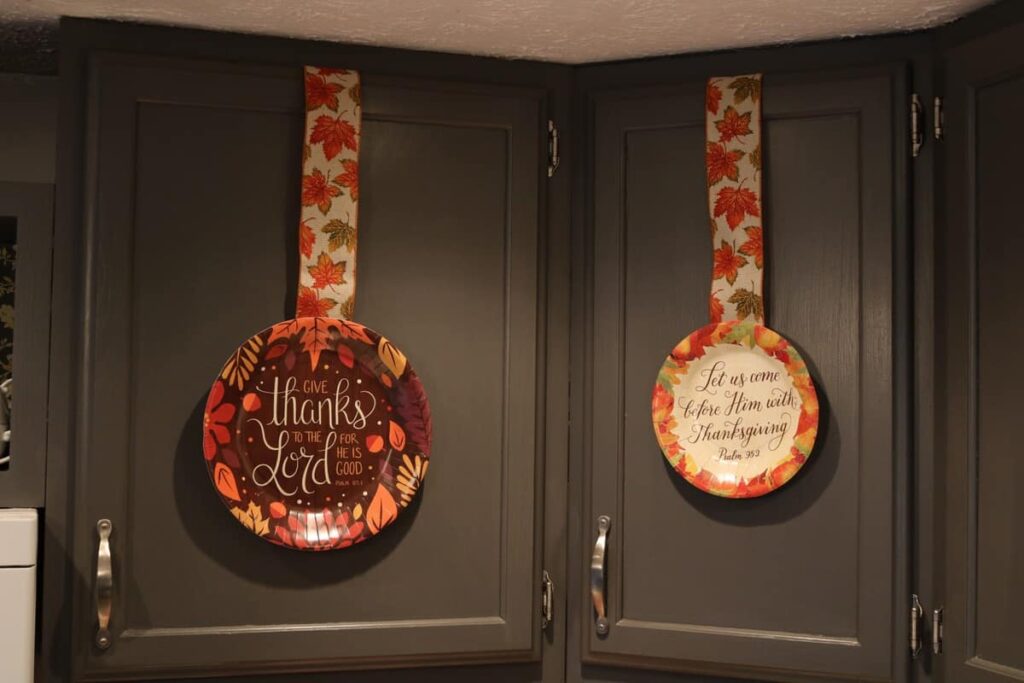 (*This post may contain affiliate links. By purchasing anything from these links, I may receive a small commission at no extra cost to you. More information is available on my Disclosure page.)
I found these plates at

a few years ago. (

always has a GREAT selection of seasonal paper plates!) I would hate to eat off of them and ruin them… so I use masking tape to attach the ribbon and the plates to each other and to the door (You can see more details how I did it here).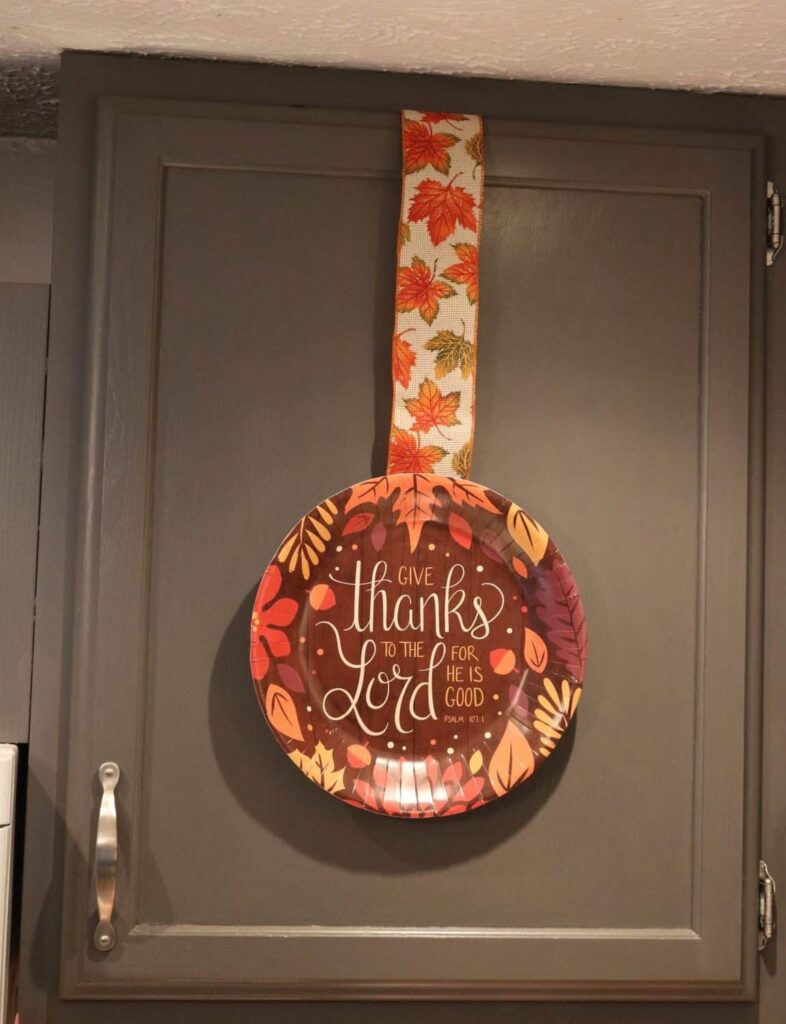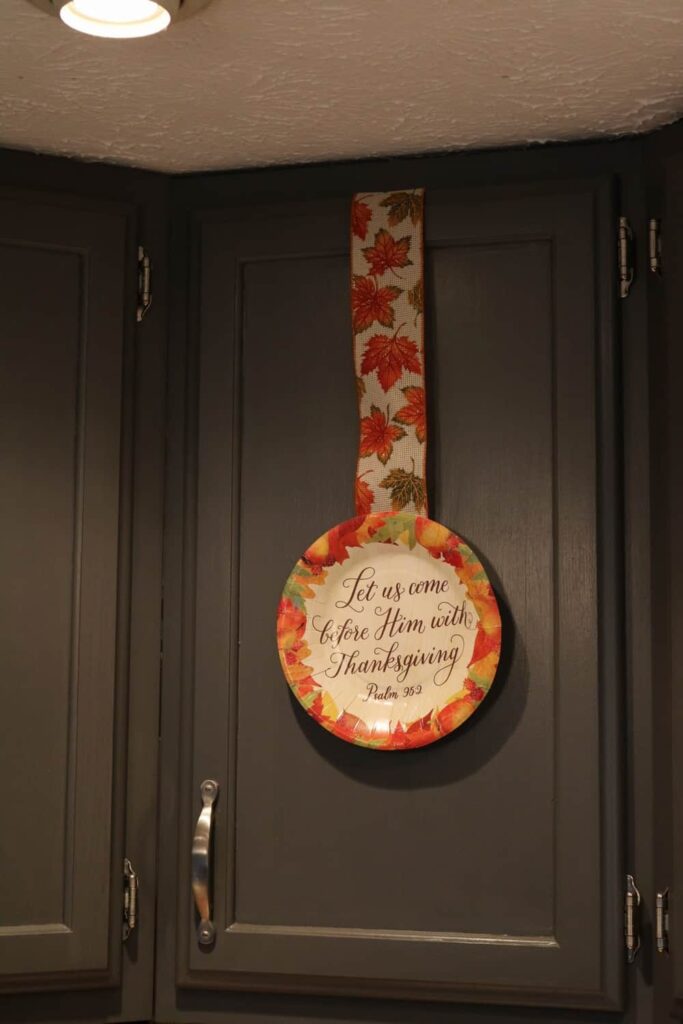 The masking tape is easily removable, and it does not damage the door or the plates.
Here is my stove. I bought these Tupperware at a thrift store for their fall colors. I also like storing food in them.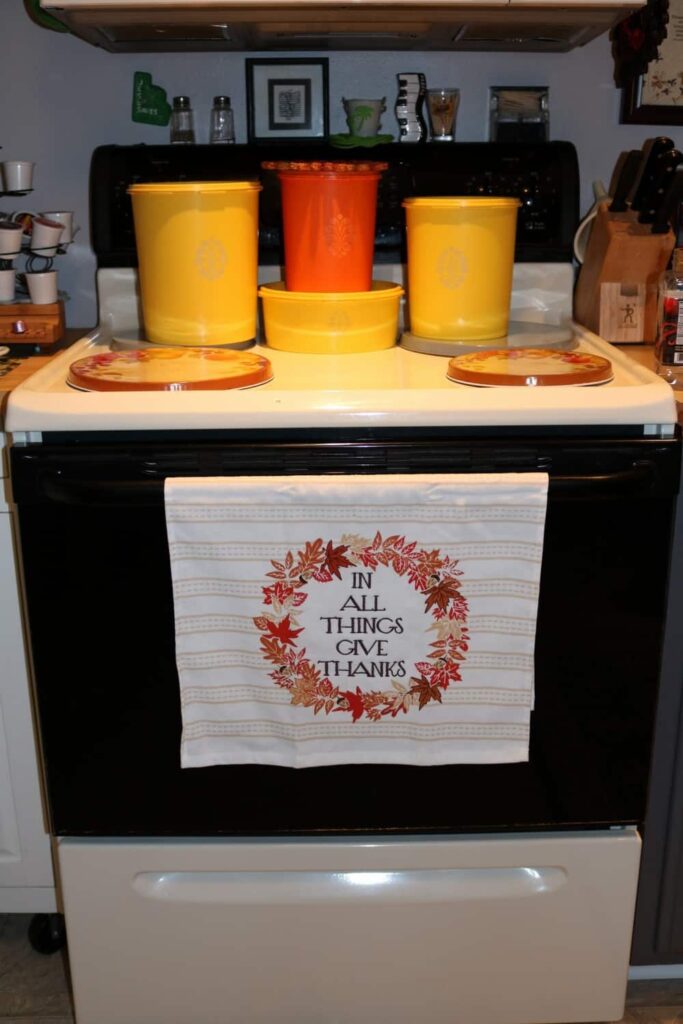 I used the orange one for a vase a few weeks back. The yellow ones will also probably get used for a vase, and who knows what else!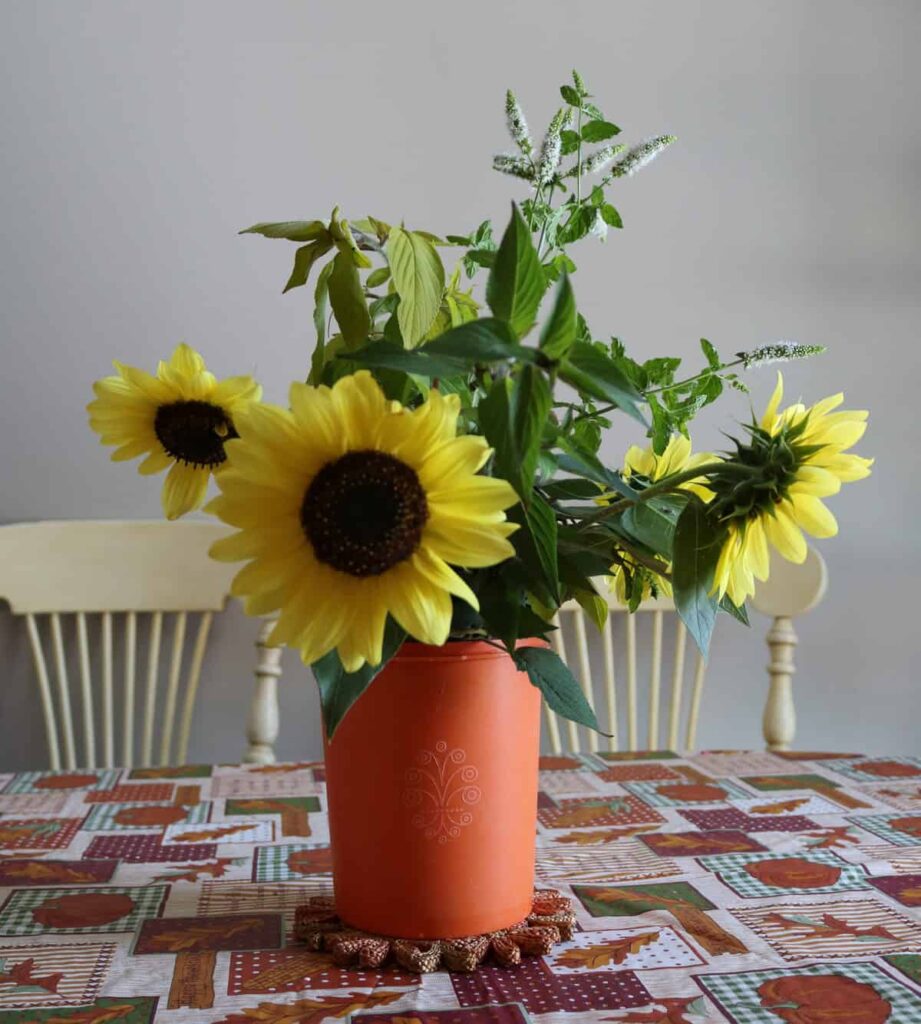 I like burner covers. It keeps a lot of crumbs out of the electric elements. I found these fall ones years and years ago…. and only have two left. I would like to find more again someday.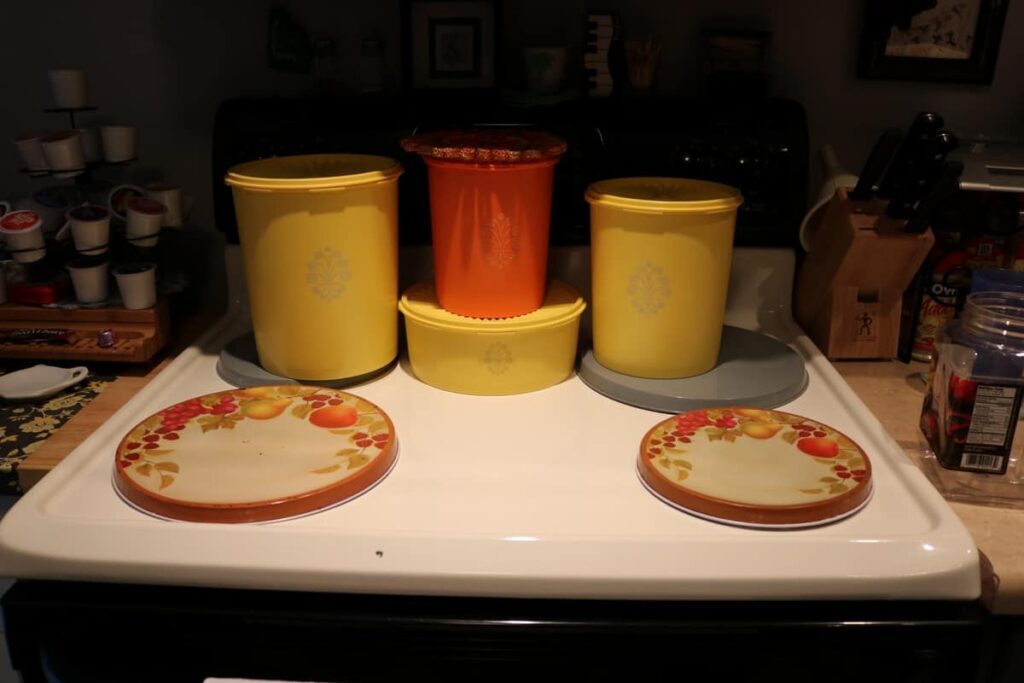 Here is a new towel, another reminder for us to Be Thankful!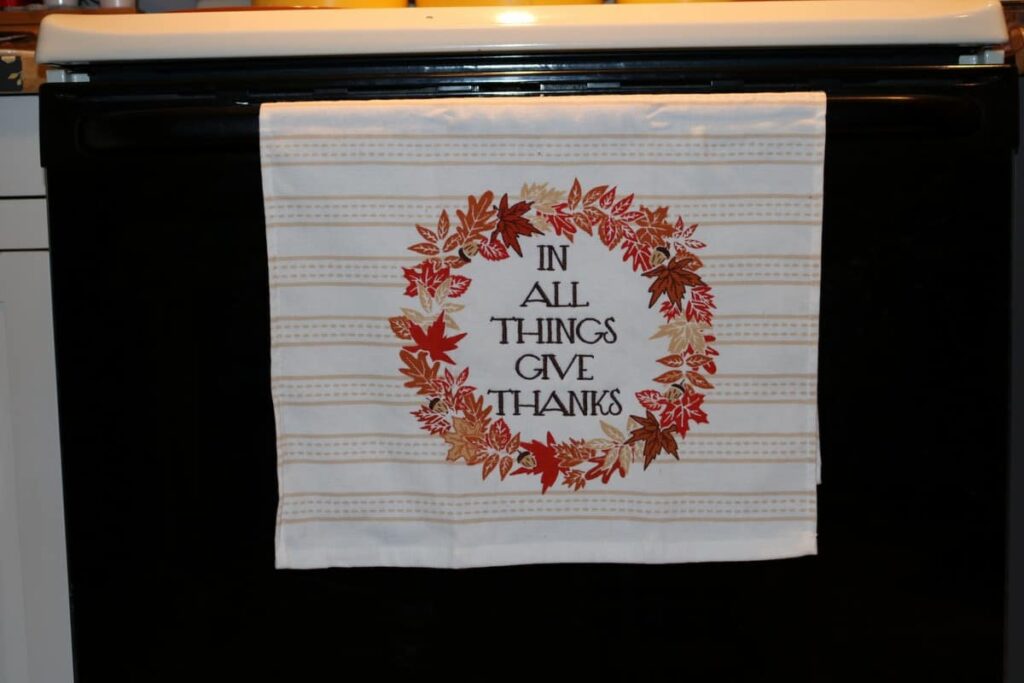 My computer is in the kitchen. This plastic Thankful Banner is actually a cake decoration. Do they still use decorations like this? It seems sort of old fashioned, since now they can print any picture with edible ink.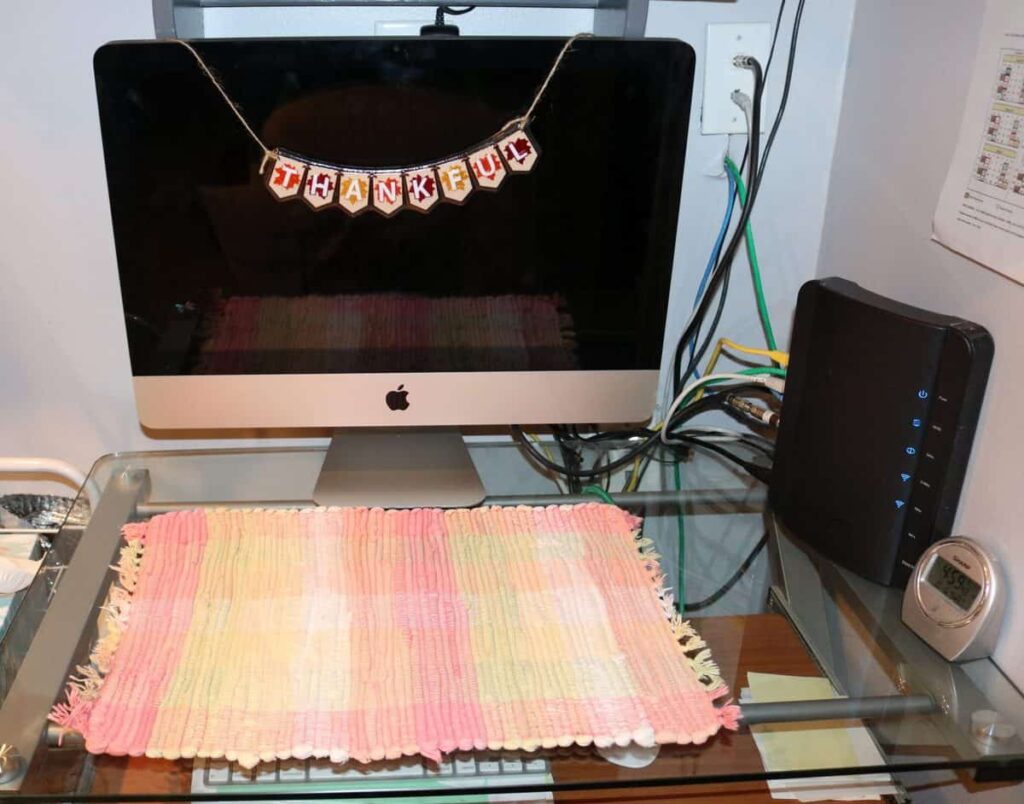 Here is my table and tablecloth. I like vinyl tablecloths since they wipe off so easily– and do not need ironed!! I also like that the pattern hides crumbs if I don't get the table cleaned off….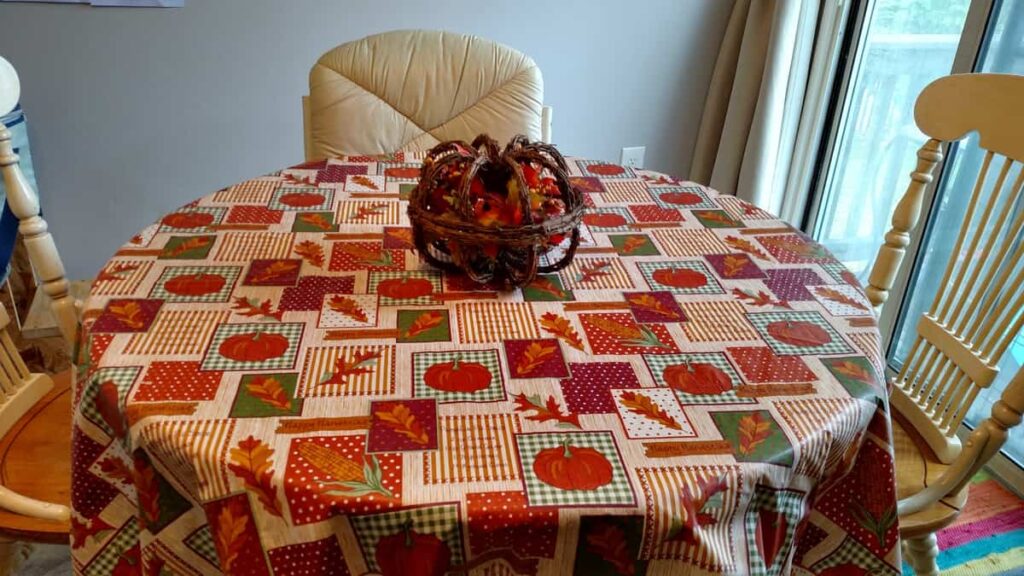 Here are two pictures of my kitchen in real life– during Thanksgiving last year.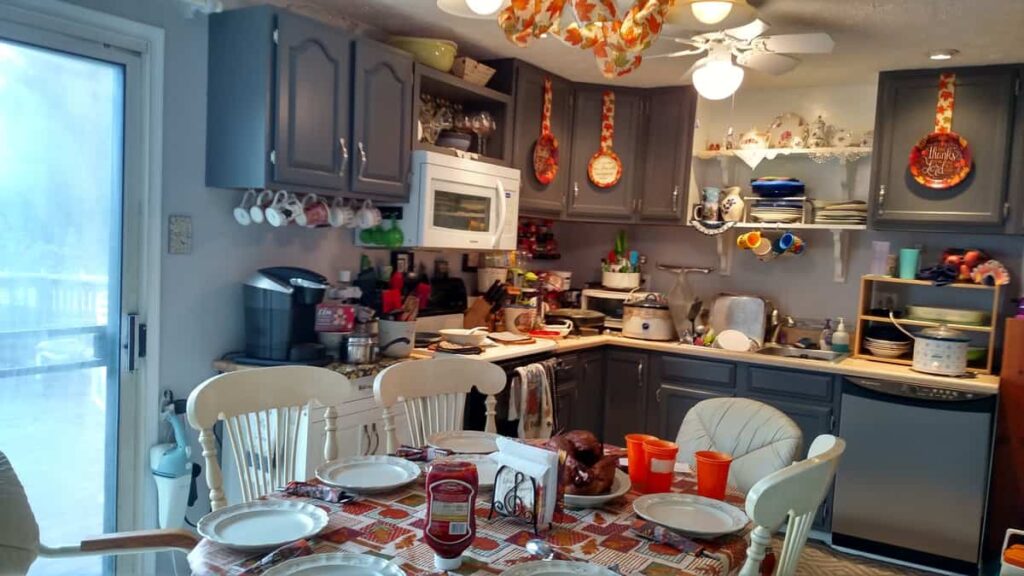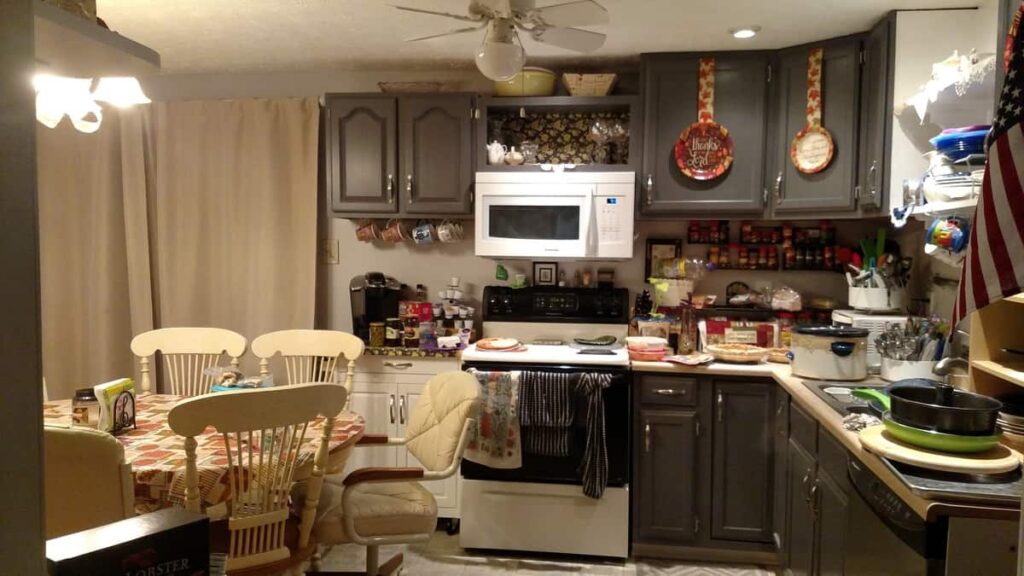 Last year I bought these wall stickers on clearance. I forgot where I got them… They are fun… I put them on the wall above the kitchen table. A few have fallen off– not sure if it is because they are a year old, or if it is just because they are not very sticky. I hope to reuse them again next year.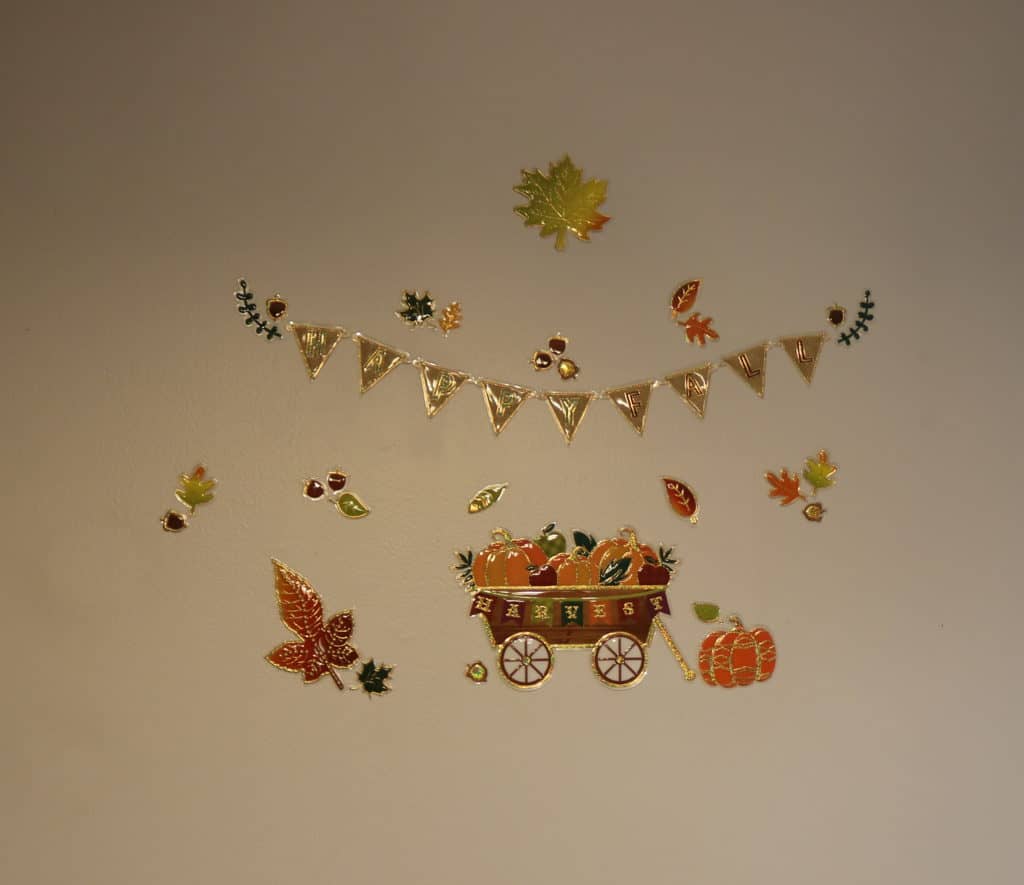 I like color, which is probably why I was attracted to these wall stickers.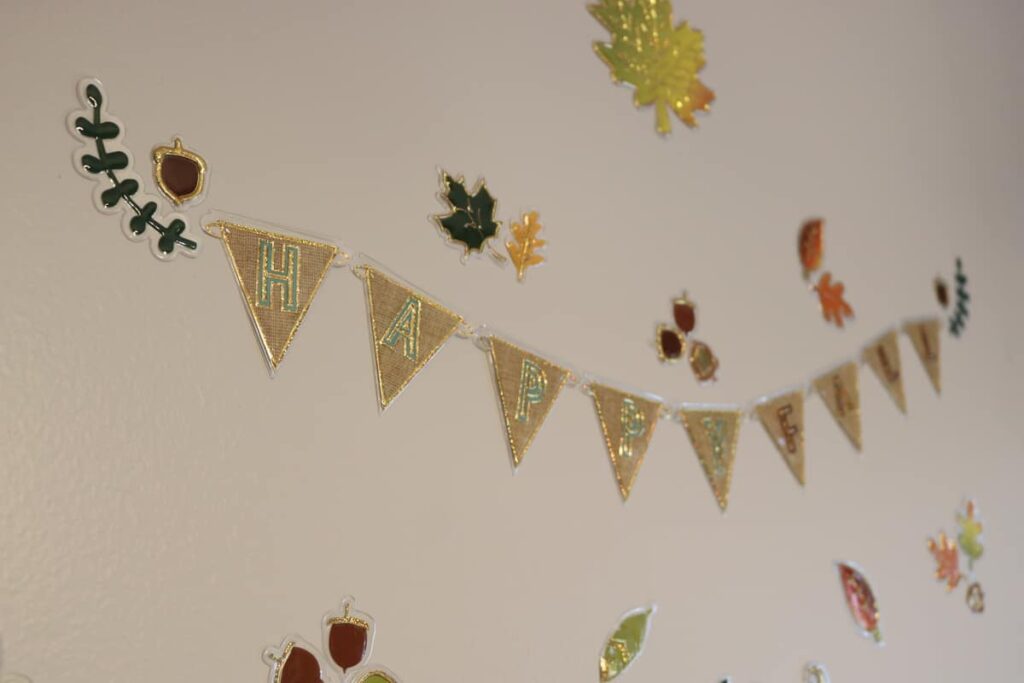 More color…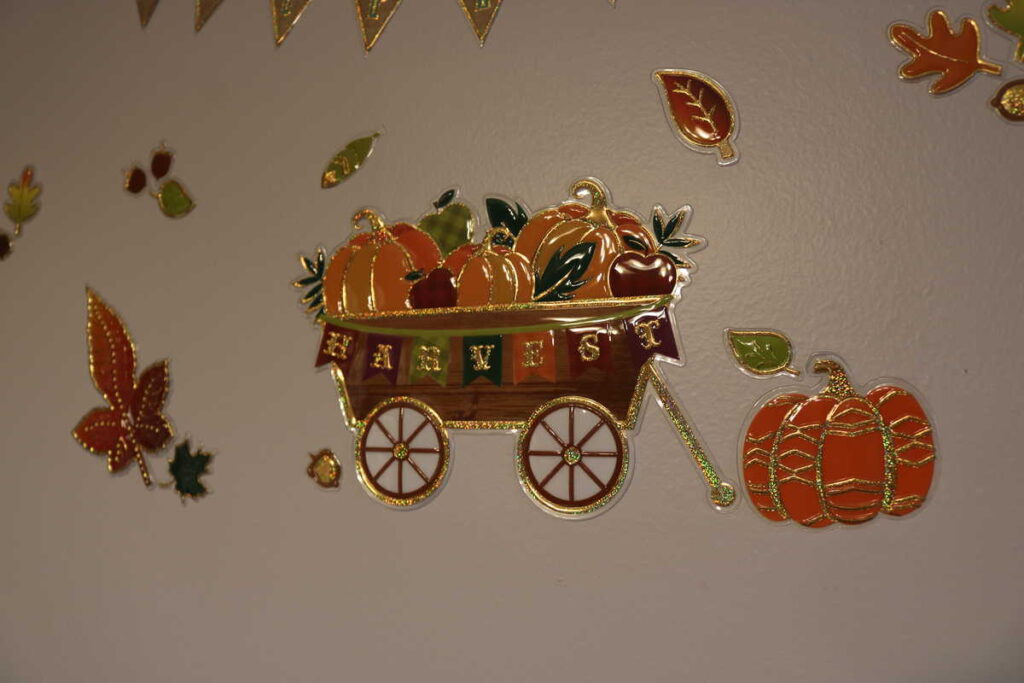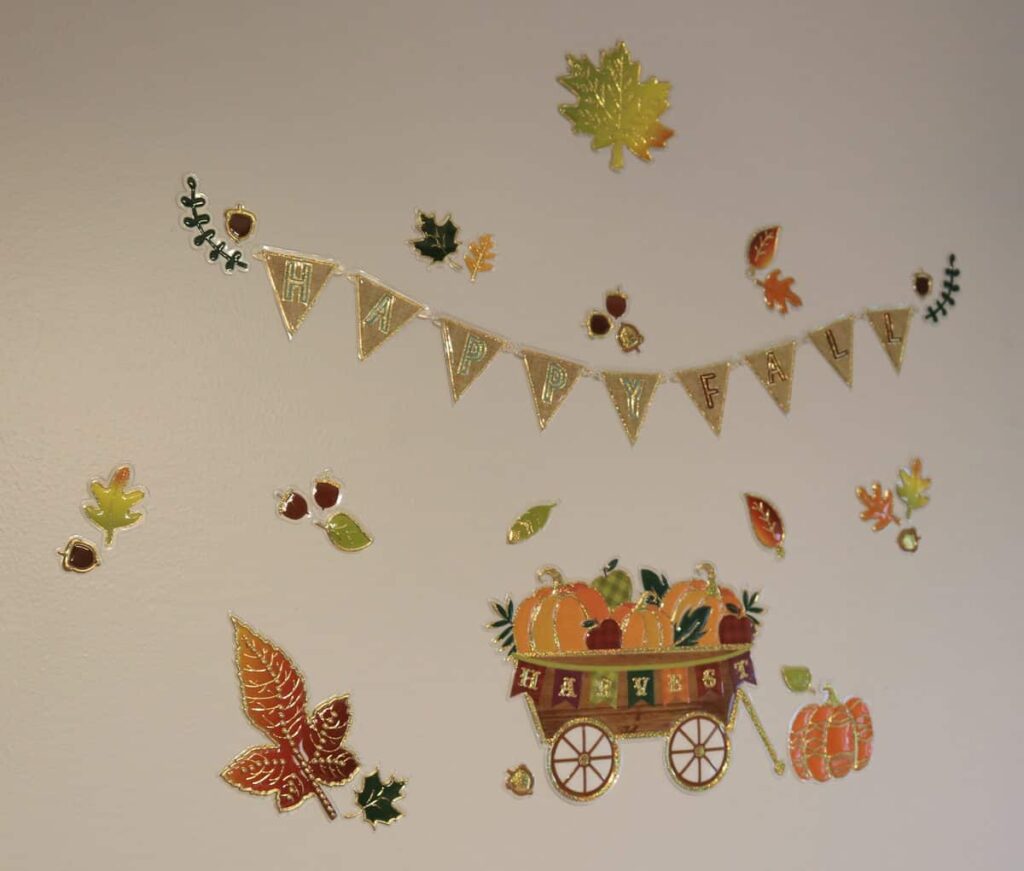 Just outside the kitchen, back in the living room, I hung these paint-by-number pictures that I painted as a 12 or 13 year old. I hung both of these pictures from one nail– can you guess how I did it?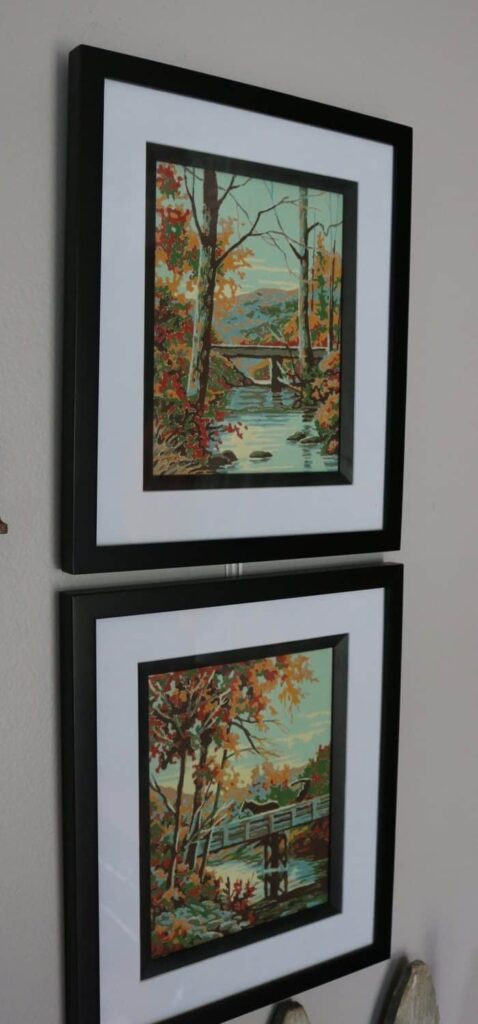 I had bought these metal words from the Dollar Tree– so I put one on with double sided tape. Better, yes?

Here is the outside of our house from another year, decorated for fall. I grew my own pumpkins that year.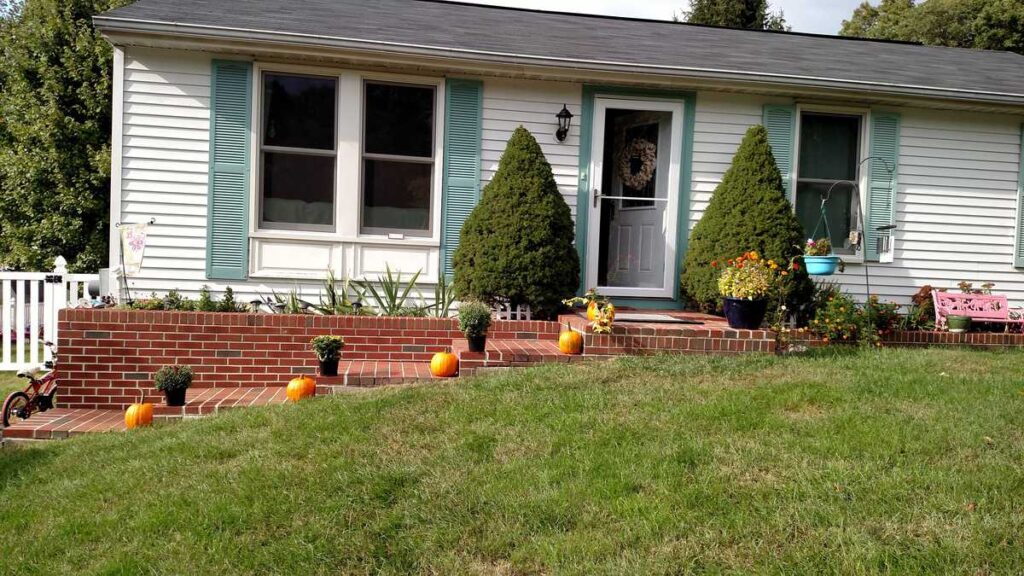 Since I don't have a porch to decorate, this was the best that I could do!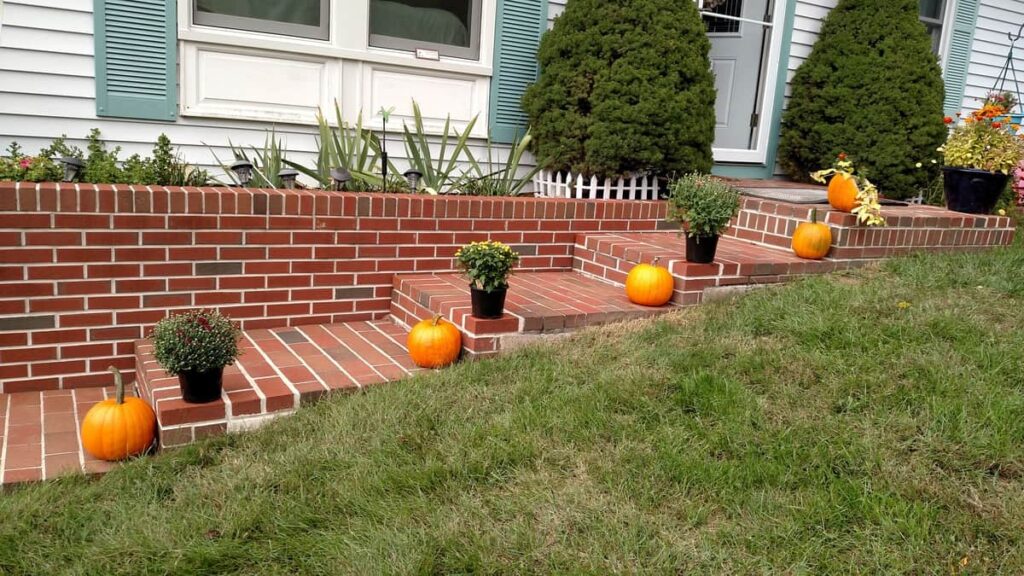 I tried something I had seen online– putting the mums inside the pumpkins as planters. But I don't think the pumpkins or the mums cared for it….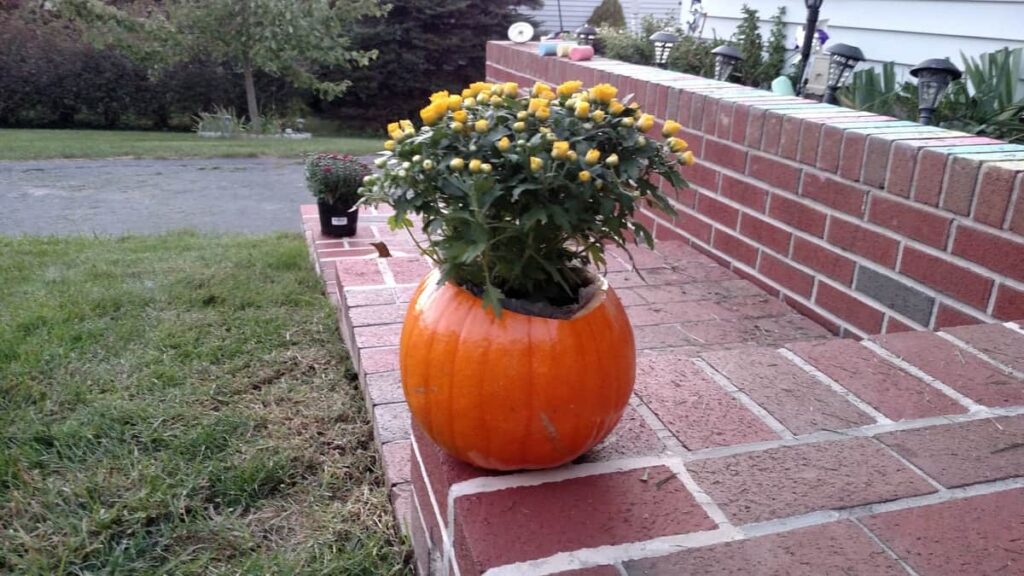 This wreath is also from a past year. Well, I still use the wreath, but it is six years old. It doesn't look quite as good now as it did then. I had so much fun making it! This might have been the first wreath that I tried making. I love using paper plates for decorating–I said that already, right?! Well, here I used one in the center of my wreath! I tied string across the wreath's center, then taped the plate onto the string.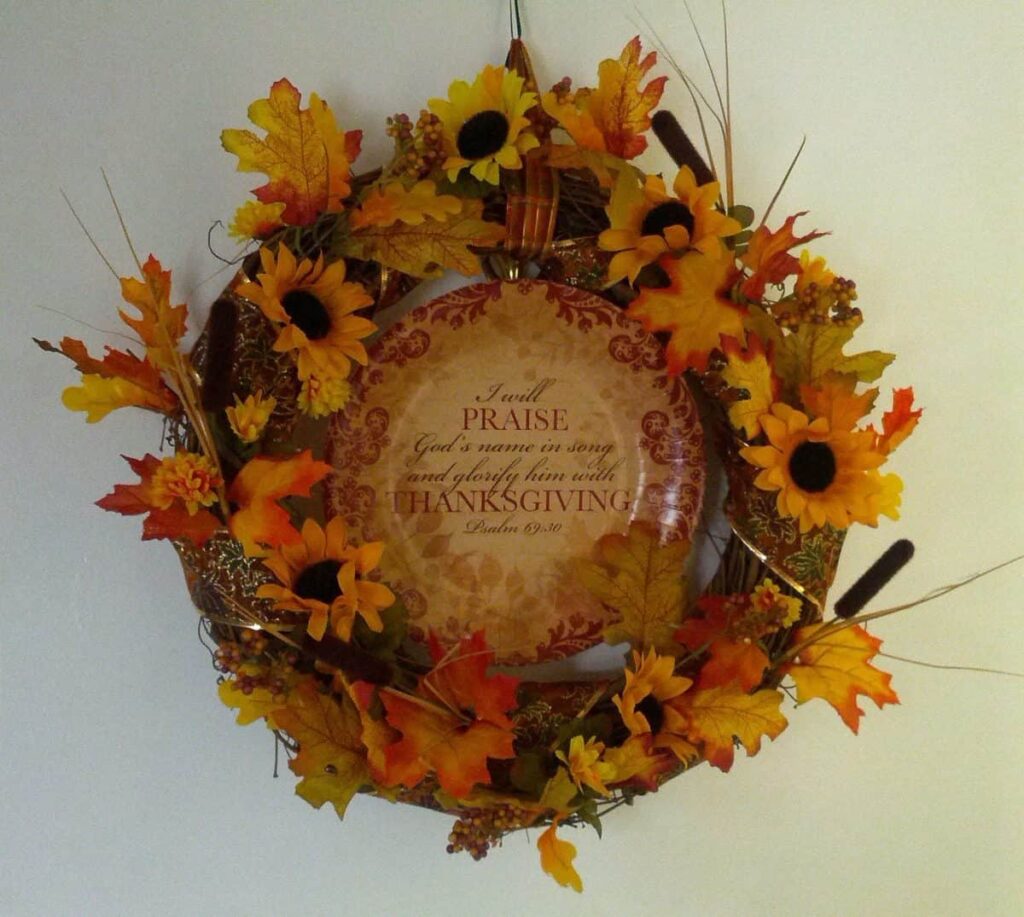 Oh, yes. Here's how I hung two pictures from one nail. I threaded ribbon through the bottom frame's hanger on the back, tied a knot, and hung the ribbon on the nail. Then I hung the top picture on the same nail! Good idea, yes?!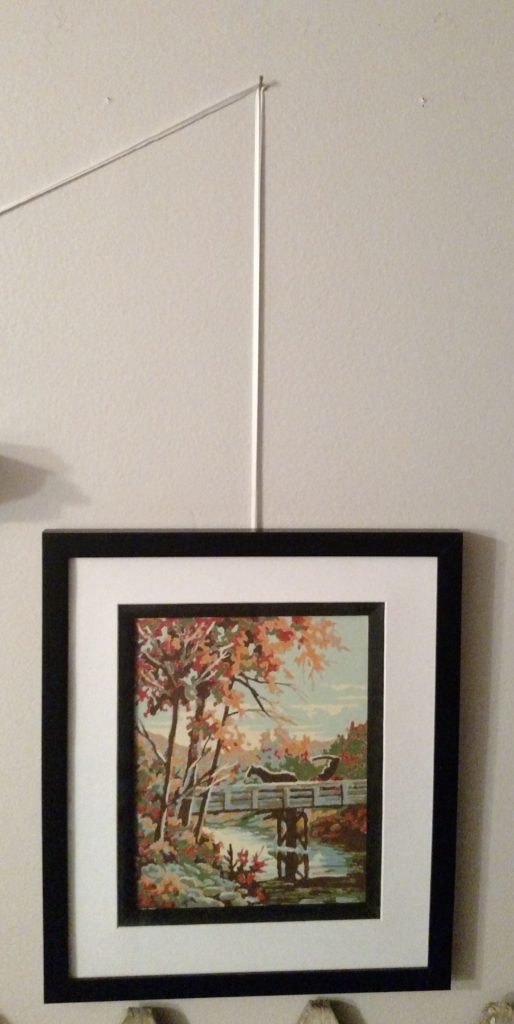 I have one more Fall related post that I want to do…. can you guess what it is by the picture below?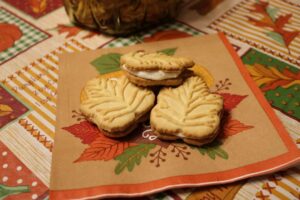 I hope that you have enjoyed seeing Part Two of my Thanksgiving and Fall Decor.