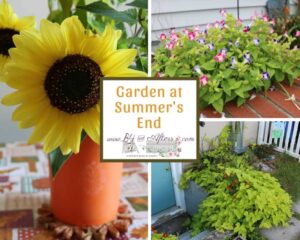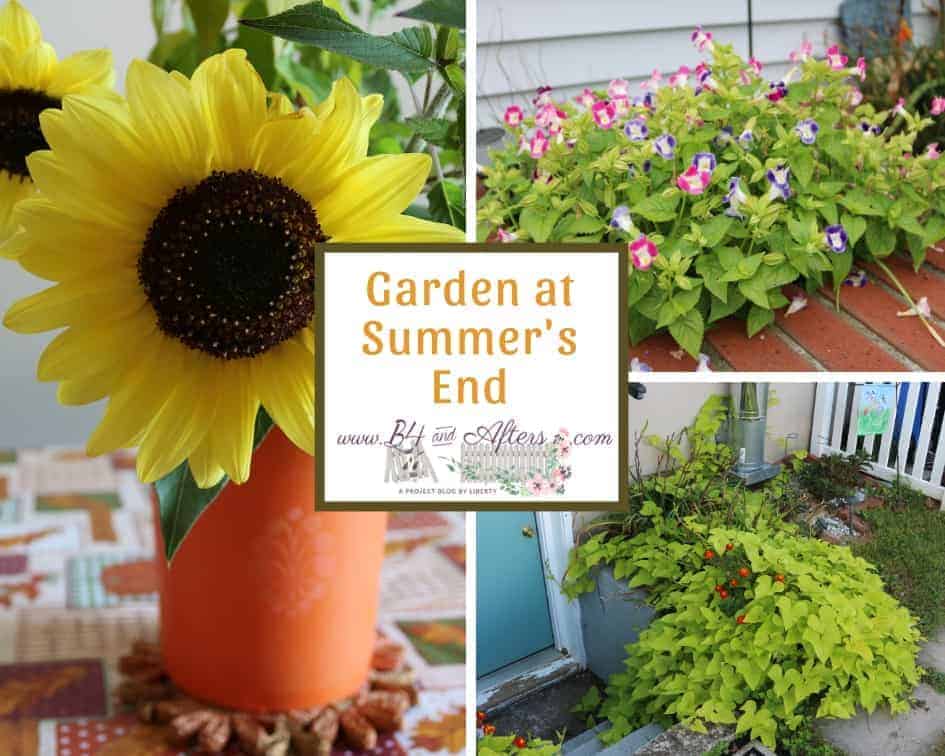 Summer is coming to an end, but I still have some beautiful flowers and plants growing. I wanted to show them to you! I hope that you enjoy them. First off, in the front yard—
Torenia
I just love these torenia that come in different colors. Their nicknames are wishbone and clown face. I like them because I don't seem them often anywhere else, and I like their lime green shade of leaves. I was tickled that Longwood Gardens was growing some when I visited there.
Torenia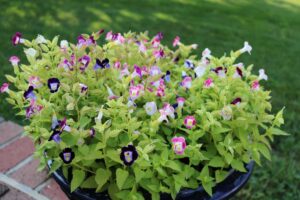 (*This post may contain affiliate links. By purchasing anything from these links, I may receive a small commission at no cost to you. More information is available on my Disclosure page.)
Torenia are annual flowers. When they are done blooming, I just leave the plants in that big blue pot. I put the pot in the shed for the winter. In the spring I crinkle the dried flowers into the dirt, and pull out the dead stems. Soon I have hundreds of new plants sprouting in my blue planter. I've collected the seeds sometimes– they are very, very tiny– therefore my crinkling method seems to work the best. As the tiny plants grow bigger, I transplant them out. I give them away, or plant them in other places in my yard, like here beside my front step beside my miniature rose.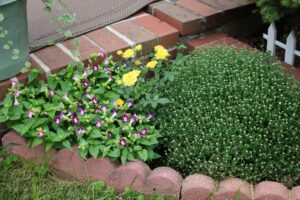 Here is another corner of them. The only problem with my resprouting method is that I don't know which color I will end up having.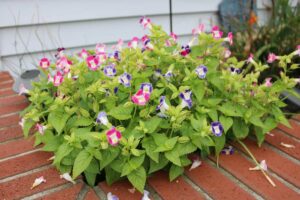 All of the colors are gorgeous– the dark purple and the different shades of pink. There are also white and yellow ones, but I don't have very many of them. You can see one at the front, just left of the center.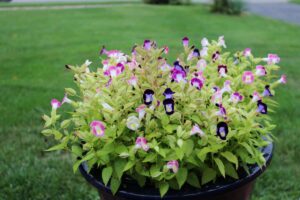 Sunflowers
I have really enjoyed growing these lemon queen sunflowers this year. When the plants are small, they almost look like weeds. Thankfully, I let them grow long enough to realize that they might be the sunflowers that I had planted. It seems like every good plant has a similar looking weed to grow along with it.
During a good rain shower, these top heavy flowers were nearly laying down. I had some extra old broomsticks that I hammered into the ground to stake them upright. I did it during the rain in my raincoat : ).
Lemon Queen Sunflowers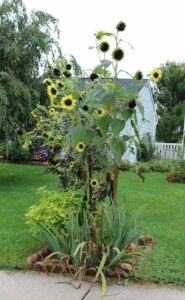 It was so much fun to use these sunflowers in a tupperware container that I found at the thrift store. I used flowering mint and pineapple sage with them.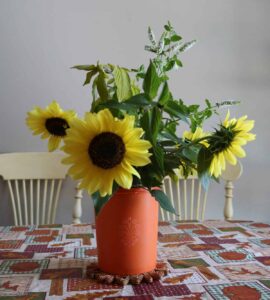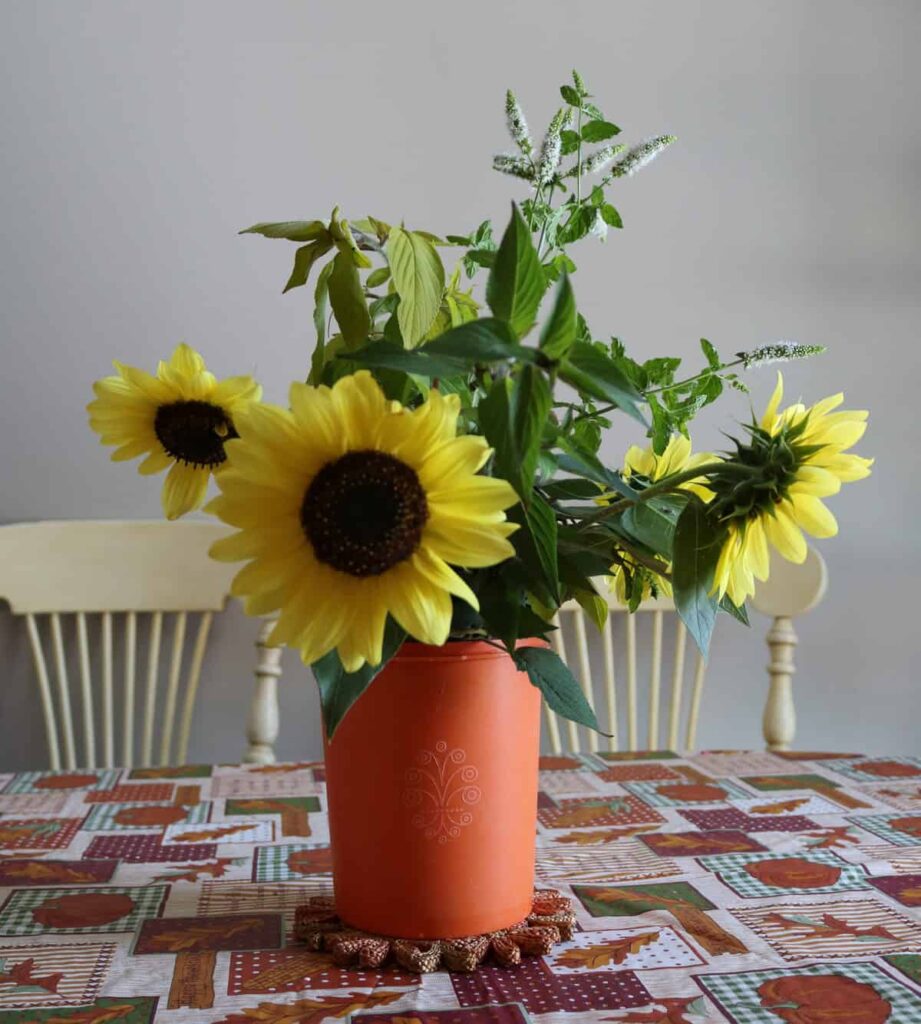 The soft yellow is so refreshing and beautiful.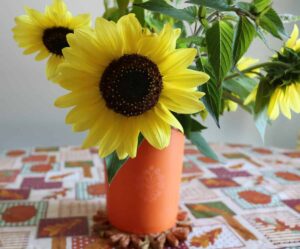 Swallowtail Butterfly
One morning when I went out to water my flowers, I spied a brand new swallowtail butterfly on one of my dead daylily stems. I had to run back in for my camera. It was brand new and drying out its wings, so it held still for a long time while I photographed it. Look down the stem, and you will see its blurry chrysalis a few inches away.
Swallowtail Butterfly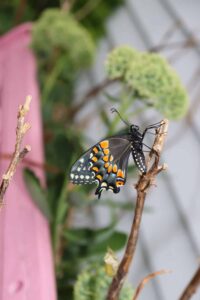 It was in my front flowerbed near the pink bench that I painted.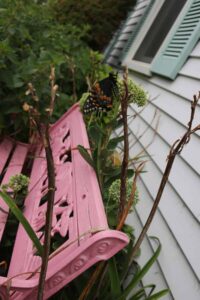 Sweet Potato Vines
Now as we go around the side of the house to the back yard– here are my sweet potato vines at their peak on each side of the basement door. They send roots through the drain hole, which allows them to grow and grow, and grow some more!
Sweet Potato Vines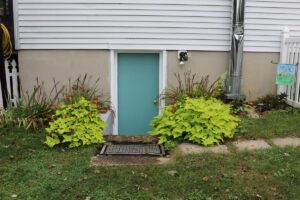 This is the first year that I remember it growing down the basement stairs!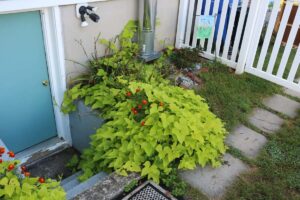 Here is the other side, where you can see that it is trying to smother the day lilies and climb the house.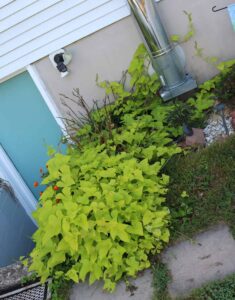 Morning Glories
I was finally able to get some morning glories to climb the playset by growing them in pots. Last year I tried to grow them out of the ground and they did not grow. I had to water the pots a lot at first–now I suspect they did the same thing that the sweet potato vines did– sent roots through the drain hole.
Morning Glories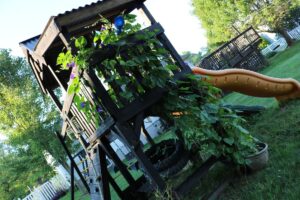 I grew morning glories over the arch in my garden again, and on the back fence. There were a lot of pink ones. I like this light bluish purple one. *Update: I've since learned that morning glories are invasive. I have pulled a ton of sprouts from my garden, and I see them all in our grass, too.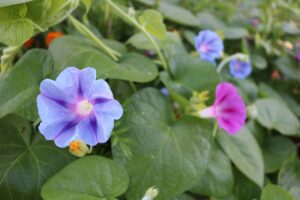 Various Plants
Here is a wisteria bush that a friend gave me last summer. It is finally growing. I am going to have to transplant it though, because we recently got a puppy. Plants toxic to dogs are one thing I forgot to consider when we got her! I will be moving a lot of my plants to the front yard soon. *Update: the wisteria did not survive the transplant. Instead of moving my back yard plants, I ended up fencing them off.
Here is my purple heart plant. It is not winter hardy, so I take clippings and root them over the winter so that I can grow it again the next year.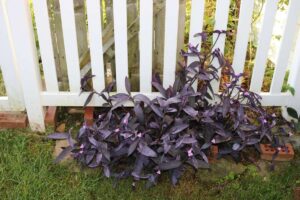 Here is one of the last pink blooms on one of my climbing roses.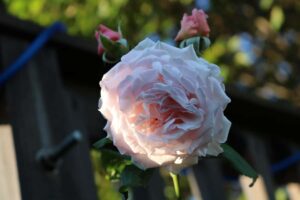 We have had enough rain to cause the grass to keep growing furiously– which also means that it is nice and green.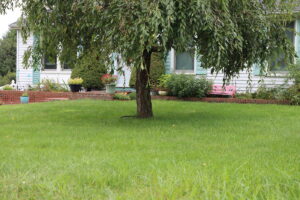 I hope that you have enjoyed seeing my garden at summer's end!