Pillsbury Cherry Turnovers
*This post was featured at Oh My Heartsie Girl.
Awhile back I looked for Pillsbury Cherry Turnovers at my local grocery stores. I could not find any! It had been a long time since I made them. All I could find was apple. I even asked a store manager and he had never seen cherry turnovers. So while I was on vacation this summer I found some out of state and made them. I was so glad that they still exist! If you are reading this post and know where I can find them local to me, please let me know!
Before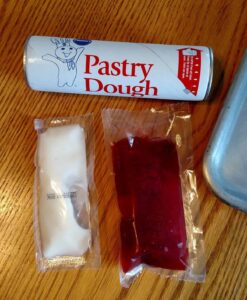 (*This post may contain affiliate links. By purchasing anything from these links, I may receive a small commission at no cost to you. More information is available on my Disclosure page.)
These cherry turnovers are easy to make. First, you preheat the oven and open the can. Organize the squares on an ungreased baking sheet. There are six in a can, but I bought two boxes so I have twelve. Then cut a hole in the cherry filling package and squeeze it in equal amounts in the middle of the squares.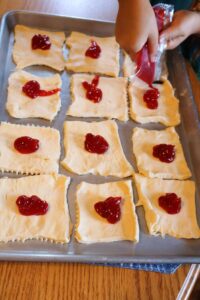 Then grab a corner and pull it diagonally across to the opposite corner. Pinch it together.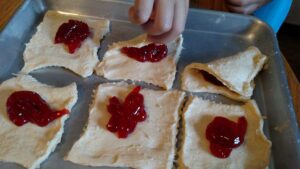 I decided to roll one a little different for something new. I folded the diagonal corners to the middle, overlapping a little bit.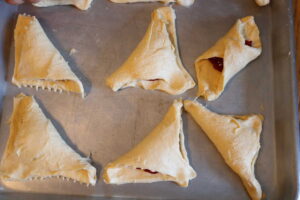 Be careful not to burn them! Bake them until just starting to brown on top…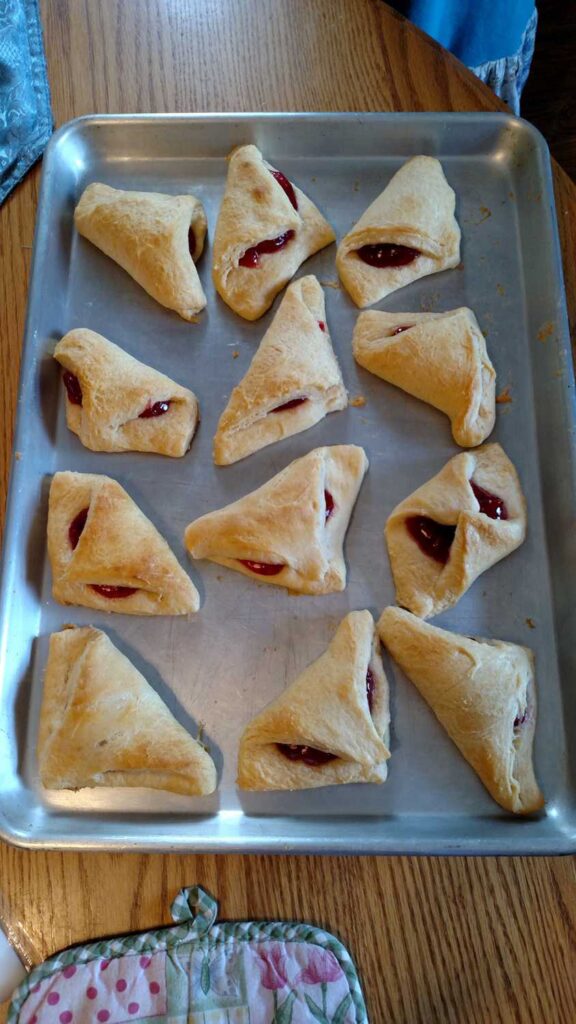 After they have cooled a little bit, but are still warm, put on the frosting. Cut a tiny hole in the frosting bag and squeeze it on in a pretty pattern. This is such a fun, easy baking project to do with a child– they like spreading out the squares, squeezing the filling and the frosting on, and folding them into triangles– they like helping with all of it!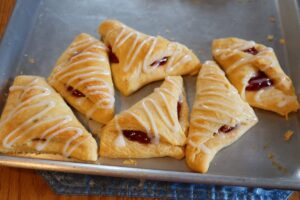 I really liked how my odd one turned out. These turnovers are sooo delicious! I prefer them so much more than bakery made ones. The bakery ones always seem dry to me.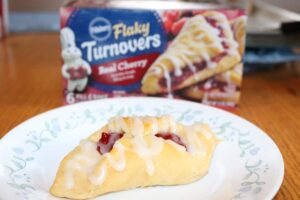 They taste best warm. I like mine with a glass of milk.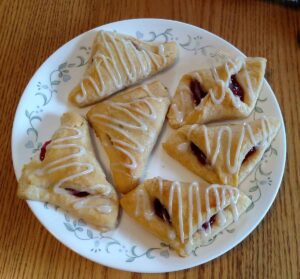 By the way, I took these pictures with my new camera. Can you tell a difference?
Have you ever made turnovers from a box kit? Would you pick cherry or apple?