Simple Christmas Basket
This post contains links to affiliate websites, such as Amazon, and we receive an affiliate commission for any purchases made by you using these links. We appreciate your support!
Yes, I know it is past Christmas. Somehow I overlooked sharing this project idea with you so I wanted to go ahead and show you. You may come across some bushel baskets while you are yard saling this spring…. and now you will know what you can do with one!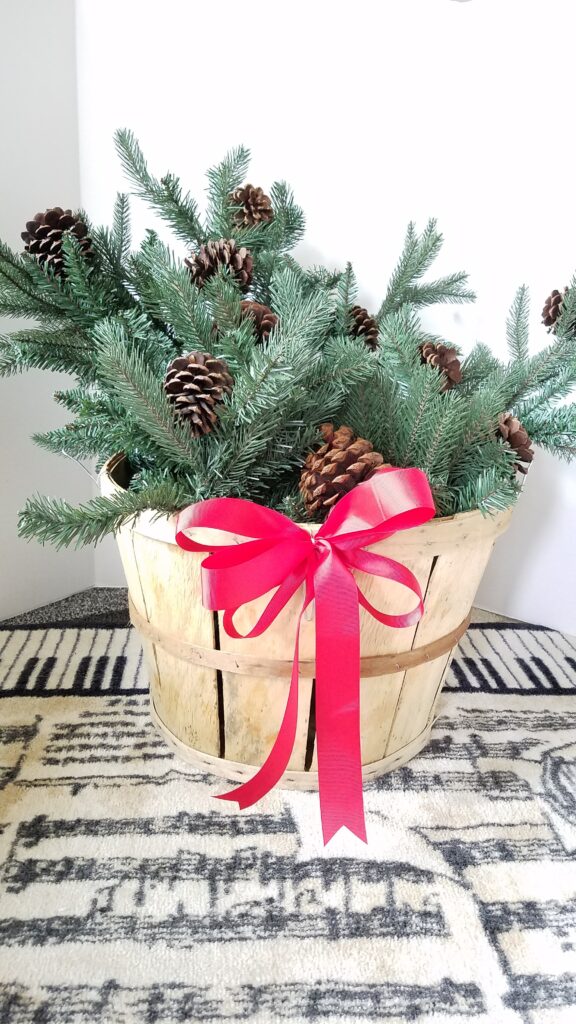 I hope you had a good Christmas. Ours was good, although we are dealing with some relatives being in the hospital.
Here is how I assembled this basket. (The red grosgrain ribbon was given to me by Fabric Wholesale Direct.)
1
Salvage a bushel basket from fruit or in this case, crabs.
2
Add faux evergreens from a salvaged Christmas tree.
3
Add free pine cones that you gathered from the park.
4
Tie a red grosgrain ribbon bow with wire, then use the same wire to attach the bow to the basket.
I enjoyed creating this simple Christmas basket, but I didn't have room to keep it so I gave it away. Actually, I gave two of them away!
Here's another idea for a bushel basket!!